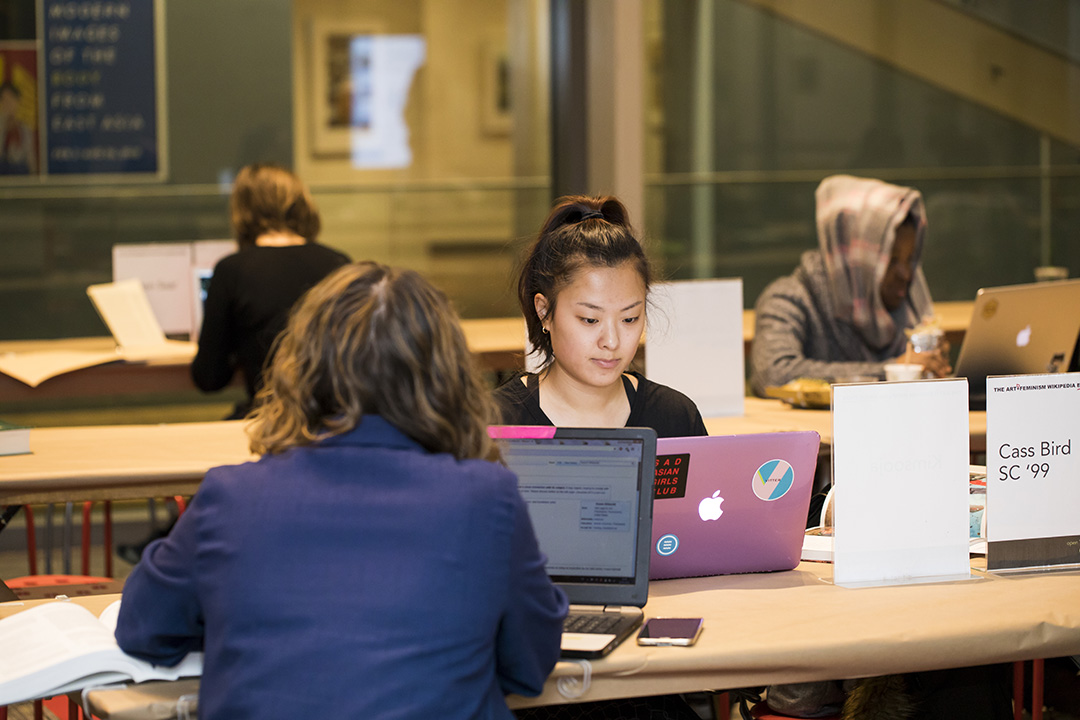 Search the collection
Explore the museum's full collection through the Five College Collections Database, which combines SCMA's holdings with the collections of the Mead Art Museum at Amherst College, the Mount Holyoke College Art Museum, the University Museum of Contemporary Art at UMass Amherst, Historic Deerfield and the Hampshire College Art Gallery.
To view only SCMA's collection, select Smith College from the drop-down menu. For academic users with Artstor access, images of many of the artworks in our collection are available through that resource.
 
Accessing Works in Storage
If you are interested in seeing a painting or sculpture, please contact Robyn Haynie, Collections Manager/Registrar to make an appointment.
If you are interested in accessing prints, drawings or photographs in storage, please contact the Cunningham Center for the Study of Prints, Drawings and Photographs. 
 
Reproductions and Permission for Use of Images
For Education, Personal, Fair Use Purposes
The Smith College Museum of Art posts site content to provide an educational resource to the public. All text, images and technology remain the property of the museum, or of third parties, and are used by permission and in all cases protected by copyright. 
Images and descriptive content may be downloaded freely from the Five College Collections Database for research, educational and personal purposes. The Five College Consortium  encourages noncommercial use of this content but requests that the institution owning the work be cited and notified.
Examples of permitted uses include but are not limited to: academic papers, research not meant for publication, classroom use by educators, noncommercial presentations and individual enjoyment. Please note that posting on a website is considered publication and requires permission.
Academic users may also find higher quality images of the SCMA collection on Artstor.  
 
Copyright
Copyright to all SCMA site content is held by the Smith College Museum of Art when not retained by artists or their representatives under current copyright laws. Unauthorized use of content from this site is strictly prohibited. Commercial use of any material requires explicit permission. Please apply to rhaynie@smith.edu with details of the proposed use. Personal or educational use under Fair Use guidelines may be permitted for content in the public domain. Use of material of living artists for any purpose requires permission from the copyright holder.  
 
Request for Reproductions 
For posters, postcards and catalogs, please visit the Museum Shop. If you'd like to obtain a high-resolution digital file of a work of art in SCMA's collection, please contact Robyn Haynie, Collections Manager/Registrar. Fees vary with intended use.
When you contact the museum to request an image, please supply the following information:
Artist's name

Title of the artwork (or accession number)

Desired format (not all images are available in all formats)

Intended use

For publications also include: publisher, date of publication, title, author, size of print run, distribution area, language and length of term requested
If you have any questions, please contact our Collection Manager/Registrar:
rhaynie@smith.edu
Robyn Haynie
Smith College Museum of Art
Northampton, MA 01063
413-585-2765 tel
413-585-2782 fax