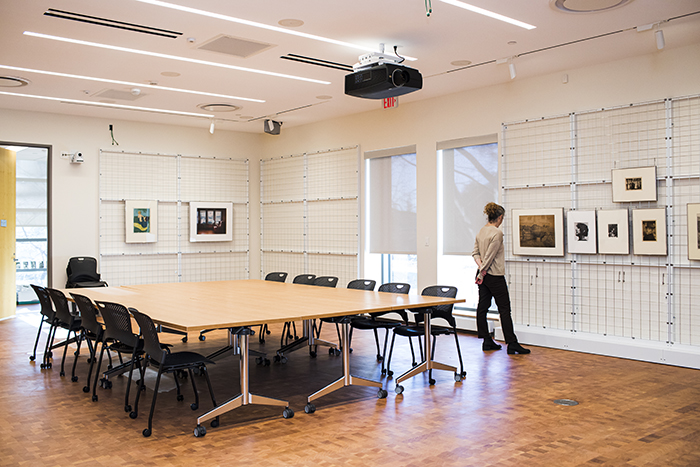 Cunningham Study Center
The Cunningham Center for the Study of Prints, Drawings and Photographs houses SCMA's collection of more than 23,000 original works of art on paper, dating from the 15th century to the present day. Individuals and groups of up to 30 people are welcome to visit the Cunningham Center by appointment to study or simply enjoy the collection.


The Cunningham Center was established in 1972 through the generosity of the Cunningham family in honor of Eleanor Lamont Cunningham, class of 1932. In 2022, it was renovated to expand collection storage and to create a state-of-the-art collection viewing room that features flexible display fixtures and new technology to facilitate close looking and remote participation in onsite programs and classes. These enhancements were made possible by gifts from Jan Fullgraf Golann 1971 and Joan Williams Rhame 1949. 
 
Hours and Location
The Cunningham Center is open Tuesday through Friday, 11–4, by appointment only. Please call 413-585-2778 or email us at ccenter@smith.edu to make an appointment or to consult with a staff member about using the collection. 
Search the museum's online database to discover new works on paper on your own. Then, make an appointment to see them for yourself.
The Cunningham Center is located on the second floor of the museum. See the Visitor Guide + Floor plan
Collections
SCMA has been acquiring works on paper since its founding. Today works on paper constitute the largest and the fastest-growing part of its collection. Established in the early 1970s to make these works widely accessible, the Cunningham Center currently holds more than 23,000 prints, drawings, photographs, illustrated books and artists' books. We encourage visitors who are interested in viewing items in the collection to make an appointment.
 Search the
museum's online database
to discover new treasures on your own. Then, make an appointment to see them for yourself.
How to Schedule a Class Visit
Faculty: To bring a group of college students to the Cunningham Study Center, visit our page for faculty.
PreK-12 Educators: Guided and self-guided museum visits are available for preK-12 groups. For more information, visit our page for preK-12 educators.
Individuals: To schedule a visit, call 413-585-2778 or email us at ccenter@smith.edu with the date and time when you prefer to visit.
Before your visit, you can search the collection online to select works you'd like to see. Email your list of up to 15 works of art per visit (include the object number, artist's name and title of each work) to ccenter@smith.edu. 
If you can't find what you want, or you'd rather have our staff make selections for you, we'd be more than happy to help. Please email or call.