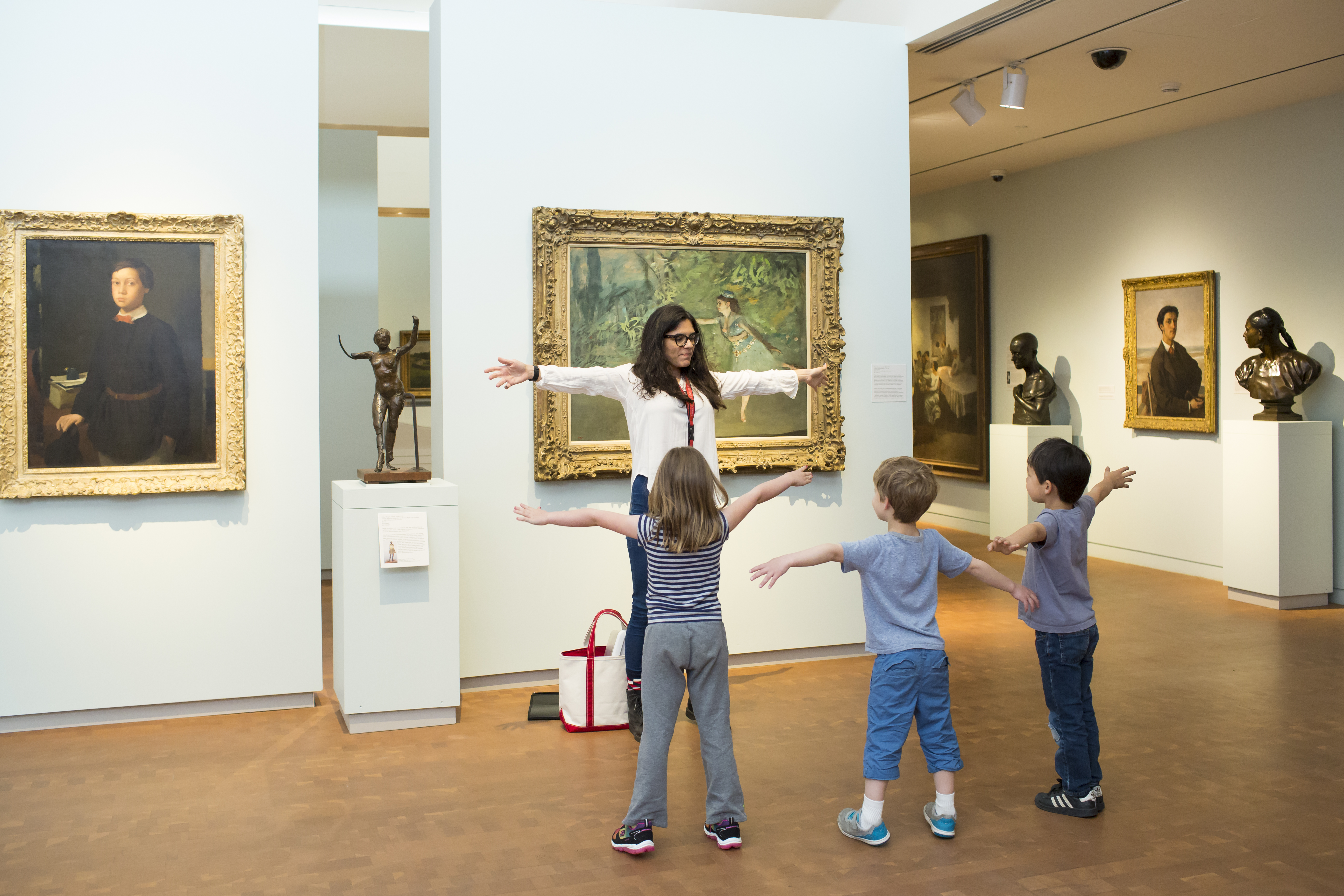 PreK–12 educators
The Smith College Museum of Art welcomes groups of all ages for visits to our permanent collection and changing exhibition galleries. Visits can be guided or self-guided.
Reservations are required for all PreK–12 groups—both guided and self-guided—that include 10 or more people. Complete the Group Request Form at least two weeks in advance, and a staff member will be in touch to schedule your visit. Groups larger than forty often divide themselves between the Botanic Garden of Smith College and the Museum of Art.

Group Request Form
Complete our Group Request Form to schedule a guided or self-guided visit for your class. Please note any specific goals for the visit that will help customize a plan for your students.




Guided visits
One-hour guided visits may be scheduled Tuesday–Friday at 10:30 am and 11:30 am. Other time slots may be available upon request.
During guided visits, SCMA's Student Museum Educators (SMEs) offer participants conversation-driven, inquiry-based learning experiences. We promote connection with works of art by encouraging PreK-12 students to look closely, ask questions and share observations and perspectives. 
 
Multi-sensory gallery activities may incorporate observational drawing, games, movement, writing reflection and analysis of primary sources, in addition to dynamic questioning strategies.  
As ambassadors of the museum and the college, SMEs mentor school-age children in making meaningful connections to works of art in a welcoming learning environment. In turn, these college students—who are paid part-time staff—gain valuable experience in a museum that supports a risk-taking, inclusive and creative teaching practice.  

 
Self-guided visits 
Self-guided visits may be scheduled during SCMA's regular hours by using the
Group Request Form
Teachers are welcome to lead their own tours through the museum or develop materials for students to use in the galleries. Gallery stools, clipboards and pencils are available for self-guided groups.

 
Bus subsidies
A bus subsidy of up to $200 is available to defray transportation costs. The reimbursement form must be submitted after your visit. Bus Subsidy Form
 
Teacher Advisory Group
PreK-12 educators are invited to join SCMA's Teacher Advisory Group (TAG), which meets four times a year to preview upcoming exhibitions, tour current exhibitions and provide valuable feedback to SCMA educators. Meetings are scheduled on Thursdays from 4 to 6 pm and include dinner. Teachers are eligible to receive an SCMA membership after attending three meetings. Email us at museduc@smith.edu for more information.