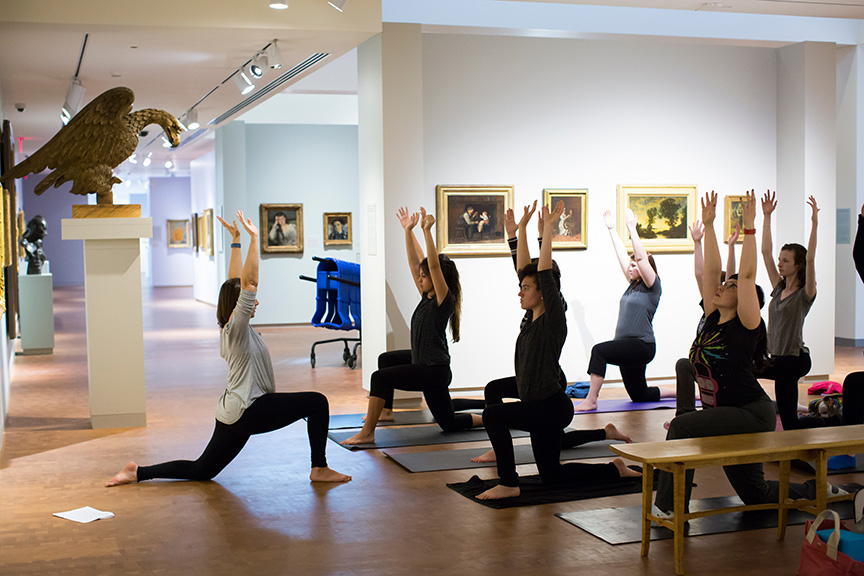 College students
Smith students are at the heart of SCMA's mission and vision. There are many ways to get involved at SCMA. Learn, connect, contribute…we invite you to make the museum your own!  

Get to know us
Welcome Incoming Smithies
Get to know all that SCMA has to offer during special events for Incoming Students throughout orientation and beyond. Stop by the SCMA table during Central Check-In and the Resource Fair or attend our First-Year Experience Program on September 15, 3-4 PM. Let us know you'll be joining the First Year Experience program here.
 
Meet your Museum
Calling all Smithies! Join us for special behind-the-scenes student tours of SCMA featuring museum staff and student workers on Friday, September 22, 4–5 PM. Let us know you'll be coming here.
 
Participate in a program
SCMA hosts a range of programs throughout the academic year. Keep an eye on our events page, social media, and E-Digest for more information. Find some information about our exclusive student program highlights below.

Art After-Hours: Student Evenings at SCMA
Save the dates for our monthly after hours events designed exclusively for Smith students in collaboration with students & student orgs across campus. Enjoy artful evenings filled with music, art making, social connection, and more! 
Save the dates: October 26, 5-8 PM (Autumn Soirée); November 16, 5–7 PM; December 14, 5–7 PM; February 29, 5–8 PM (Spring Soirée); March 28, 5–7 PM, April 25, 5–7 PM.
 
Museum Advisory Collective Programs
Add your voice to SCMA! In these monthly hands-on workshops open to all students, Smithies are welcomed by staff across the museum to get a behind the scenes look at upcoming projects and initiatives and contribute to their making. 
Upcoming workshops include helping re-hang a work of art, helping envision student engagement around an upcoming Contemporary Art exhibition, selecting a work of art and prompt for the museum's Talkback Space, contributing the museum's strategic plan, and more! 
Museum Advisory Collective meetings take place the first Wednesday of each month (starting in October) from 4:15–5:30 PM. Attend one workshop, or all. Learn more about this year's offerings & sign up here.

Cromwell Day
Cromwell Day provides dedicated time and space for reflection and education about diversity, racism and inclusion. SCMA participates in this day of programming each year, connecting the museum's collections and resources to these campus-wide dialogues. Visit the Cromwell Day website for more information.

Craft an experience of your own
Visit with a group
Bring a group of friends, housemates, or your student organization to visit the museum. SCMA welcomes group visits during open hours Tuesday through Sunday 11AM–4 PM. The museum is always free and Smithies are always welcome. If you have questions about visiting with a group, reach out to Nina Peláez, Associate Director for Learning & Interpretation at npelaez@smith.edu. 
 
Have an idea for a program? Tell us about it!
Do you or your student org have an idea about how to connect students with the museum? We would love to hear from you! Reach out to Nina Peláez, Associate Director for Learning & Interpretation at npelaez@smith.edu to discuss your ideas and learn more.
 
Paid opportunities
Student Employment Opportunities
Departments across the museum offer Smith College students employment opportunities that provide behind-the-scenes work experience. Check for the latest postings and apply through Workday.
Student Museum Educators (SMEs) are paid educators who are trained to lead preK–12 students in looking at and thinking about art through guided conversation, multisensory engagement and writing in the galleries. In this challenging but rewarding position, students can experiment with new ideas and hone a creative teaching practice as they bring their unique interests, personalities and backgrounds to their work. SMEs are supported by extensive training and coaching balanced with hands-on experience. SCMA's team of SMEs are committed to nurturing an inclusive, accessible and joyful educational experience in the galleries.
 
Research and study 
Museums Concentration
For Smith College students, a concentration combines academic and practical experience, and may be added as an additional program of study. The Museums Concentration gives students a foundation in the history of museums and the critical issues they engage.Through a combination of coursework, practical experiences and independent research, students analyze how institutions shape knowledge and understanding through collection, preservation, interpretation and display of material culture. The Museums Concentration provides a unique opportunity at the undergraduate level for students from a broad range of scholarly disciplines to consider how their academic studies might connect to their future lives and careers. Students are introduced to issues such as community access, cultural ownership and public accountability—areas of study that will be important whatever they decide to do after Smith. 
Visit the Museums Concentration website for more information and how to apply. 
 
The Cunningham Center for the Study of Prints, Drawings, and Photographs
The Cunningham Center for the Study of Prints, Drawings and Photographs houses SCMA's collection of more than 23,000 original works of art on paper, dating from the 15th century to the present day. Individuals and groups of up to 30 people are welcome to visit the Cunningham Center by appointment to study or simply enjoy the collection. email us at ccenter@smith.edu to make an appointment or to consult with a staff member about using the collection. 
Search the museum's online database to discover new works on paper on your own. Then, make an appointment to see them for yourself.
 
Explore the Collection
Learn more about the 29,000+ works of art in the SCMA collection. Explore the museum's full collection through the Five College Collections Database. To view only SCMA's collection, select Smith College from the drop-down menu. For academic users with Artstor access, images of many of the artworks in our collection are available through that resource.
If you are interested in seeing a painting or sculpture, please contact Robyn Haynie, Collections Manager/Registrar to make an appointment.
Stay in touch
Sign up here to receive our NEW student newsletter–created by Smithies, for Smithies–to get the most up-to-date information about exclusive events and opportunities for students at SCMA.
Follow SCMA on Instagram and Facebook. 
 
Awards