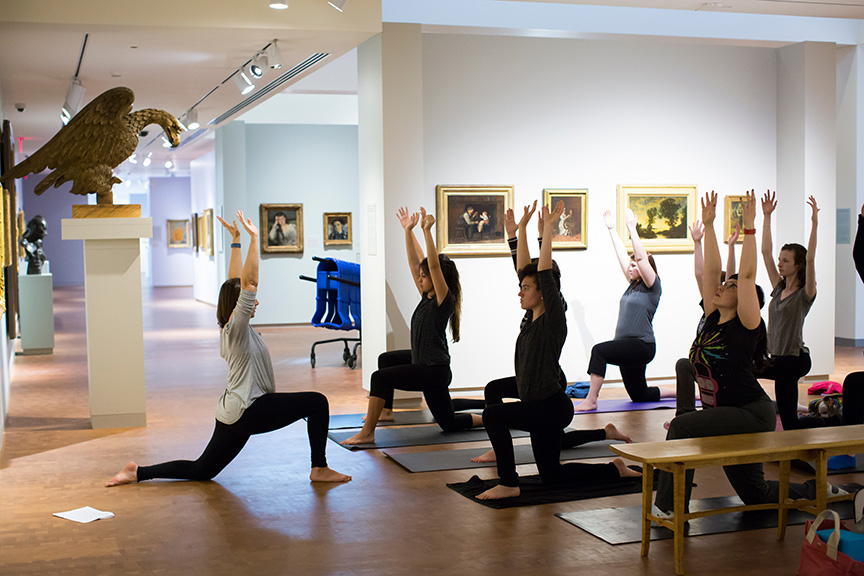 College students
If you're a college student, there are many ways to get involved at SCMA. Learn, connect, contribute … we invite you to make the museum your own!   
Connect
Save the date for Night at Your Museum, the annual after-hours party for Smith students and their guests that takes place on a Friday night in February. Special student programs are also offered on select Thursday evenings during the fall and spring semesters.
Study
Delve into the history and cultural role of museums and the critical issues they raise in the Museums Concentration. Through a combination of coursework, practical experiences and independent research, students analyze how institutions shape knowledge and understanding through collecting, preservation, interpretation and display. The Museums Concentration welcomes students from a broad range of scholarly disciplines with an interest in all types of museums and related cultural institutions. 
Work
Student Museum Educators (SMEs) lead K-12 students and adult learners in looking at and thinking about art through guided conversation, multisensory engagement and writing in the galleries. In this challenging but rewarding position, students can experiment with new ideas and hone a creative teaching practice as they bring their unique interests, personalities and backgrounds to their work. SMEs are supported by extensive training and coaching balanced with hands-on experience. SCMA's team of SMEs are committed to nurturing an inclusive, accessible and joyful educational experience in the galleries.
Volunteer
Museum Volunteer Program
Join our Museum Volunteer Program (MVP) and support the museum's education programs for community audiences and fellow students. Meet other Smithies who share an interest in museums, community engagement and art-making as you connect people with the museum. 
Student Museum Club
The Student Museum Club (SMC) welcomes Smithies of all interests, backgrounds and academic majors (or minors) to help build strong connections between SCMA and the Smith student community. No prior art background or museum experience is required to participate! SMC members work together to plan programs and events designed to foster a warm and welcoming atmosphere at SCMA and to encourage broad-based interest in, and engagement with, the museum. Interested? Please contact Tiffany Cho, Brown Post-Baccalaureate Fellow in Museum Marketing and Communications, tcho@smith.edu, or Paula Lopez, Sacerdote Post-Baccalaureate Fellow in Museum Education, plopez@smith.edu. 
Student Picks
Smith College students curate this series of pop-up exhibitions. Look for the opportunity to enter the Student Picks lottery every September!
Awards
At the end of every academic year, SCMA awards monetary prizes to Smith College students for student art and writing. Learn more about the
Tryon Prizes for Writing and Art.