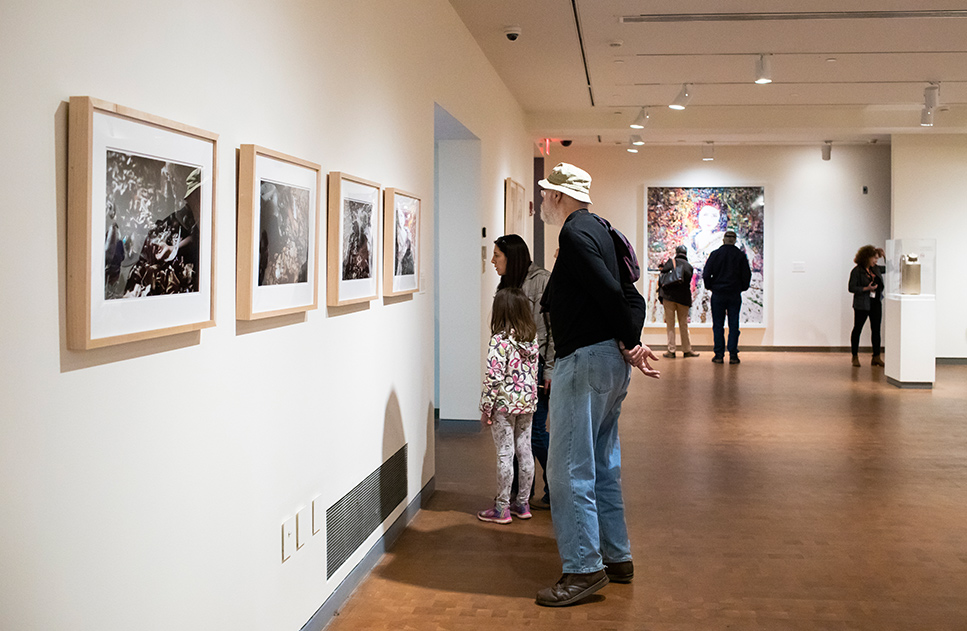 Accessibility
We are committed to making sure that all visitors have a positive and comfortable experience at SCMA. We want everyone to have an equal opportunity to connect to art, ideas and each other. 
Our building
There is a drop-off area in front of the museum for visitors with disabilities
A roughly 50-foot-long ramp at the entrance and elevators in the building provide full wheelchair access to museum spaces
There is a power-assist door at the entrance. Museum staff can assist with other doors
Accessible restrooms are located on the 2nd and Lower Level floors.
Folding stools are available in all galleries
Service animals are welcome
 
 
Mobility devices and strollers 
SCMA galleries are accessible for visitors using mobility devices and strollers. A limited number of manual wheelchairs are available in the Lobby Coat room first-come, first-served, and free of charge.
Not all interior doors in the museum's galleries are equipped with power assist. There are Gallery Assistants on each floor of the museum that are available to help visitors.
For visitors with kids
Baby-changing stations are on the second floor
A stroller is available at the front desk
We ask that you leave hard-frame baby carriers in the coatroom
Accessible parking
There is a drop-off area and one accessible parking space in front of the museum. A 50-foot ramp at about a 30-degree incline leads to the museum entrance. 
Additional parking for visitors with disabilities is available at College Hall (at 17 Elm Street, 320 feet from the museum) and in the Unity Lot or the Alumnae House Lot off of Bedford Terrace (about 500 feet from the museum). If you have an accessible parking placard, you may park in any accessible space or white-lined space on campus. 
If you qualify to park in accessible spaces but do not have a placard, you can get a temporary pass by visiting Smith Disability Services or calling 413-585-2071.
Interactive map of Smith College with accessibility information
Our website
We are committed to making the SCMA website as accessible and easy to use as possible for all visitors. Our website is fully compliant with the accessibility standards of WCAG 2.0 Level AA for web-based technology. If you encounter issues with any of our webpages, please email us at scmawebsite@smith.edu.