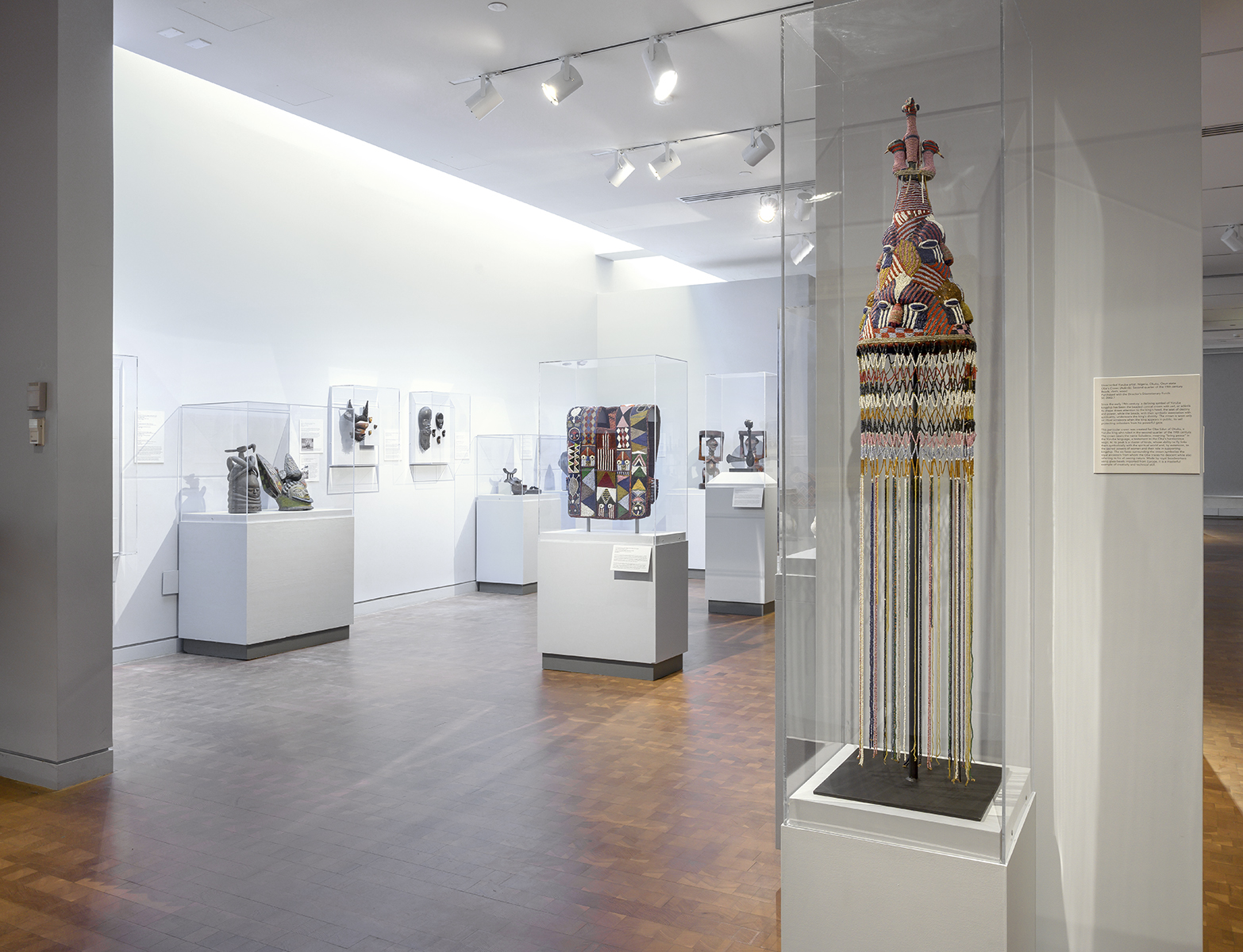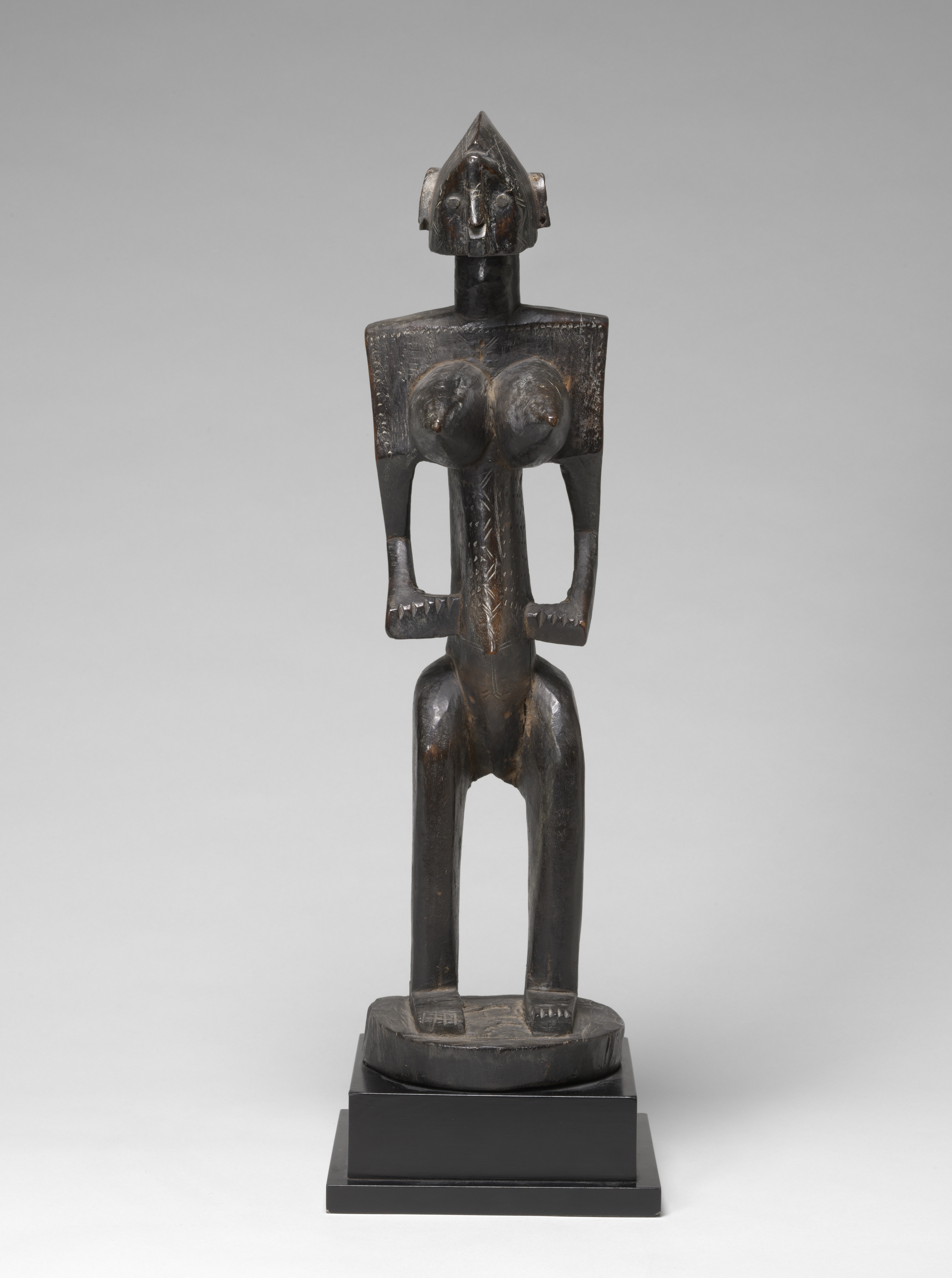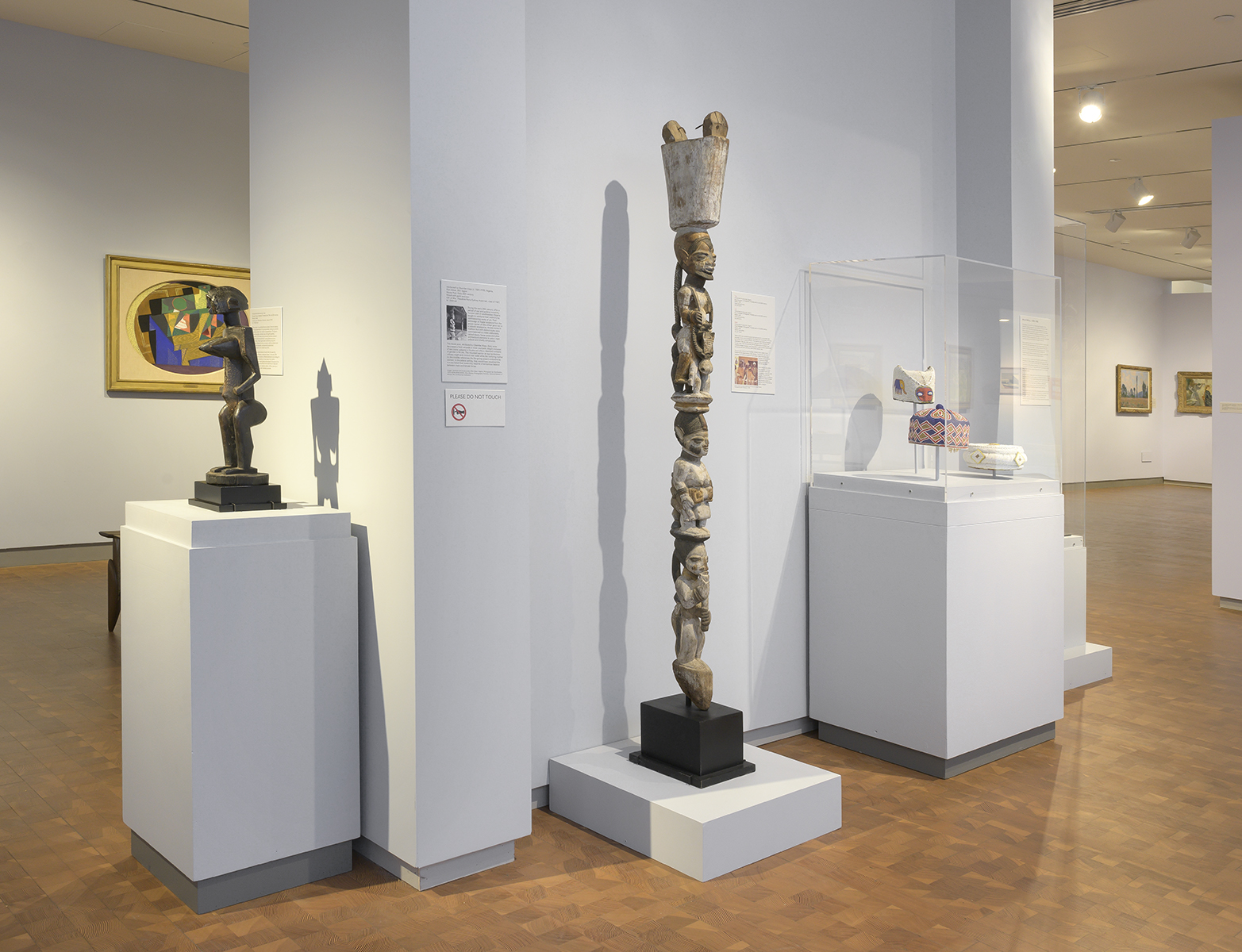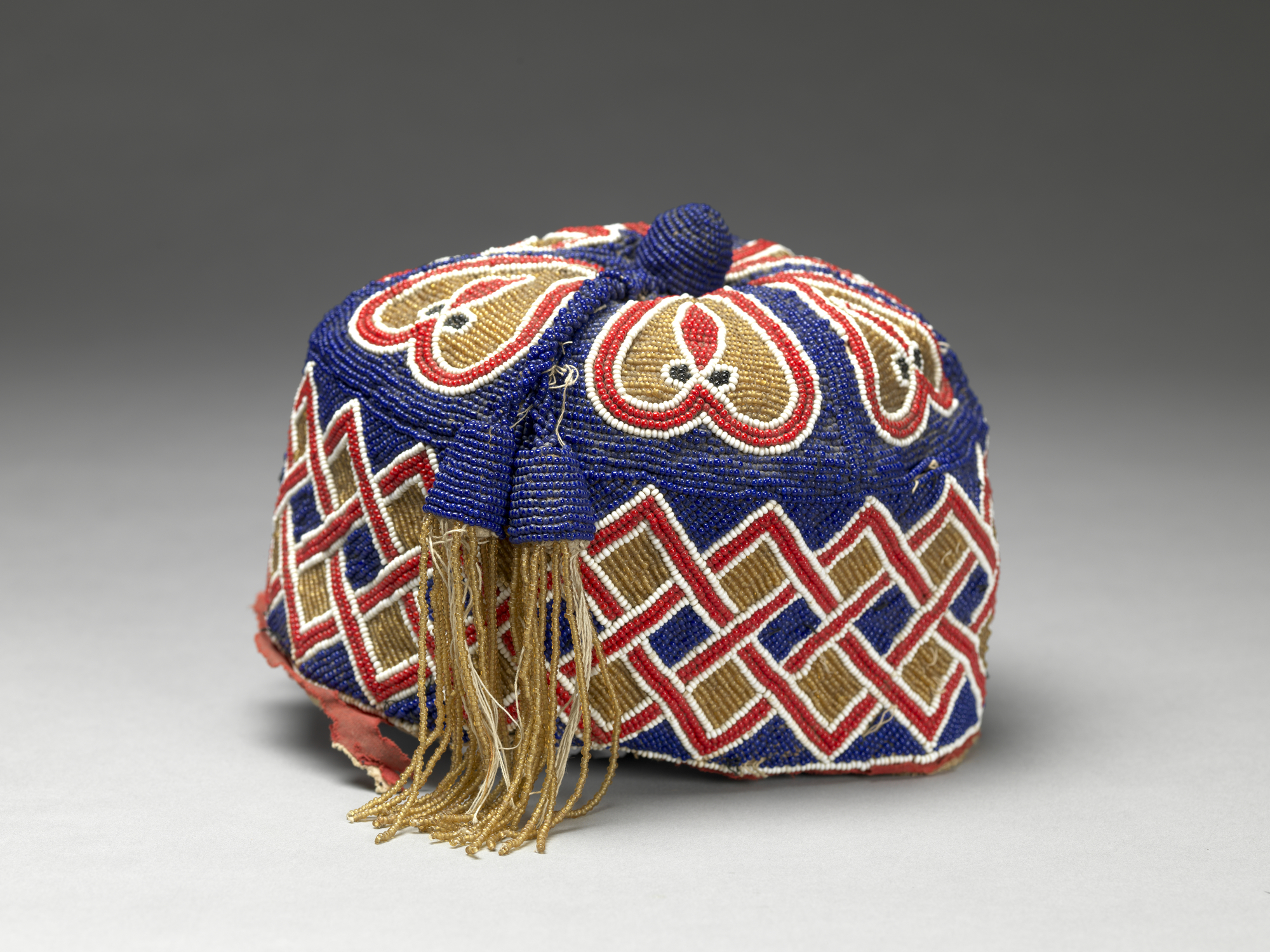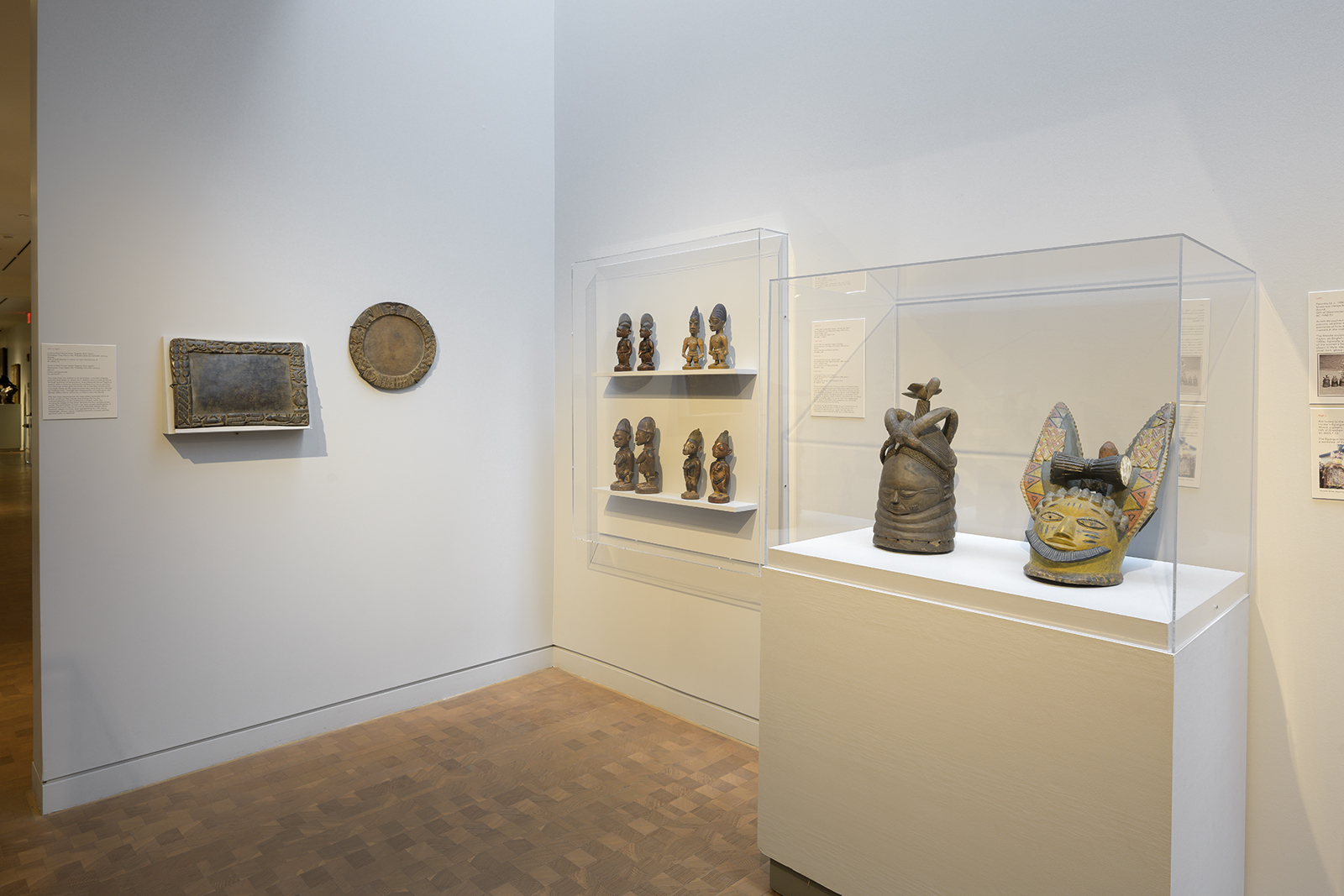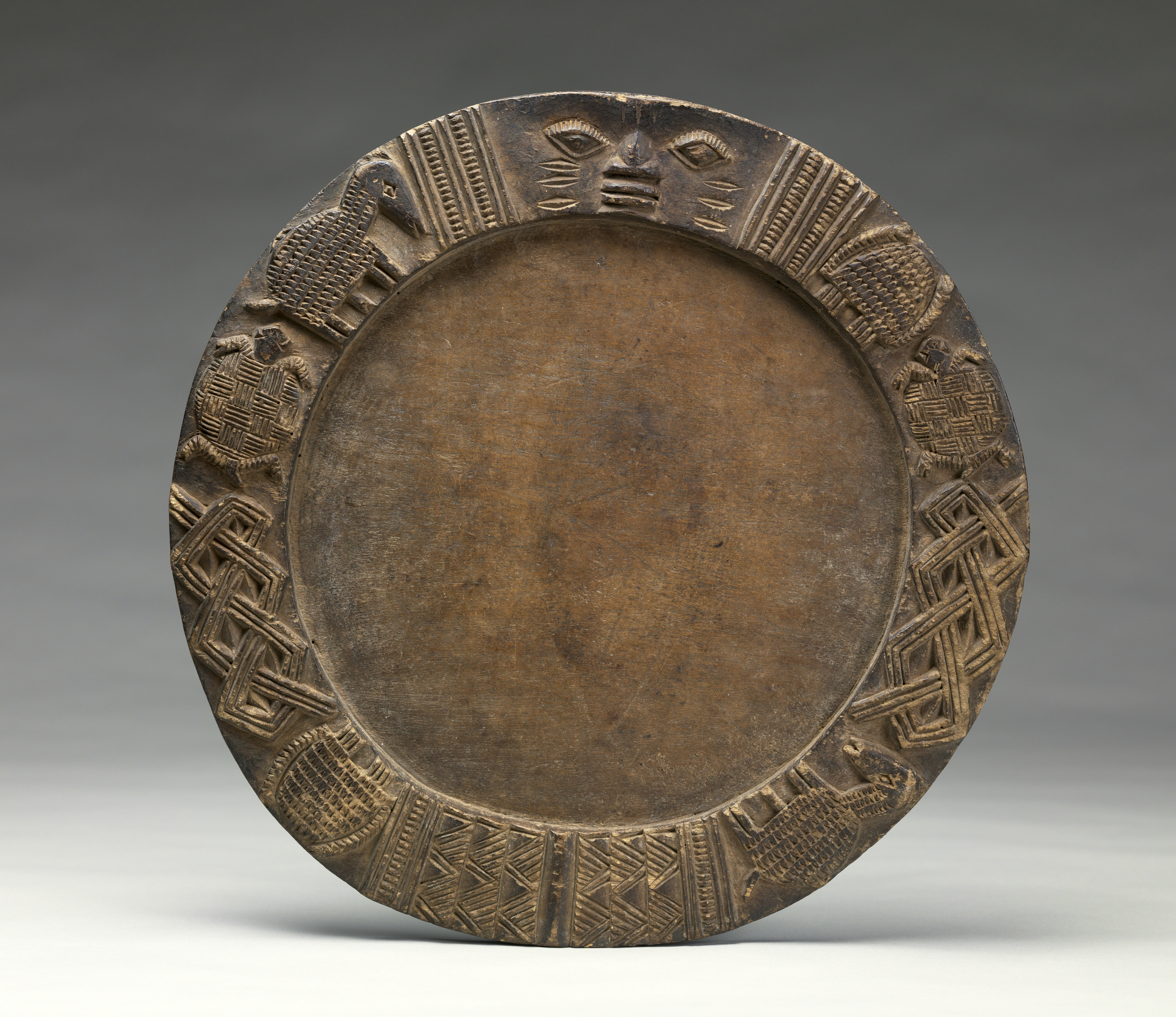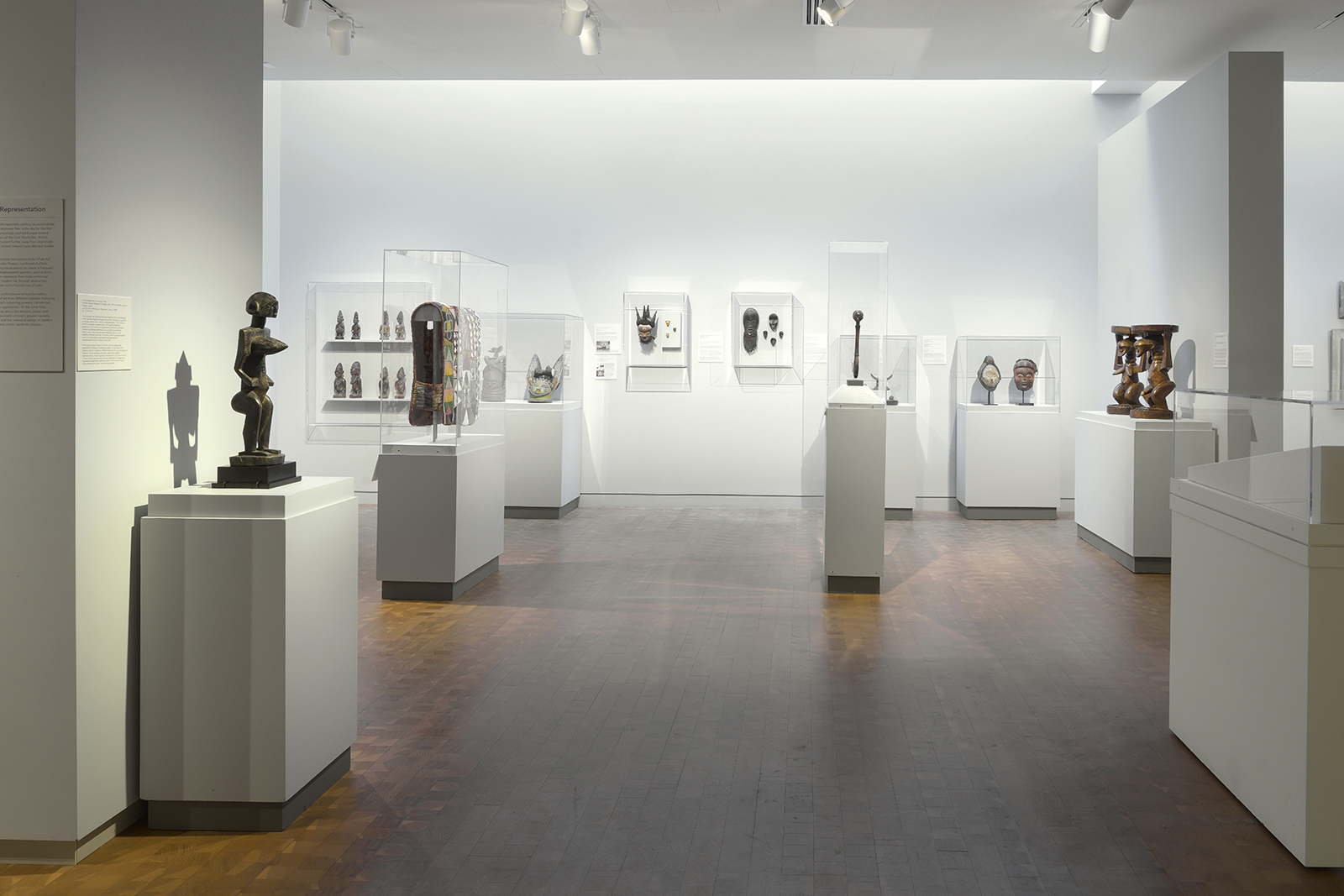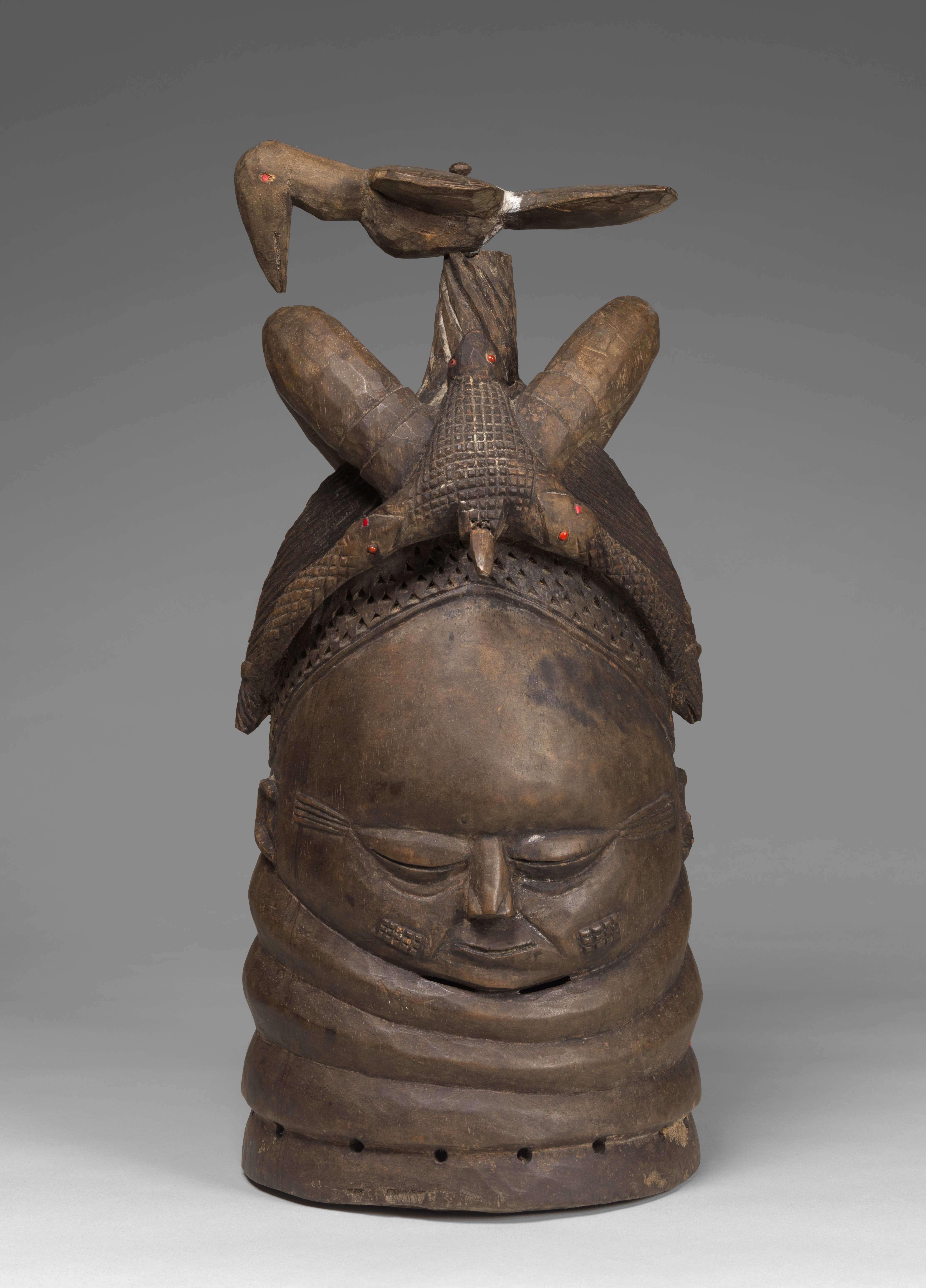 Arts of Africa, c. 1825–1960
July 6, 2021–May 28, 2023
Exhibition Overview
This selection of artworks from Africa represents just a sampling of the continent's varied and dynamic visual traditions; its emphasis on sculpture reflects the legacy of Western collecting practices rather than the diversity of artistic creation in Africa.  The works on view were made during a period that predates and includes Africa's colonization by European powers and ends with the dawn of independence movements. As with the contemporaneous European and American art displayed on the third floor, these examples from Africa offer insight into how artists responded creatively to the social and political changes of their times. Among the themes explored through Individual works or object groupings invite visitors to explore ideas about are art and attribution, artists and patrons, tradition and innovation, creativity and change, and gender and power. 
Works by artists from 10 different societies in western and central Africa offer opportunities for cross-cultural comparisons across the installation. Nearly half are by Yoruba artists, providing a glimpse of the rich diversity of creative practices within this longstanding urban culture. All of the examples on view are by male artists, who historically specialized in woodcarving and, in many parts of Africa, beadworking.   
The artworks on display were made with aesthetic intent but would have been admired—as well as used—in public and private contexts quite different from that of a museum. In their original settings, they may have been worn on the body, used during performances for an audience or in rituals, or displayed for prestige. The labels and photographs accompanying the museum display are intended to help convey this cultural background, although ultimately the works will be experienced in new ways.  
Student intern, Mosa Molapo '22, responded to this installation by creating Arts of Africa "Digital Intervention:" A Contemporary Entryway into African Art.
This website focuses on five works from Central and West Africa that relate to the theme of "Womanhood and Femininity." Through a "digital intervention," Molapo paired each historic object with a work of contemporary art from the SCMA collection in order to foreground a view of African art outside of the Western context. Her project aims to move beyond the concept of African art as "tribal" and "primitive" to demonstrate that African artists have long been exploring universal human concepts.
SCMA is dedicated to the ethical care and interpretation of its African art collection. Research on objects in the collection and their provenance, including when and how an object left its place of origin, is on-going and will be made publicly accessible. We are committed to the repatriation of any work of art that may have been looted or obtained in an unlawful manner. If you have additional information about a particular object, please email artmuseum@smith.edu.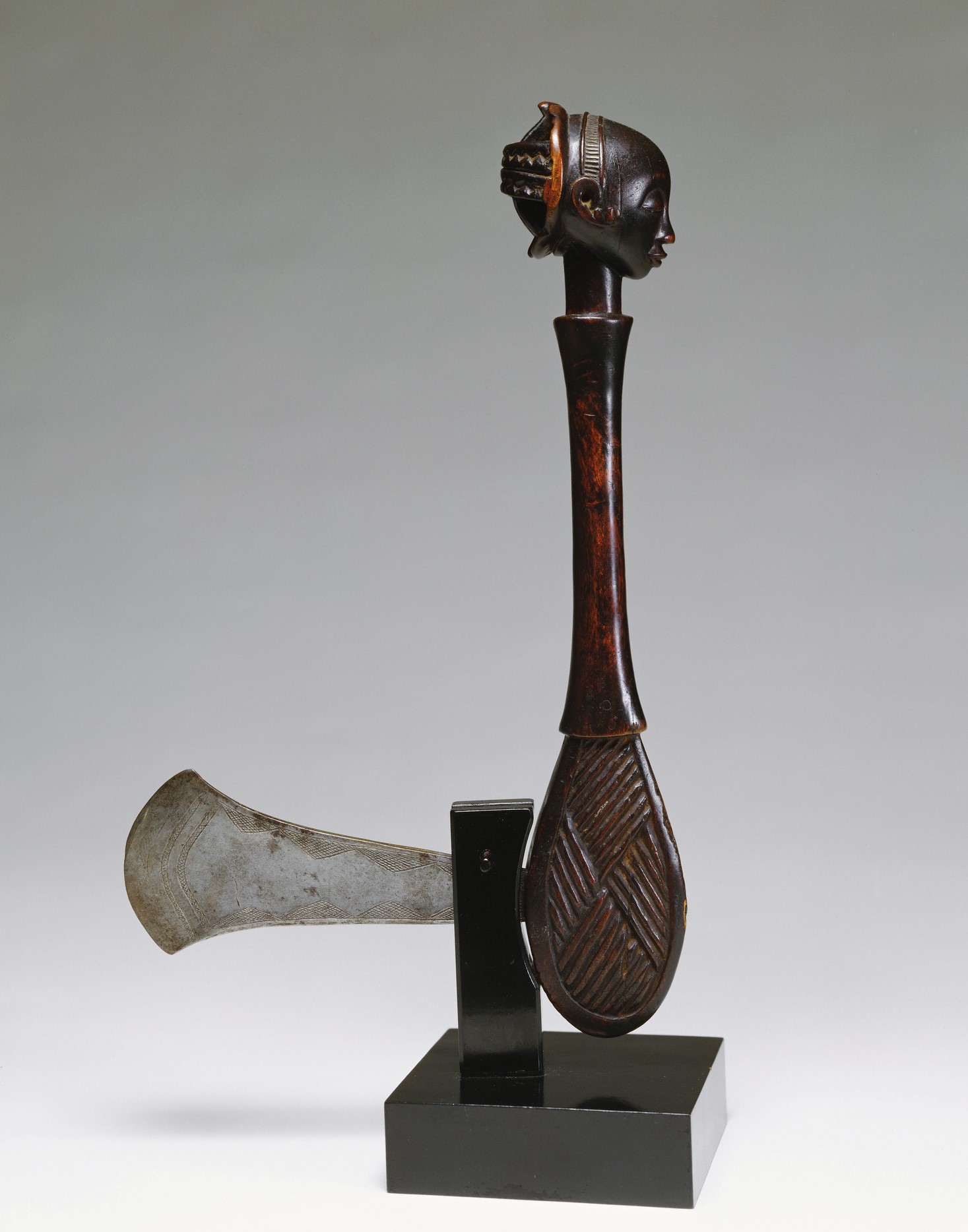 In 1939, the SCMA acquired its first work of African art, a ceremonial axe (kibiki) made by a Luba artist in what is now the Democratic Republic of the Congo. The collection has since grown to nearly 200 works, some purchased, most donated, including by Smith alumnae. The majority are sculptures in wood from west and central Africa, a reflection of Western aesthetic preferences rather than of the wide-ranging diversity of artistic creation in Africa. Dating primarily from the nineteenth to mid-twentieth centuries, the works were created during a period prior to and encompassing the colonization of Africa by European powers. SCMA's collection also contains more recent artworks by artists from Africa as part of its representation of global contemporary art.
The SCMA is committed to the ethical care and interpretation of its African art collection. Research on objects in the collection and their provenance, including when and how an object left its place of origin, is on-going and will be made publicly accessible. At the same time, SCMA looks to expand its representation of Africa's arts through responsible acquisitions focusing on artistic genres under-represented in the collection, especially those by women artists.
Unrecorded Luba artist. Democratic Republic of the Congo. Ceremonial Axe (Kibiki). Late 19th century – early 20th century. Iron and wood. 15 ¾ x 9 x 2 ⅞ in. Purchased with the Drayton Hillyer Fund. SC. 1939.9.1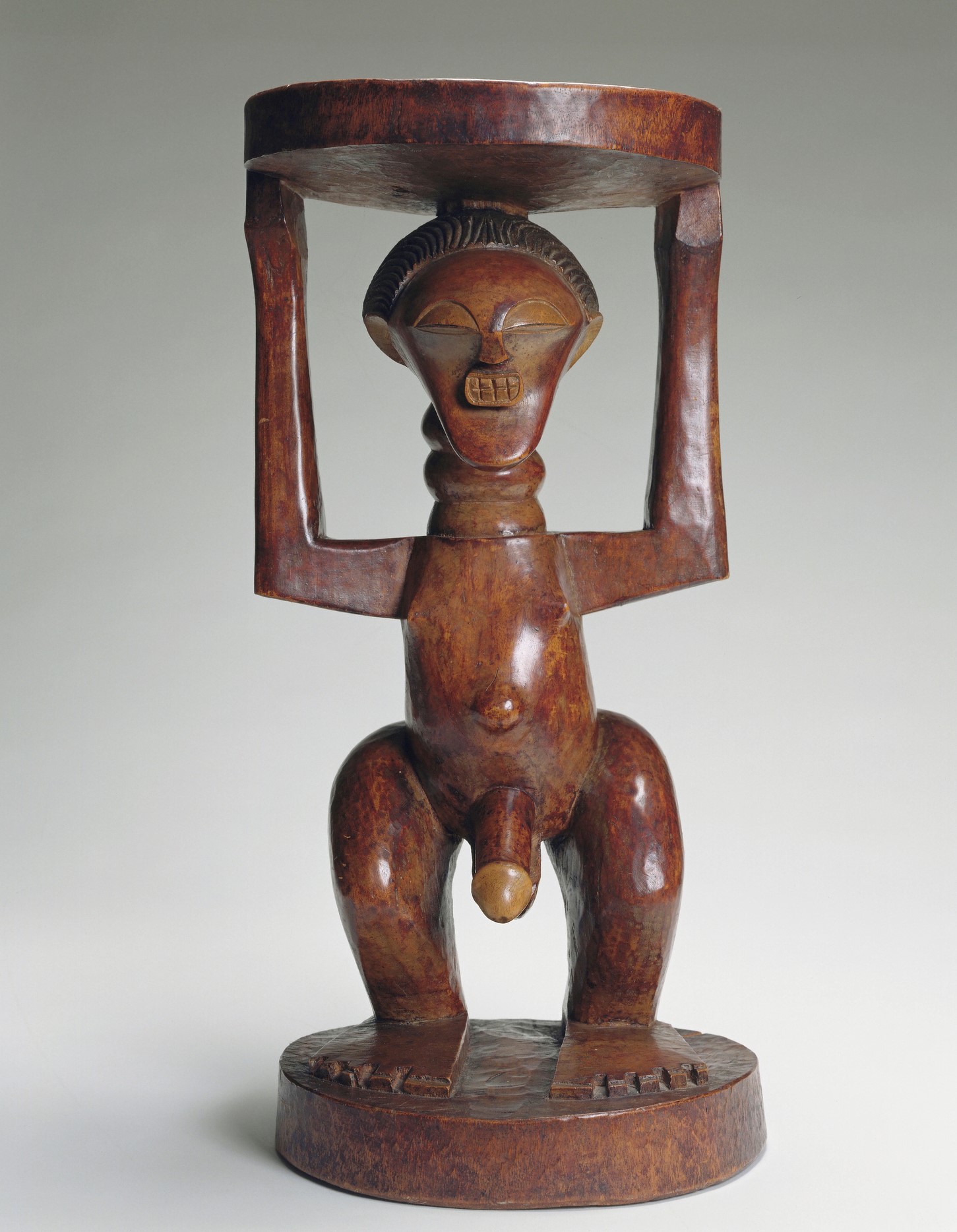 Museums often don't provide the artist's name for African art in their collections. Historically, artists rarely signed their work, though their names were frequently commemorated through oral histories. In some cases, the artist is not known because the object was believed to be divinely created or its efficacy considered more important than authorship. In many instances, when makers were known, outside collectors neglected or made a conscious choice not to register their names. The SCMA uses the term "unrecorded artist" to acknowledge that individuals created these objects even if Western collecting practices have resulted in the erasure of their identity.
Several of the works on view, however, have been attributed to individual artists or workshops based on research and stylistic analysis. Among them is the house post by master sculptor Obembe Alaye (ca. 1869–1939) of Efon-Alaye, Nigeria, and the Sowo-wui mask by celebrated carver Pessima (died ca. 1980), based in Moyambawo, Sierra Leone. In the absence of a name, stylistic traits may distinguish the hand of an artist or workshop. This is the case with the pair of stools, identified as part of a corpus created in the late nineteenth century by an atelier of Songye sculptors in the Democratic Republic of the Congo.
Unrecorded Songye artist. Democratic Republic of the Congo. Male Caryatid Stool. Probably late 19th century. Wood. 23 ¼ x 11 in. seat diameter. Purchased. SC 1972.1.2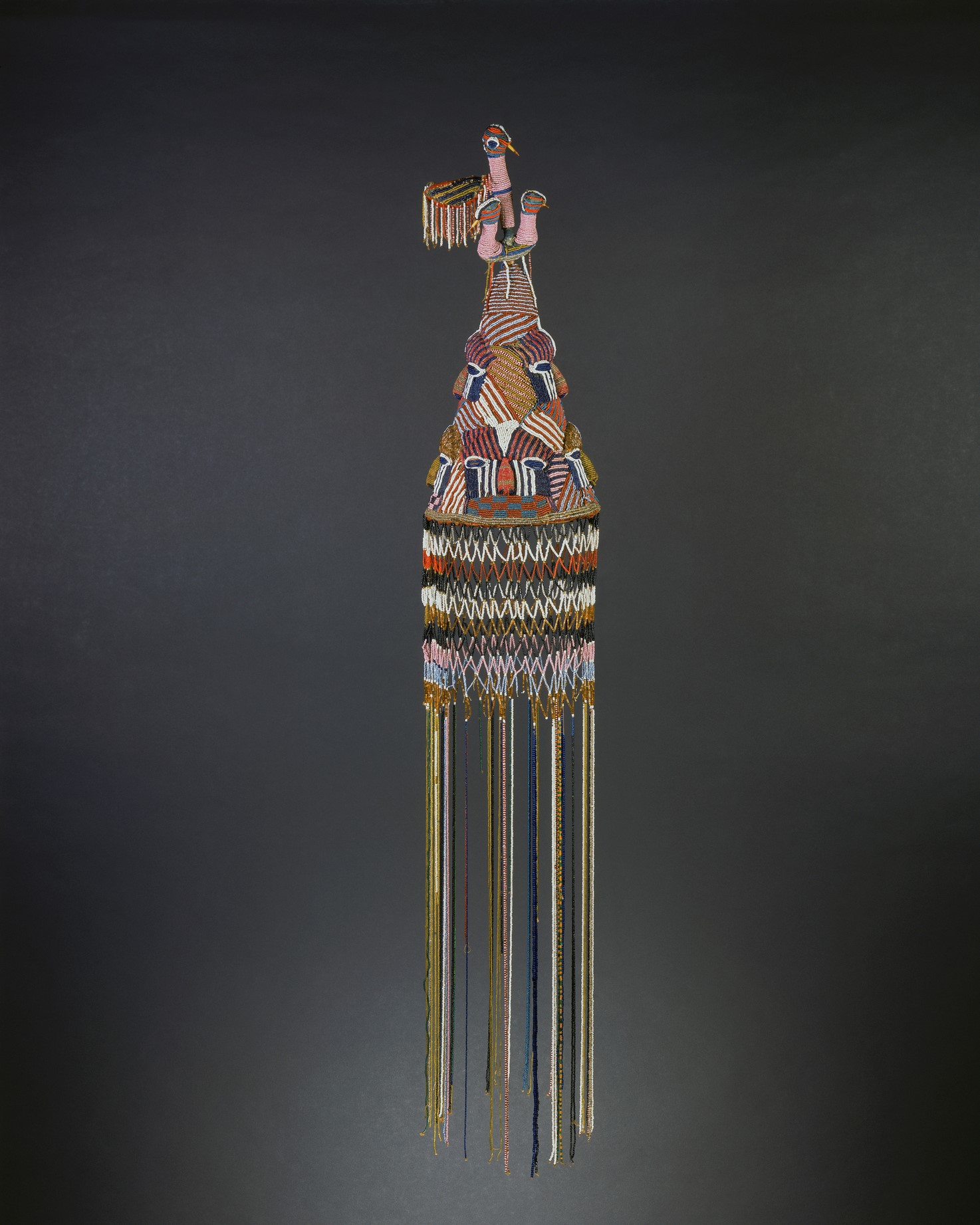 Traditionally, artists created work that responded to the specific needs of patrons, both local and foreign. Within their communities, this might include families and individuals, members of social organizations, political and religious leaders and even spiritual beings. The beaded crown (adenla), for example, was commissioned in the mid-nineteenth century by a Yoruba king, Oba Edun of Okuku, to celebrate his harmonious reign. The Dan tankagle mask was created as a result of an encounter between a forest spirit and an individual in a dream. When that happens, the individual is then compelled to commission a mask, along with its related costume and performance, that gives the spirit material form.
Artists also produced works for outside patrons, whether in neighboring communities or from afar. The Adugbologe atelier in Abeokuta, Nigeria, was initially founded to serve the ritual needs of Yoruba patrons. In the early twentieth century, the atelier artists expanded their market to include tourists and expatriates, selling off locally commissioned sculpture deemed unacceptable by a patron on artistic, technical, or even spiritual grounds. At mid-century, the atelier shifted almost entirely to commodity carving for external markets, a transitional period of artistic production during which the Egungun headdress on display was made. 
Unrecorded Yoruba artist. Nigeria; Okuku, Osum state. Soludero Crown (Adenla) for Oba Edun. Second quarter of the 19th century. Beads, cloth and wood. 54 x 8 x 9 in. Purchased with the Director's Discretionary Funds. SC 2002.7.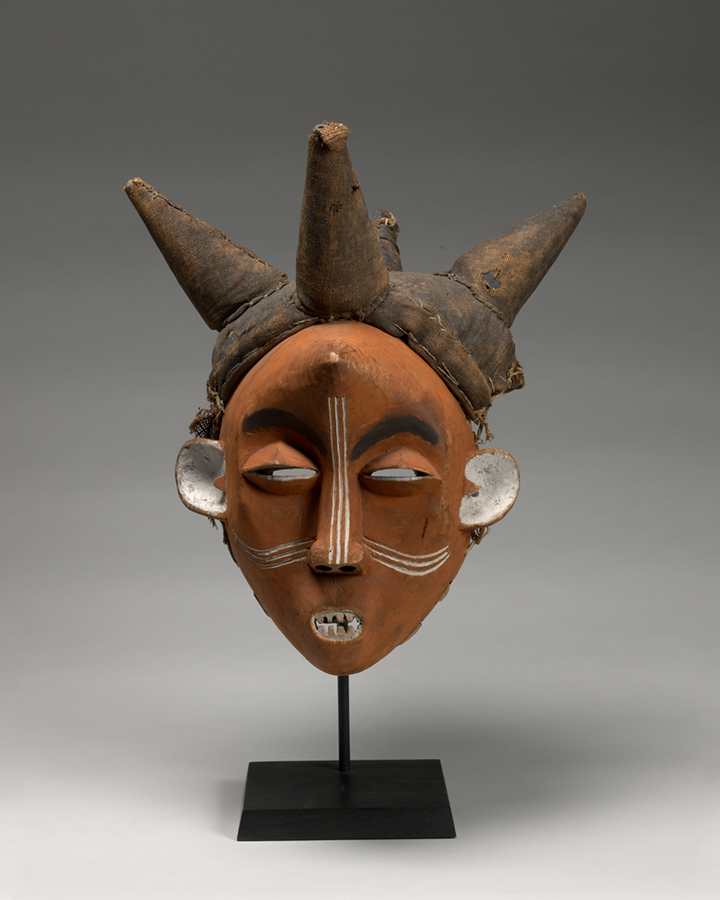 Tradition-based artists in Africa typically work within local conventions of form and style but often introduce creative improvisations in their practice. Individual works and groupings of objects in the installation highlight the ways artists innovate within tradition.
A selection of memorial twin figures (ere ibeji) demonstrates both consistency and variety within a genre. While the styles and details of ere ibeji are associated with specific Yoruba towns or regions in Nigeria, they also reflect the individuality of the artists as well as the desires of their patrons. Similarly, the two divination trays show different creative approaches to a particular object type. The circular tray evokes the Yoruba conceptualization of the cosmos as a sphere, while the rectangular shape of the other denotes the four corners of the world. The Pumbu mask offers a good example of artistic innovation, within the larger repertoire of Pende "village masks" (mbuya) representing male and female characters. The sculptor experimented with Pende conceptions of gendered facial features, "feminizing" an aggressively male character by softening and broadening the cheeks and flattening the forehead.
Unrecorded Pende artist. Democratic Republic of the Congo. Mask (Mbuya). Probably mid-20th century. Wood, cloth and pigment. 9 ½ in. Lent by Ann Weinbaum Solomon, class of 1959. SC TR 8014.3
The artworks on view range in date from the first decades of the nineteenth century through the mid-twentieth century. This period encompasses the beginning of European imperial expansion and later, colonialism, and ends with the dawn of African independence movements. Many of the works reflect the ways that artists in Africa creatively responded to this time of tremendous political, economic, and religious change. The selection of Yoruba beadwork offers a closer look at change over time.
Glass beads, imported from Europe, became widespread throughout Africa through trade beginning in the early nineteenth century. Among Yoruba kingdoms in Nigeria, this led to the development of the conical crown, or adenla, worn by the king on ritual occasions. As trade increased with colonization, greater access resulted in a flourishing of beaded regalia in the artistic center of Efon-Alaye, where the dazzling tunic was made for a powerful individual. New forms of regalia were also introduced in the early twentieth century as Yoruba rulers publicly repositioned themselves and their authority under British colonial rule. The creation of informal headgear, like the "everyday crowns" on display, not only responded to the changing roles of Yoruba rulers but allowed crown makers more freedom to experiment with design.
Unrecorded Yoruba artist. Nigeria; Efon-Alaye, Ekiti region. Tunic. First half of the 20th century. Cotton, burlap, glass beads and coconut shells. 27 x 22 x 7 in. Purchased with the Art Acquisition Fund. SC 2009.13.
Acknowledgments
This installation is supported by the Suzannah J. Fabing Programs Fund and the SCMA Publications and Research Fund.