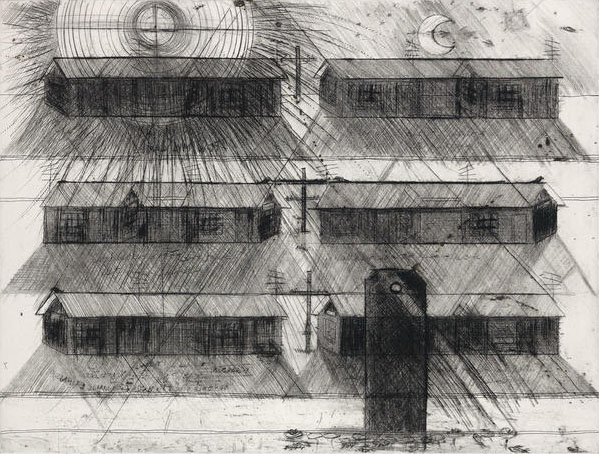 Defiant Vision: Prints & Poetry by Munio Makuuchi
August 23–December 8, 2019
Exhibition Overview
Featuring more than 50 prints and examples of poetry, this exhibition is the first to focus on the work of Munio Makuuchi (born Howard Takahashi, 1934–2000) and serves as a reclamation of the artist's visual and literary contributions.
The son of a Japanese-born father and American-born mother, Makuuchi and his family were confined in an incarceration camp for Japanese Americans from 1942 to 1945. The Minidoka Relocation Center in Idaho was one of 10 facilities designed to hold more than 120,000 people of Japanese ancestry living on the West Coast during World War II. This pivotal experience was a catalyst for Makuuchi's art, as well as for his rootless existence.
During his tumultuous life, Makuuchi was consistently shaped by challenges. Yet the more obstacles he faced, the more defiantly he pursued his vision. Makuuchi's mature period of work began in the early 1970s and reached a crescendo after his return in 1984 from teaching at the University of Ife, Nigeria. His early life trauma, family history and varied artistic influences set the stage and provided fuel for the productive work that was to follow.
The fully illustrated catalog accompanying the exhibition will be the first published scholarship on this largely unrecognized American artist, placing him within a social, historical, artistic and literary context.
Prints
Munio Makuuchi began his formal artistic education in 1959, when he enrolled at the University of Colorado, where he studied printmaking with artist Wendell Black. At Black's urging, Makuuchi entered the master's degree printmaking program at the University of Iowa to work with artist Mauricio Lasansky. These experiences provided the technical grounding for Makuuchi's future explorations in printmaking. 
Makuuchi subsequently earned a master's of fine arts in painting, but printmaking remained his primary pursuit. He worked in drypoint, in which the image is scratched into a metal plate with a sharp tool, then inked and printed. The directness of drypoint was well suited to Makuuchi's aesthetic.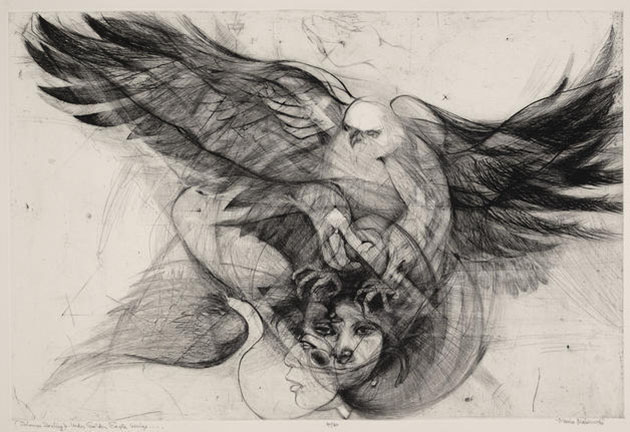 Poetry
Memories, visions and other subjects captured in Makuuchi's artwork find verbal expression in his poems. The exhibition includes audio of selected poems inspired by Makuuchi's memories of incarceration, his fondness for salmon imagery and his disapproval of nuclear weapons and energy.  
Makuuchi took only one poetry-writing class but leapt into the genre with brio. His approach began with cultivating a dreamlike openness to recollections from his traumatic past and love for his family and the natural world. 
Using poetic devices such as wordplay and line breaks, he experimented with the sounds and rhythms of jazz, which he heard growing up in Seattle. He also drew inspiration from the Beat Movement of the 1950s, Chilean poet Pablo Neruda (1904–1973) and haiku masters such as Kobayashi Issa (1763–1828).
The Golden Eagle
Is my spirit bird
From the Valley of the Golden Eagle
in the Snake River Canyons
    near our "campgrounds"
With the Golden Eagle
I soar from the incense smoke
Uplift of the tar shelters' red
glowing pot-bellied stoves
of cold bitter winters
further
higher
   and with
     silent grace –
Audio of "The Golden Eagle," by Munio Makuuchi read by the author/artist. Sound mastered by senior media producer Kate Lee
Acknowledgments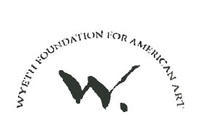 This project is supported by grants from the US Department of the Interior, National Park Service, Japanese American Confinement Sites Grant Program; Wyeth Foundation for American Art; Tryon Associates; The Maxine Weil Kunstadter, class of 1924, Fund; the Edith Stenhouse Bingham, class of 1955, Art Museum Fund; the Judith Plesser Targan, class of 1953, Art Museum Fund; and the SCMA Publications and Research Fund.