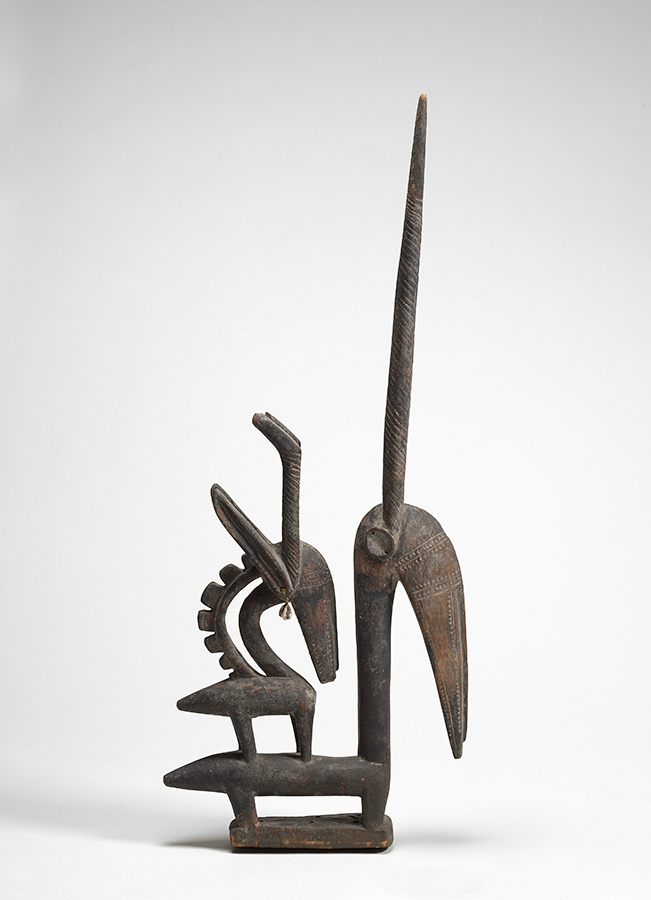 Object Histories: From the African Continent to the SCMA Galleries
August 2018–June 2020
Exhibition Overview
This special installation, from SCMA's collection, traces the unique histories of over 20 of the Museum's most important works of African art. New research has connected artists with objects that were previously unattributed, while the roles of collectors and donors are examined in conjunction with the objects' own cultural histories and meanings.
The Smith College Museum of Art began collecting African art in 1939, with the acquisition of a ceremonial axe made by the Luba people in the present-day Democratic Republic of the Congo. Since then, the collection has grown to over two hundred pieces of sculpture, textile, painting, photography and video. Dating primarily to the 20th and 21st centuries, the collection continues to expand in the areas of photography, mixed media and video as well as sculptural objects.
The Luba axe is one of the featured works in Object Histories and is displayed with an important Sande mask by the artist Pessima (Sierra Leone), a veranda post attributed to Obembe Alaye (Nigeria), the popular Doll House by Yinka Shonibare MBE (England), wood sculptures by Songye, Kuba and Fon artists as well as a rotating selection of prints by prominent photographers such as the Jimmy Photo Studio (Sierra Leone), Seydou Keita (Mali), Ima Mfon (Nigeria) Zanele Muholi (South Africa), and Sanlé Sory (Burkina Faso).
Object Histories was curated by Susan E. Kart, Smith class of 1996, Assistant Professor of the Arts of Africa, Lehigh University.  The installation was supported by SCMA members and donors to the museum's 2015 Annual Appeal.