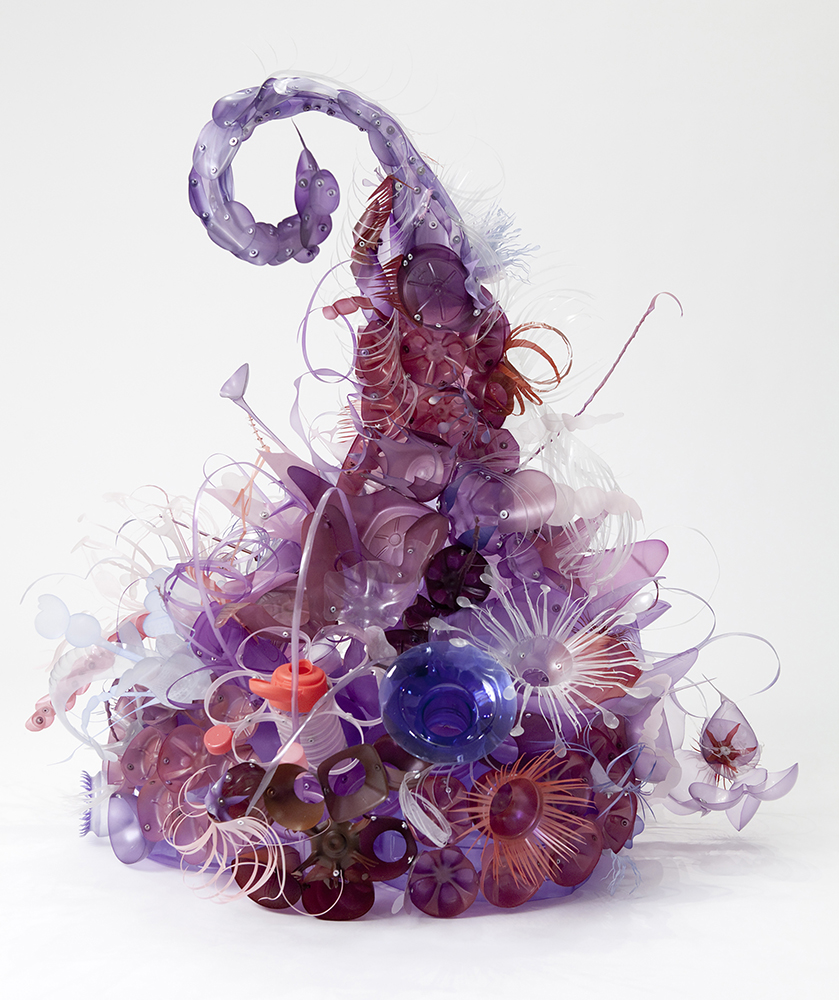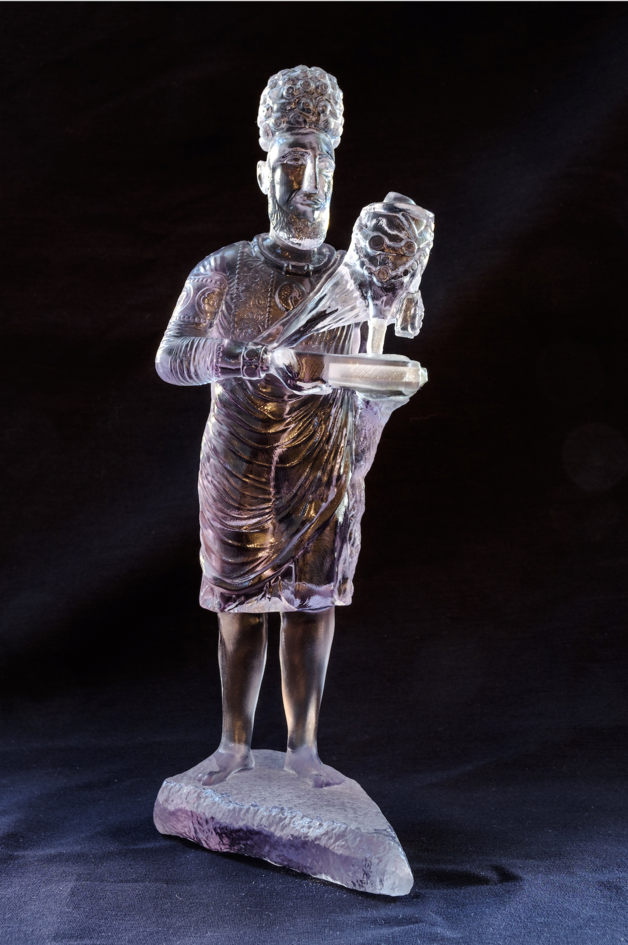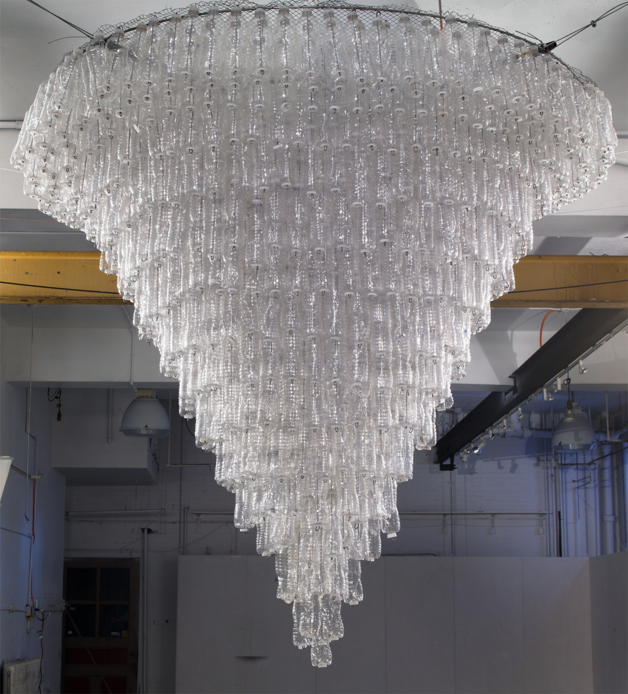 Plastic Entanglements
February 8–July 28, 2019
Overview
The story of plastic is as complex as the polymer chains that make up its unique material properties. Plastic Entanglements brings together sixty works by thirty contemporary artists to explore the environmental, aesthetic, and technological entanglements of our ongoing love affair with this paradoxical, infinitely malleable substance. Both miraculous and malignant, ephemeral yet relentlessly present, plastic infiltrates our global networks, our planet, and even our bodies.
This major loan exhibition features work by an international roster of emerging and mid-career artists. Visitors will encounter a varied array of artwork, from meticulous drawings, photographs, and video installations to 3D-printed objects and sculptures fabricated from found plastic.
Plastic Entanglements unfolds in three sections, charting a timeline—past, present, and future—of our ongoing engagement with this ubiquitous manmade material.
Participating Artists:
Morehshin Allahyari, Ifeoma U. Anyaeji, Han Bing, Dianna Cohen, Willie Cole, Bonnie Collura, Gisela Colon, Emmanuel Bakary Daou, Mark Dion, Katrin Hornek, Kelly Jazvac, Chris Jordan, Brian Jungen, Pamela Longobardi, Steve McPherson, Zanele Muholi, Vik Muniz, Matthew Northridge, Aurora Robson, Evelyn Rydz, Tejal Shah, Jessica Stockholder, Rebecca Strzelec, Ann Tarantino, Christine Wertheim, Margaret Wertheim, Deb Todd Wheeler, Kelly Wood, Pinar Yoldas, and Marina Zurkow.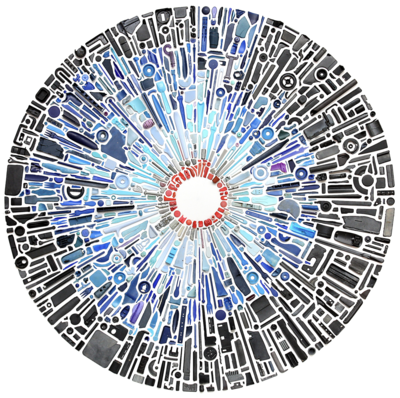 The Archive
The Archive examines the ways in which plastic objects make up an inadvertent record of daily life from the mid-twentieth century onwards. Resiliently non-biodegradable, plastic has created both a cultural and literal archive for artists to salvage, identify, and assemble.
Image: Steve McPherson, Wavelengths, 2012–13, unaltered marine plastic objects. Courtesy of Victori + Mo Gallery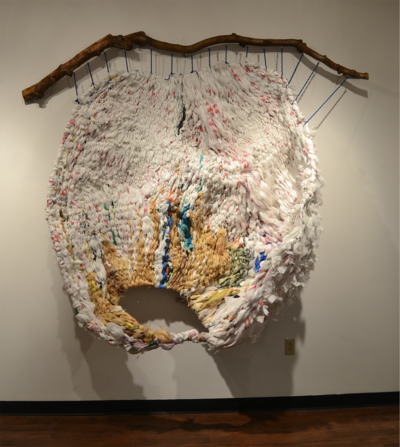 The Entangled Present
The Entangled Present reveals the ways in which plastic binds people, plants, and animals together across diverse geographical locations and through global systems. The works of art in this section focus attention on the complex effects of the reach of plastic on ecological networks as well as on current artistic practice and reveal the ways in which we are bound up in plastic realities, often regardless of our individual choices or ideals.
Image: Ifeoma U. Anyaeji, Akpalakpa II (Weave), 2012, repurposed, used, non-biodegradable discarded plastic bags, metal wire, and wood. Courtesy of the artist and Skoto Gallery, New York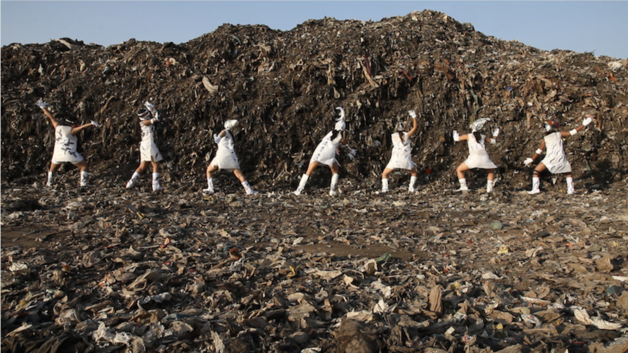 Speculative Futures
The exhibition concludes with a section dedicated to Speculative Futures, asking what unknown worlds are emerging from the omnipresence of plastic, including new geologic and biologic forms. Engaging with new materials and modes of plastic production, artists are also opening up our imaginations to the range of possible futures in plastic.
Image: Tejal Shah, still from Between the Waves: Landfill Dance, 2012, video projection with sound, 5:02 minutes. Courtesy of the artist and Project 88, Mumbai.
Plastic Entanglements: Ecology, Aesthetics, Materials was organized by the Palmer Museum of Art, Penn State, and curated by Joyce Robinson, curator, with guest co-curators Jennifer Wagner-Lawlor, Penn State professor of women's, gender, and sexuality studies and English, and Heather Davis, assistant professor of culture and media, The New School. SCMA's presentation is led by Emma Chubb, Charlotte Feng Ford '83 Curator of Contemporary Art.
This exhibition and related programs at SCMA are made possible by the support of the Suzannah J. Fabing Programs Fund; the Carlyn Steiner '67 and George Steiner Endowed Fund, in honor of Joan Smith Koch; the Judith Plesser Targan, class of 1953, and the Enid Silver Winslow, class of 1954, Art Museum Funds; and the Tryon Associates.
Thanks to the program partners who have collaborated with SCMA on this exhibition: