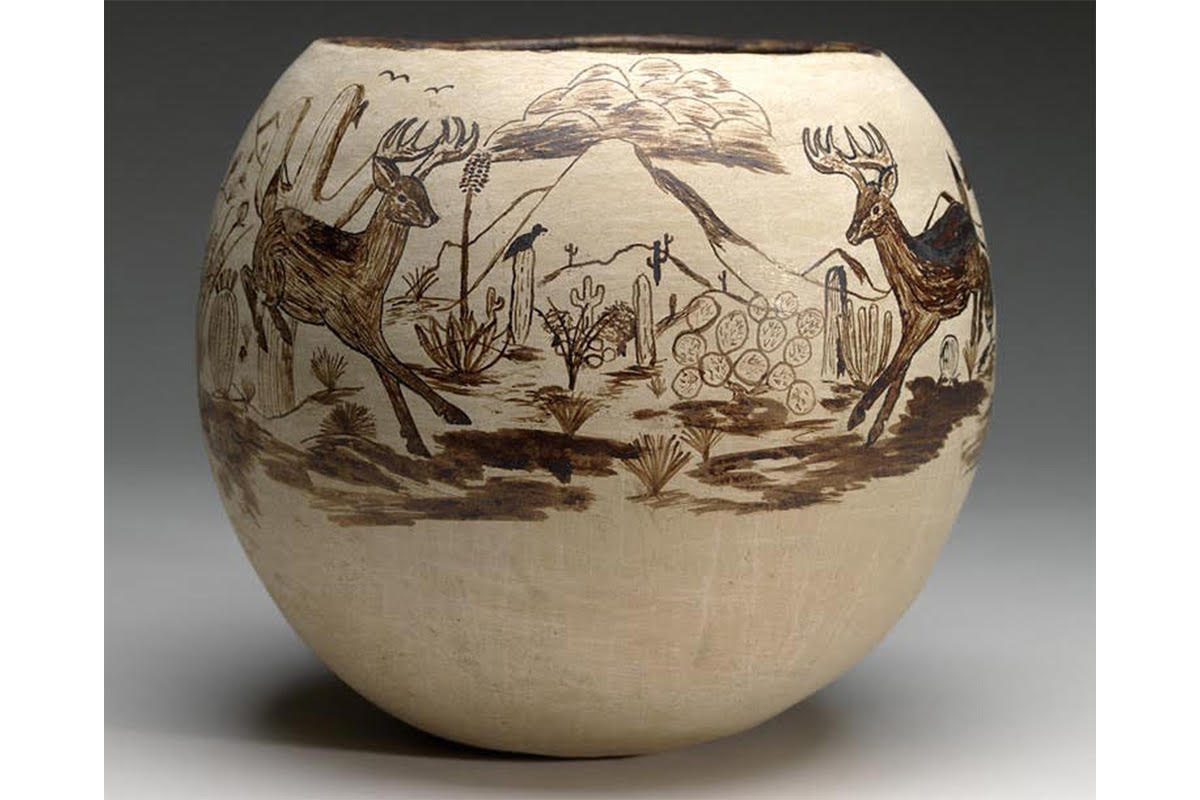 Always Been Here: Indigenous Artwork Reemerges from Storage
Isabel Cordova graduated from Smith College in 2019 with a degree in Studio Art, American Studies, and a concentration in Museum Studies. In this post, she reflects on her and Sydney Nguyen's collaboration with Smith College Museum of Art (SCMA) as the Post-Baccalaureate Assistants for the Indigenous American Collections at Five Colleges Inc.
This post refers to the installation of pieces by Indigenous artists from SCMA's permanent collection on view in the Art after 1800 America, Europe, Africa Gallery (third level). 
---
A dark cloud rolls over a steep mountain, birds perch on cacti, and two deer bound toward one another through a desert landscape. As we studied this image painted on the surface of an earthenware pot, Sydney turned to me and explained how she felt the pot visually represented a concept called "colonial entanglements." 
As the Post-Baccalaureate Assistants for the Indigenous American Collections, we were conducting a year-long evaluation of the records for items created by Indigenous makers across the Five College and Historic Deerfield collections database. As part of the evaluation, we visited each museum to get a sense of the collection in person. We were just leaving the storage room when Joe Angea's pottery caught our eye. 
As we tip-toed to better see the pot on the shelf, Sydney recalled a concept she had explored in her Anthropology and Native American Studies programs at Dartmouth College. Jean Dennison's book, where Sydney learned the concept, "colonial entanglements" encapsulates the ways Indigenous nations often have to work against, yet within and sometimes with, colonial forces to assert sovereignty. In its original context, the term is used when referring to government reform and asserting nationhood, yet we found it could be applied to Indigenous artists' items and artwork expressing cultural and creative practices. While Angea's piece took the form and material characteristics that are recognizably Tohono O'odham pottery, the reference to Western conventions of landscape painting stood in contrast to the geometric designs on most of the pots that shared the shelf. And this is just one example of the lives and complexities of the objects and their histories that are hidden away in the storage stacks
Though we are not experts on pottery, the vessel inspired endless conversations about the creative adaptations we saw represented in the collection. As we continued to research objects in storage and learn about SCMA's history of collecting Native American items and artworks, we discussed with ambivalence a common paradox of museum collections. Like many museum collections, SCMA's objects and collecting history can both illustrate Indigenous artists' ingenuity and autonomy (despite the ongoing effects of settler colonialism) while at the same time perpetuating the values of a settler colonial society. This is why when curator of painting and sculpture Danielle Carrabino asked us to gather a checklist of pieces we would like to see displayed and recontextualized in the Art after 1800 America, Europe, Africa gallery, Sydney and I jumped at the opportunity.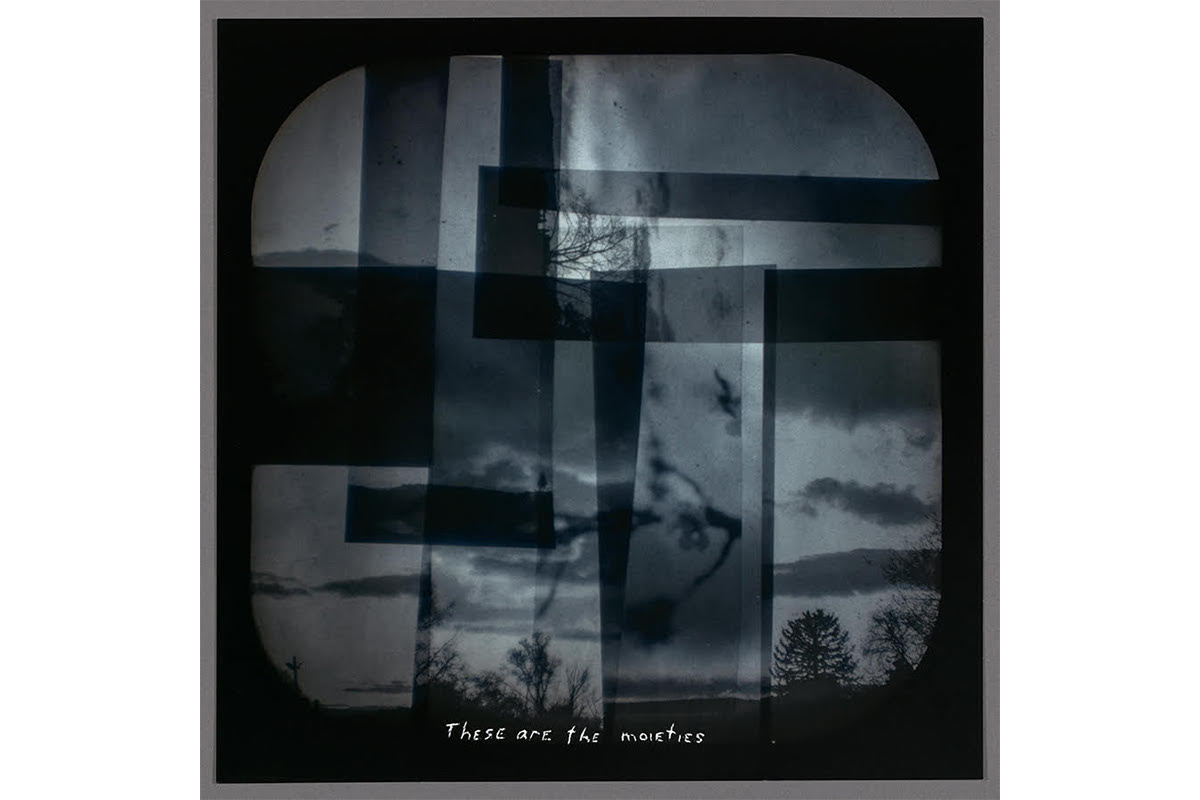 Although we had limited time allotted to the project, I wanted to open a discussion about the process of developing this display before finalizing the checklist. I believe museums have a responsibility to consult with the communities and artists whose items they steward as well as those they serve when curating their collections. Though we weren't able to hear directly from any of the artists in the time for this collaboration, I researched the object files, explored their websites and blogs when available, and spoke with professors and museum educators who often used the collection for teaching and learning. Ultimately, we hosted a conversation with Dana Leibsohn's class "LAS 291 Decolonize This Museum?" in the gallery space where the objects would be installed. Given the constraints of our assignment and preliminary checklist, the students joined in brainstorming ways the display could be an initial intervention to complicate the predominantly white, eurocentric narrative that the gallery currently prioritizes. 
The first impressions of our object checklist were that there was little or no cohesion, that the list appeared random and the objects didn't seem related to one theme. I thought then, this is exactly what they have in common — Indigenous peoples are not a monolith and neither is their art. The checklist mimicked the experience I had exploring the collection attempting to puzzle out the museum's intent. Piecing together more questions than answers. 
If a majority of the collection is art of but not by Indigenous artists, should we include pieces by people who are not Indigenous? How do we even define Indigenous or Native American? Why are there errors and typos related to the artists' cultural affiliation or surname for that matter? Why are there no local tribes represented in the collection? Are we trying to do too much? These were questions we continually discussed as the project materialized (and will likely think about indefinitely). 
The resulting display includes two cases and one painting embedded in the "American" section of the gallery. From photo collages, paintings, prints, and sculpture, we arranged just under twenty artworks in conversation with the pieces and descriptive texts already on view in the gallery. Overall, this display demonstrates that the topic is deeply complex and there is not one fully representative Native American or Indigenous perspective, aesthetic, or subject matter. It is my hope that bringing some of these pieces out of storage will encourage visitors to think critically about the collection, and that these beautiful and profound objects will eventually break out of the display boxes, storage shelves, and galleries to continue to live and inspire as they were intended to.