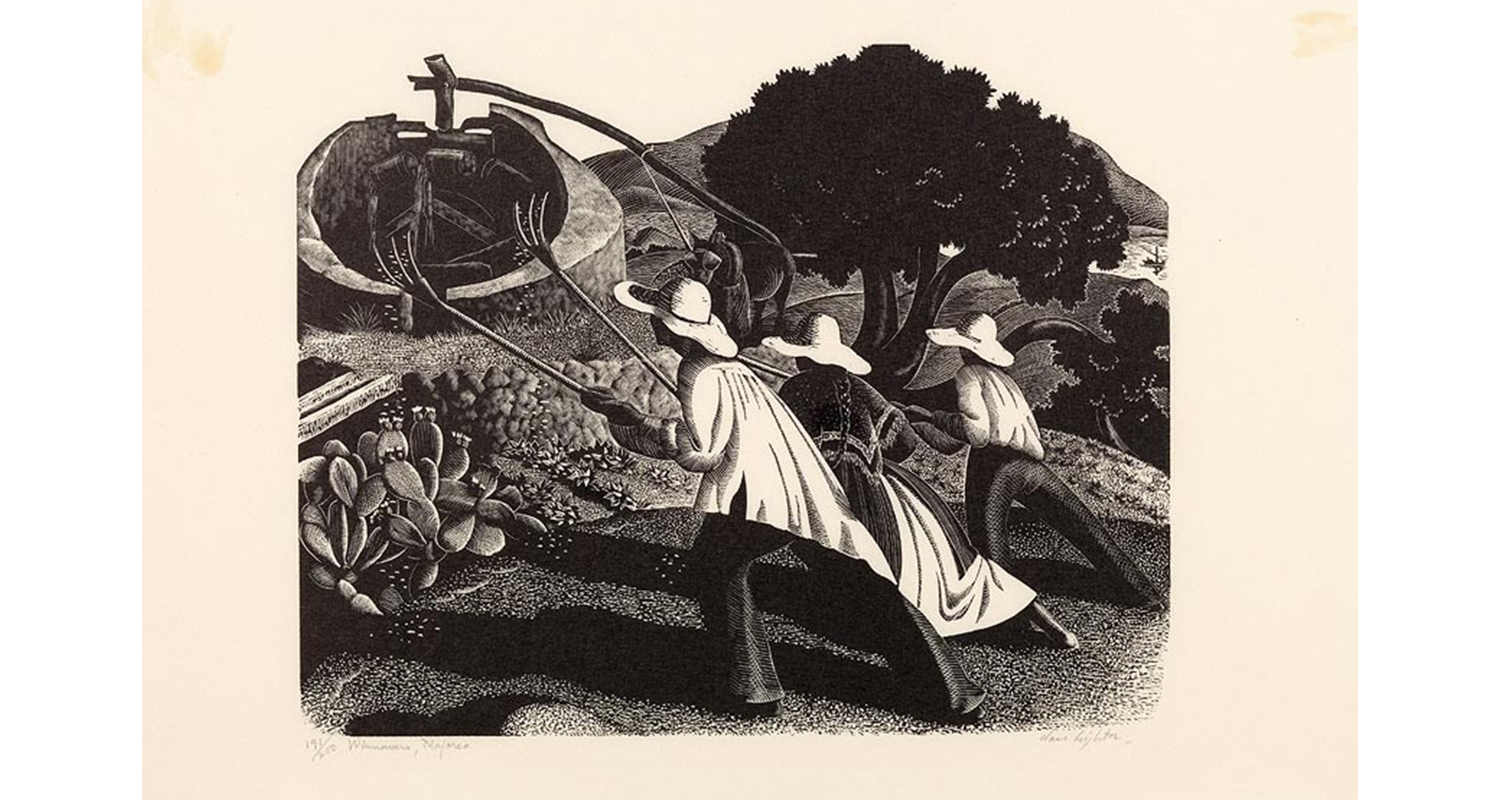 From the archives: Claire Leighton and A Connection to the Land
In the latest installment of SCMA Insider's series of highlights from the blog archives, 2015–17 STRIDE Scholar in the Cunningham Study Center for the Study of Prints, Drawings and Photographs Renee Klann '19 wrote about how, rather than focusing on the picturesque qualities of the landscape, Claire Leighton chose to portray the people who worked the land.
---
Clare Leighton was a printmaker and writer who was primarily concerned with depicting scenes of pastoral life. Interestingly, she moved from England to America midway through her career, becoming attached to her new country while keeping the central themes of her work essentially the same.
Leighton believed art should be accessible to the general public, so printmaking was her ideal medium because the working class could afford illustrated books or individual prints to hang in their homes. Leighton's work was also influenced by the World Wars and the Great Depression. In such times of uncertainty, art that depicted comforting everyday scenes and traditional values was popular. Her images of farm work and rural life fit the trend, and she thought nature had restorative powers that were especially important when people were stressed or their way of life was changing.
Rather than focusing on the picturesque qualities of the landscape, Leighton generally chose to portray the people who worked the land. She said, "I see that man over there, bent to the earth, and it is as though the curves and shapes before me are eloquent as no words or thought can be." The poses of the figures in her prints express their strength, dignity, and connection to the land. Winnowers, Majorca, a wood engraving print commissioned by The Woodcut Society of Kansas City, Missouri, is an example of this style. The workers, who are harvesting beans with three-pronged forks, form strong diagonal lines that emphasize their power and the rhythm of their movements. Leighton used multiple engraving tools to create a variety of crosshatching and stippling textures that make the scene even more engaging.
In 1933 Leighton published The Farmer's Year, a book with twelve prints of farm tasks corresponding to each month. She also wrote and illustrated Four Hedges: A Gardener's Chronicle, a record of her time cultivating a garden at her cottage in the Chiltern Hills, as well as Country Matters, a depiction of English village life that showed the changes caused by modernization. In the preface to Country Matters Leighton wrote "A sentimentalized, self-conscious countryside, fixed for the sightseer, would have lost all that made it desirable." As much as she respected traditional ways of life, she knew that she couldn't illustrate an idealized, outdated version of rural England.
In 1929 Leighton had begun making visits to the United States to lecture and exhibit her work. She was intrigued by both the variety of landscapes and the people she met there. Perhaps her interest in America was partly due to the fact that her father wrote stories about cowboys, although he wasn't actually familiar with the American West. Whatever the reason, Leighton moved to the United States in 1939. She was unimpressed by big cities like New York, and preferred to make pastoral images similar to the ones she had become known for in England.
"There is a universality about the people that is healing, and it matters little whether one be talking with a plowman in Devonshire or a tobacco farmer in North Carolina," Leighton said. This attitude can be seen in her depictions of American workers. Their specific tasks may be different from the figures in her prints of rural England, but they have the same dignity and monumental presence. In Clam Diggers, Cape Cod, the figures are crisply outlined and mostly black, with textural white highlights. Their bent backs mirror the hills behind them, creating a sense of unity between humans and nature. The figures are not individualized, instead acting as powerful archetypes of rural laborers.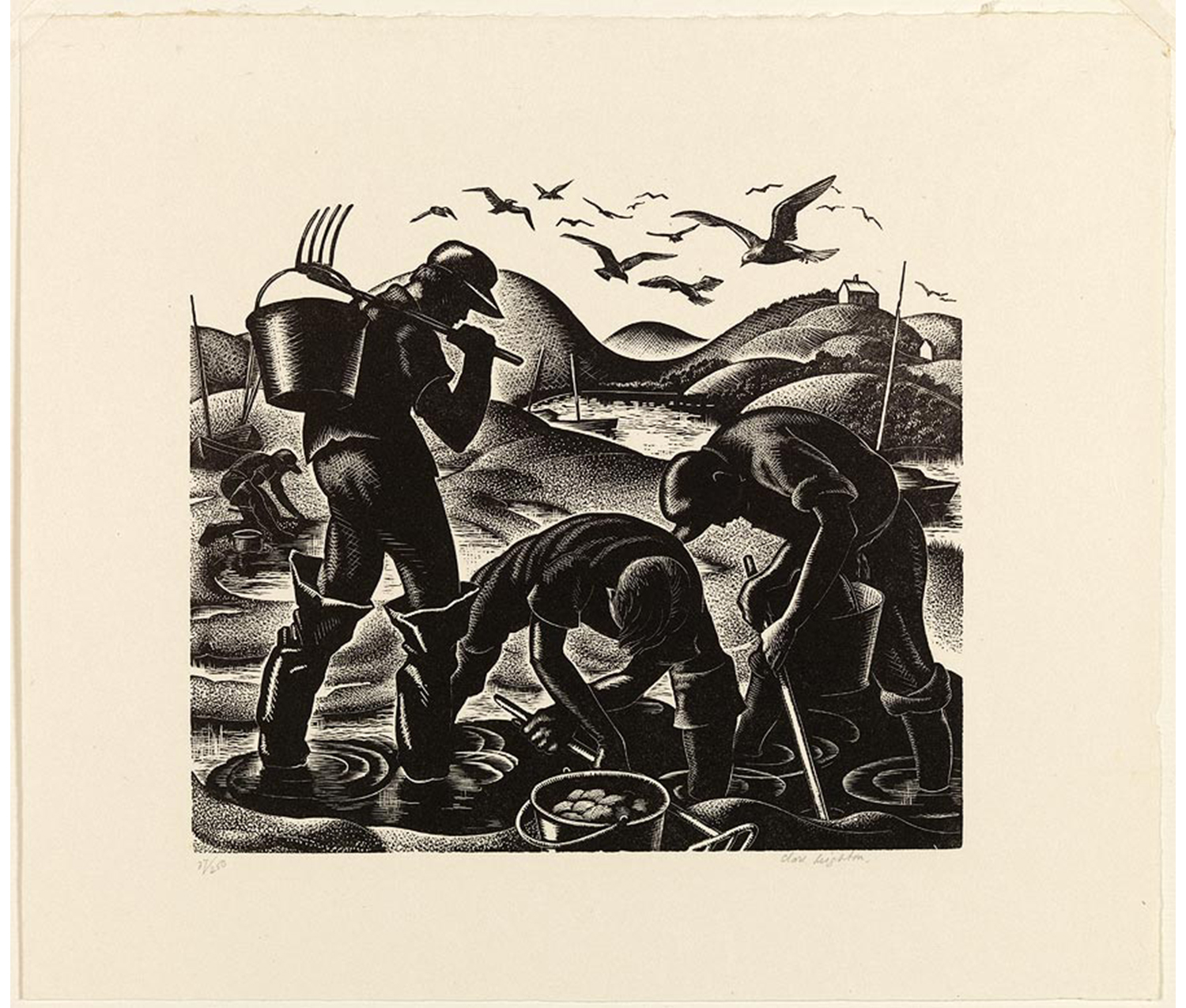 Clare Leighton. American, born England, 1898–1989. Clam Diggers, Cape Cod, 1946. Wood engraving on medium weight, moderately textured, beige paper. Bequest of Henry Latimer Seaver. SC 2011.26.7.
Leighton was interested in both the northern and southern United States. She wrote Southern Harvest, which depicted activities like picking cotton, milling sorghum, and making apple butter. In the introduction, Leighton acknowledged that she wrote the book because she wanted to become rooted in her new country. She included southern folklore, detailed explanations of farming methods, and an analysis of how the South was grappling with the legacy of slavery, as well as her personal feelings about the region.
The ceramics company Wedgwood commissioned Leighton to make images of New England industries for plates, and in the process she grew attached to the region, eventually settling in Woodbury, Connecticut. In 1954 she published Where Land Meets Sea: The Tideline of Cape Cod, which contained images of fishermen and farmers with the same style and themes as her work in England.
Although Leighton loved her adopted country, she also realized that sometimes she needed to leave an area in order to depict it effectively. For example, she left Cape Cod after creating material for Where Land Meets Sea so she could think about it more clearly and avoid a "too factual and photographic representation."
Clare Leighton's work was focused on the land around her, whether it was in England or America. Her prints can cause feelings of nostalgia because they depict a way of life that has largely vanished, but Leighton doesn't give in to sentimentality. Wherever she was, she depicted laborers with dignity and a connection to the earth.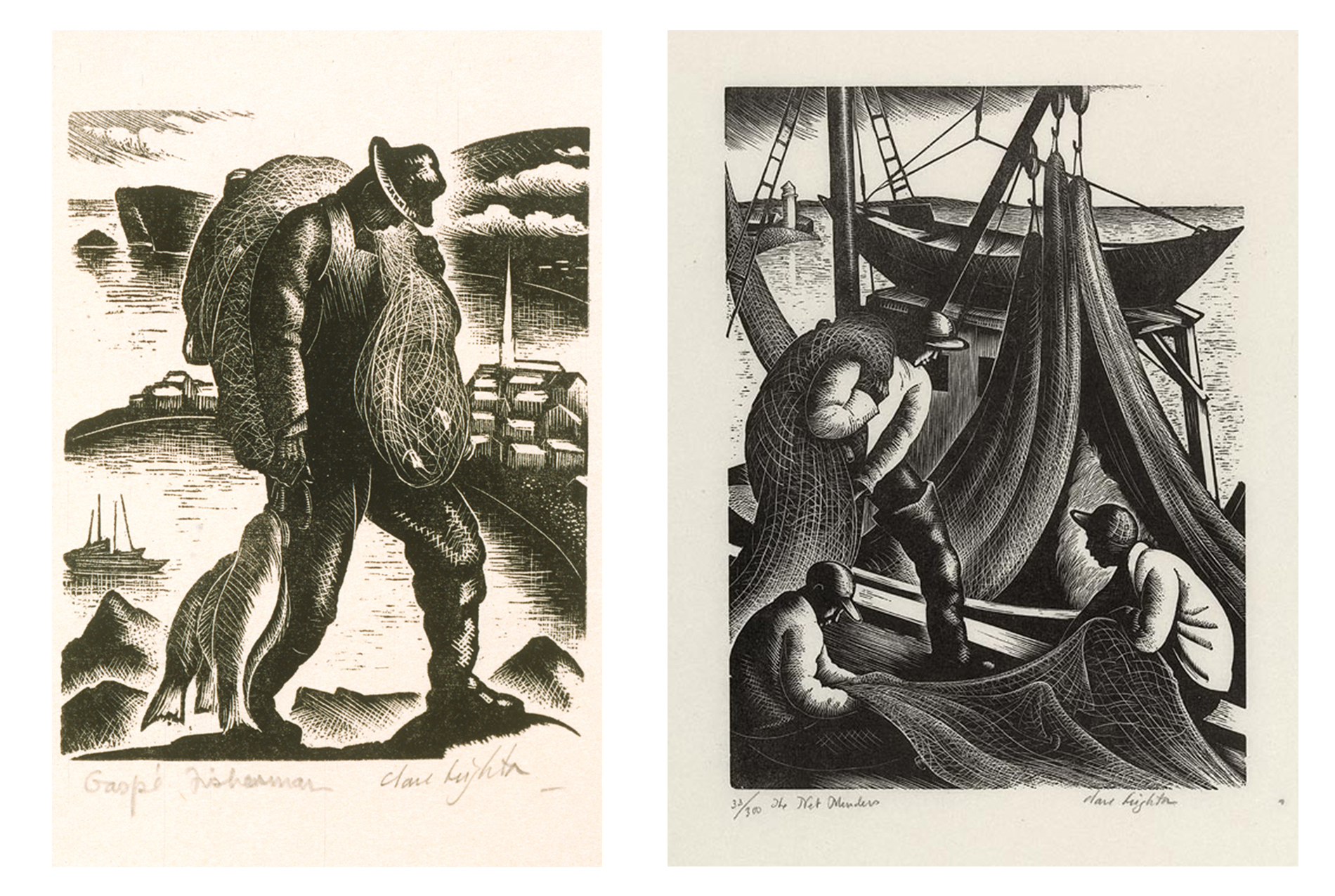 Left: Clare Leighton. American, born England, 1898–1989. Gaspé Fisherman, n.d. Wood engraving printed in black on white wove paper. Bequest of Henry L. Seaver. SC 1976.54.411.
Right: Clare Leighton. American born England, 1898–1989. The Net Menders, n.d. Wood engraving printed in black on thin, smooth white paper. Bequest of Henry Latimer Seaver. SC 2011.26.43.