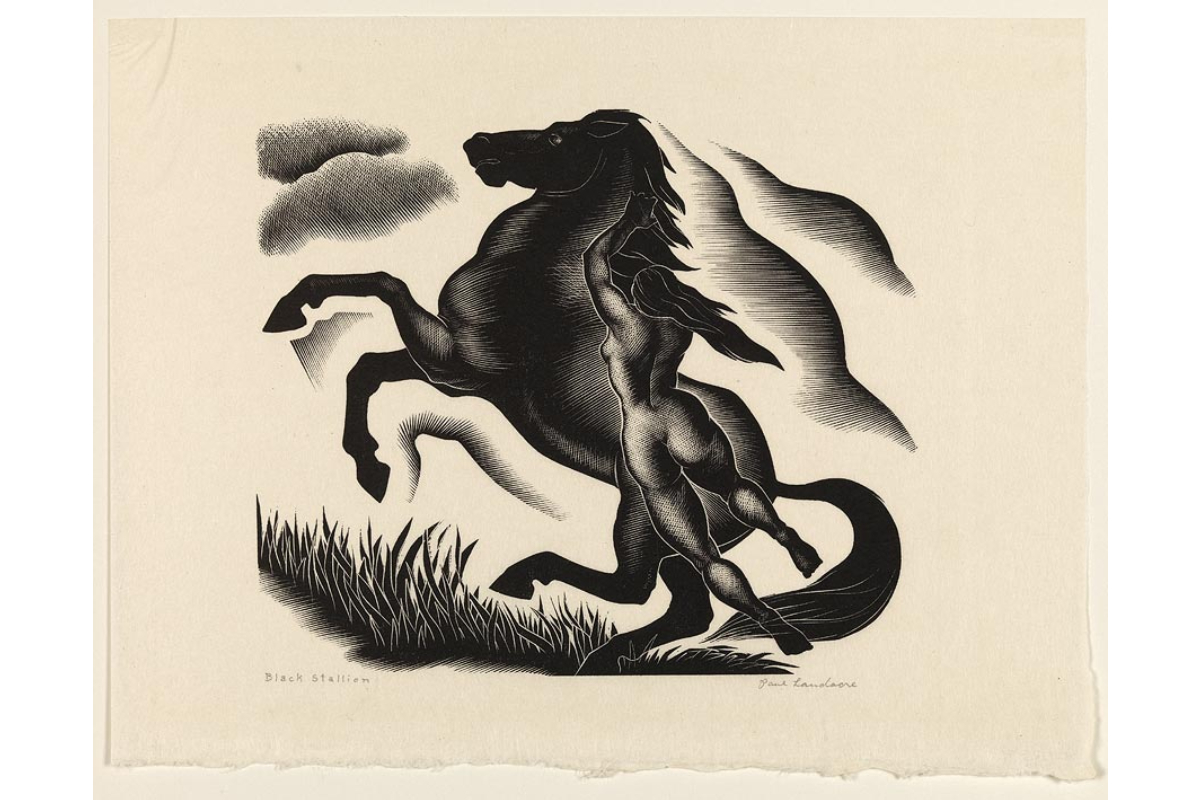 From the archives: Never Exhausted
This is the third installment of SCMA Insider's series of highlights from the blog archives. Cunningham Center Brown Post-Baccalaureate Curatorial Fellow Maggie Kurkoski '12 wrote this article about the master wood engraver Paul Landacre in 2015.
---
"The possibilities of wood engraving...as a sensitive medium of expression...
have never been exhausted by anyone."
– Paul Landacre
Wood engraving is a slow process.  An artist takes a burin, or sharp engravers' tool, and creates lines and hatches in the wood. When the wood block is inked and sent through the printer's press, the uncarved surfaces press ink onto the paper, creating the impression. Over the course of his life, Paul Landacre became a master of wood engraving, and a standard for those exploring this printmaking medium.
Paul Landacre's introduction to art came as a form of self-therapy. A student at Ohio State University, he was student of horticulture when a streptococcusinfection took away the use of his right leg, and severely limited the capacity of his arms. This sudden change in his health compelled him to return home to San Diego in 1917, where he took time to adapt to his new circumstances.
Attracted to the flora and fauna of California, he began to sketch the natural world around him, and discovered a latent aptitude for drawing. It was a period of self-discovery and experimentation: he explored many different printing methods until he finally settled on wood engraving as his preferred medium.
Paul Landacre. American, 1893–1963. Some Ingredients, 1953–1954. Wood engraving on medium weight, moderately textured, white paper. Bequest of Henry Latimer Seaver. Photography by Petegorsky/Gipe. SC 2011.26.11.
Detail of Some Ingredients
While most printmakers in the 1930s and 1940s did not print their own woodblocks, Lanacre was an exception, as he usually pulled his own prints (with the help of his wife, Margaret). His friend Willard Morgan had found a dilapidated iron hand press while he was exploring Bodie, a deserted mining camp, and Landacre rehabilitated it for his own use. Restoring the press was a grueling effort: each greasy part needed to be taken apart and cleaned, the rust removed, a process that took over two months. For Landacre, the difficult work was worth the end result: he could print his own blocks and control every stage of his artistic creation. He insisted that "The blacks should be black, the whites white, and every line or dot engraved on the block should show clean on the proof."
Paul Landacre, American (1893 - 1963). Laguna Cove, 1941. Wood engraving on cream-colored medium weight moderately textured paper. Bequest of Henry Latimer Seaver. Photography by Petegorsky/Gipe. SC 2011:26-10
Landacre's devotion to the natural world shines through his prints. His careful lines and hatches, etched into the wood block, create a beautiful range of tone that can mimic the silky light of the moon on calm water, or the shadows on a head of garlic. His wood engraving Laguna Cove (above) reveals his technical mastery. About this work, Landacre said:
"The subject of this present engaving, Laguna Cove, is a favorite spot near Laguna Beach, California. One summer night the moon seemed to illuminate this particular scene and create a pattern of light and shadow that had to be recorded."
Detail of Laguna Beach
Paul Lanacre produced art for nearly four decades to great acclaim: art historian Carl Zigrosser dubbed him "the outstanding wood engraver on the west coast of the United States."