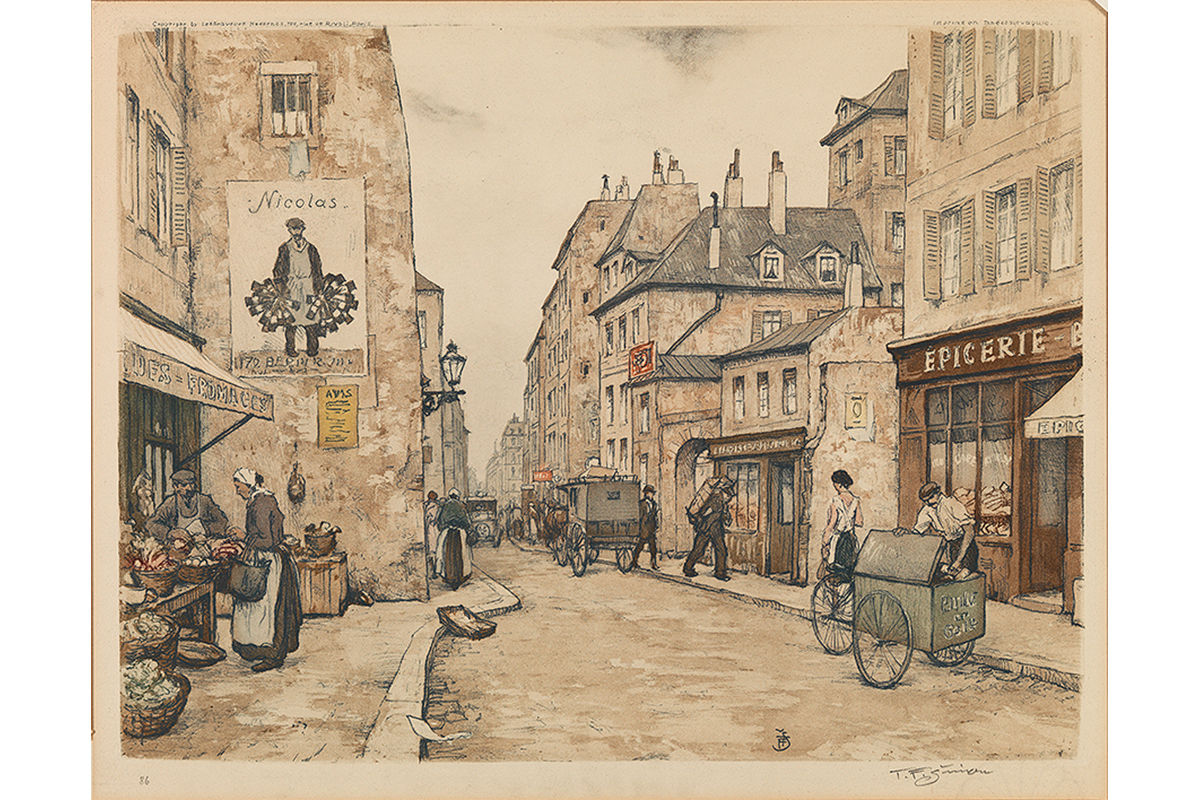 From the archives: T. Frantisek Simon
Over the next few weeks, SCMA Insider will be bringing back some posts from the blog archives. We hope you enjoy this historic post from 2015 by Maggie Hoot '16 about the prolific, intriguing, but little-known Czech printmaker T. Frantisek Simon.
---
T. Frantisek Simon was an extremely prolific and intriguing artist active in the first half of the 20th century. He was born in 1877 in a small town that was part of the Austrian Empire (now Czech Republic).  He showed an early talent for drawing and his parents sent him to Prague for an education focused in the arts.  
At the Academy of Arts in Prague, he was trained and became an especially proficient painter.  After graduating in 1900, he decided to travel, visiting Italy, Paris and London, where he was fascinated by the ever evolving art scene.
Simon was known as a painter, but became intrigued by the new methods of printmaking—etching, aquatint, dry point, and woodcut— which were just starting to gain popularity in Bohemia. There were few able to instruct Simon in Prague, so he instead moved to Paris to continue his work focused on graphics.  It is unknown who specifically taught Simon how to create graphic works, but he became especially proficient. In Paris, he bought the tools of print making and began to work.  He most often made aquatints, one of the more complex graphic processes, but which allowed Simon to render prints in half-tones and colors. He even preferred to do his own printing so he was able to print the exact colors he wanted.
T. Frantisek Simon. Czech, 1877–1942. Notre Dame in Rain, 1931. Etching with aquatint printed in color on cream laid paper. Gift of Mrs. William A. Small Jr. (Susan Spencer, class of 1948). SC 1984.21.15.
He also later learned the processes for woodcuts and mezzotints. In 1905, Simon had his first one-man show in Prague, which was composed of approx. 100 of his drawings, paintings, pastels and etchings.  
Simon's art focused on depicting the places and people he saw, often busy street scenes or cityscapes.  In the early 1900s, Simon was in Paris for the evolution of Cubism but distanced himself from Modernism and instead continued to develop his own style.  
By 1913, Simon began to think about moving back to Prague, but during one of his visits there, World War I broke out, preventing him from going back to Paris.  He was not drafted into the military, but the war made it difficult for him to make a living as an artist and he missed France.  He did return to Paris after the war ended.
Starting in 1926, Simon set out on a journey around the world with his artistic tools, taking impressions of the places he visited, from the United States to East Asia, India, Egypt and finally returning to Europe.  He was inspired by the places he had visited and created many works from his traveling sketches and impressions. After returning, Simon took a professorship at the Academy of Arts in Prague (where he was first educated), and taught graphic arts.  He took his job very seriously, teaching his students about all aspects of printmaking as well as teaching them about the history of graphic arts. Unfortunately, he had very little time left over for his own art.  The Nazi occupation of Czechoslovakia led to the closing of the Academy in 1939.  The stresses of another war plus a decline in Simon's health led to his death in 1942.
Up through 1937, Simon had made approximately 626 graphic works, using a wide variety of printing methods.  Even though Simon was a very prolific artist, there is not a lot of information about him.  World War II followed by the Communist regime in eastern Europe reduced western access to many of his works.  With the opening up of Czechoslovakia and modern interest in art from that era, there has been a well-deserved though modest revival of his life and work.
T. Frantisek Simon. Czech, 1877–1942. Nocturne of Stamberk Village, 1918. Etching with aquatint printed in color on cream laid paper. Gift of Mrs. William A. Small Jr. (Susan Spencer, class of 1948). Photography by Petegorsky/Gipe. SC 1984.21.2.