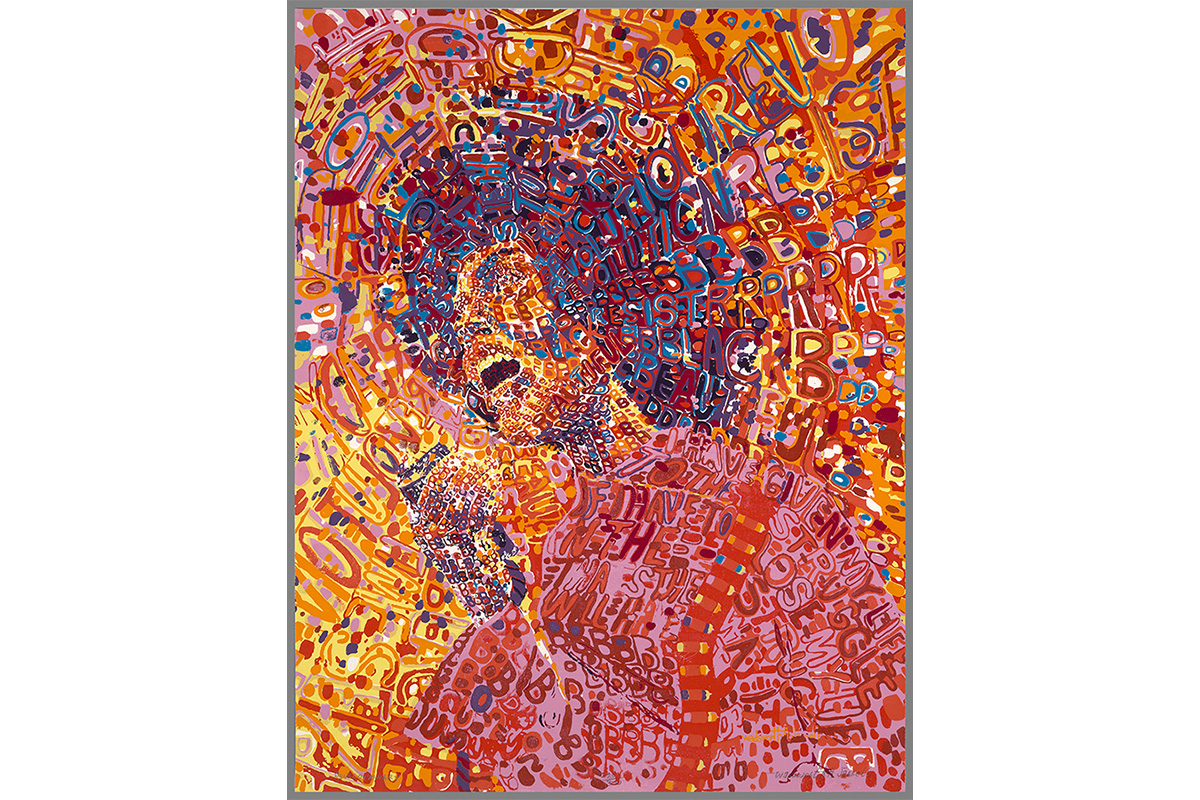 The Art of Revolution
Josie Wong '26 explores the historical and visual context of Jarrell's Revolutionary. She is currently a Student Assistant at the Cunningham Center for Works on Paper at the SCMA.
---
Wadsworth Jarrell's famous Revolutionary print immediately caught my eye as I was setting up artwork for a class visit to the Cunningham Center. Perhaps it was the vibrant yellows, oranges, and pinks that pulled me towards it or the figure hidden within a mass of words. Whatever the reason, I needed to learn more about this print. 
This print depicts Angela Yvonne Davis, a political activist and writer of the Civil Rights Movement. Davis was an active participant in the Communist Party and The Black Panther Party. She is a strong advocate for social, economic, political, and racial justice in the United States and has dedicated her career to the abolition of the prison industrial complex. Here, she is pictured within a collage of words: RESIST, REVOLUTIONARY, STRUGGLE, BEAUTIFUL, SISTER, BLACK, etc. all words taken from her many political speeches. These words emanate from her hair and the colors of the letters shape into a unified portrait of her.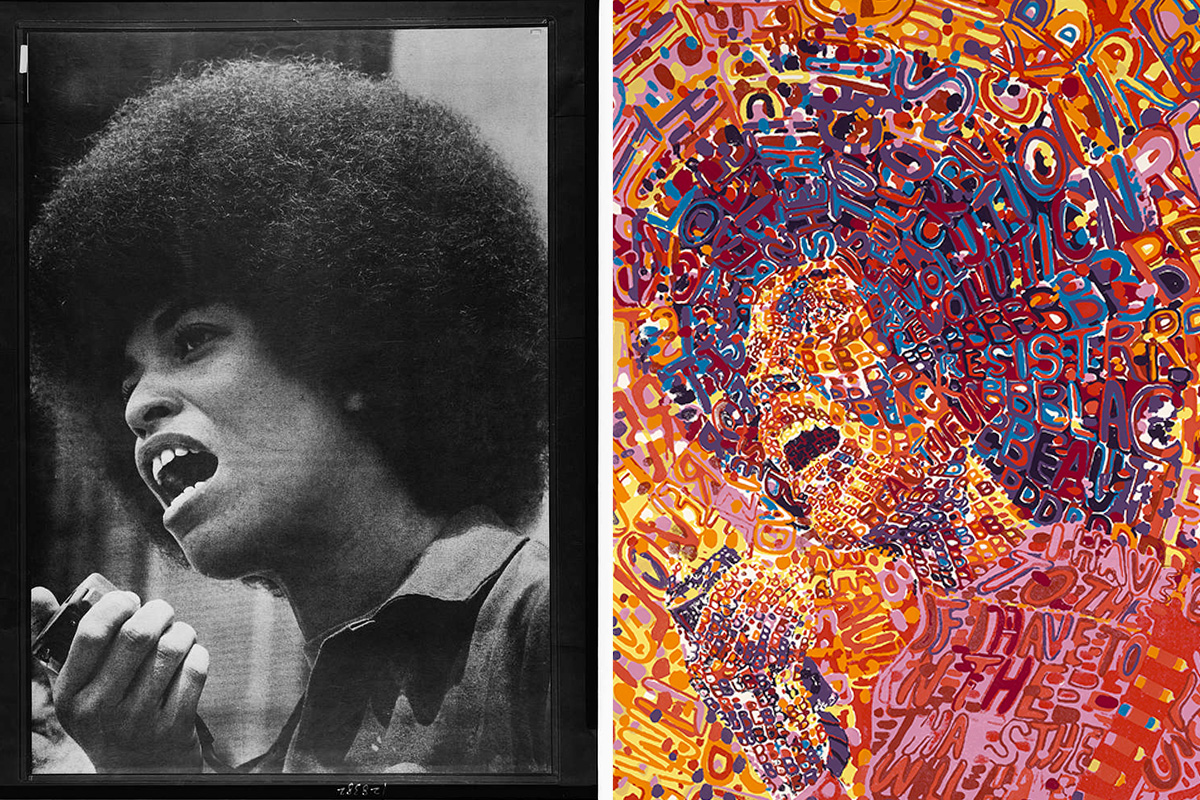 Comparison of Angela Davis Portrait, Library of Congress Prints and Photographs Division, Yanker poster collection with Revolutionary
 
Davis is most recognizable with her afro and is often depicted in this powerful pose, microphone in hand, preaching for civil rights and asserting change in America. With her mouth wide open, tiresomely screaming out for basic human rights, this pose displays a feeling of vulnerability yet also a power of strength, courage, and intensity, in which she is bravely standing against injustice and loudly demanding equity across the nation. 
This image of Davis yelling into a microphone, accompanied by her crown of hair, was used in widespread merchandise, such as buttons, to rally support for the transnational "Free Angela Davis" campaign in which millions protested against her arrest due her involvement with the Soledad brothers. The Soledad brothers were three inmates who were accused of killing a prison guard. In 1970, Davis was accused of purchasing the gun used in an escape attempt during George Jackson's trial in which several people were killed. She was charged with murder and even landed on the FBI's most wanted list, resulting in the nation campaigning for the freedom of Davis and all other political prisoners.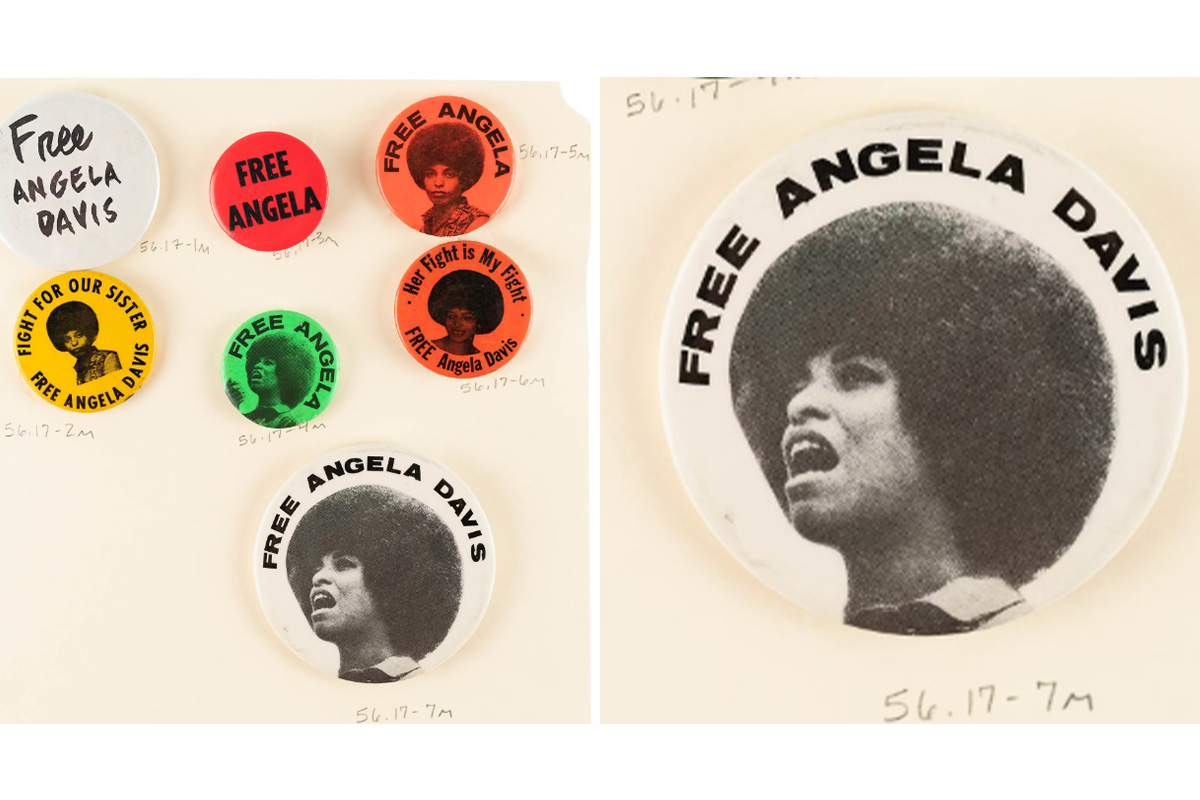 Free Angela Buttons, Schlesinger Library, Radcliffe Institute, Harvard University
Photo by Kevin Grady/Radcliffe Institute

In Wadsworth Jarrell's image, Davis appears to be wearing a military-like garment with a belt of bullets strapped around her chest. This piece of clothing was inspired by the artist's wife, Jae Jarrell's Revolutionary Suit. Made of gray tweed, this suit adorns a golden bandolier of colorful wooden faux bullets. The suit is a symbol of black liberation and resistance, intersecting art with fashion. It rejects the Eurocentric standards of beauty and fashion and rather centers on Black culture and power. Read more about her suit here.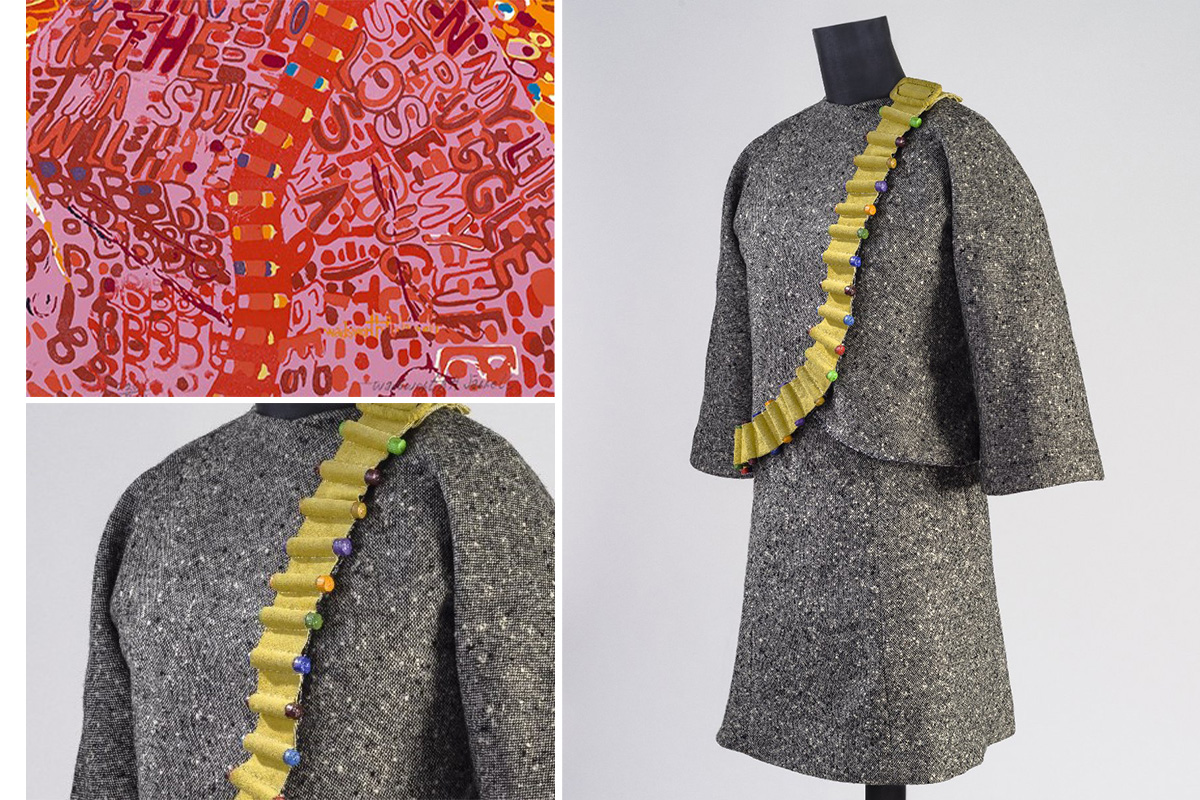 Revolutionary Suit, Jae Jarrell, Brooklyn Museum, William K. Jacobs, Jr. Fund
Image courtesy of Lusenhop Fine Art, photograph by Tim Safranek Photographics, 2017

Revolutionary, created in 1971,  is one of the most recognized paintings associated with the Black Arts Movement, a cultural movement in the 1960s-70s that emphasized black artists and intellectuals. Jarrell, a prominent figure of the Black Arts Movement, co-founded the AfriCOBRA (the African Commune of Bad Relevant Artists), a major group of artists also involved with this movement. The Black Arts movement promoted a sense of Black pride and self-determination, showcasing the art of Black history and identity. It was a response to the lack of BIPOC representation in the art world, a historically white space, and expresses the social and political struggles of Black people in America.

The colors chosen by Jarrell are significant when looking at art through a psychological lens. Different colors are often associated with different feelings and emotions. The intentional choice of a main warm color palette made up of red, orange, and yellow, associates feelings of passion, anger, love, energy, and hope, all of which make up key values of Davis' agenda. There are hints of blues and purples coming out of Davis' afro. Blue is often associated with calmness and freedom, yet it also conveys sadness and purple elicits a sense of power and ambition.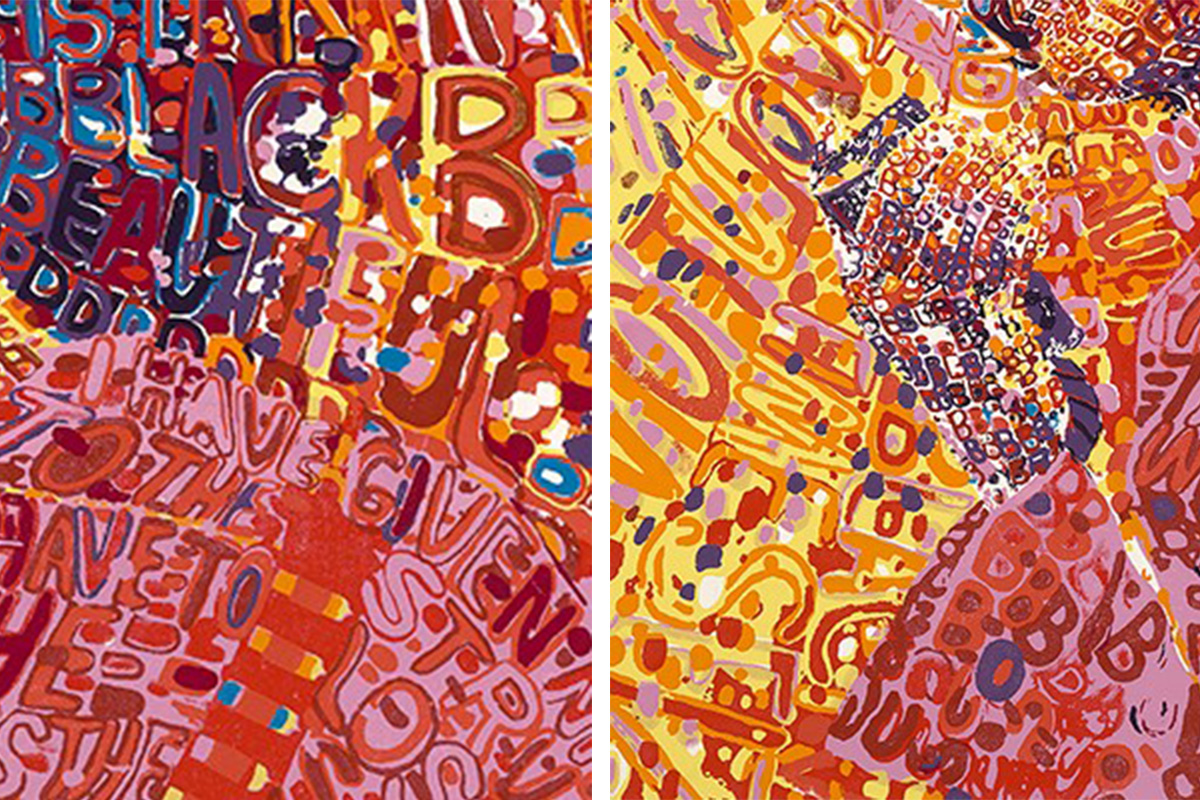 Detail of Vibrant Colors in Revolutionary

Art institutions have long been mainly white spaces, with museums originating in colonial roots and collecting artworks that exclude the expression of communities of color. Revolutionary, a powerful image of a political figure, subverts this narrative to include the history of black people, giving a voice to marginalized communities. Jarrell's explicit choice to center Davis in this print demonstrates a strong energy of political activism, and evokes this power through his art, encouraging viewers to reflect on the struggles of social justice in both history and today. 

A display of social activism and justice in prints and photographs is currently displayed in the Nixon Gallery on the second floor of  SCMA. These works engage with topics of gay liberation, civil rights, racial justice, indigenous land rights, and others. Art institutions need to acknowledge their history of imperialism and not only work to repair equity, inclusion, and diversity but must work to include more artworks like Revolutionary, art that celebrates and memorializes underrepresented communities and their history. To learn more about the exhibition click here or come visit SCMA's Nixon gallery!