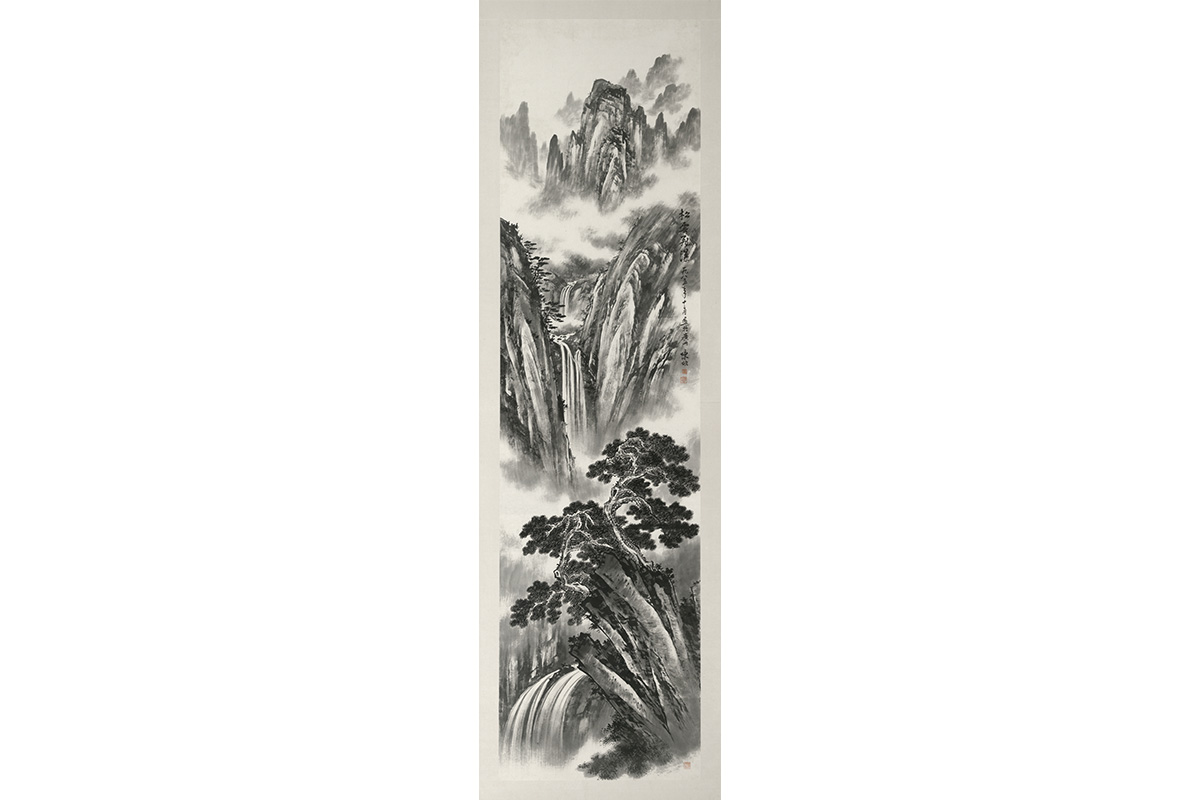 Collecting for the future: Chen Xin's Pine, Clouds, and Flying Waterfalls
Yao Wu, Jane Chace Carroll Curator of Asian Art, introduces an ink landscape painting made by Chen Xin in 1985 that is currently on view at SCMA on the lower level.
---
Who made it?
A Chinese artist called Chen Xin painted this landscape. Born in Beijing in 1956, Chen studied with several Chinese classical painting masters in his youth. In the 1980s, he received further training from artists of the Lingnan School, a style of painting from the Guangdong region in southern China.
What is the subject of the work?
The title the artist gives to the work describes its subject well: pine, clouds, and flying waterfalls.
Where was it made and when?
The artist inscription below the title tells us that the painting was made in December of 1985 in Guangzhou, a city that was formerly better known as Canton and is the capital of Guangdong Province.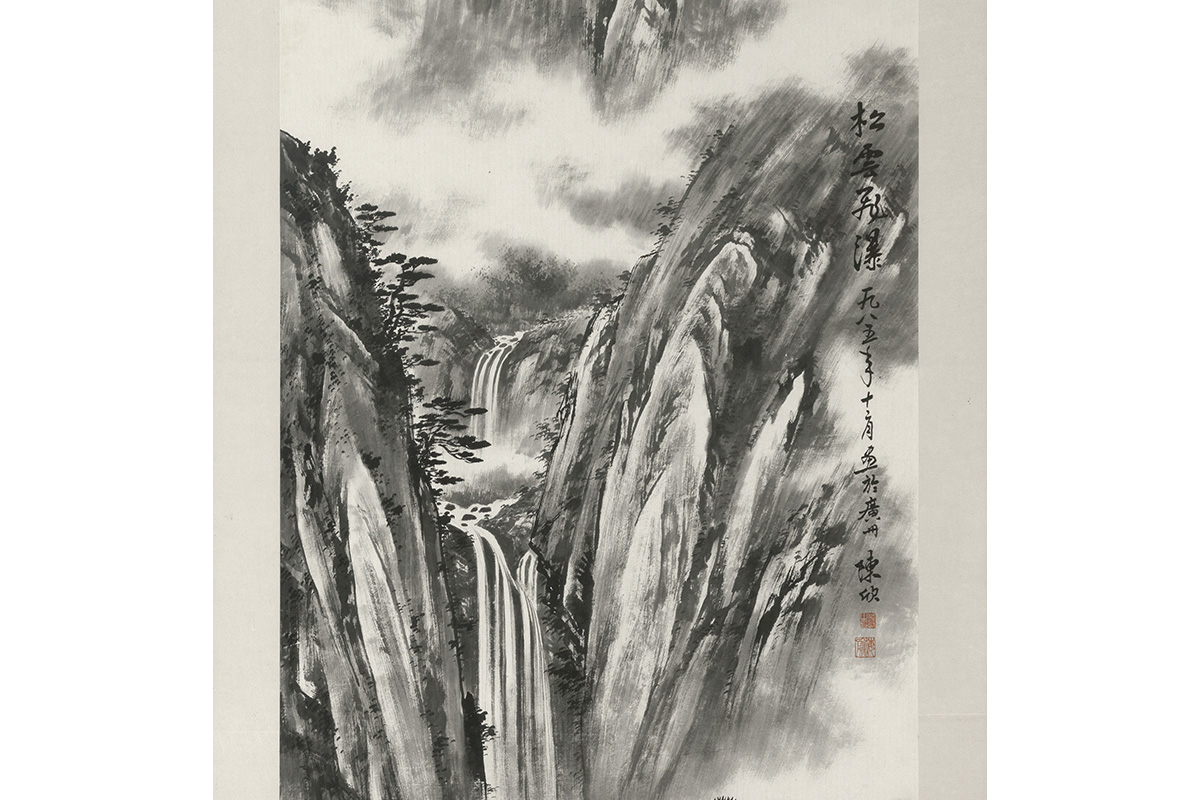 What materials and techniques were used to make it?
This is a typical Chinese ink painting. Often considered a monochromatic medium, ink is actually highly expressive when applied in various densities and with different brushwork. For example, dark and saturated ink is used to delineate pine needles, whereas dry and textured ink is used to suggest steep and angular cliffs. Throughout the composition, diluted ink washes create areas of blank space suggestive of clouds.
Can you describe the work in your own words?
This monumental landscape is organized into three sections, as is often seen in Chinese paintings of this genre. A pine tree dominates the foreground, its curling branches reaching almost to the midsection. Above, waterfalls course along mountain ridges and cascade downward, disappearing behind the pine. In the background, several mountain peaks tower above clouds and mists that permeate the entire scenery. The inscription and seals on the right side gives information about the work's title, date and place of creation and artist.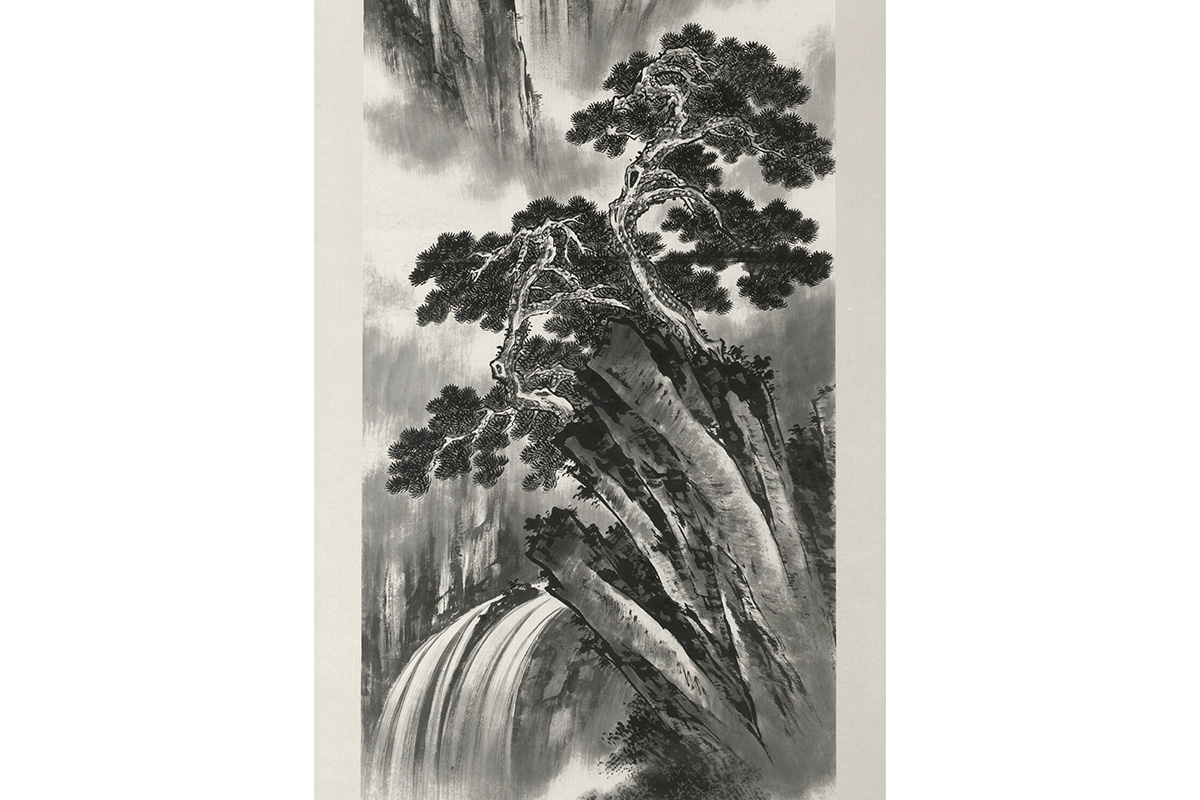 How was it acquired?
Mr. Andrew Goodman contacted the museum in 2019 about this painting that came with the house that he had purchased in upstate New York. According to him, the previous house owner, a professor of engineering, might have purchased or commissioned it when visiting China as a member of a U.S. government delegation. Knowing the artist Chen Xin in the 1980s was affiliated with Guangzhou Friendship Store, a type of state-run store in China that catered to foreigners at the time, I deduced that the painting was most likely bought from there.
Mr. Goodman himself had a diplomatic career in the Soviet Union and Russia and taught U.S. foreign policy after his retirement from the government, so he was naturally intrigued by the painting's provenance and decided to donate it to SCMA. Coincidentally, as a Yale student, Mr. Goodman spent the 1971-72 academic year in Hamburg, Germany with the Smith study abroad program and has a Smith College transcript from that year!
How does this work fit in the SCMA collection?
SCMA has a small selection of Chinese landscape paintings, arguably one of the most important artistic genres in East Asian culture. This addition offers a good modern example, and can support teaching in the Art and East Asian Languages and Cultures departments and other course offerings at the Five Colleges.
Is there anything about this work that you personally find compelling?
Painting and poetry have a longstanding and close relationship in Chinese art and culture, which is perhaps best described by the saying that painting is silent poetry and poetry is painting with sound. Many paintings are inspired by poetry, or even include poems written by the artists, their friends or later collectors and connoisseurs.
In displaying this painting and creating a contemplative space at the museum this summer, I worked with Smith College's Chinese literature professor, Sujane Wu, to select a poem to accompany this painting. The chosen poem below is attributed to a legendary Tang dynasty (618-907) monk recluse who took the name Hanshan, or Cold Mountain. Although there is no direct relationship between the painting and the poem, we felt the two resonate with each other in imagery and spirit, and such is the power of image and word.
寒山棲隱處,絕得雜人過。
時逢林內鳥,相共唱山歌。
瑞草聯谿谷,老松枕嵯峨。
可觀無事客,憩歇在巖阿。
I roost in seclusion on Cold Mountain,
Cut off from the calls of distracting men.
At times I encounter birds in the wood,
And together we sing a mountain song.
Auspicious grass stretches through valley and vale;
Old pines lean on looming crags.
There you can see a lodger without affairs,
Taking his ease on the top of a cliff.
–translated by Paul Rouzer