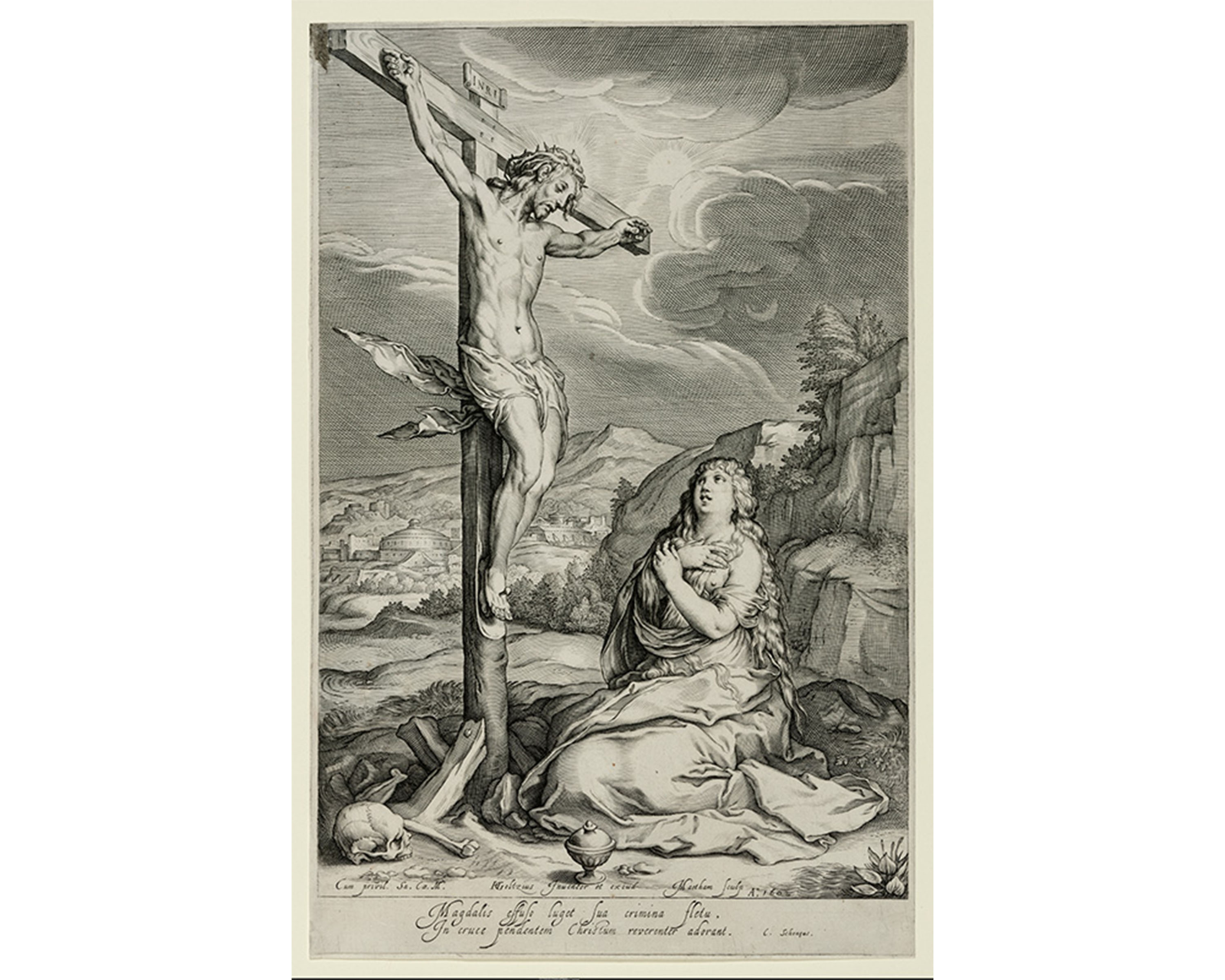 Collecting for the future: Curators introduce new works in the SCMA collection
In this summer series,  SCMA's five curators will briefly introduce some recent exciting acquisitions by answering the following simple questions: 
Who made it?
What is the subject of the work? 
Where was it made and when?
What materials and techniques were used to make it? 
Can you describe the work in your own words?
How was it acquired?
How does this work fit in the SCMA collection?
Is there anything about this work that you personally find compelling?
Henriette Kets de Vries, assistant curator and manager of prints, drawings and photographs at SCMA, kicks off the series by introducing a fascinating new acquisition made by Jacob Matham in 1602. 
---
Who made it?
The Dutch artist Jacob Matham (1571–1631) made the print after a work by his famous stepfather, Hendrick Goltzius (1558–1617). Matham was born in Haarlem, a small city in the Netherlands, and was trained by Goltzius in his workshop there. When Goltzius decided he was going to focus more on painting, Matham took over his studio. He became one of the leading draftsmen, publishers and printmakers of his time.
What is the subject of the work? 
The title of the work is The Penitent Magdalena. Throughout history, Mary Magdalene's image was used by the Catholic church as the perfect example of the repentant sinner. Mary Magdalene and the Virgin Mary, (Christ's mother) both became popular role models used by the Catholic church during the 16th and17th centuries. As religious figures, they were more relatable to the common people and to women in particular. Being more relatable made them the perfect aid to prayer for the common man or woman.
Where was it made and when?
It was made in 1602 in the Netherlands
What materials and techniques were used to make it? 
The work is an engraving, which means the image was carefully carved with a sharp tool  (called a burin) into a copper plate. The plate is inked, then wiped with a cloth so the ink only remains in the carved grooves of the plate. Dampened paper was then placed onto the copper sheet and run through a printing press. 
The printmaker could make multiple copies from the same plate. Earlier versions would often look somewhat different than later versions since a plate would wear out over time. In some cases, artists customized prints by changing small aspects on the plate or adding text. That is why each copper printing plate results in what are called different "states," which are recorded as such.  Watch this RISD video for an excellent demonstration of the printmaking process. 
Can you describe the work in your own words?
In these types of prints, there is always a lot more going on that you initially think.  They are therefore wonderful objects for teaching. There is always more to discover. 
In this print, we see Mary Magdalene kneeling at the bottom of the crucified Christ. Her arms are across her chest and her eyes look up at him.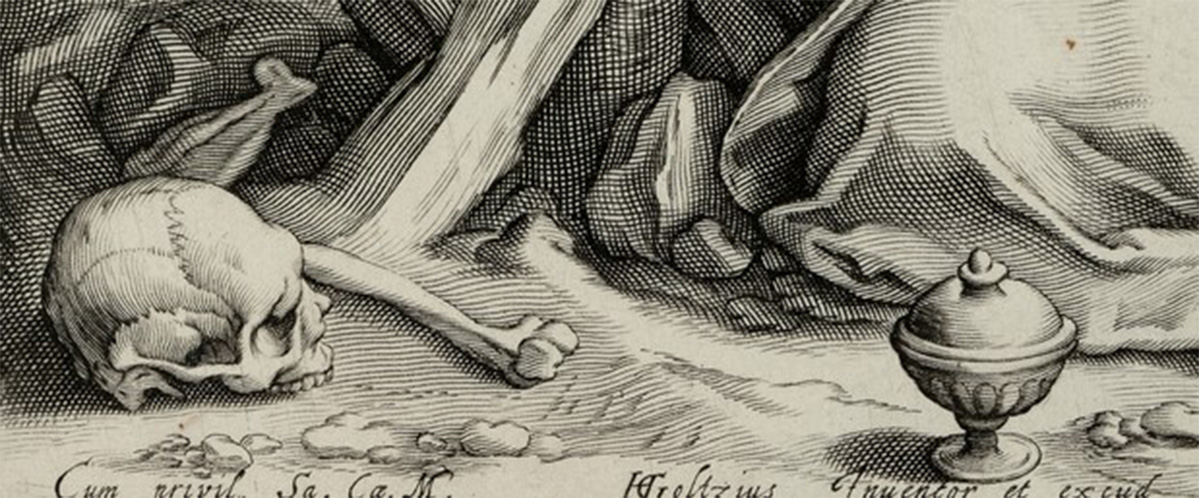 At the foot of the cross we see some important symbolic objects like the skull and bones, referencing Golgotha (place of the skull); the hilltop where Christ was crucified and a symbol of his impending death. There is also an ointment container, a symbol associated directly with Mary Magdalene and her subservience to Christ.  
She is described in Luke 7:37-38 ASV: 
"37 And behold, a woman of the city, who was a sinner, when she learned that he was reclining at table in the Pharisee's house, brought an alabaster flask of ointment, 38 and standing behind him at his feet, weeping, she began to wet his feet with her tears and wiped them with the hair of her head and kissed his feet and anointed them with the ointment."
In the background, we also see a city with some large buildings and a mountain range. Overhead, the sun is peeking  through the clouds and we also see the moon.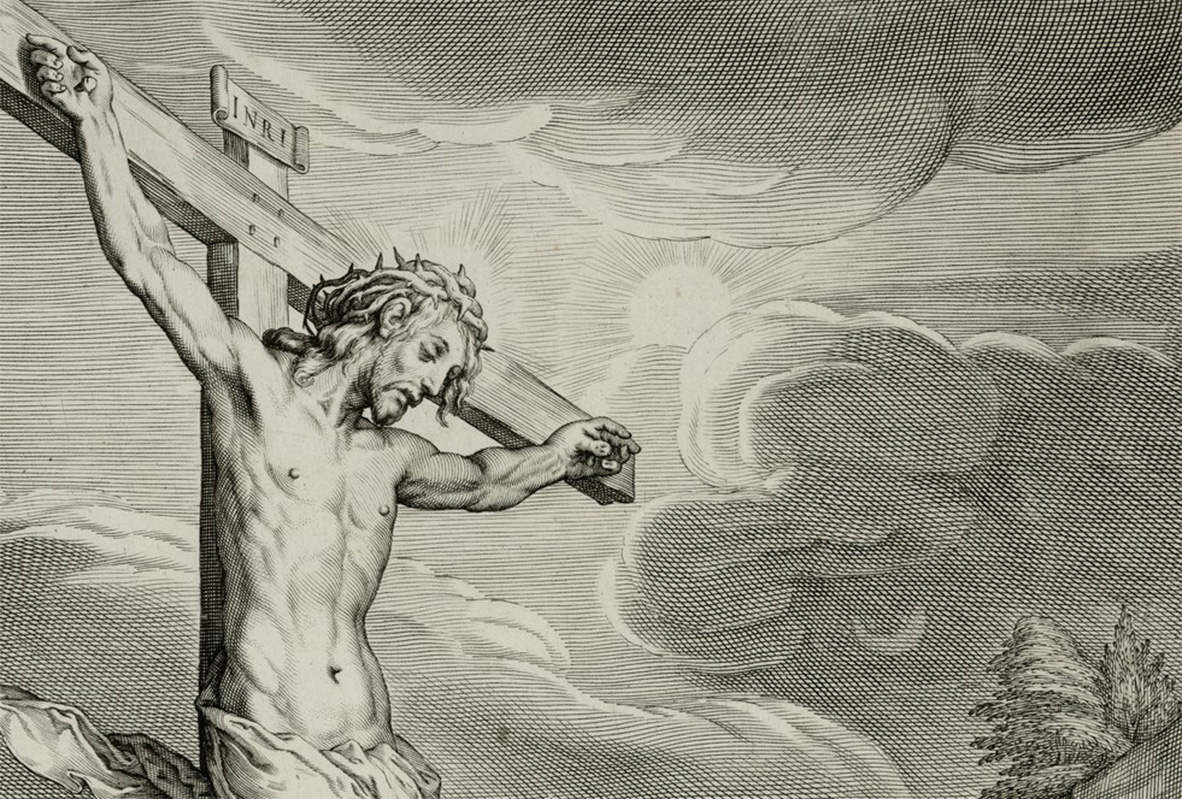 How was it acquired?
Print dealers at times come and visit us at the museum and this work was presented to us during one of these visits.  I thought it would make a good addition to our historic collection so after consulting with my colleagues and going through our acquisition process, we decided to purchase it.
How does this work fit in the SCMA collection?
Collecting art by women or historic works about important women in history is part of our collecting plan.  This work of an important biblical female figure in print is a great example of the ways in which prints were used to influence and reflect women's roles in society. Also this Netherlandish work comes at a time when Dutch women were considered quite independent in comparison to women in the surrounding countries. Therefore, secularized images like these, (she is portrayed as a real woman and not a stylized gold plated saint with halo) could be an aid to prayer or function as effective moral lessons for "uppity" Dutch women or give solace to people who felt they had sinned in the face of God. The print is also interesting in that it is of a Catholic subject in a predominantly Protestant country at the time. There still were quite a number of Catholics in Protestant Haarlem who had to keep their religious affiliations and practices a secret. A historically rich work like this, therefore, can be a good starting point for deep conversations on the subject of women, politics, religion and the role of prints in Western society at the time.
Is there anything about this work that you personally find compelling?
There are so many ways to look at these typical Northern European secularized religious works which I find both intriguing and amusing. While this intimate scene between Christ and Mary Magdalene does not seem to be based on actual scripture, it is intriguing that it is so frequently repeated in art.  While titled The Penitent Magdalena, the image is somewhat confusing. Mary Magdalene was in some accounts considered to be a fallen woman, a prostitute, who found her way to Christ after a life of sin.  It is therefore not surprising that she is often sexualized in art and that her relationship (lover, disciple or even wife) to Christ has been the topic of many heated theological debates, articles, books and even movies. This relational ambiguity seems to be present in this print as well. You can find it in their gaze and even in the clouds over their heads.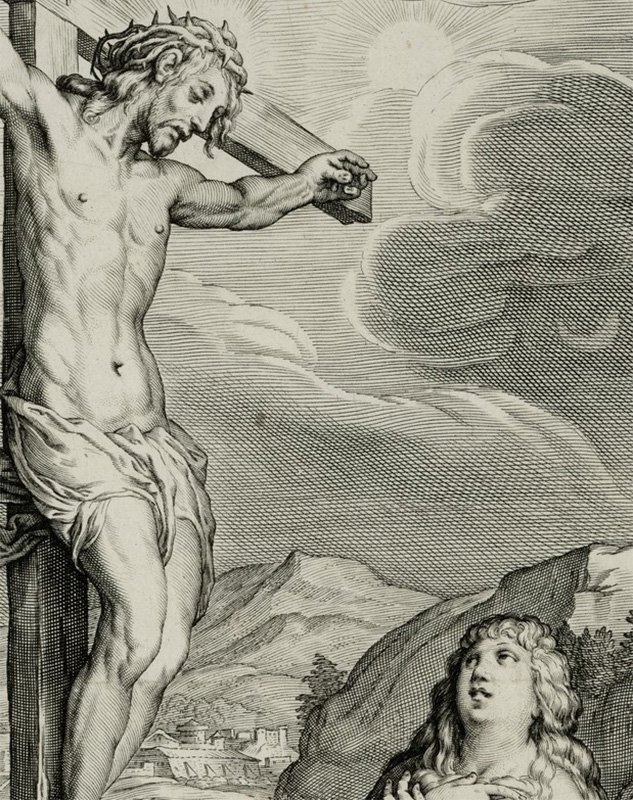 Questions arise like: Are they actually looking at each other or is she just looking at him in adoration or contrition? 
Is the weather and therefore the mood lightening or darkening, are the clouds opening up or closing? Is it day or night? (we see a moon and a sun) 
Why is she partially nude? How penitent is she really?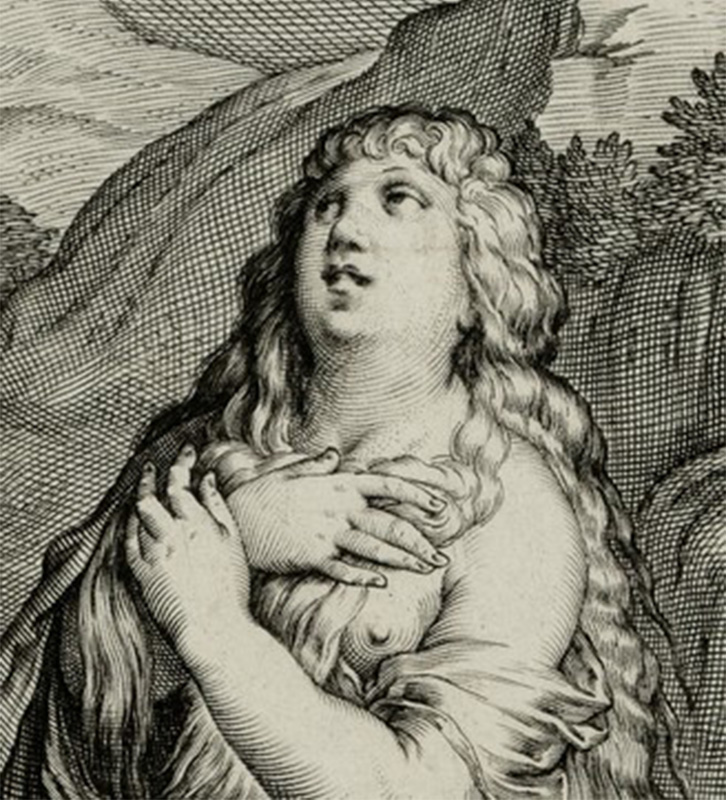 All that and the fact that such prints could have been viewed by a good, faithful 17th-century male viewer, who could stare sanctimoniously at a sensual woman's bare bosom and still be regarded pious, make these curious objects.  
And then some say that historic prints are boring….