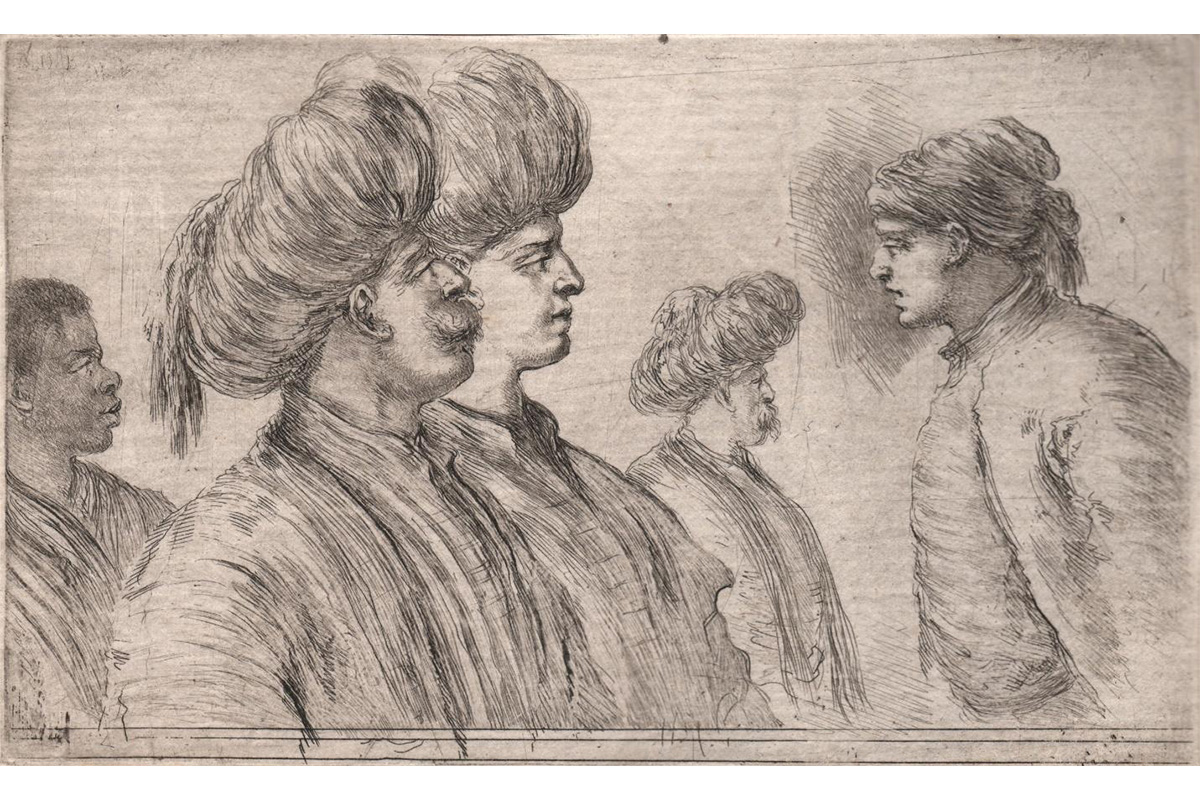 Collecting for the future: Stefano della Bella
Danielle Carrabino, curator of painting and sculpture, offers insight into a recently acquired print by Italian artist, Stefano della Bella (1610-1664). This print may be the earliest work of art in the collection to feature a Black man.
---
Who made it?
Stefano della Bella (1610-1664) is perhaps best known as a printmaker, but he also produced thousands of drawings and a single painting. He was born and died in Florence, Italy and much of his patronage there was from the Medici family, the unofficial ruling family of Florence. He also spent several years working and studying in Rome (1633-1639) and lived in Paris (1639-1650), where he worked for the powerful cardinals Armand de Richelieu and Jules Mazarin. Most of the prints he produced date to this period.
What is the subject of the work?
The print shows four men wearing turbans and one Black man, all in profile and in half-length. This print is similar in style and composition to several other prints by the artist of men in turbans, also showing men wearing turbans and identified as Turks. 
The print may have been part of a larger series. There are about 22 prints by della Bella that depict Africans, Central Asians, and Eastern Europeans.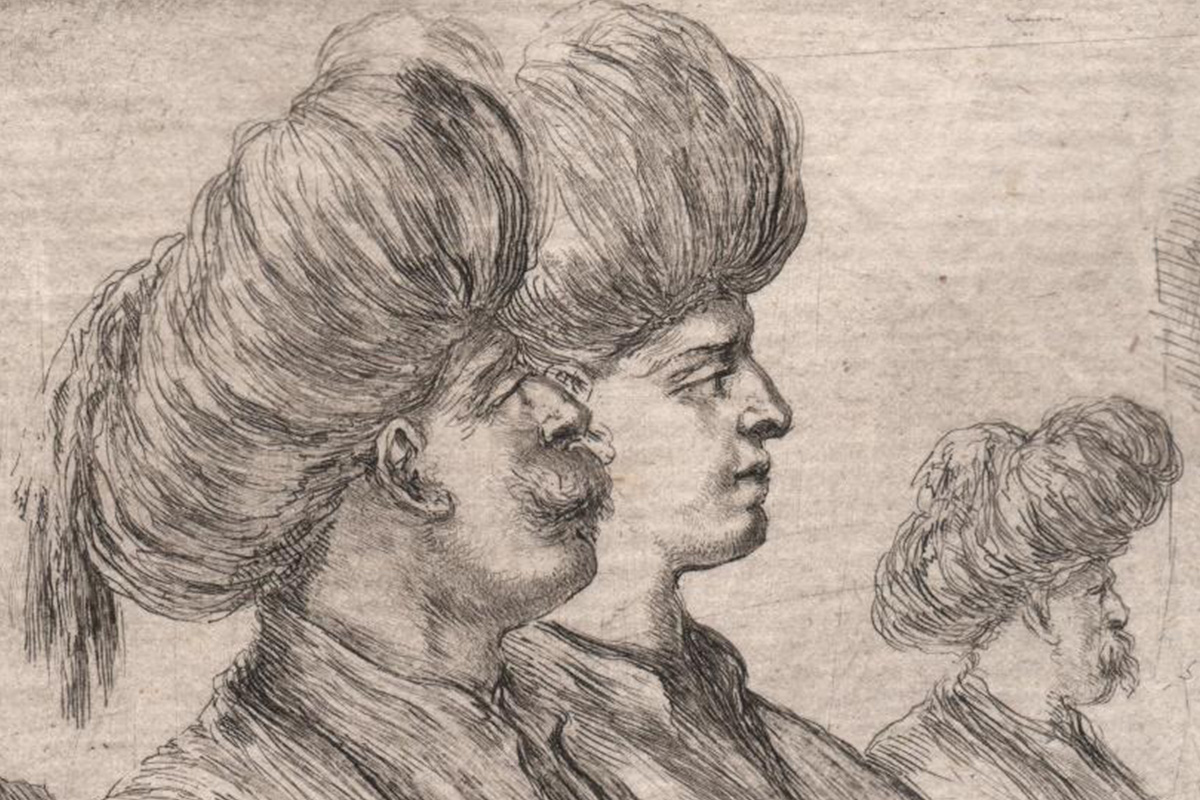 Where was it made and when?
These are the two key questions! There is some disagreement among scholars as to whether della Bella observed these figures on the Italian peninsula, during his travels, or in prints. Although not much is known about his travels, della Bella did visit Venice and Rome between 1650 and 1656. Both of these cities had a frequent influx of foreigners, often merchants, whom he could have seen first-hand. 
While in Rome, della Bella was also acquainted with Pietro della Valle who had visited Constantinople in 1630 and wrote an extensive book about his travels in 1650. Della Bella could have learned about the figures in this print through della Valle's accounts or from images he took back with him from his travels. Another theory suggests della Bella copied these figures from prints by Rembrandt that he had seen either in Italy or when he visited the Netherlands in 1646-47. 
What materials and techniques were used to make it? 
The print is an etching, which was a technique for which della Bella was known. It is a complex and lengthy process, which I will only summarize here.
First, a metal plate is smoothed and covered in wax. The artist then uses a sharp tool to scratch the surface to create the design or drawing. The plate is then bathed in acid, which eats away the areas marked by the artist. The plate is then wiped clean and inked. The parts that have been incised into the metal receive the ink. A dampened sheet of paper and the inked plate are then put on a press and the plate is pressed into the paper to transfer the image.
This process was sometimes executed by several people or by a single printmaker. The technique described above may be varied in several ways to achieve certain effects. Della Bella's etchings were particularly noted for their effects of shading, varied tone, and detail.
For more a more detailed account of the etching technique, see this link.
Can you describe the work in your own words?
The print shows five figures, all in profile. Four of them wear turbans on their heads in a manner that suggests that they are Ottoman Turks (present-day Turkey). The four figures are more prominently placed in the composition with the Black man off to the side and slightly behind the two figures in the foreground. He is probably shown this way because he was in the service of the men in front of him.
The varied effects of lines in this print is extraordinary. The artist communicates shading, three-dimensionality, and perspective solely through the use of lines and through the play between dark and light areas. The print has a sketchy quality but is also carefully composed and executed, giving it a sense of life.  
It is also worth mentioning that this is the only state of this work. Some prints are reworked by the artist after an initial print run. This is the only known composition including these figures that was not later added to or changed.
How was it acquired?
The print was purchased by the museum in November 2021. The two curators of photographs, prints and drawings, Aprile Gallant and Henriette Kets de Vries collaborated on this purchase. One of their motivations for acquiring this print was due to della Bella's "interest in foreign subjects" and more generally, to highlight "how global exchange and trade at this time brought all kinds of people and ideas to Italy." The purchase of the print was made possible by a gift from Sue Reed to be used to acquire a work on paper. Ms. Reed was a curator who dedicated much of her research to della Bella, including catalogues and exhibitions on the artist. Part of her gift was intended to purchase a work in honor of Amy Namowitz Worthen '67, an engraver, curator and member of the Museums Visiting Committee, and Amy's late husband, Tom Worthen, a scholar of early modern Italian art.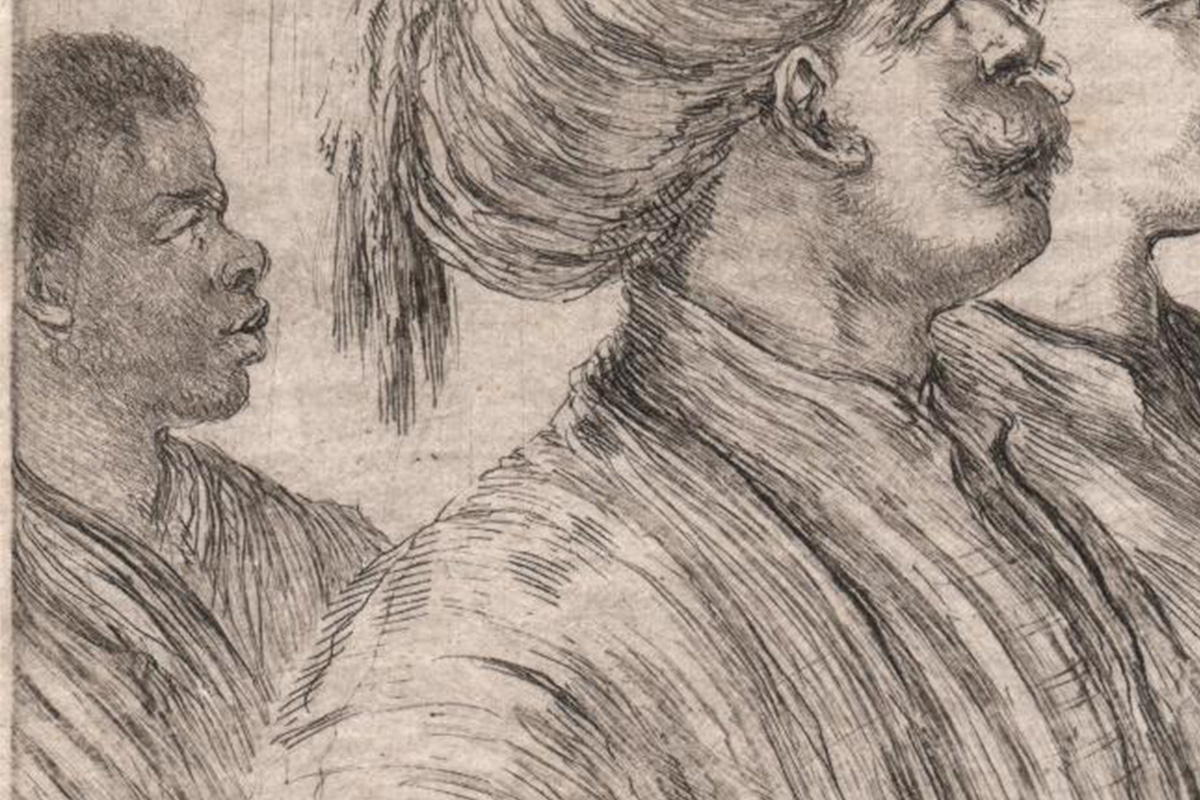 How does this work fit in the SCMA collection?
The print is one of 17 by this artist in the collection. It is the only one depicting foreigners, and is quite possibly the earliest image of a Black man in the collection. It provides another aspect of della Bella's art in the collection that will be crucial for anyone studying this artist, as well as for people interested in cultural exchange in the 17th century.
Is there anything about this work that you personally find compelling?
I find it interesting to see the way an Italian artist viewed people from a different culture and place. While the clothing and headdresses were unlike clothing worn in Italy at the time and mark their difference to the artist and his viewers, these men are rendered in a way that is rather sensitive. 
The "foreignness" of all of the men is certainly the point of the print, and may have piqued the interest of della Bella and his viewers. People from other lands were viewed with a degree of curiosity and wonder, but not necessarily in racial terms as we may assume today. At this time, most of Catholic Europe was at war with the Islamic world, including the Turks. However, these men are not portrayed in a negative light as they sometimes are in other depictions of the time. This is not a politically motivated print but, in my opinion, is a study in humanity and demonstrates the artist's interest in a different culture.