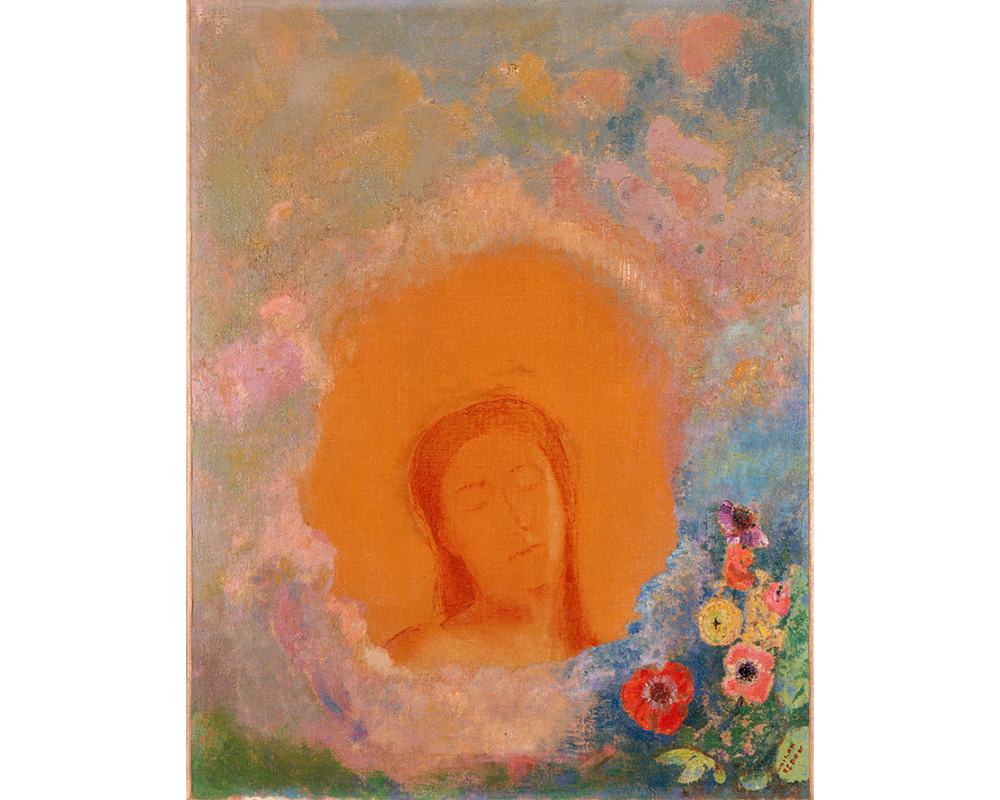 Curate This: Student Stories at the SCMA
Ejona Gjata '21 is a French Studies major, Art History minor, and a member of the Museum Studies Concentration. Below, read her reflections on her Museum Studies senior capstone design project, Curate This: Student Stories at the SCMA.
---
This semester, I had the opportunity to create my senior capstone design for the Museum Studies Concentration, and the title of my project is Curate This: Student Stories at the SCMA. There are several reasons behind my thought process in this project, but what I find most important to share is why I chose to document through videos and social media posts the experiences that Smith students have had at the Smith College Museum of Art. I believe in the power of storytelling, of people sharing their truths, and most importantly, giving people a platform to center themselves and their voices. The forefront of my three years in the Museum Studies program has been how to support students in their time at the museum, and how can I be a part of elevating their experiences. My philosophy statement below, which I recently wrote as part of concluding my time in the Museum Studies program at Smith, best explains what I hope to accomplish not only in this project but in the future as well. 
I want to be a part of a world that is healed; where there is as much care and compassion for people as well as art. For what would be the purpose of museums if not to represent and reflect the identities of those who attend?
When I first began the Museum Studies Concentration, I initially wanted to focus strictly on curation. The idea of creating exhibitions and being well-versed in a specific kind of art was so fascinating to me. I thought by the time I had the opportunity to participate in the Student Picks Event my sophomore year, I was absolutely going to go into curatorial work. I created an exhibition that focused on the juxtaposition of photography and colonialism, specifically how photography can both weaponize and deconstruct the histories of colonialism. At this point and time, my understanding of inclusion and equity focused solely on the diversification of exhibits. It was not until this project that I had actually considered exactly how my identity as a white woman reflects in a museum space, when my older sister came to see the exhibition and started that kind of dialogue with me. It was at that point I began to critically reflect on my experiences as a white person in a museum setting, from both the audience and staff perspective. 
From that point on, it was clear that I became less and less interested in curatorial practices as a long-term path. I wanted to focus on what the experience of the museum is like for those who attend; not just focusing on the art in front of them, but to consider who is also a part of the process of creating these exhibitions, and are departments in museums working towards inclusion and diversification. What began to interest me most were departments like communications, marketing, design, and others that focused on audience engagement beyond the curatorial practice. Once COVID forced many institutions to shut down including our own, it was then that I felt our museum was pushed to its highest potential of reflection on what we can do differently to continue to engage with and support our community from all over the world. 
One of the most important things that I've learned from this experience is that when we think of museums as strictly physical spaces, there's not enough room to evolve and grow and deconstruct the physical space. Museums are not neutral institutions; they were built on systems of oppression and racism and white supremacy. While this kind of dialogue is taking place in these institutions, how we go about putting our beliefs into practice is something that even I continue to reflect on. When COVID disrupted our lives and we had to rethink what exactly felt purposeful, one couldn't help but think how important are museums going to be in a post-COVID world? When we began to focus on digital initiatives, we (including all kinds of museums and cultural institutions) began to change the narrative of what it means to see a museum as a digital space too. To me, it meant creating a series of projects for SCMA, including my podcast project where I was able to listen to Smith community members talk about their experiences at and their hopes for museums. It meant rethinking how accessible the museum's physical space actually was, and how we could make it more accessible to those who need any kind of assistance. It also means rethinking how databases are explored, and how we can diversify what we present to the public through what is stored online. I've seen a tremendous change in our day to day living that has simultaneously made institutions rethink and work on issues that physical barriers put limits on. 
This kind of work is not easy, nor will all the issues we hope to fix be done so in a short span of time. We are, however, heading towards a direction where we think about people's experience at a museum in a way that's empathetic, compassionate, and culturally responsive. At the end of the day, I want to be a part of a future that considers what it means to be an individual, especially an individual of color and those from marginalized communities, coming to these spaces and their longing for support and familiarity they hope to someday feel at a museum. 
Click here to explore the Instagram page Ejona created to highlight student stories at SCMA!