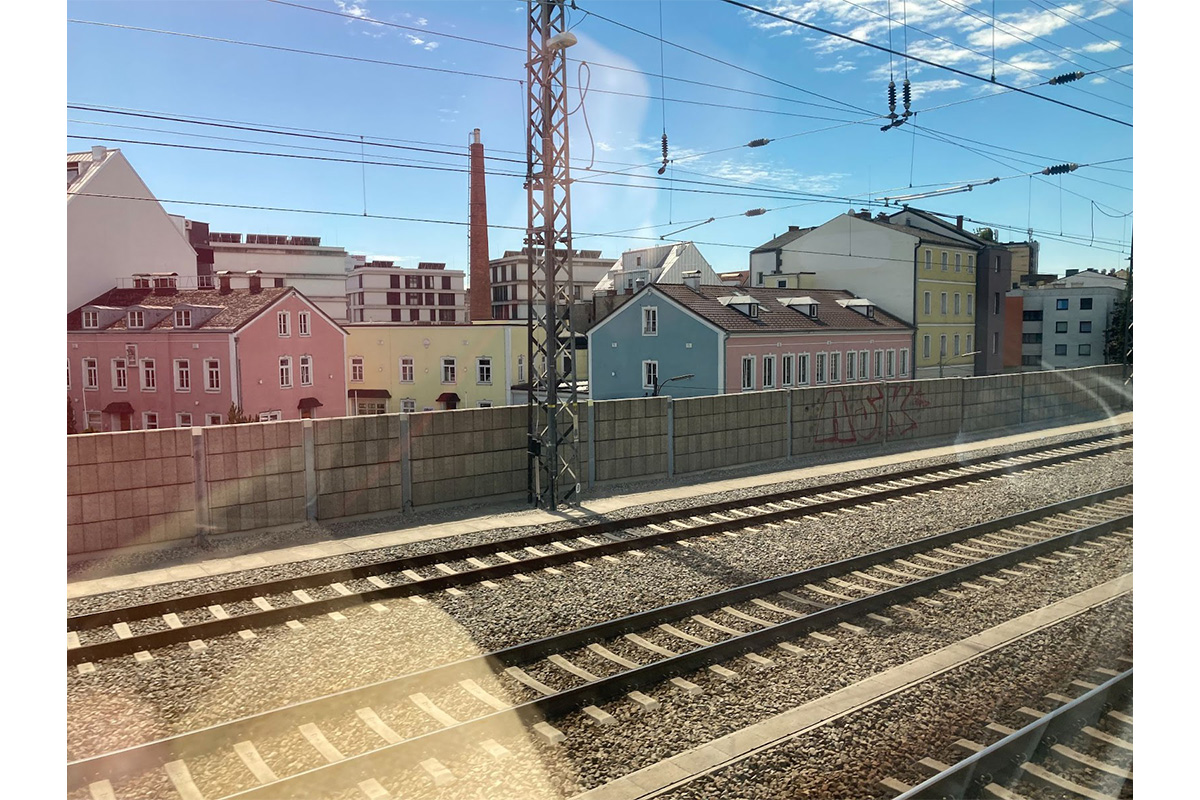 A curatorial research trip in Northern Europe
Henriette Kets de Vries the Manager of the Cunningham Study Center and the Assistant Curator of Prints, Drawings and Photographs at SCMA went to Northern Europe last summer to learn more about our German drawing collection. 
---
Part I: obstacles and delays
Research into German drawings from the tumultuous interwar years of 1920s to 1930s poses a number of obstacles and complexities. That my research trip in the summer of 2022 should be plagued with its own obstacles seemed therefore somewhat fitting. 
The war in Ukraine raging to the East of Germany has caused unrest in Europe. Meanwhile, farmers in the Netherlands were dumping asbestos on the highway, a number of my close family members were afflicted with Covid, and the airlines were in complete disarray with myriad cancellations and hours of delays. With all this and an extreme heatwave on our heels which was melting train carts, I was poised to imagine at least in some small measure, a world in turmoil. However, even with the Covid restrictions abating, it still seemed most sensible to travel by train and just hope for the best.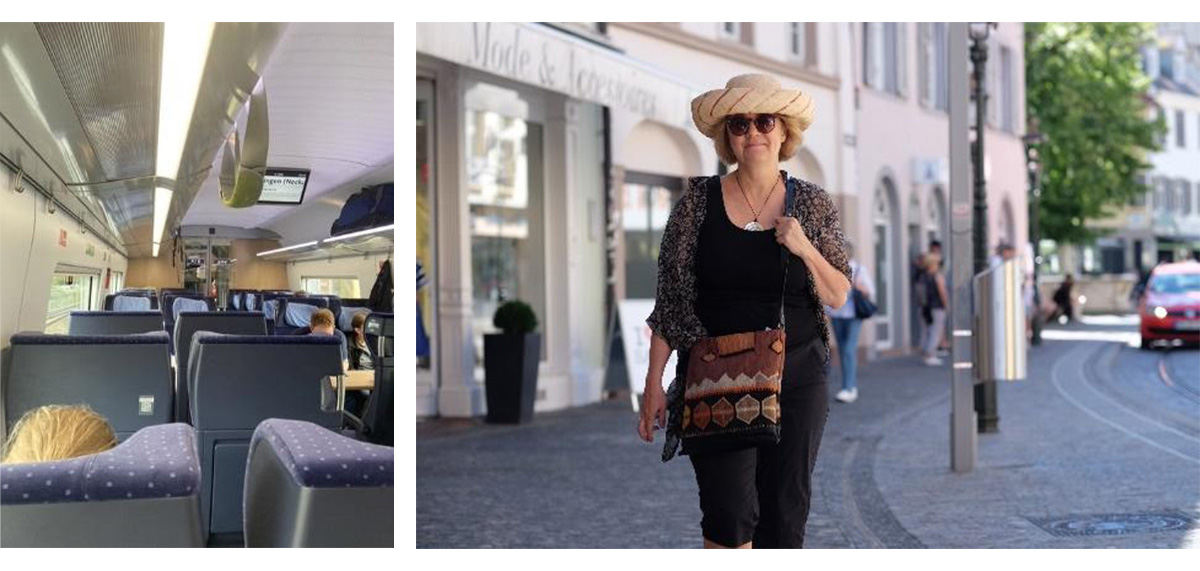 Please do not think that even in the best of times this is what curators commonly do. We do not continuously travel abroad, even though I would definitely not object to that.  Most of our travels happen virtually, on the web or in the local library. Occasionally however, when all the stars align, and when circumstances allow, we may travel  physically to conduct research on the works in our collection, to visit dealers, artists and collectors or to accompany a work of art as a courier. 
As we had recently come into the possession of a large collection of amazing German drawings, and the pandemic had finally let up, the feasibility of such a trip became a reality. Many of these German drawings in the style of the so-called New Objectivity or Neue Sachlichkeit were made by a group of artists from the interwar Weimar period.  They generally rejected the objectives of German Expressionism, which in its powerful postwar style, characterized by emotionally jarring  images, reflected the lived horrors of WWI, such as we see in this jarring print from our collection by Otto Dix.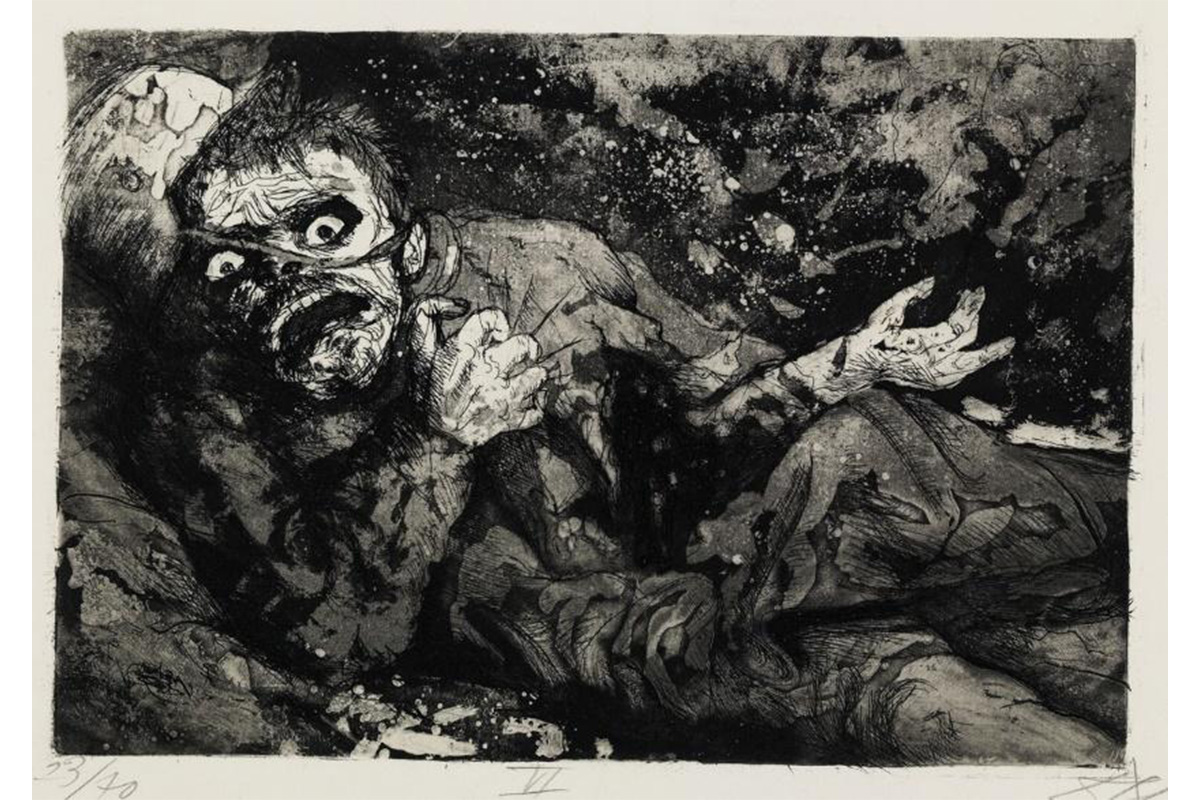 The Neue Sachlichkeit artists wanted to distance themselves from these horrors and with a renewed, forward looking, impetus, they sought greater clarity in form and expression. Although embracing realism, they were nonetheless at odds with the romantic and the contemporary neoclassical German trends. Those works that featured bucolic mythic landscapes and idealized allegorical and classical figures, as demonstrated in this Hans Thoma print from 1920 in our collection.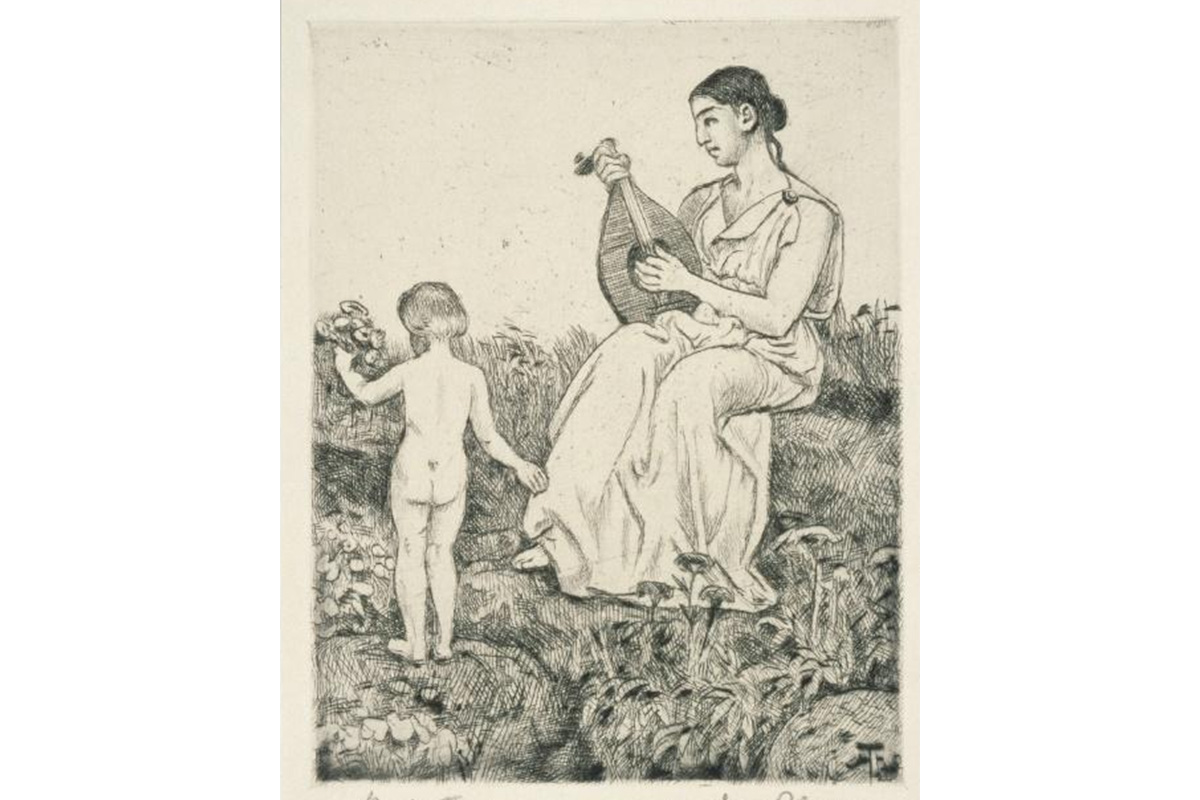 After the horrors of WWI, the Neue Sachlichkeit artists aspired to advance a more skeptically realist and socially critical vision of German society.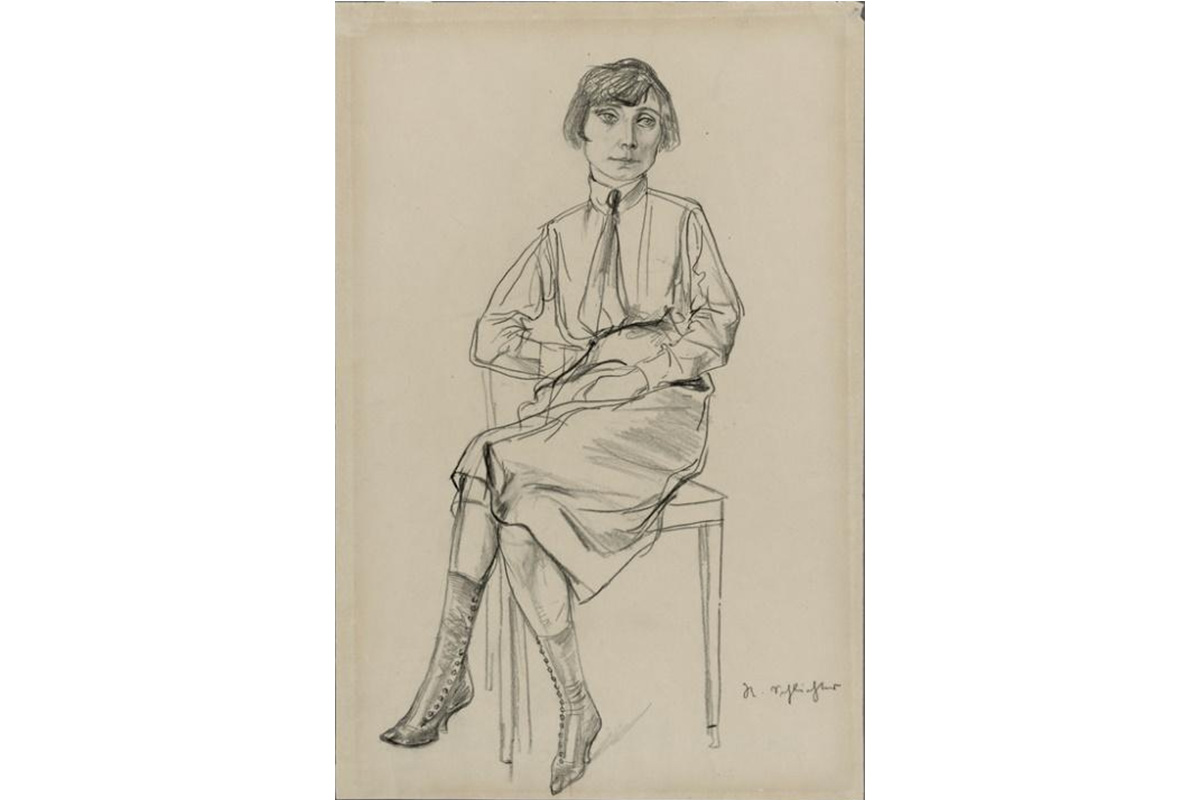 They created portraits and views of society in a critically sobering, unornamented, and edgy style suited to the era. These Neue Sachlichkeit images heralded a new modern era influenced by American culture and more progressive ideas, leaving behind the horrors of the war. 
This trend was also evident in the popular fashions of the day. The modern German woman was now part of the work force and able to vote and wore short cropped hair (Bubikopf) and more androgynous clothing. Here with a derogatory title, Kokainisten (The cocaine addict), in a drawing by Rudolf Schlichter (1890-1955), a modern German woman is seated confidently on a chair with cropped hair, high button boots (Schlichter was a known foot fetishist), and a tie. She and the accompanying title provoke a somewhat alienating and dispassionate sentiment, as do a lot of his painted portraits. The same artist however painted the work Blind Power about ten years later. This life size painting literally stopped me in my tracks when I came across it in Die Berlinische Galerie in Berlin on this trip. It showed me another side of the seemingly dispassionate Schlichter.  Something had clearly shifted to provoke such violent imagery.
During these so-called "golden twenties" Germany's economy was living on borrowed time. Its bourgeois society was living it up, while the lower classes continued to struggle. Dark clouds were gathering, an economic collapse approached, and the unrelenting rise of the Nazi regime and the onset of WWII obviously changed everything.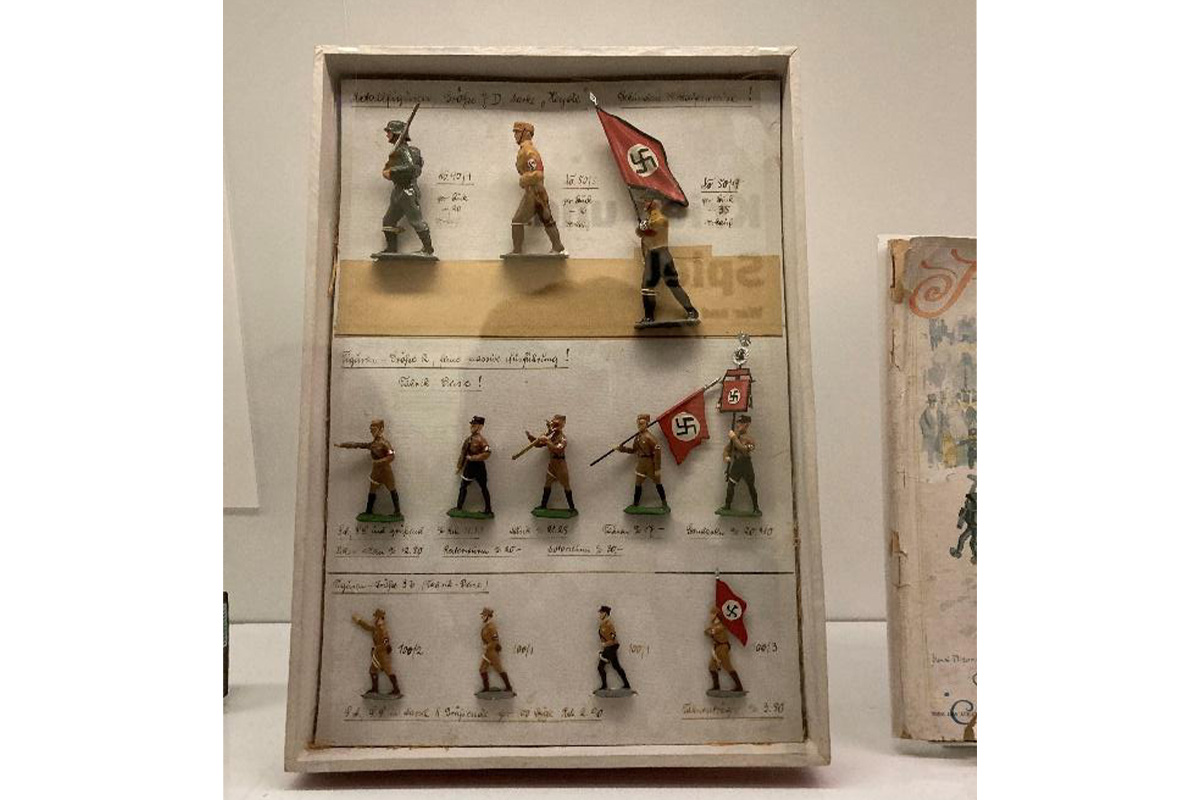 Through my research on this trip  I wanted to gain a deeper insight into this short period in German history and attempt to see the character of the period through these artists' eyes, by learning about the society they inhabited and the art they grew up with. I also wanted to get a sense of what other artists of this time were creating and what in particular set the Neue Sachlichkeit artists apart. I realized this was not going to be an easy task, but I was eager to get on my first train and start my adventure.