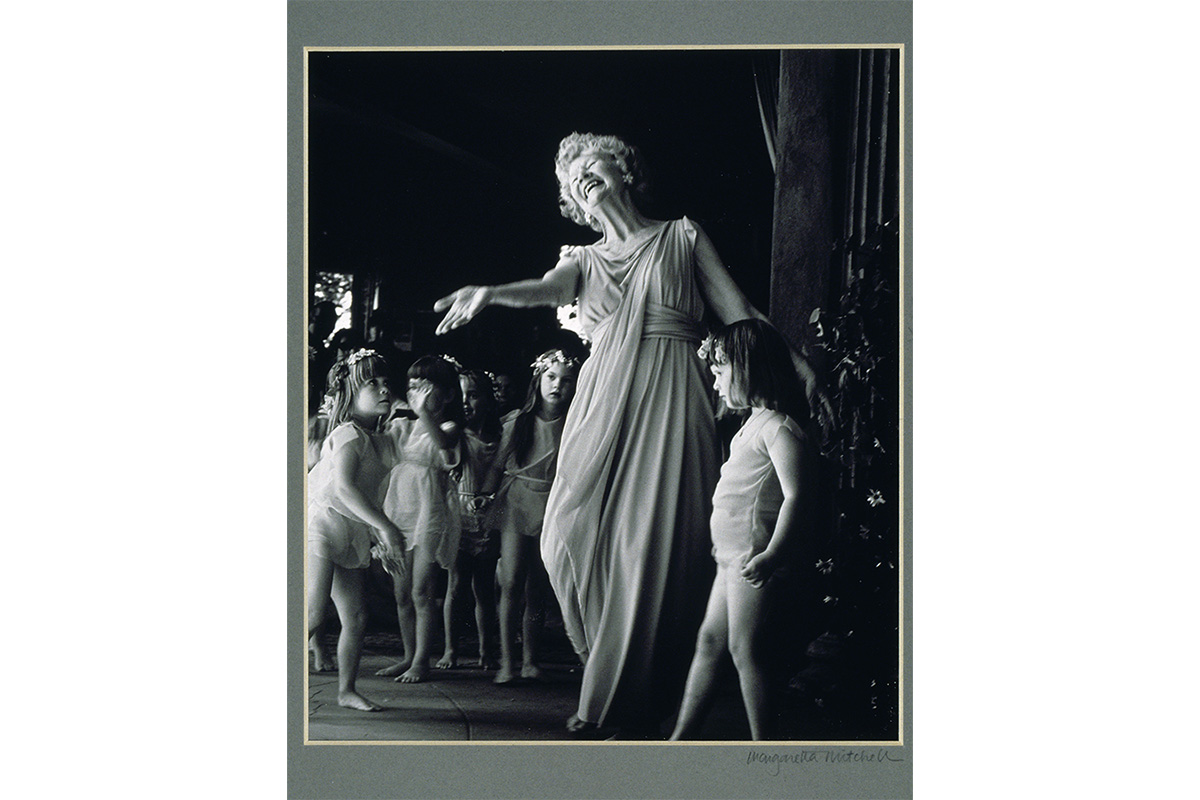 Dancing Through the Past: An Exploration of a Smith Alum's Work
Anna Ziegler '25 is an Art History Major at Smith College, this is her first semester working as a Student Assistant for the Cunningham Center at SCMA.
---
While returning the works pulled for a photography class in the Cunningham Center, I was taken aback by Margaretta Mitchell's piece entitled Sulgwynn Quitzow: a black and white photograph of a woman in a long, flowing gown gesturing toward the foreground, grinning from ear to ear. It was her emotion, the unadulterated joy, on her face which drew me in. This woman is Sulgwynn Quitzow, and I knew I had to learn more about the context of this photo.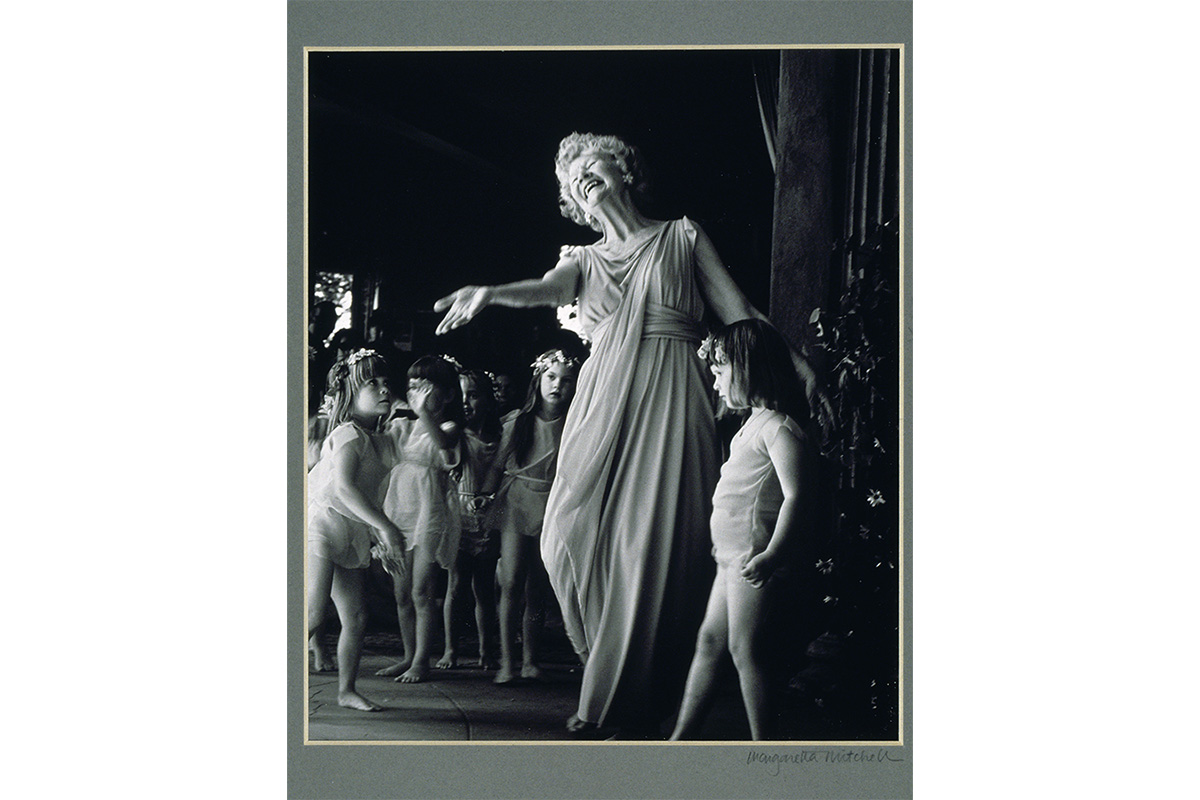 Sulgwynn Quitzow, Margaretta Mitchell, 1972, American. Gift of Margaretta Mitchell. SC 1975.20.6
Margaretta Mitchell is an American Photographer, Smith alum class of '57, and now resides in Berkeley, California with her husband. As a current Smithie myself, it's always exciting to learn about Smith alums, so when I found out she went here, I was all the more invested in her works. Luckily for me, Mitchell has donated a number of her pieces to the Cunningham Center over the years, including the entirety of the portfolio which the original object of intrigue came from entitled Dance for Life. Mitchell photographed recitals at the Temple of Wings in Berkeley, California throughout the 1970s.   
In the introduction to this portfolio, Mitchell invites us to imagine a Greek temple, high on a hillside, bathed in golden sunlight. When she describes this place, one might imagine themselves in Ancient Athens or somewhere similar, indeed that is the experience the Temple of Wings emulates, but is in fact found in Berkeley, California.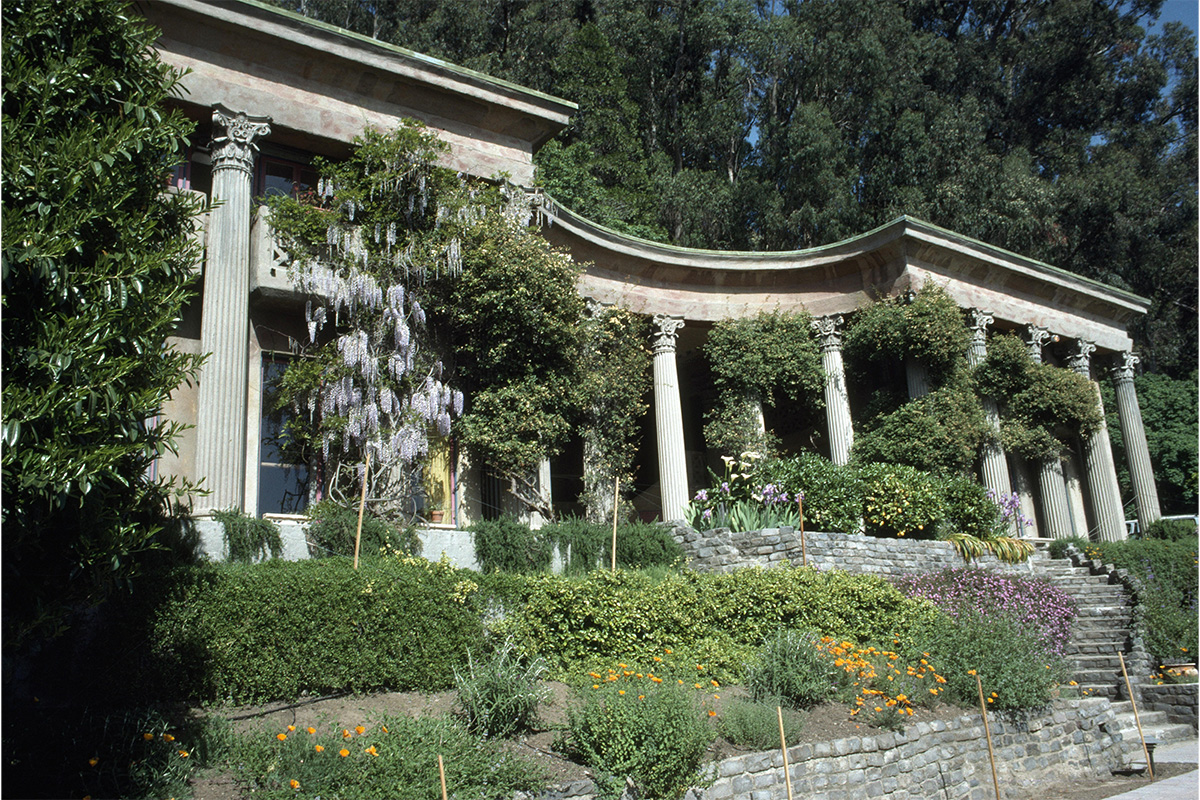 Temple of Wings, Richard Guy Wilson, 1993, American, image courtesy of JSTOR
This beautiful hillside structure was built by Florence Treadwell Boynton and her husband in 1911 where they raised their family and taught dance classes to young women under Isadora Duncan's dance philosophy. These days, Duncan is known for her development of modern contemporary dance, but at the time in the early 20th century, she was interested in finding liberation from all things which constricted her. She was intent on individual freedom, which manifested iconically in her dress; she opted to wear flowy, comfortable clothing which defied the fashion trends of the time, and put her dancers in similar dress. I've included a couple of drawings by Abraham Walkowitz which depict her fashion and movement well. She was somewhat of a muse for Walkowitz, and several of his drawings of her are available for viewing at the Cunningham Center.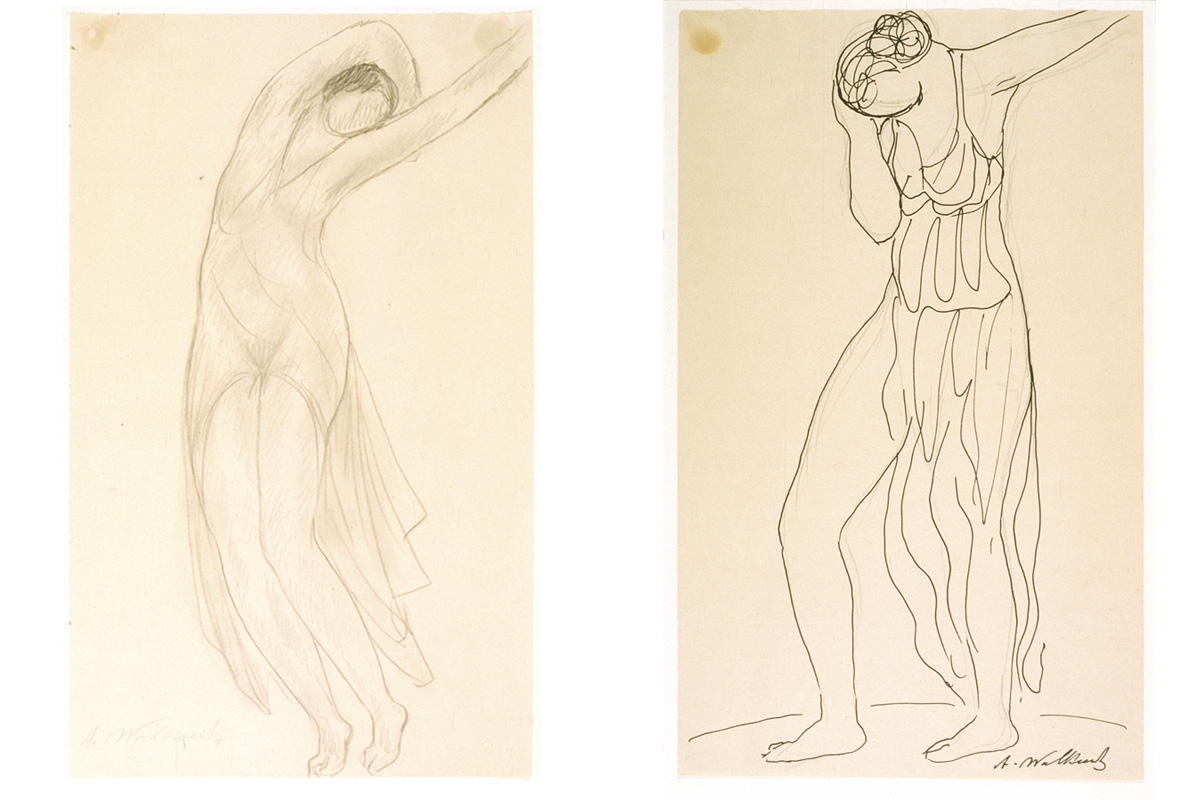 Isadora Duncan, Abraham Walkowitz, undated, American, Gift of Abraham Walkowitz SC 1953.49.6 (right); 
Isadora Duncan, Abraham Walkowitz, undated, American, Gift of Abraham Walkowitz SC 1953.49.1 (left)
Isadora's personal philosophy, of course, transferred directly to her dance. Her expressive, freeform dance style was designed to depart from the restrictive nature of ballet, and teach whomever it reaches about personal freedom. Duncan and Boynton were lifelong friends, and even when living physically apart in adulthood, the two kept in touch. Boynton upheld these beliefs of Duncan's and further developed them to become her own; she dressed her children in non restrictive clothing, and walked around barefoot in the summertime, which was somewhat scandalous in the 1910's. Where Isadora's philosophy mainly expressed itself through her dance, Florence brought it into her personal life and individual expression. 
It was this lifestyle which influenced the construction of the Temple of Wings. Boynton wanted a place to live and raise her family outside of what was socially expected of her. The Temple was without walls, a true performance space before it was anything else, and curtains would be hung between the columns in poor weather. It's situated directly on the side of a mountain, designed to encourage direct interaction with nature. After a fire in 1923, the home was rebuilt with more conventional rooms, although it maintained its stage-like areas and continued to serve as a dance studio. 
At the time these photos were taken, the Temple was still home to Florence, as well as her daughter, Sulgwynn Quitzow and her son-in-law. They continued to teach dance here throughout the 1980s, still following the teachings of Isadora Duncan. Mitchell photographed these dancers during their Spring Festival, and remarks on the sense of history and community the family has fostered there. She tells her experience of the show as well, that she began photographing the dances out of pure joy. It's an emotion you can feel through the photographs; it's the emotion which drew me in from the beginning.
The other piece we have from this collection is entitled Caryatid from Dance for Life portfolio, which depicts a young woman with her arms above her head, emulating the columns to either side of her.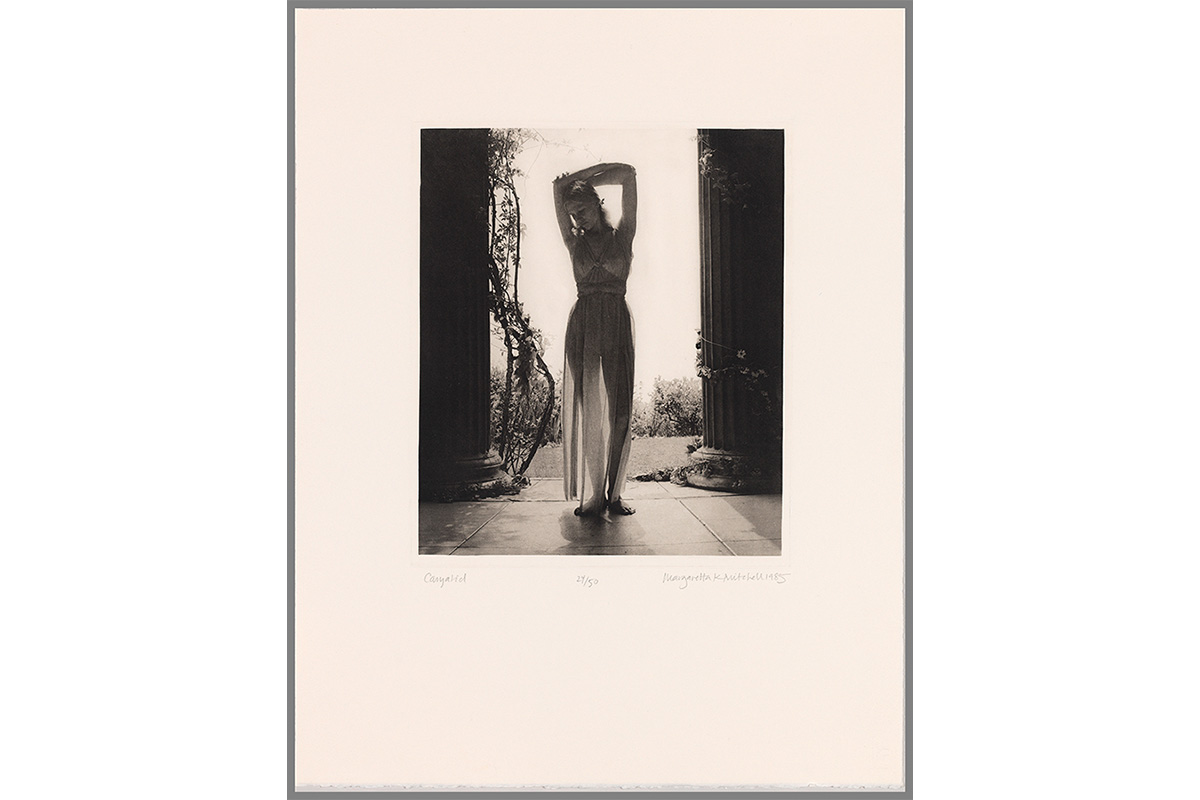 Caryatid from Dance for Life portfolio, Margaretta Mitchell, 1972, American. Gift of Margaretta Mitchell. SC 2017.17.1
The composition of this photograph is almost enchanting. The way the light shows through the fabric of her skirt and the sky acts as a limitless space gives the effect that this photo was taken atop Mount Olympus. Her dress is similar to Sulgwynn's as it is reminiscent of wet drapery seen on Greek statues, and brings the entire scene together beautifully, emulating the look of Greek goddesses. The subject herself is a caryatid of sorts, a common feature of classical architecture, where a sculpture of a woman is used in place of a column. Margaretta remarks that the dancers echo the architecture of the Temple, that it harkens back to a more ancient time, when the human body was thought to be a temple in and of itself. Here, the subject becomes the architecture, the two bringing one another to life.
The most engaging component of these pieces are their movement and expression. The dancers are all participating in these free form, intuitive dances while moving through the rigid architecture of the Temple of Wings. Of course, Mitchell believes that these dancers imitate the building, but I think the difference between the two is more interesting. Through the nature of photography we are only able to engage with one still second of the entire story, but Margaretta Mitchell beautifully captures the movement of these dancers. This in tandem with the teachings of Isadora Duncan, brings the still figures to life. The classical familiarity of the architecture is what emphasizes the emotion of the dancers, creating a visually compelling and emotional portfolio.