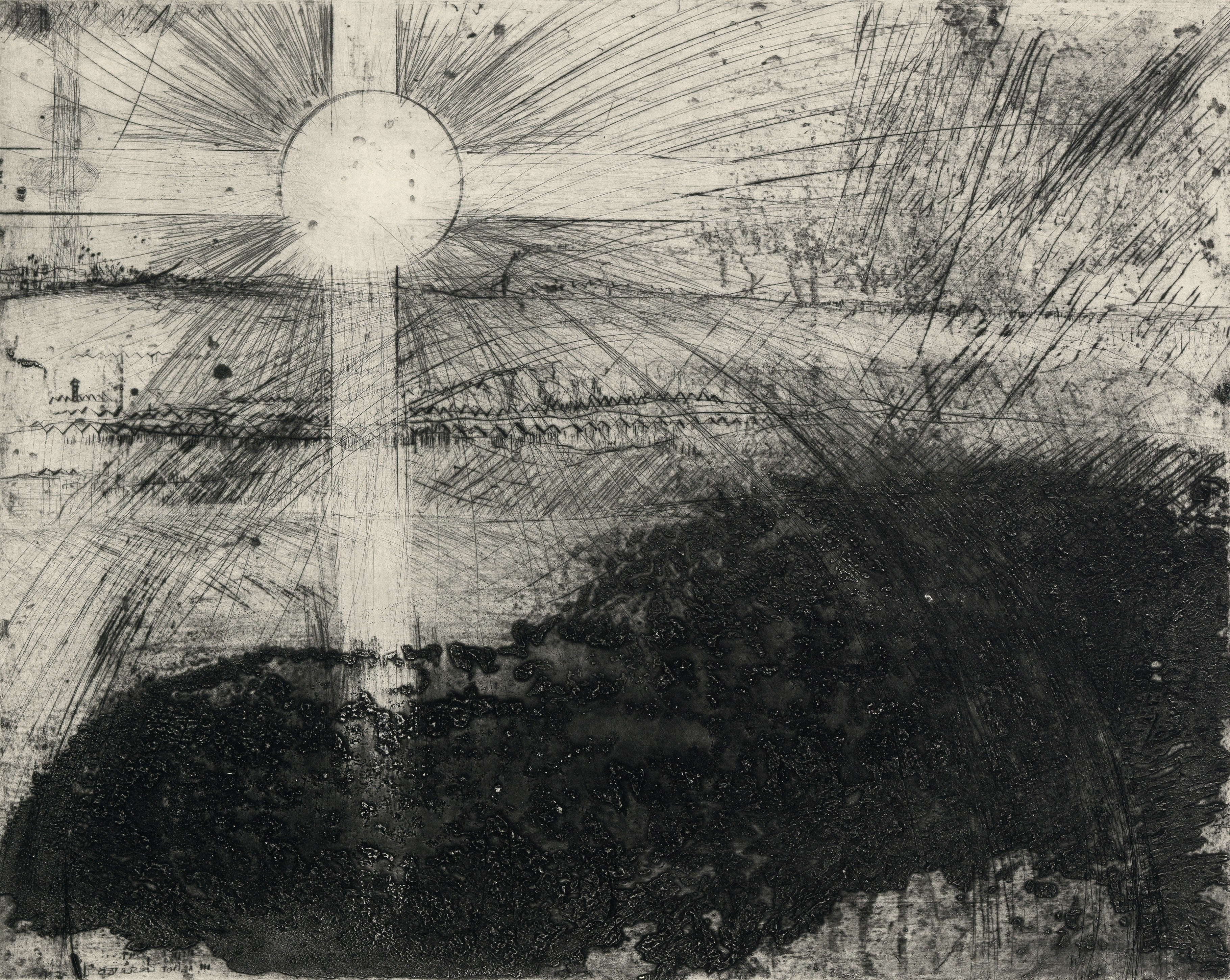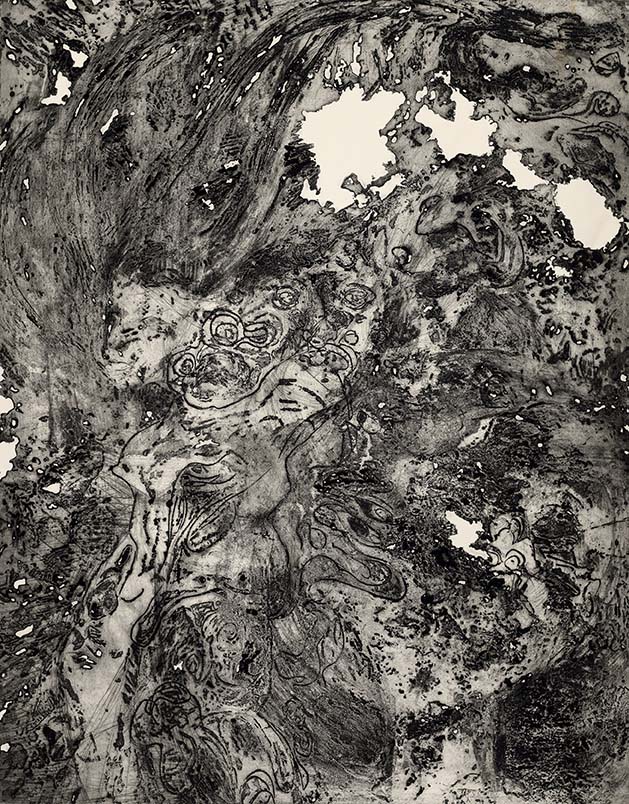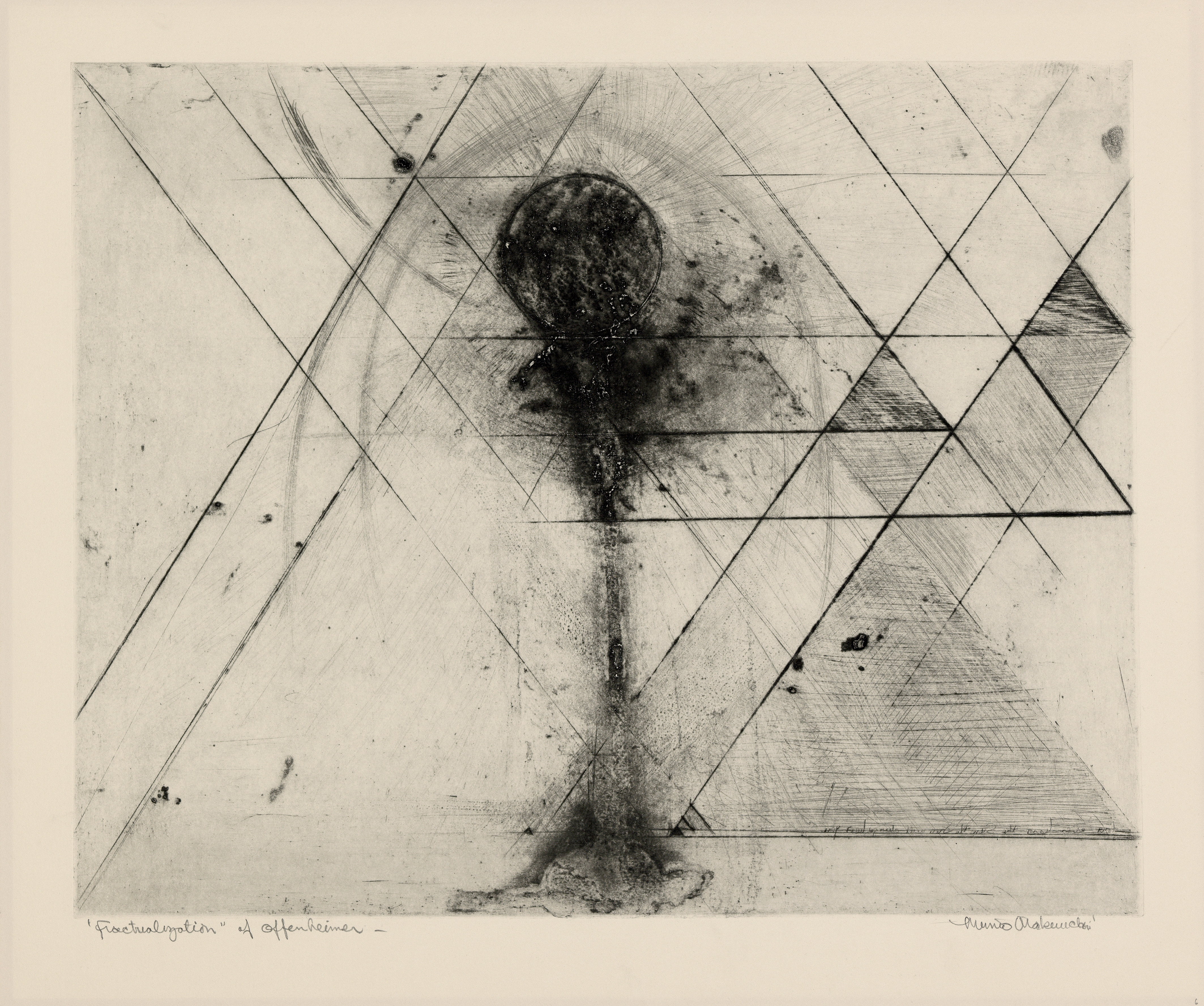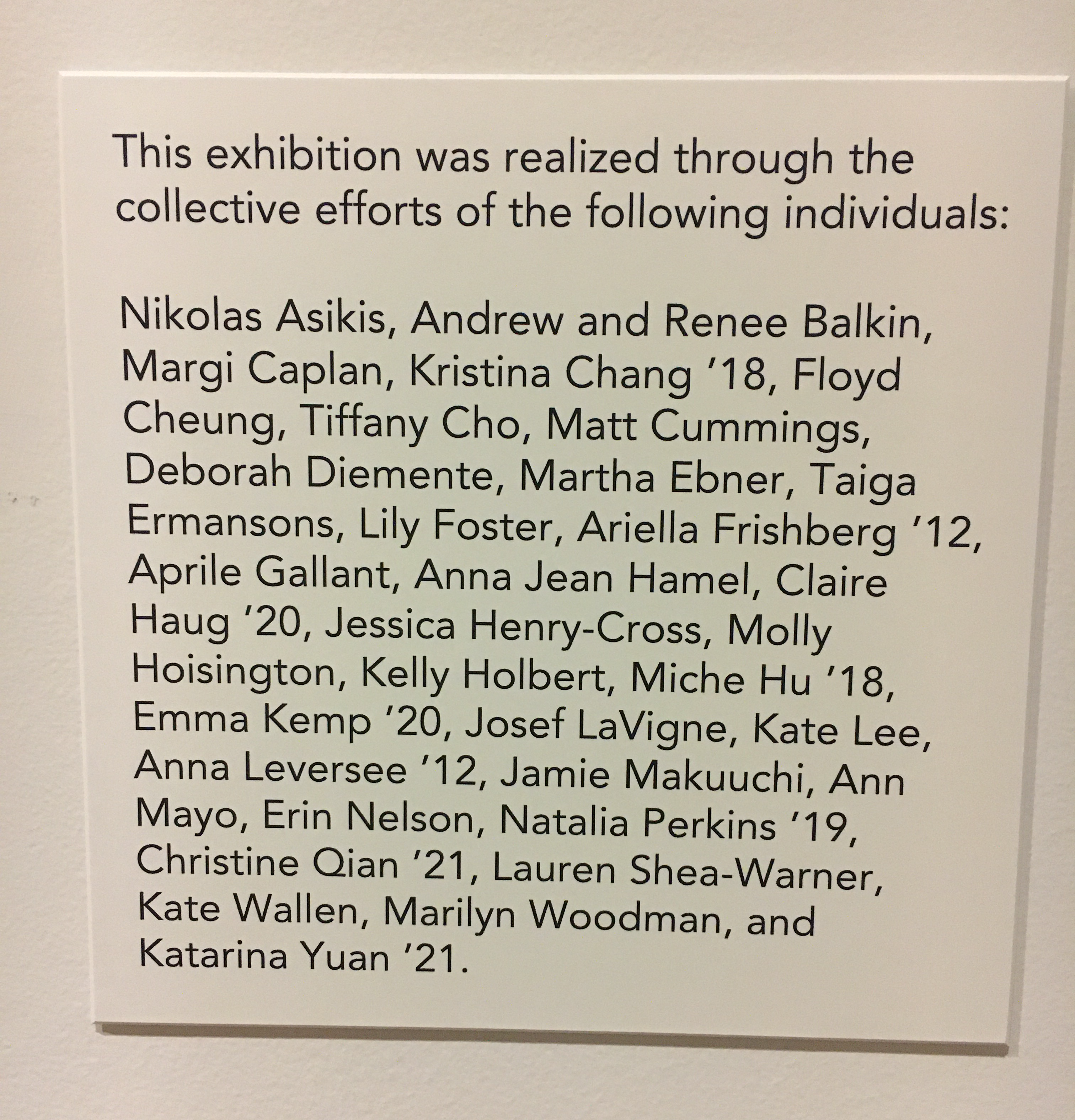 Defiant Vision Q&A: Final Questions
This is the final Q&A post for Defiant Vision: Prints & Poetry by Munio Makuuchi before it closes exhibition closes on Sunday, December 8. Be sure to check it out if you haven't already had the chance!
In this series, Aprile Gallant, Senior Curator of Prints, Drawings, and Photographs responds to visitor questions from the exhibition's comment book. Accompanying images are in the slideshow above.
Q: In the print called In the Mood Day Sun the sun appears to be a cross. The Japanese people were not Christians (perhaps some were) so why does he make the sun look like a cross? What is the significance in this? The image of the sun appears in this way in the rest of the prints after In the Mood Day Sun too.
A: Thank you for your question!
Many Japanese American families were involved in Christian churches, and churches of all faiths mobilized to support Japanese Americans during their forced relocation.
Although there is little information about their religious observances before the war, Munio Makuuchi's family joined the Immanuel Lutheran Church in Twin Falls, Idaho, after they left Minidoka. Munio attended high school at Concordia, a private Christian boarding school in Oregon. He even expressed a desire to train for the ministry as a teenager, and served as a chaplain's aide during his service in the US army (1956–1958).
While Makuuchi was not active in the Christian church during his adult years, it is clear that Christian imagery was a strong touchstone. The cross/sun could be interpreted either as a protective symbol, or, conversely as the powerful force of assimilation into American mainstream culture.
Q: My sister and I are curious about the intention of why Makuuchi's work was arranged in this particular way throughout the exhibition. More specifically, what prompted you to organize his pieces in the way you did?
A: Good question!
The arrangement of works in a show is very deliberate. We wanted to organize works and information that would allow visitors to follow a thread or develop a full sense of the work, so it's important to think about the structure, grouping, and sequencing of work, but to also leave room for visitors to wander and still get the information they might need to make sense of the show. 
The show is not arranged chronologically because it seemed most fruitful to explore the subjects he investigated throughout his career: family, his camp experience, fishing, and atomic energy and the bomb. These were also subjects for his poems. 
Makuuchi created most of his work in focused time periods when he had access to printmaking materials and presses—chiefly when he was connected to an academic institution (University of Iowa and University of Wisconsin, Madison), or when he was living in Madison, Wisconsin in the mid- to late-1980s and working with Andrew Balkin Graphics. 
 
Q: How does SCMA decide what artists to choose for their galleries? Who makes the decision/who has input?
A: SCMA's mission statement drives all of our decisions: "The Smith College Museum of Art cultivates inquiry and reflection by connecting people to art, ideas, and each other."
This means that every idea for an exhibition or acquisition (gift of purchase) must, in the estimation of Museum staff, "cultivate inquiry and reflection." As a teaching institution connected to a liberal arts college, we also seek to present exhibitions that will be of interest to different disciplines. The Makuuchi show has ties to art, literature, American studies, government, history, and civil liberties, just to name a few.
Curators are responsible for developing exhibition ideas, but a wide range of staff, faculty, and students have active input in deciding what we present and in shaping the final product. The Defiant Vision exhibition was shaped through conversations with Professor of English and American Studies Floyd Cheung, and also benefitted from input and research by students.
This plaque at the entrance of the exhibition lists the names of people who contributed to the show—over 30 individuals!