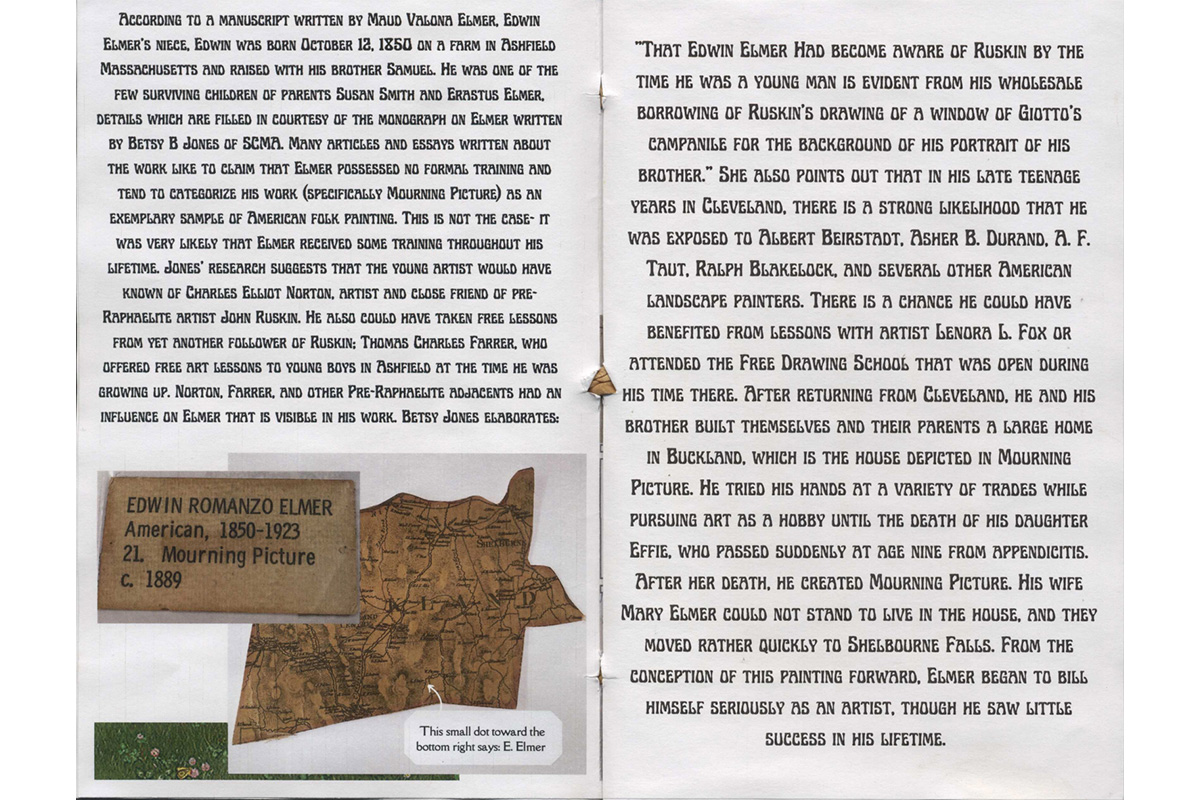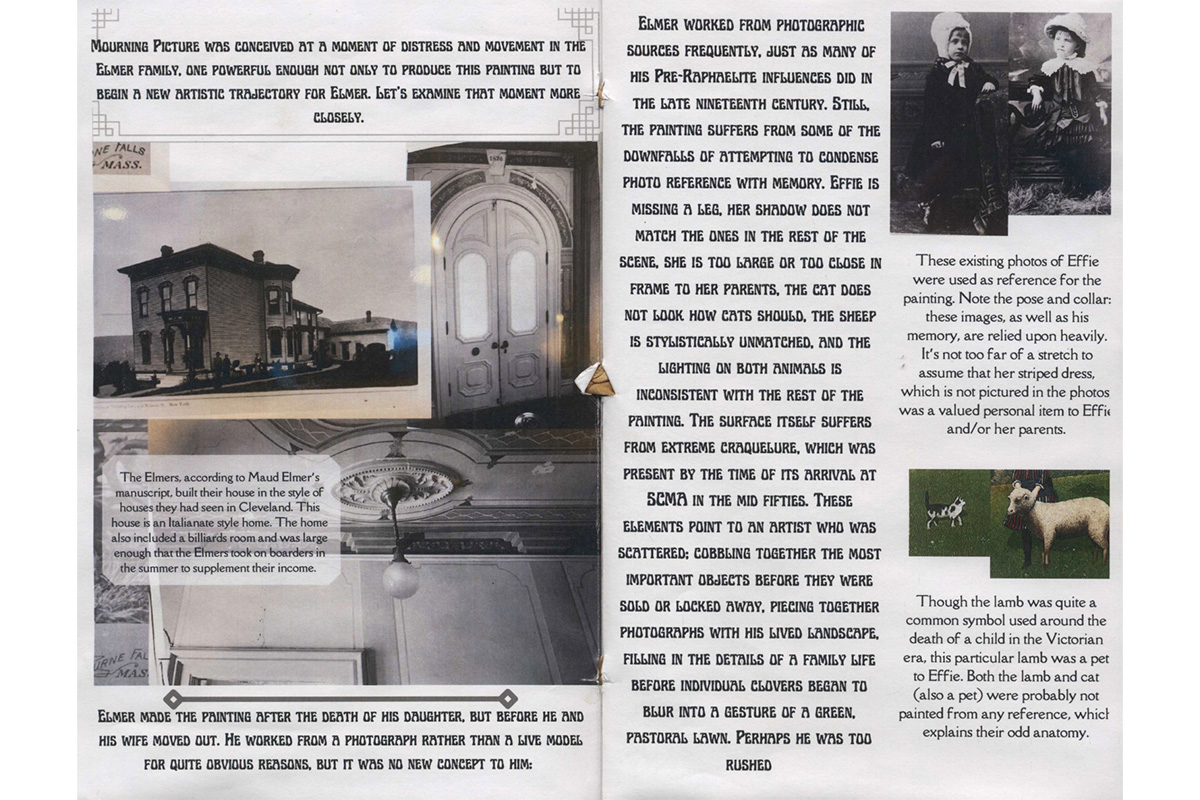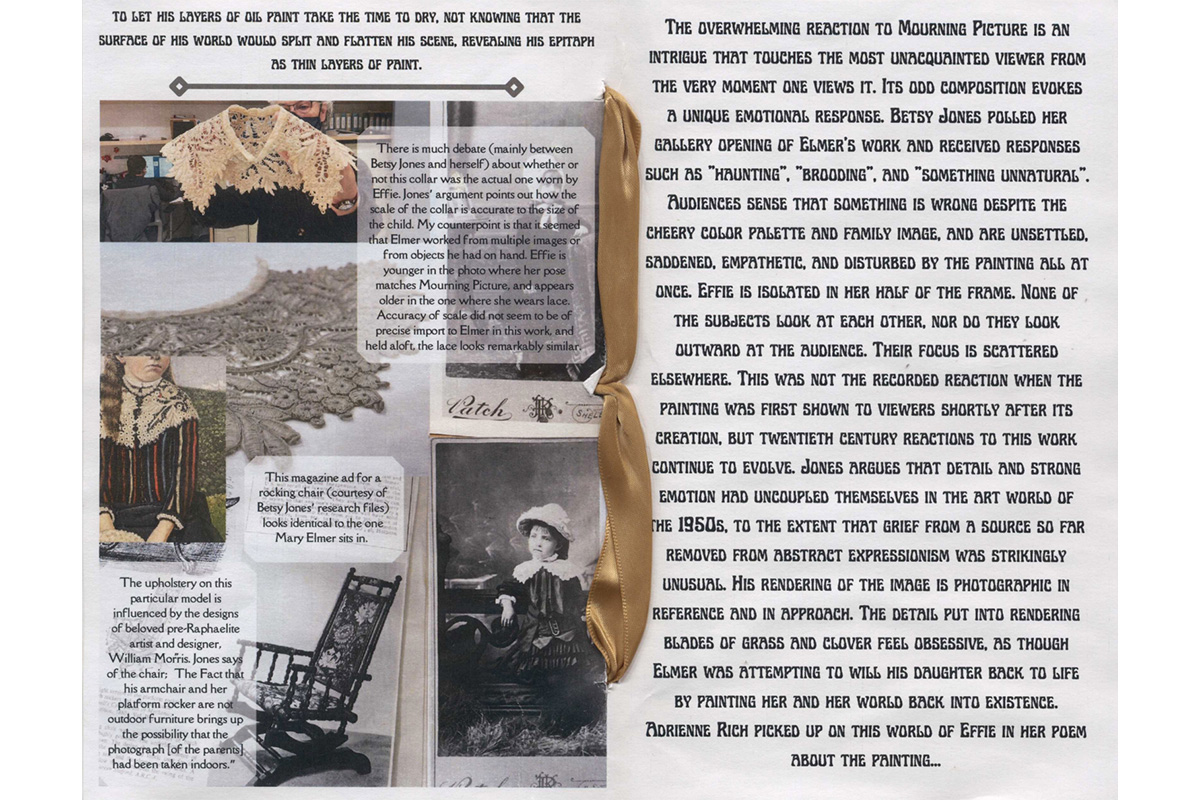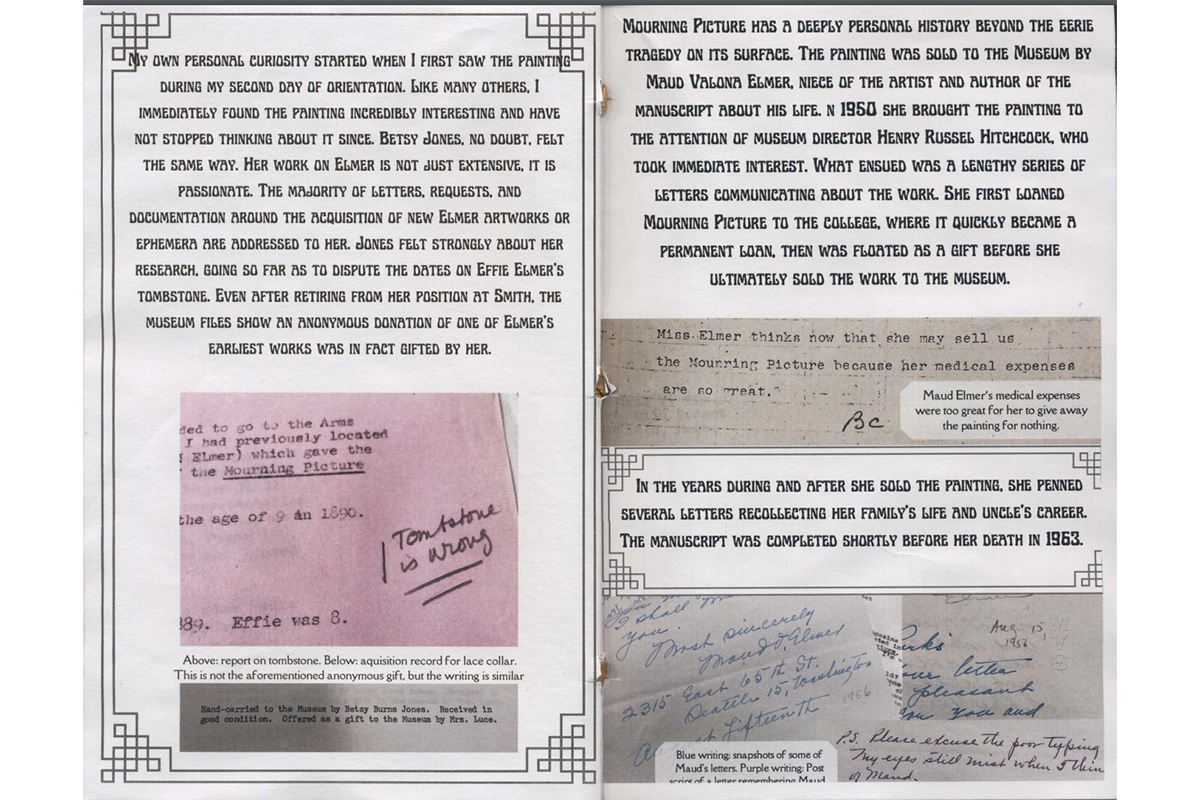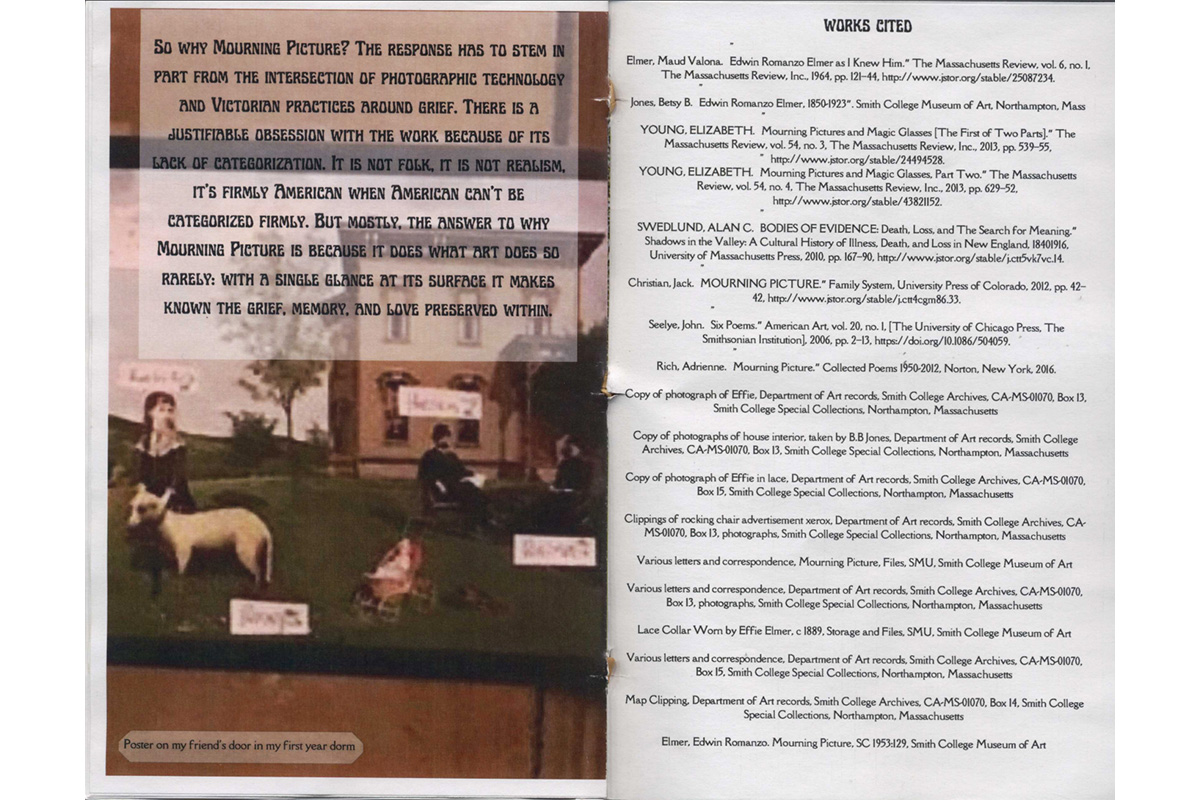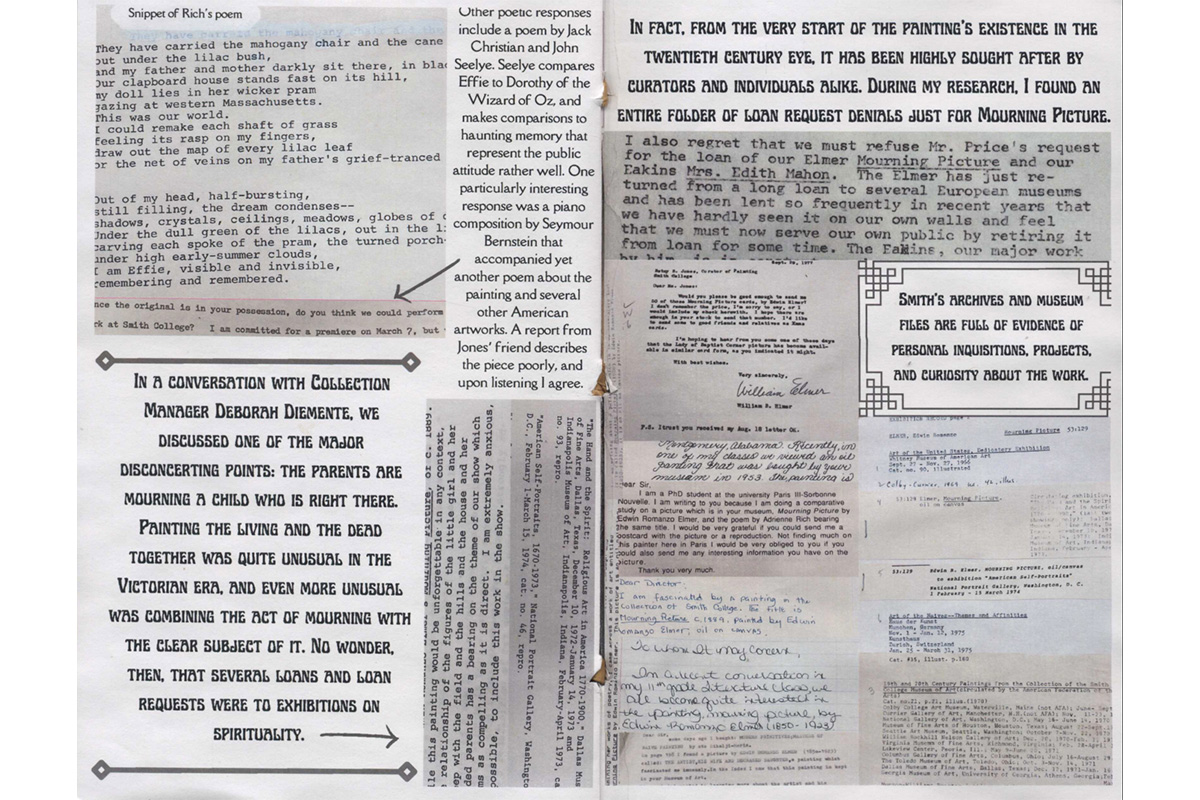 Ekphrastic Explorations: Tryon Prize Winners (2022) Katie Rebhun '24 and Aidan Wright '22 respond to collection works by Edwin Romanzo Elmer
Nina Peláez, Associate Director of Learning and Interpretation, with words and work by Katie Rebhun '24 and Aidan Wright '22
---
Every year, the Smith College Museum of Art awards the Tryon Prize in recognition of Smith students' creative writing and visual art. As we get ready to open submissions for this coming round of applications (submissions are due May 1!), we're reflecting on the pieces submitted by the winners of last year's Tryon Prize in Writing–awarded for outstanding work related to art seen at the Smith College Museum of Art. 
This past year, students Katie Rebhun '24 and Aidan Wright '22 both took inspiration from works of art in the SCMA collection by Edwin Romanzo Elmer.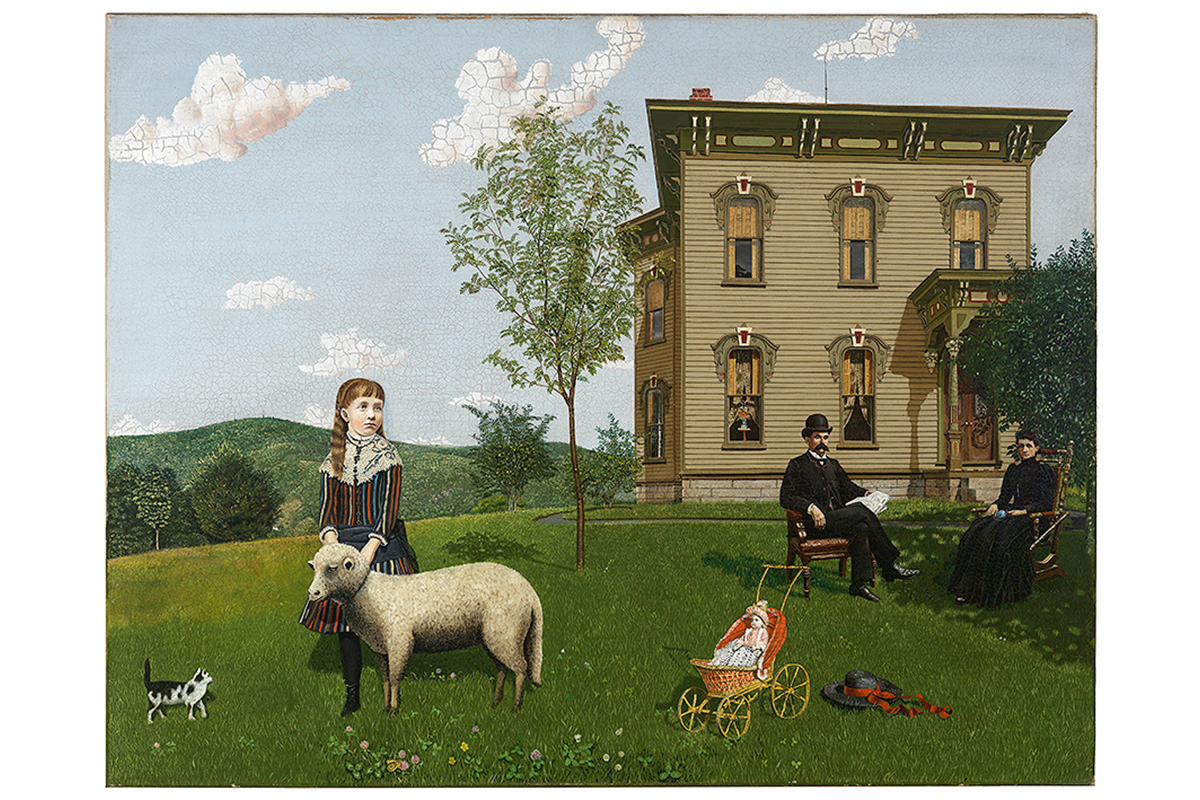 Edwin Romanzo Elmer, American, 1850–1923. Mourning Picture, 1890. Painting, oil on canvas. Purchased. SC 1953.129
Edwin Romanzo Elmer (1850–1923) was a painter and inventor who lived most of his life in nearby Ashfield, MA. He has several works of art in the SCMA collection including Mourning Picture (above) and An Imaginary Scene (below). Elmer's paintings are especially popular with visitors for their sense of detail and their engagement with rituals and practices of memory and mourning. His work has inspired other writers as well, including the poet Adrienne Rich, who wrote a poem about "Mourning Picture" from the perspective of the painter's daughter, Effie. Writing creatively about works of visual art is a long-standing tradition– in poetry this is often referred to as ekphrasis.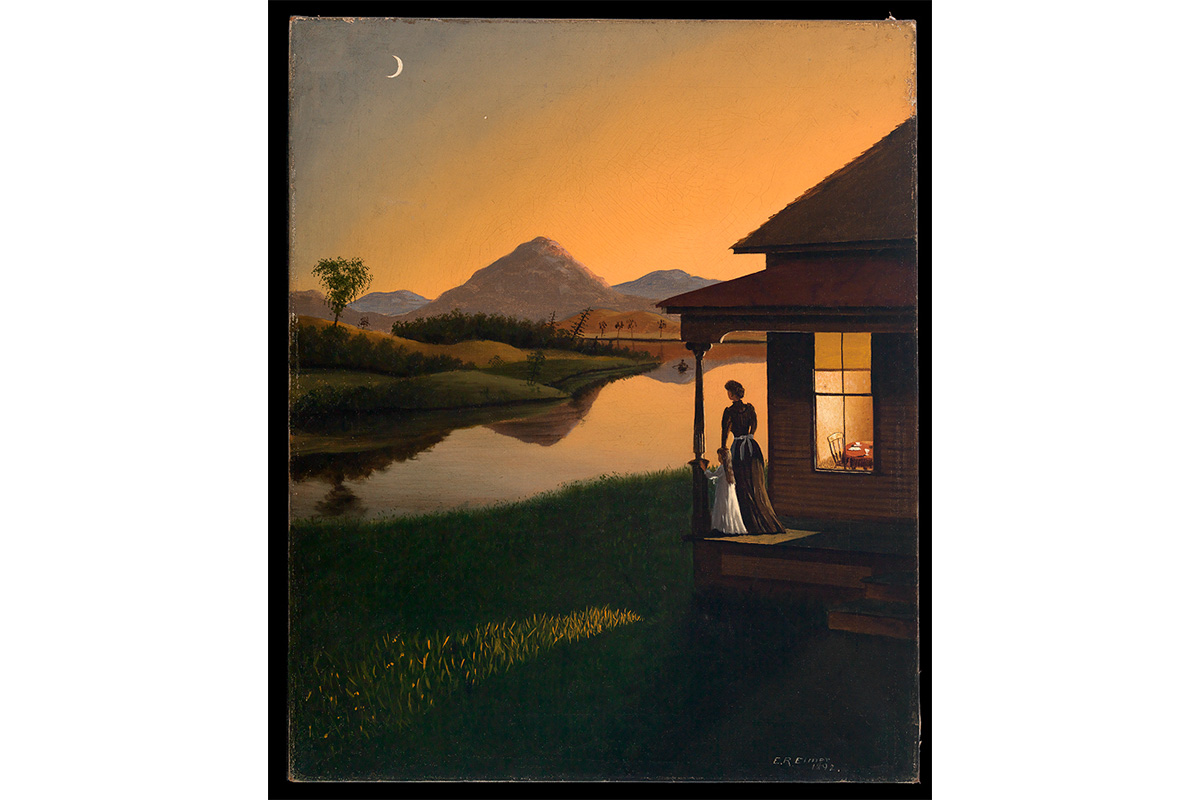 Edwin Romanzo Elmer, American, 1850–1923. An Imaginary Scene, 1892. Painting, oil on canvas. Purchased. SC 1999.55
Following the tradition of ekphrastic poetry, Aidan Wright '22 created a poem inspired by Elmer's An Imaginary Scene. You can read Aidan's piece below.
Ekphrasis for An Imaginary Scene

I know how the story goes.
That he mourned his daughter
with the brush, that she mourned
her daughter with each stroke
of the buggy whip tassel machine–
apron perfect, dinner on the table.
I know how the story goes. Light
leaks through the window and into
the grass. The grass turns yellow.
The grass is dewy. I've stood there,
outside of a home that used to be
my own– the kitchen red
with wanting. The water black
with waiting. The father boats
with quiet. I have tried to hear
the river at night, felt the itch
of the shoreplants, fallen down
the rabbit hole left by someone
leaving. I know how the story
goes. That he invented shadows
for the daughter to live inside,
that he invented mountains like
sand and a moon that was low.
Being alone is not something
you can learn. Painting like this
is not something you can learn.
The daughter does not remember
this house. This house does not
exist. The daughter knows
her father is falling, her father
is boating. How are you sure
what the daughter knows?
you ask. Being a daughter,
it is all about the knowing.
Aidan also shared some reflections about the creation of this poem:
"As an Art History student at Smith, I spent a lot of time browsing the SCMA collection database and had also been introduced to Edwin Romanzo Elmer through a few classes that explored the museum itself. When I discovered An Imaginary Scene online, I was so happy to find another Elmer piece that wasn't on display, but that featured the same characters I knew so well from the paintings upstairs. The scene and colors were really inviting too, and the obvious family dynamics drew me to writing about the work."
Student Katie Rebhun explored what sparks so much interest in Elmer's work, especially his painting Mourning Picture. Katie turned personal reflection and research into a multimedia zine that answers the question "Why Mourning Picture?"
Katie also shared with us some reflections about her inspiration: "When I wrote this zine, I imagined it as a jumping off point for the next person who walks into the museum and immediately feels the need to know everything about Mourning Picture It's odd technical aspects are fascinating to anyone keen on Art History, but more importantly it is one of those rare pieces of art that seems to capture a consensus from its viewers… that it makes you feel something. I've felt something about Mourning Picture for a while, and my hope is that Why Mourning Picture lets readers know they're not alone in wondering what makes the painting so enigmatic."
Browse some of the pages of Katie's zine above.