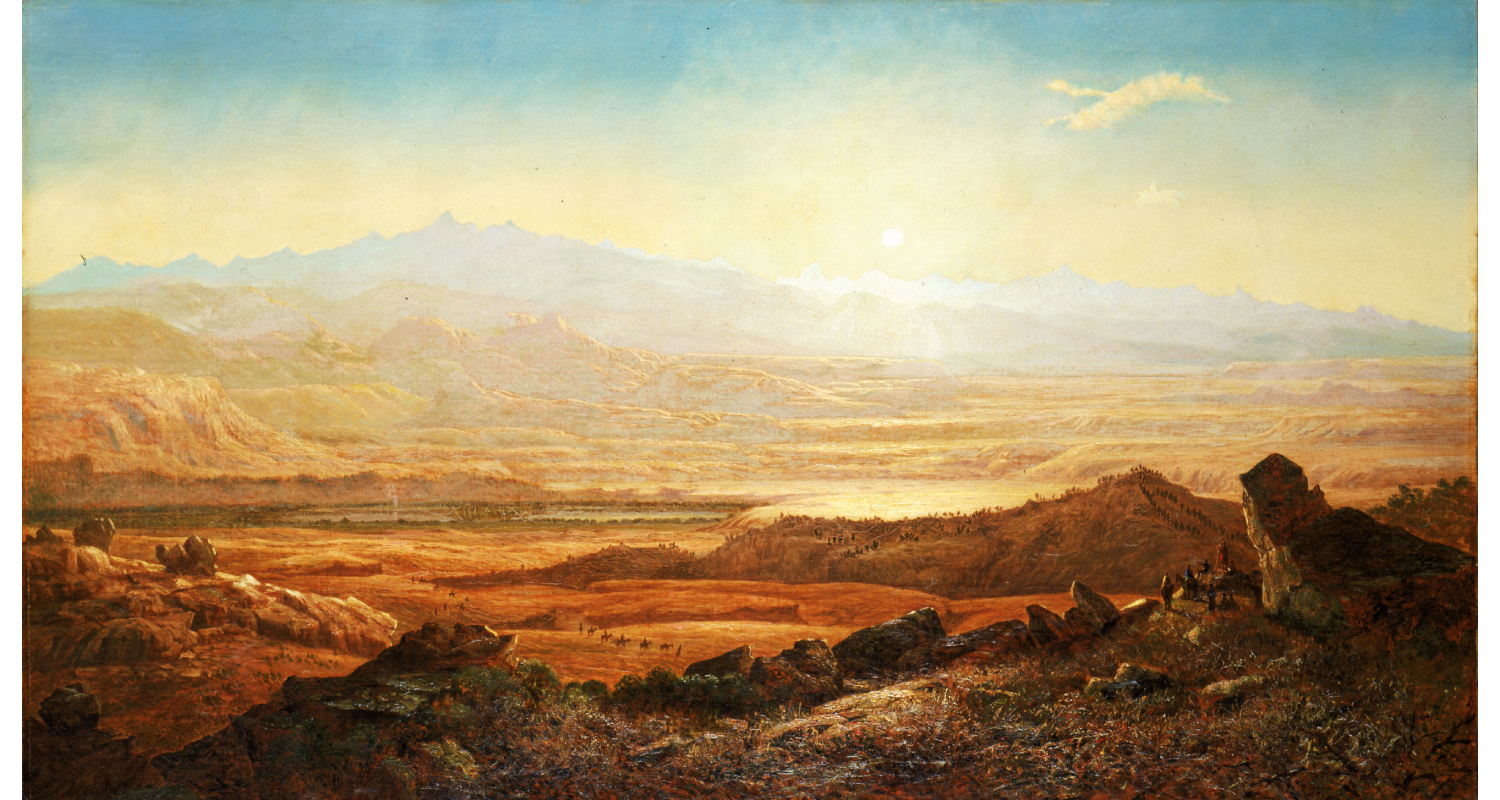 Expanding the View
Taiga Ermansons is an Associate Educator at SCMA.
---
In 1860, Boston-based artist Francis Seth Frost painted this scene from his trip west. Since the painting, South Pass, Wind River Mountains, Wyoming came into SCMA's collection nearly 70 years ago, it has remained popular among visitors. Recently, it has received renewed attention by SCMA staff who have revised its wall label twice during the past five years. As you read the following labels, you will notice shifts in what the authors decide to focus on.
   
The last revision was prompted by SCMA staff writers listening to Smith student responses to art at SCMA during the program, illumiNATIVE: Exposing Colonialism and Embodying Sovereignty. The event was organized in collaboration with Indigenous Smith Students and Allies (ISSA), and the Latin American Students' Organization (LASO). 
2003 Label for South Pass, Wind River Mountains, Wyoming 
This panoramic view of the Wind River Mountains is one of the few known oils resulting from Frost's 1859 trip westward along the Oregon Trail with the wagon road survey party of Colonel Frederick William Lander. Fellow painter Albert Bierstadt, Frost's companion on this trip and former teacher, wrote:
We see many spots in the scenery that remind us of our New Hampshire and Catskill hills, but when we look up and measure the mighty perpendicular cliffs that rise hundreds of feet aloft, all capped with snow, we then realize that we are among a different class of mountains.
Frost gives each part of this grand landscape its own drama: rich foreground detail, blinding light on distant peaks and Native Americans watching intently as the company swarms into the valley. He exhibited a few works from this trip but returned primarily to painting the White Mountains of New Hampshire and the landscape near his home in Arlington, Massachusetts.
Detail (people on horseback in center of painting)
2015 Revision of Label for South Pass, Wind River Mountains, Wyoming 
This panoramic view is one of the few known oil paintings resulting from Frost's 1859 trip westward with Colonel Frederick William Lander, whose survey party cut a new emigrant trail across Wyoming. South Pass is a passage through the Rocky Mountains that served as an important milestone for Oregon-bound emigrants. It marked the halfway point to their destination, after which they faced the most challenging part of the trip. Frost was also traveling with fellow artist Albert Bierstadt, who described the settlers they encountered in 1859:
It was very picturesque to see them coming across the plain with hundreds of horses, all packed with their dwellings and all they possessed. 
Frost includes a train of people and horses, perhaps representing these travelers, members of the Lander team, or American Indians. Another group, more clearly identifiable as Indians, look out from a ridge toward those approaching across the plain.
Detail (group of people on top of ridge in lower right corner)
2019 Revision of Label for South Pass, Wind River Mountains, Wyoming 
In the right foreground of this painting, Francis Seth Frost represents an indigenous group looking down on the broad expanse of open land known today as South Pass, Wyoming—homelands of Eastern Shoshone people. The Eastern Shoshone language refers to this pass as Mudza (literally, "mountain sheep"). 

Mudza/South Pass was the most accessible route across the Rocky Mountains and has been used for millennia as a corridor for transportation and trade. Thousands of white settlers, like those shown here moving across the flat basin, traveled through this region on their way to California. The encroachment of these settlers led to violence and attempts at negotiation with the U.S. government, resulting in the confinement of the Eastern Shoshone to a reservation. 

In 1859, Frost traveled across the American continent with a wagon road survey party to document the western landscape. A year later, he painted this panoramic view back in his Boston studio. Like other artists of his time, Frost contributed to a cultural narrative that sanctioned the westward expansion of the United States despite its human and environmental costs.