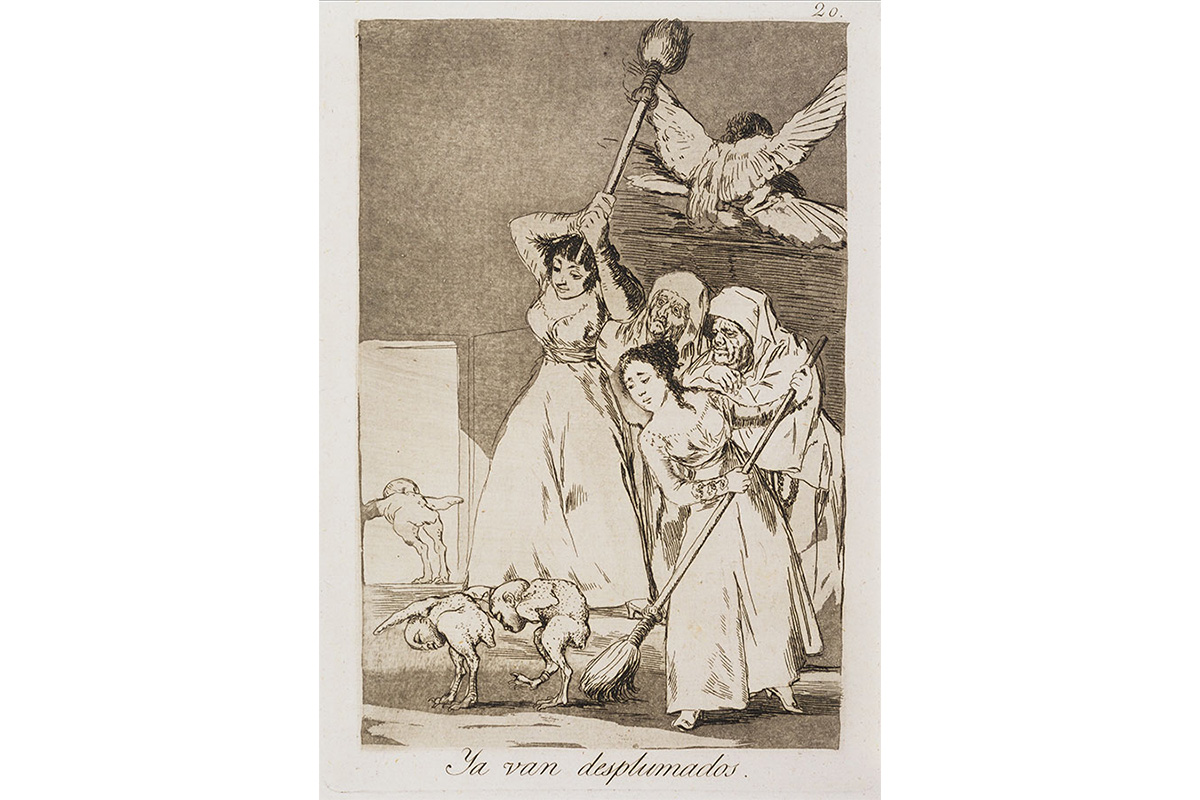 Goya On Display: First Visit to the New Cunningham Center
Josie Wong '26 discusses her visitor experience to view Goya's Los Caprichos collection. She is currently a Student Assistant at the Cunningham Center for Works on Paper at the SCMA.
---
During my first week of working at the Cunningham Center, I was tasked to create new labels for the storage boxes. As I typed up each label into InDesign, I couldn't help but notice how many cases were labeled 'Goya Los Caprichos'. I labeled the boxes, finished my shift of the day, and headed to class. 
The class I'm currently taking is 'Revolution, Industry, and Empires: The Art of the Nineteenth Century'. In class, our professor announced that we will be visiting the Cunningham Center next week to study, you guessed it, Goya's Los Caprichos. What a coincidence! Early this morning, I was hunched over in the cold storage tomb labeling the cases of Goya's Los Caprichos and a couple hours later, I discovered I will be studying that same collection with my class!
The renovations of the space caused the Cunningham Center to be closed for several months. Because of that, our class were the first visitors to visit the new space.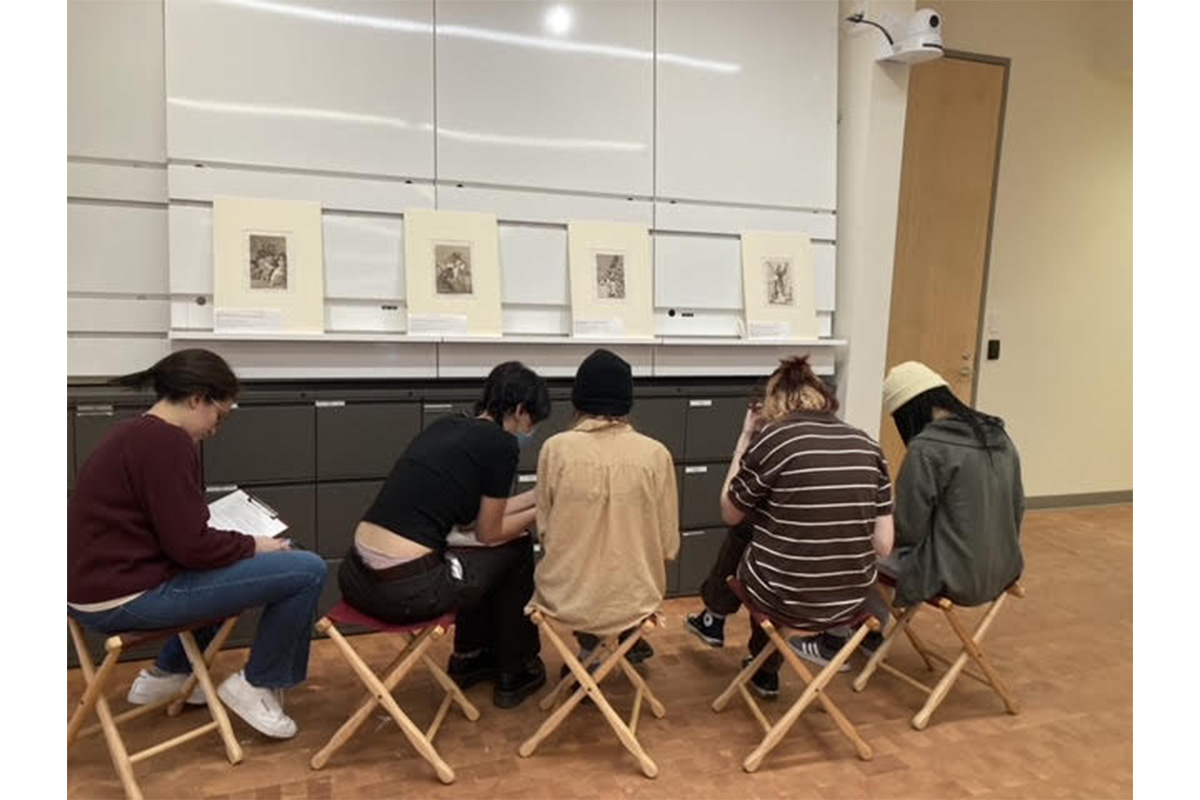 Students gathered in observation of Goya's prints at the Cunningham Center
15 prints of Goya's Los Caprichos series were displayed around the room. Our professor gave us 10 minutes to observe each print in small groups. My group and I stationed ourselves in front of Ya van desplumados. (They are leaving, plucked), plate 20 from this series. This print immediately drew our attention because of the bizarre depiction of men portrayed as featherless chickens being swept away by a group of maidens. 

Los Caprichos is a series of satirical prints by Don Francisco Goya that critique Spanish society. With this in mind, we discussed how this print comments on the relationship between men and prostitutes. Desplumados translates to 'plucked' but also to be 'fleeced' or 'robbed'. After being robbed by the prostitutes, the men are chased away. The men are robbed of their money, but also are plucked of their manhood, as they leave with shame, establishing an interesting double meaning to the word desplumados.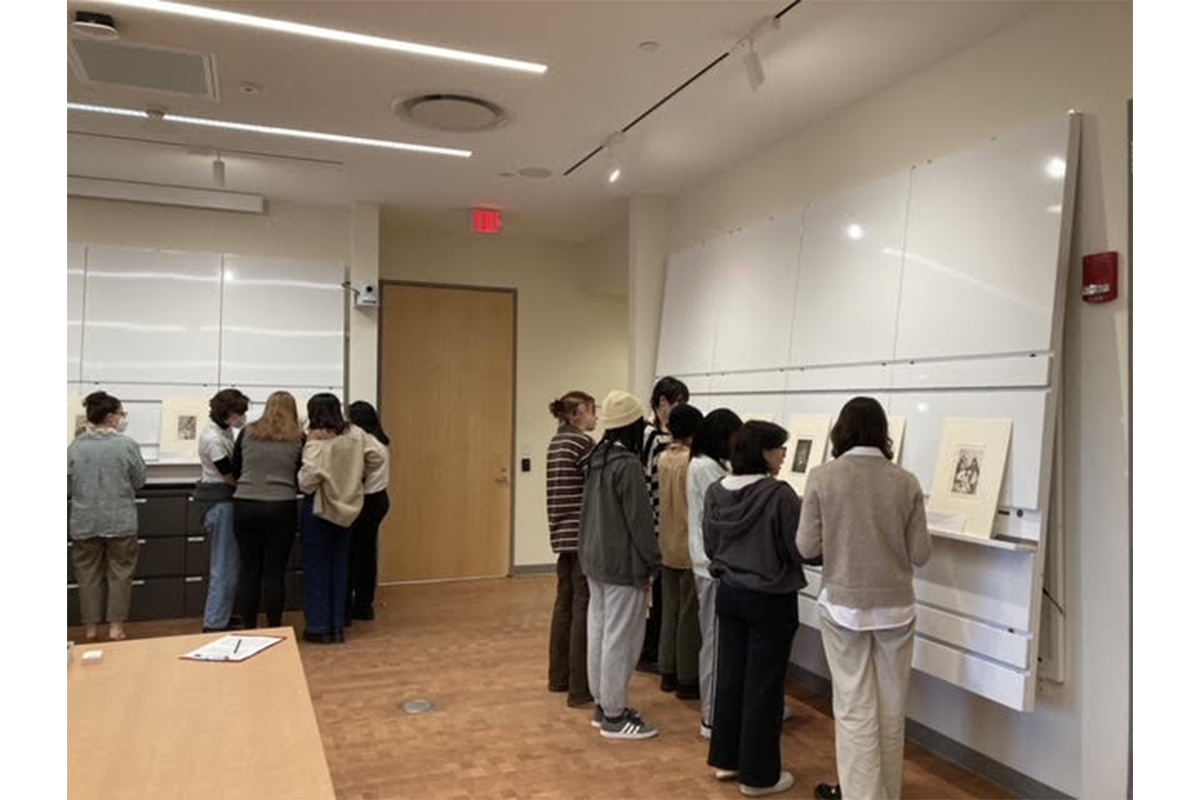 Students discussing the prints on display

To view these prints directly in front of us was a completely different museum experience, one unobstructed by glass. By having these prints in front of me, I was able to interpret the fine details and even use magnifying glasses to see even more in depth to compare the prints with each other.
Because of the delicate materials of the works on paper collection, these prints cannot be permanently displayed, so, it was wonderful to see these pieces in person after months of the center being closed. Individuals, groups, students, and classes are welcome to schedule visits to the Cunningham Center to study and enjoy the collection, just as our class was able to!
Check out our database here to browse for a visit! To set up an appointment, call 413-585-2778 or email us at ccenter@smith.edu. We'd love to have you!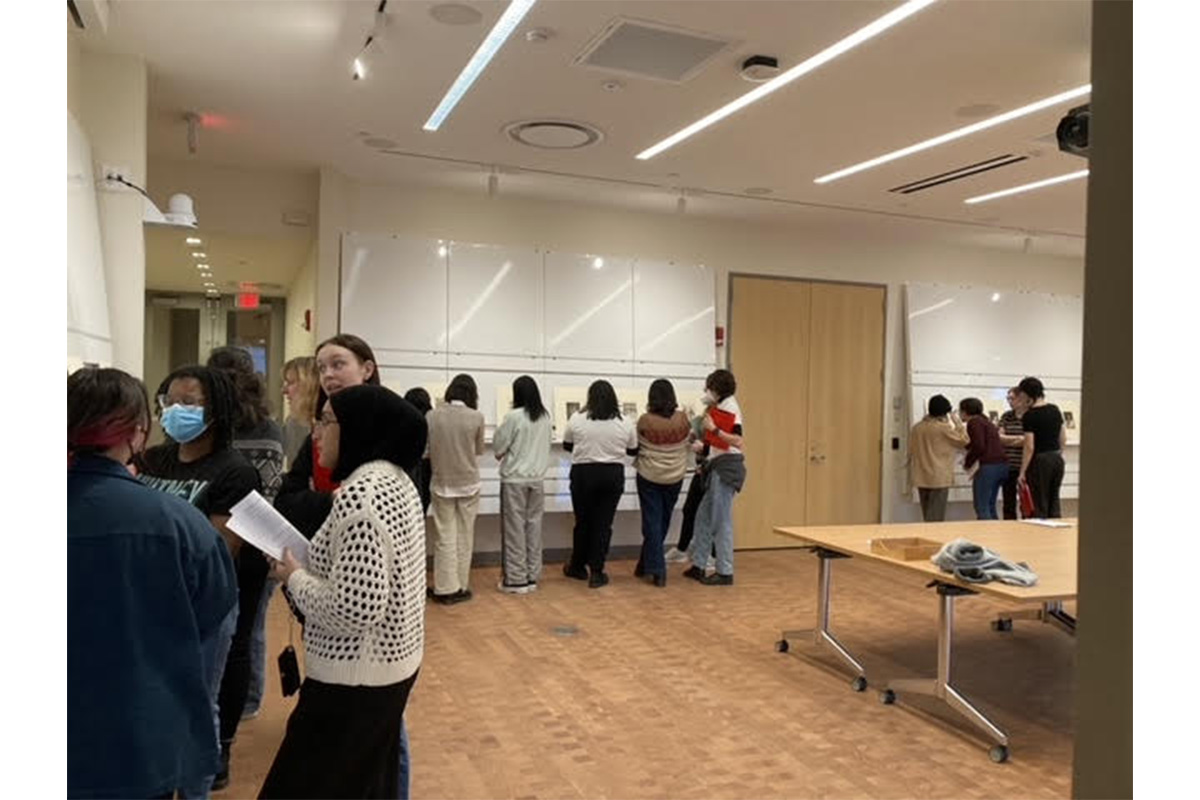 Students in small groups analyzing Goya's prints