How Would You Translate It?
Alicia Argueta '23 is a Sociology major with a Latinx American Studies minor. She is currently serving as one of the Co-Chair of Smith's Latin American Students Organization (LASO). Her interests range from educational justice, community engagement, and climate change to art activism. In her free time you can catch Alicia watching Korean Dramas! 
Alexa Sanchez '25 is a Latin American and Latinx Studies (LALS) & Spanish Major as well as a Museum Concentrator at Smith College. She is passionate about social equity, linguistic justice, and activism through art. In her spare time you can find her reading with a cup of hot chocolate!
---
Who would have thought that, as native Spanish speakers, translating Spanish titles of artworks to English meant more than following our intuition? We began our work as Spanish Language Translation Assistants for the SCMA with the objective of reviewing and revising the Spanish titles of artworks listed in the museum's collections database, while also reevaluating their
English translations. The museum's collection database is the website that is accessible to the public where one may look through all of the SCMA's collection. Even the artworks that are not on view are in storage or borrowed temporarily by other institutions, such as the nearby colleges. Our process spanned reviewing, editing, and translating more than 300 titles ranging from late 18th century Spanish prints by Francisco José de Goya y Lucientes to works by 20th century artists like Milos Jonic and Rosenda Alvarez Faro.
We began this translation project by referencing and editing a google spreadsheet that contained SCMA Spanish-titled artworks with their corresponding information, such as their accession numbers, that we would use to locate the illustrations within the Collection Database. The database would show us important details such as the artwork's maker(s) and the original titles with English translations. For each artwork, we would attentively and thoroughly read through the information and descriptions provided through the databases as well as examine the image of the artwork itself to determine if the artwork titles needed to be modified. Such modifications were also determined by several other factors that influenced our decision to keep or change a translation.
For example, depending on the information we found on the artist and their artwork, the provided context would help us determine if the translated titles in the collection database were accurate. As in some cases, this information was vital to our decision to keep or change the translation by utilizing La Real Academia Española Dictionary to confirm and crosslist the definition of words. In other instances, we would occasionally find typos of the Spanish title that had not been accurately transcribed, which then impacted the English translations that consequently did not correlate to the original Spanish title. During this process, we also consulted with Professor Michelle Joffroy, Associate Professor of Spanish and Portuguese, who reviewed and edited our proposed translations. However, revising and translating was never straightforward, as we frequently found ourselves with more questions than answers.
Translation Adventures
Case Sample #1
In Goya y Lucientes' "Si Marina Bailó, Tomó lo Que Halló (If Marina Danced, She Got What She Deserved)" we initially took the translation from Spanish to English literally. Thinking that Halló meant "found" and Tomó referred to "took" left  us with ""If Mariana Danced, She Took What She Found." At first glance, we thought  the translation we concluded with worked. We then proceeded to search online to see if there were any other possible translations or meanings associated with the title. However, despite not finding any alternative translations, we both kept thinking how it felt somehow  incorrect. Sure enough, as the translation was reviewed by Professor Joffroy, we realized our choice of words did not reflect the true meaning of the title. As we came to discover, through Professor Adrián Gras-Velázquez's expertise, the title referenced  an old Spanish proverb whose meaning  he suggested "...alluded to saying 'women should not be so 'desenvueltas', i.e. self-composed, self-confident, natural, easy. I would go for the 'she got what she deserved' as that translates the meaning better than a literal translation of 'she took what she found' which misses, I think, the meaning of 'don't be desenvuelta or you'll get what is coming to you'."
Case Sample#2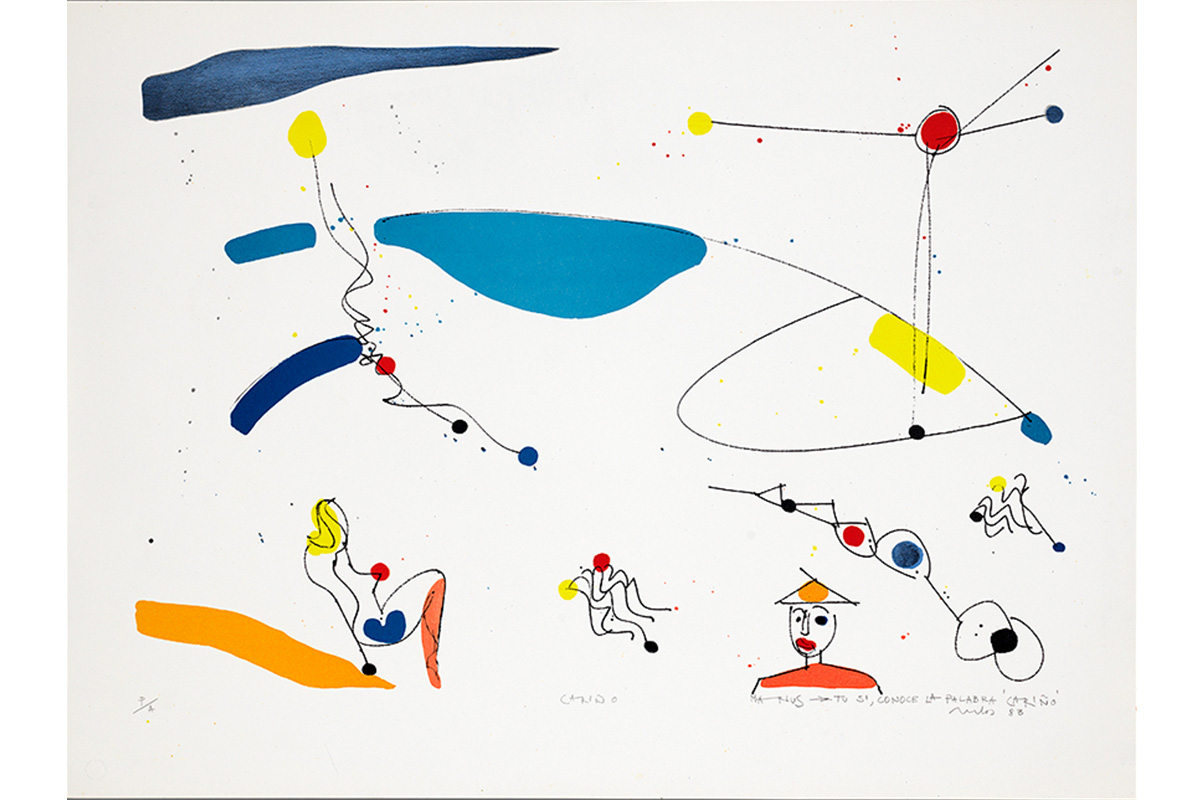 Cariño (Affection) , Milos, Jonic
Venezuelan, born Paris (1916-1999), 1983, SC 2016.56.8
Milos Jonic's Cariño (Affection) was another artwork that gave us a tough time. It was challenging for us to translate Cariño because we were hesitant about how Jonic was using Cariño in this context. We attempted to analyze the print to see if we could interpret what it was displaying or conveying, but it was difficult for us to discern its meaning without knowing the artist's intended message. We tried to search both the artist and the artwork to see if we could find anything that could guide us in understanding Jonic's intended meaning with Cariño, but we came up short. In Spanish, Cariño is often used as a term of  endearment for someone we feel affection for, like "honey" would in English, so we suggested the alternative "dear" for Cariño. However, Cariño is also a word that communicates deep affection, care, fondness, or tenderness. Professor Joffroy shared our uncertainty about which translation would best fit the artwork and proposed that we think of Cariño as an emotion, suggesting "Affection" as the translation. Artworks like this one, where we did not know the context of the artwork and the Spanish title had different meanings, Aprile Gallant, our supervisor and Curator of Prints, Drawings, and Photographs at SCMA, made the final decision for which translation to keep.
Case Sample #3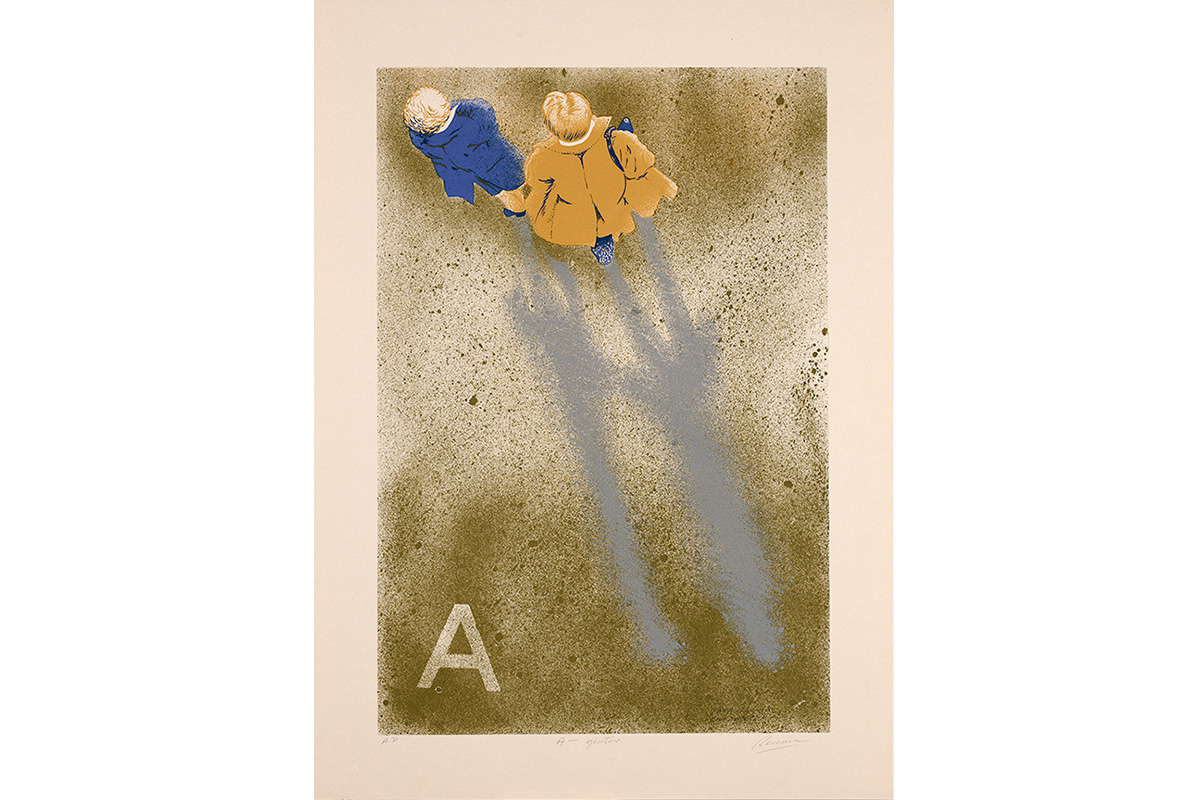 A-gentes (A-gents), Darrio-Arango, Renan
Colombia (20th Century), 1980s, SC 2016.56.75
Another artwork that presented a challenge for us to translate was Renan Darrio-Arango's print titled "A-gentes (A-gents)". From the title and with Professor Joffroy's comments we were able to discern that the title in Spanish referred to a play on words. The literal translation of the title "A-gentes" means "A-people" or "A-persons," but the underlying message was the word Agentes which translates to "Agents." This led to Professor Joffroy's solution of choosing the translation "A-gents" for the title "as the figures in the print can be perceived as 'gentlemen,' so 'gents' for short." We came to the conclusion that the title "A-gents" (rather than "A-people" or "A-persons) felt like the most accurate representation, and that it captured the essence of the play on words.
Conclusion
Overall this project was more than simply taking Spanish words or proverbs and giving them a direct equivalent in English. It was about guaranteeing that these important artworks and their Spanish titles had an adequate translation that could bring each artist's ideas and messages to the public. On the same note, it also was about ensuring that Spanish speakers, who visit SCMA or use the museum's collection database, can have a pleasant experience with the artworks they seek and not feel disrespected by typos or mistranslations they might find in the titles of those works. 
This project brought us not only new ranges of challenges, but also a collection of artworks we were unaware were at the SCMA. With each revision and translation, we came across new artists and artworks with cultural and political significance. Or artworks we had seen and studied in our classes. However, our most significant takeaway from this project is this brand new appreciation we have for the work and processes that goes into providing translations for any field. Our objective was to preserve as much original meaning in translation as possible, and with our dedication, hard work, and patience, we would like to say we did.