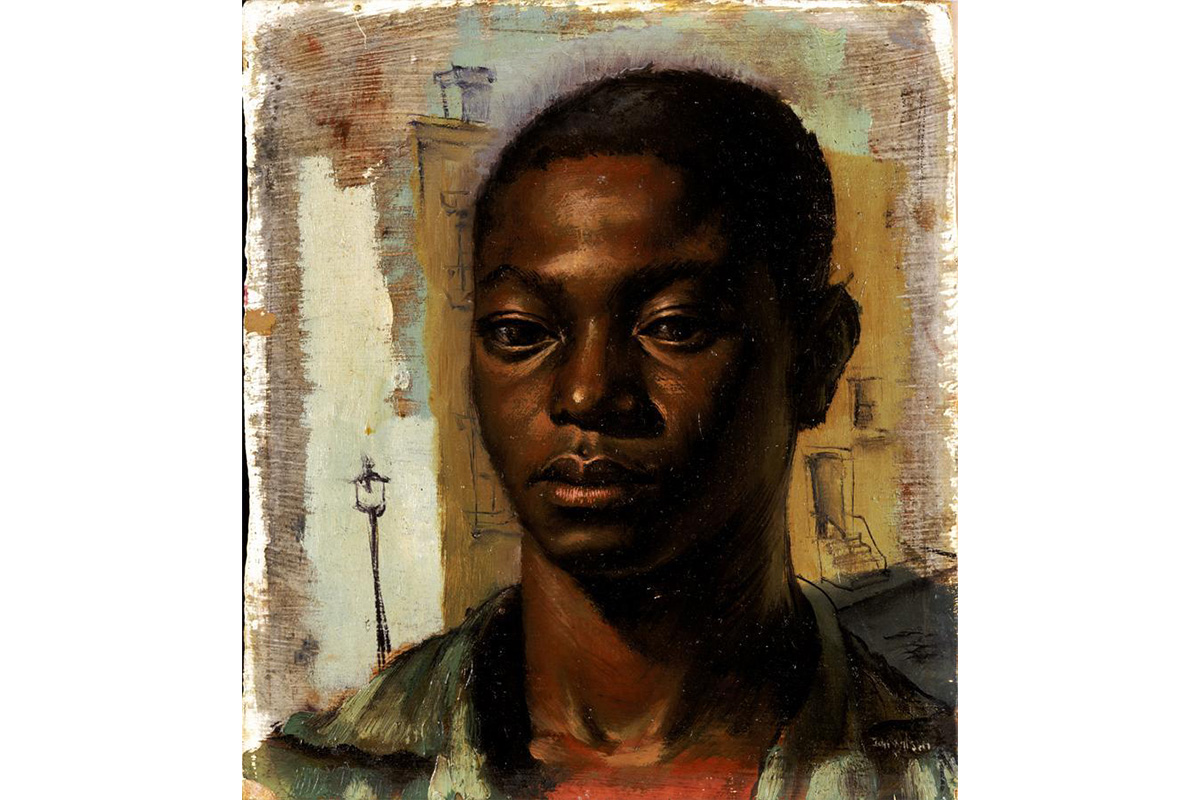 John Wilson's My Brother: Seeking Truth in Art
Annalise Edwards '23J, a curatorial research assistant, explores SCMA's archives to learn about how and why John Wilson created this portrait of his brother. 
---
John Wilson (1922-2015) was an African-American artist who tackled questions about race, beauty, and truth in his paintings and sculptures. My Brother (1942) features a portrait of Wilson's younger brother, Frederick, who is framed by a street in their neighborhood in Boston, MA. Wilson created the painting while he was studying at Boston's School of the Museum of Fine Arts. The piece was included in a traveling exhibition that was presented at Smith soon after it was made. The College purchased the painting from Wilson during the exhibition, and it has held a place in the SCMA's collection ever since.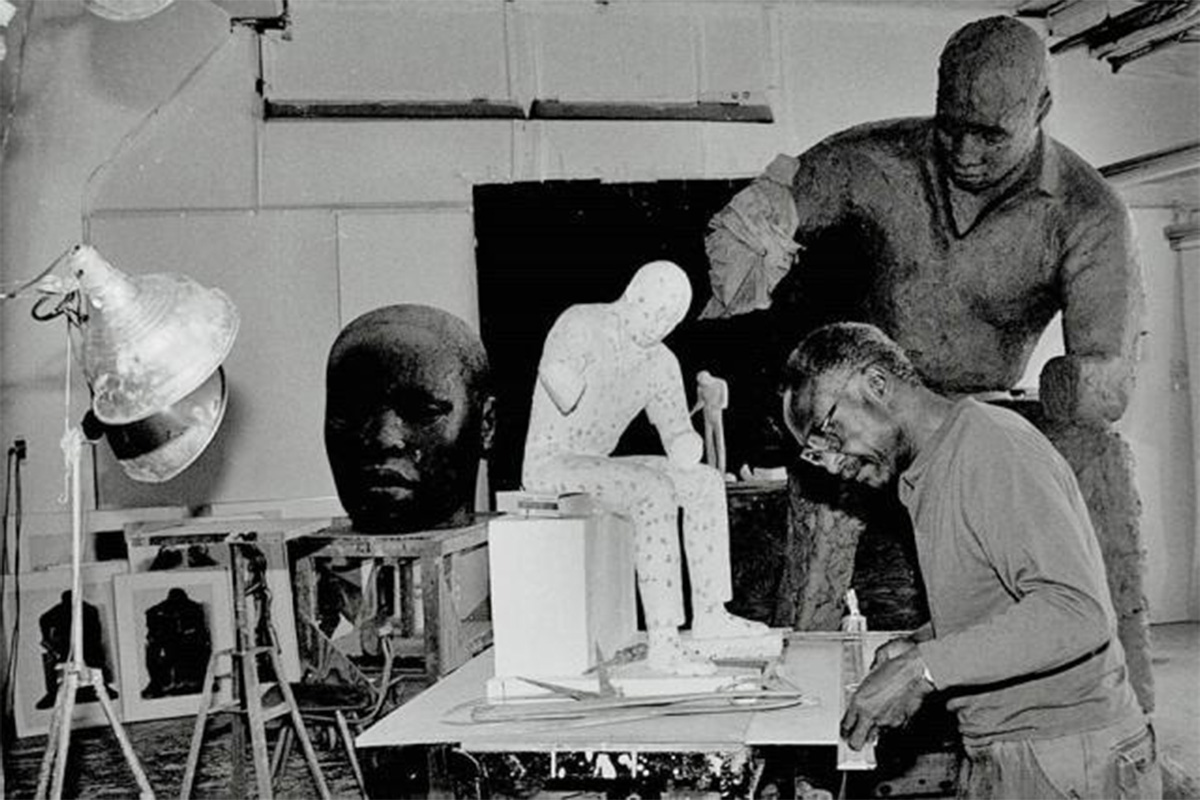 Wilson has discussed at length his inspiration for the painting in public interviews and private correspondence, much of which is stored in the SCMA's object records. In these materials he noted that he rarely saw any images that resembled him in art museums. When he did encounter black subjects in these sorts of spaces, they were often objectified and/or depicted in a derogatory manner. In order to counteract the invisibility and dehumanizing feelings produced by these experiences, Wilson began painting portraits of people in his neighborhood, resulting in the creation of My Brother.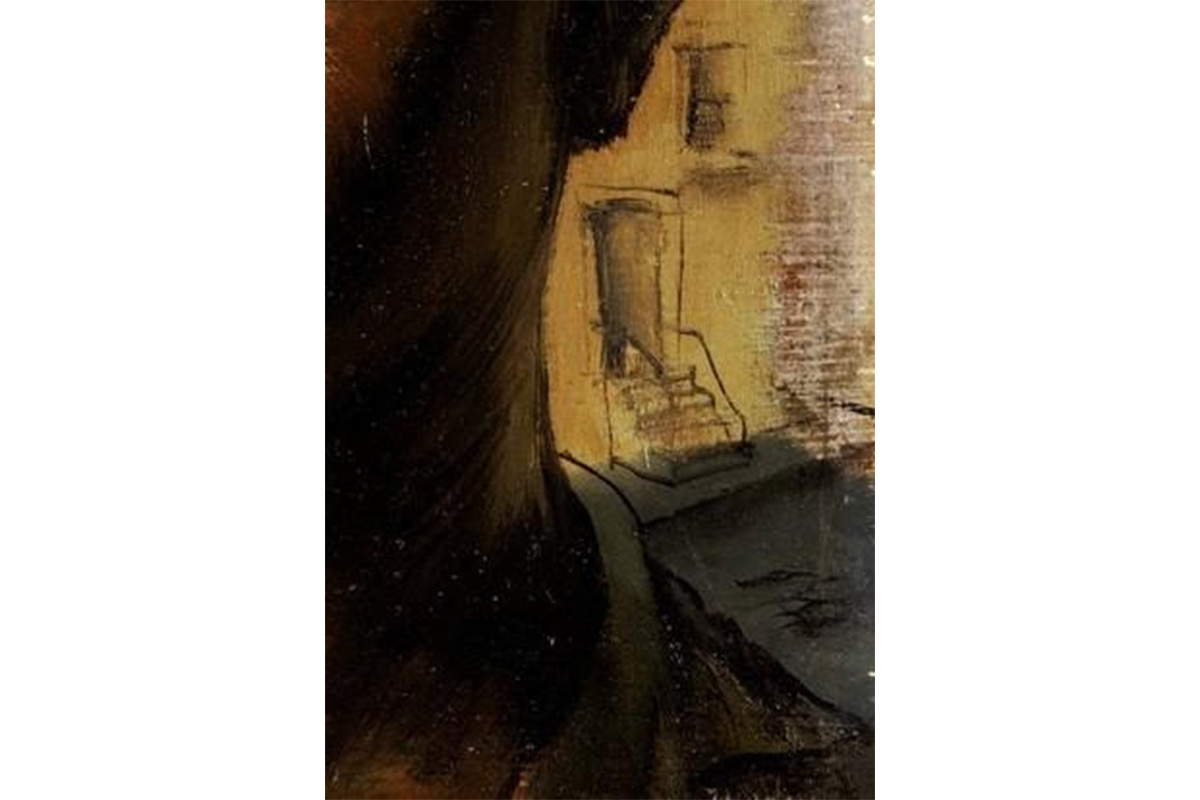 The various elements of this portrait's background are placed strategically around Frederick's head to emphasize his connection to his surroundings. The lamppost, building, stairs, and road all emerge from Frederick in some way, such that no part of his body is untouched by the scene. These geographic markers also represent core memories associated with the neighborhood. For example, Wilson has noted that the building's stairs were a site where neighborhood kids would share ghost stories. Such details are intentional and contribute to the artist's vision of the painting as "not only a portrait of [his] brother, but a portrait of [his] neighborhood." This approach laid the groundwork for Wilson's later works, which aimed to capture more truthful accounts of black subjects, who had been historically caricatured or rendered invisible in the art world. 
The notion of truth greatly inspired Wilson and stemmed from his experiences as a black museum-goer. As an art student, he had been taught that works on display were meant to symbolize universal truth in life, beauty, humanity, and culture––yet black subjects remained absent. Thus, My Brother works to not only put Wilson's neighborhood and brother "on the map," but reclaim and redefine humanity as it pertains to portraiture and other representations of African Americans. The painting is currently on view on SCMA's third floor.