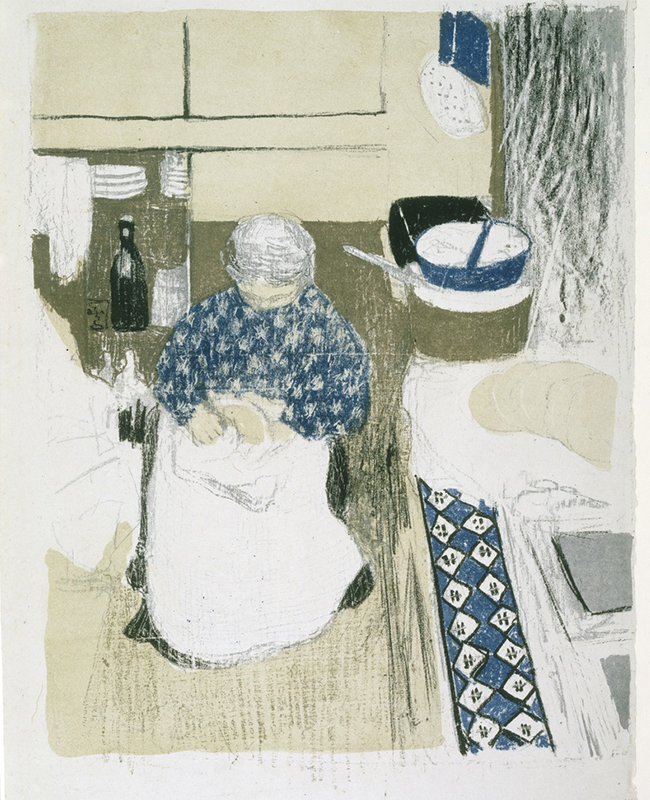 La Cuisinière, from Paysages et Intérieurs
Grace Ettinger, class of 2022 and Cunningham Center assistant, spent the summer researching prints by Jean-Edouard Vuillard. In this article, she explores his lithograph "La Cuisinière, from Paysages et Intérieurs," from the SCMA collection.
---
This summer, I had the good fortune of interning at the Toledo Museum of Art. During this practical experience opportunity, I researched two prints by Jean-Edouard Vuillard (1868 - 1940), a French artist well known for his colorful lithograph prints and attention to domestic scenes. I recently looked through Vuillard prints in the SCMA collection, and I was particularly drawn to an 1899 lithograph entitled "La Cuisinière, from Paysages et Intérieurs," or "The Cook".
Vuillard stretches and flattens three-dimensional space in this print. This comes from a Japanese technique called Ukiyo-e, translated as "pictures of the floating world," which Japanese woodcut printmakers masterfully used to create a unique sense of depth. Exhibitions of Ukiyo-e in Europe, like the famed show at the Paris World's Fair in 1867, introduced Western audiences to the medium. Many French artists created lithographs and woodblock prints that borrowed (or, in the case of some Mary Cassatt prints, outright copied) subject matter and technical expertise from the Japanese. This fascination with Japanese print work folds into the broader history of imperialism and orientalism. The Japanese government kept its borders closed to most foreign visitors for about two hundred years, beginning in the seventeenth century, as a response to Western colonial powers attempting to forcibly convert Japanese people to Christianity. Their national borders opened in 1853, and the subsequent outpouring of interest in Japanese culture and art from Western audiences resulted in an often distorted and fetishized view of Japan. Ukiyo-e is one example of European art straddling the line between cultural appreciation and appropriation.   
Vuillard shows how a restrained, economic use of color can create a harmonious story. He employs variations of blue throughout the print: the tiles of the counter and a pot drying to the cook's left are slightly darker shades of her blouse. The cook wears a blue and white patterned blouse and a white apron, which blends into her dish towel, blurring the lines between this woman and her work. Her personhood is diffused into the kitchen, implying that she is a fixture in the household so ever present and familiar that she is like one of the cooking tools herself.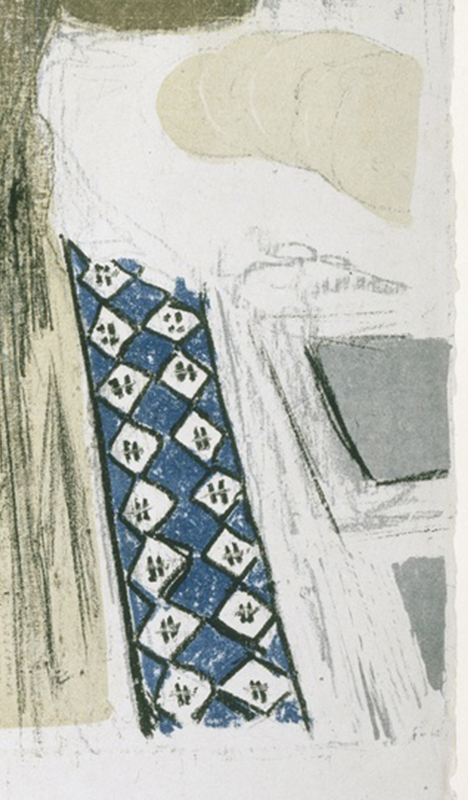 Lithography was a printmaking technique popular in Europe, and "La Cuisinière" is an interesting teaching tool for the craft behind this form of printmaking. You can see Vuillard's busy hand through the waxy, crayon-like tool used in lithography. In fact, portions of this print puzzle me: sharp lines of black and white color jut in from the upper-right hand corner. Is this a window letting in night? A fluttering black kitchen curtain? Or an experimenting Vuillard trying something new? Something frenetic waits just outside the walls of this steady and quiet kitchen. I can imagine this woman's rhythmic process of washing, drying, and setting aside clean dishes set against Vuillard's artistic process.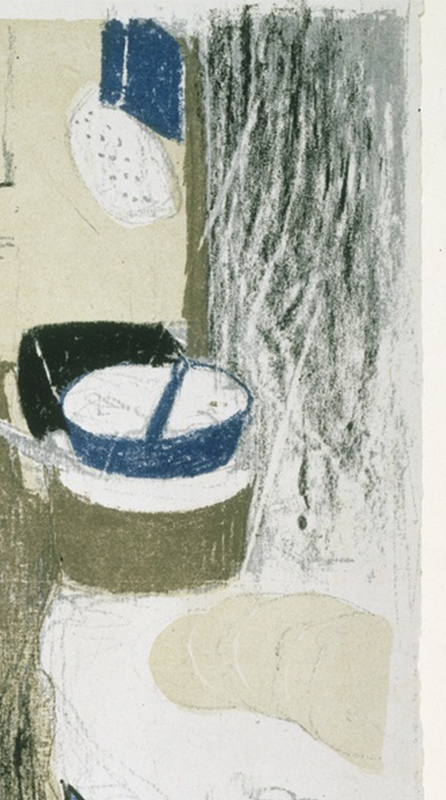 Both the cook and the artist are working, although one job is contained within the home and the other is portable and mutable, depending on the artist's mood and his environment. The fact that a working woman is depicted in an artist's work is partially a tribute to Vuillard's famous homebody status. Much of his work has immortalized his mother's apartment, where she also ran an atelier (dressmaking and seamstress business) and employed young women to help her with sewing. This print is part of Vuillard's print series Paysages et Intérieurs (Countrysides and Interiors), which included frequent appearances of his family, including his brother-in-law and fellow artist Xavier Ker Roussel. 
This print is visually striking and engages the viewer in complicated, on-going discourse surrounding class, gender, and imperialism within art history. Vuillard tenderly captures this woman working with a Japanese technique, but I believe there are many valid critiques of his position as a white male artist in France engaging with these topics. It is this commitment to analyzing the political issues in art that I find to be so invigorating; beauty is often paired with complications, and "La Cuisinière" is no exception.