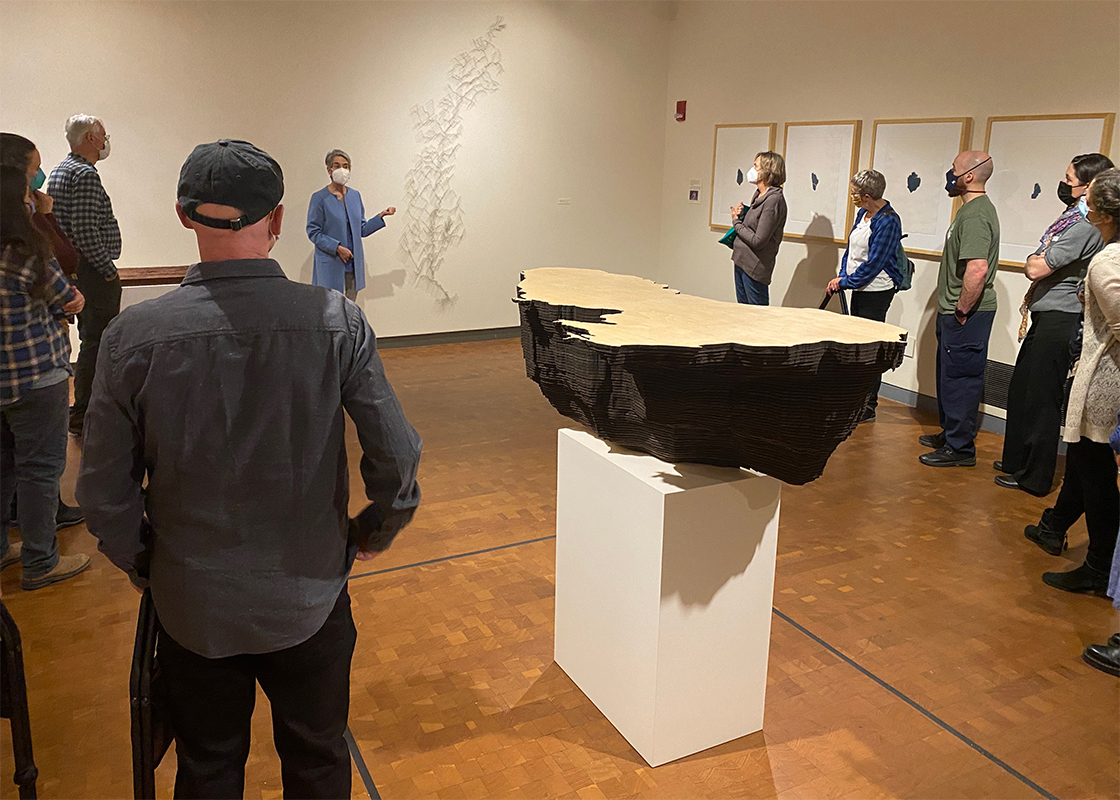 Local Teachers Tour Maya Lin's Mappings Exhibition
Local teachers from the Mill River educator network gathered at the museum in March for a curator's walkthrough of the Maya Lin: Mappings exhibition. The event was organized by Gina Hall, Educator for School and Family Programs and Carol Berner, Lecturer, Department of Education and Child Study. 
---
Twenty teachers from different schools, grade levels and disciplines gathered at the Smith College
Museum of Art in early March for a private tour of the Maya Lin: Mappings exhibition. The tour was led
by Aprile Gallant, Mary Walcott Keyes 1931 Curator of Prints, Drawings and Photographs/Associate Director of Curatorial Affairs and organizing curator of the Exhibition. Gina Hall, organized the event as an opportunity for Mill River educators (aka RIVER) to view the artwork and discuss ways to engage students in the exhibition. Participants included teachers from six different schools (Kindergarten-College); arts
educators; community-based tutors and mentors; an ecopsychologist; and a graduate student in
engineering. Everyone seemed excited to come together in person to experience the artwork, learn
about Maya Lin and explore new directions for teaching and learning about climate change.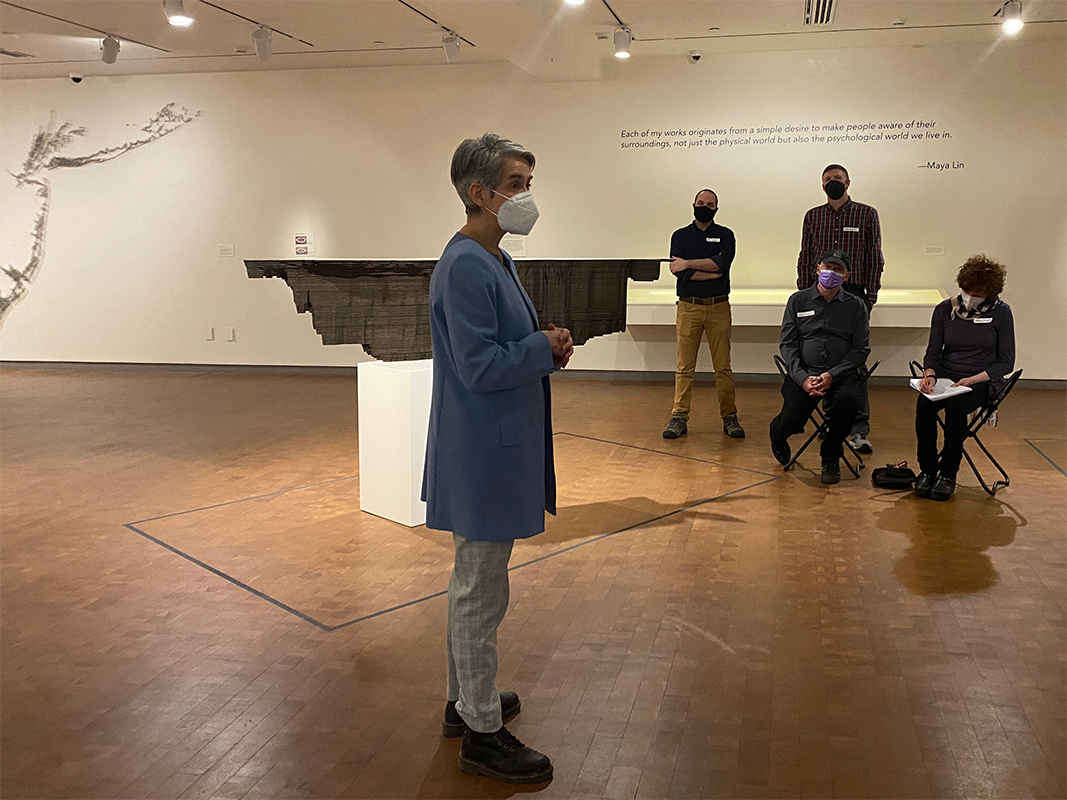 "Inspired and Captivated"
Aprile guided the group through the gallery with vivid and intriguing details about Maya Lin's
background, vision and creative processes. Looking closely at the pin map of the Connecticut River,
teachers were bursting with questions for Aprile, from how was the piece installed to where are we on
the map? Aprile's insightful interpretations energized participants' interactions with the artworks. One
teacher reflected on the experience: "I left feeling inspired by the provocation and captivated by the
beauty of the exhibit itself, and also by how it remains with me as I encounter new maps and as I
respond with new eyes to the familiar landscape around me."

How might we bring this work to our students?
After the guided tour, teachers sat in a circle in the gallery to share ideas for engaging students in the
artwork and environmental issues like climate change. The dialogue reflected participants' wide-ranging
contexts and interests. As teachers listened to and built on each other's ideas, the list of possibilities
kept expanding in different directions:

Make pin river maps with toothpicks in the snow
Take a field trip to visit the exhibition (contact Gina Hall).
Conduct oral interviews of Mill River memories connecting to the Maya Lin's online What is Missing?
Create wax-covered maps of the Mill River pre-and post 1874 flood
Do identity mapping as a way to explore social justice and social-emotional learning
Design a "mapmaking" project-based interdisciplinary exploration for high school students
"What if every child created a map of the same place every year, and they were collected over time, so
each child could see/reflect on how their perception of place changes over time?"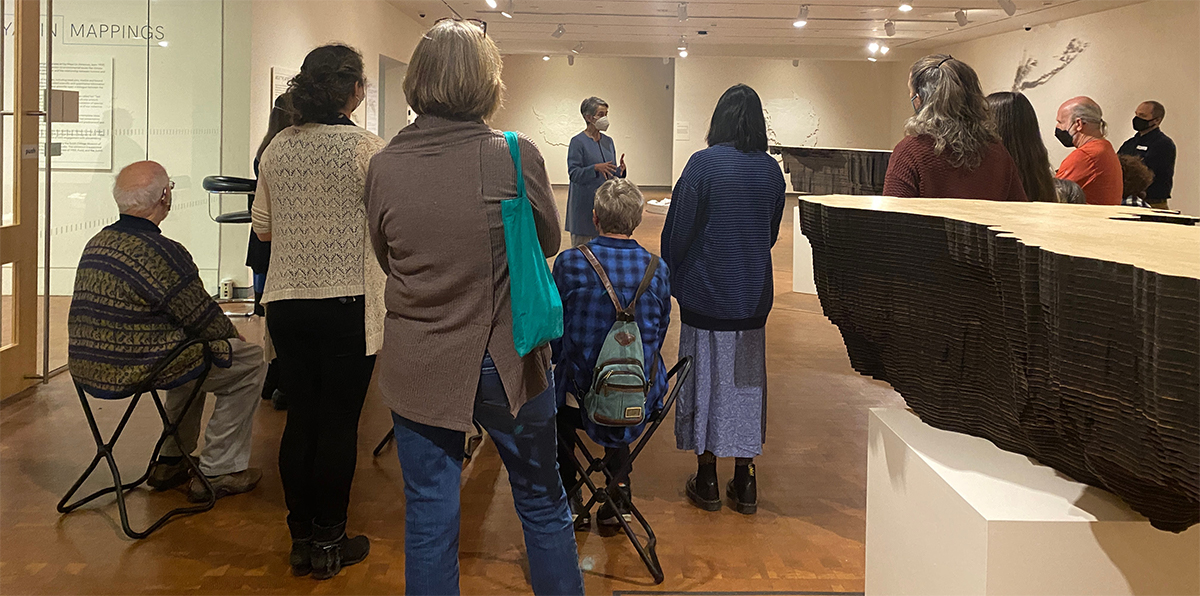 "What a wonderful experience you provided for all of us yesterday afternoon!"
Many thanks to Gina Hall and Aprile Gallant for inviting the Mill River educator network teachers to enjoy a special tour of the exhibition and a rich discussion of possibilities for educators. We hope teachers will share activities inspired by the exhibit, and please stay tuned for follow-up events sponsored by RIVER this
spring.