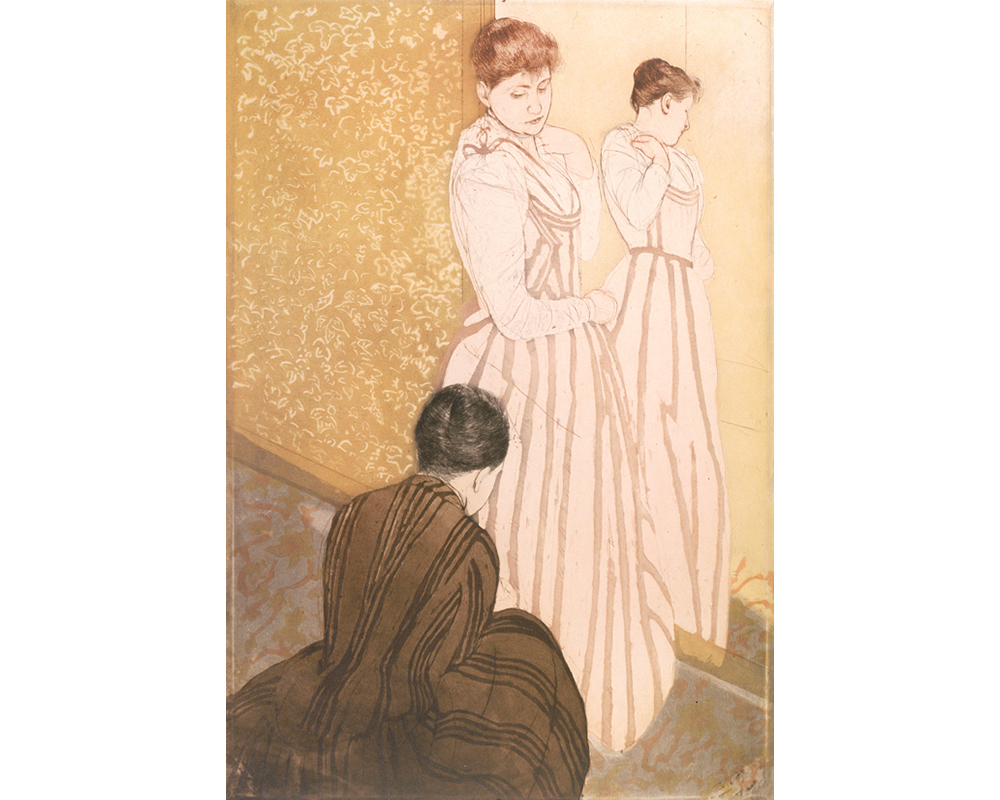 Mary Cassatt: The Fitting
Julie Warchol was the 2012-2013 Brown Post-Baccalaureate Curatorial Fellow in the Cunningham Center.
---
In the spring of 1890, Impressionist colleagues and close friends Edgar Degas and Mary Cassatt viewed an incredibly influential exhibition of Japanese prints together at the École Nationale des Beaux-Arts in Paris. About thirty-five years earlier, when Japan opened its borders after over 200 years of cultural isolation, European collectors and artists alike became fascinated by what they viewed as the novelty of Japanese art. This famous 1890 exhibition of 725 Japanese prints owned by prominent French collectors both confirmed and enhanced interest in Japanese prints among the public, including Degas and Cassatt.
Mary Cassatt was so inspired by this exhibition that she not only purchased prints by Hiroshige, Hokusai, and Utamaro for her own collection, but she also produced a series of ten prints in 1891 which she claimed were "done with the intention of attempting an imitation of Japanese methods." Although very different from Japanese woodblock printing, Cassatt attempted to obtain similar effects of line and color with intaglio (incised metal plate) techniques – drypoint, etching, and aquatint. While the drypoint accounts for the very fine lines in the faces and hair of her figures, Cassatt successfully uses aquatint to create large flat areas of color which are aesthetically similar to those of Japanese woodblock prints. A fellow Impressionist, Camille Pissarro, wrote of Cassatt's 1891 prints: "the result is admirable, as beautiful as Japanese work."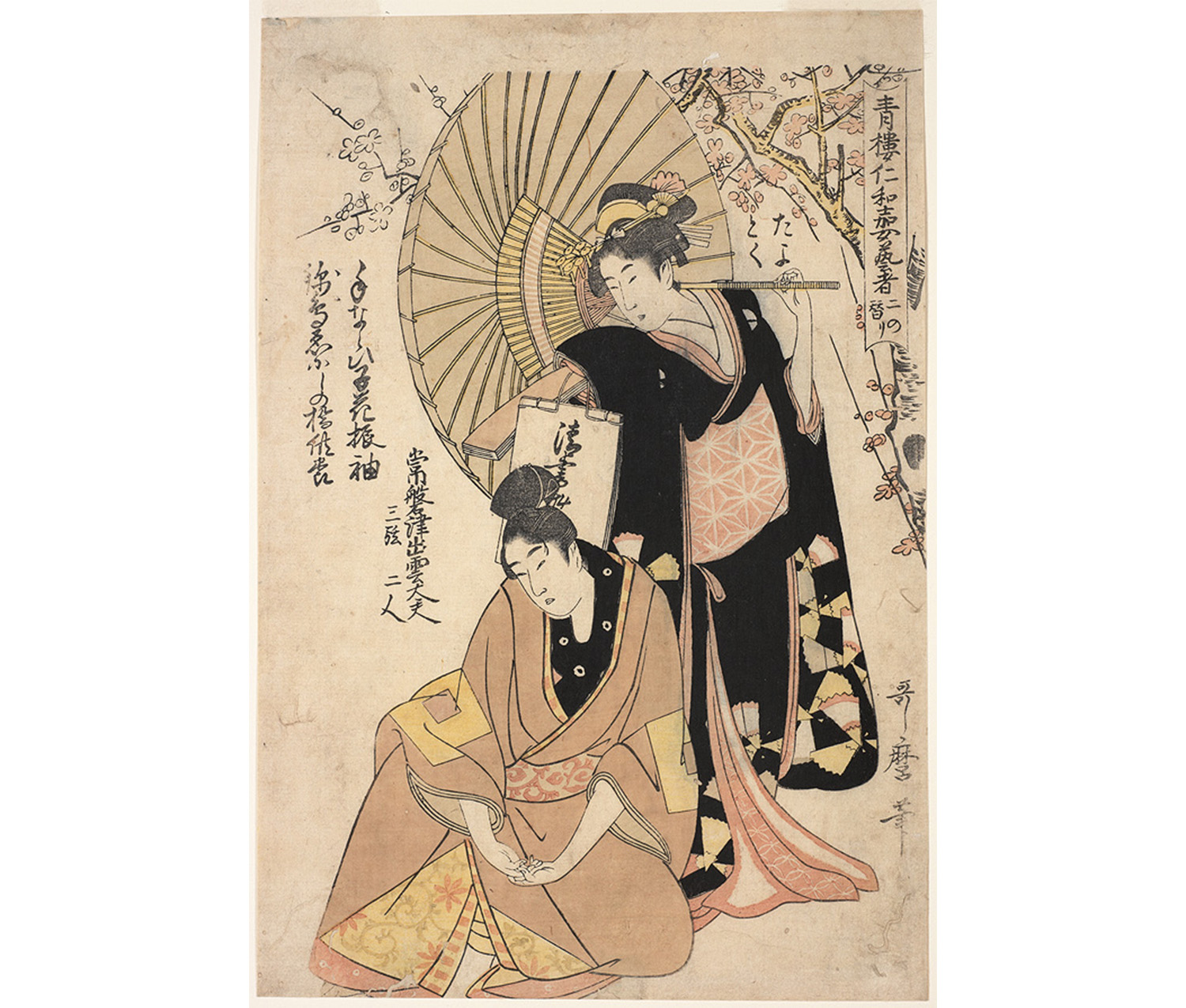 Kitagawa Utamaro. Japanese, 1753–1806. Geisha as Lovers from Seirô Niwaka Geisha Ni No Kawari, ca. mid-1790s. Woodcut printed in color on paper. Gift of Mr. and Mrs. James Barker (Margaret Clark Rankin, class of 1908) "The Margaret Rankin Barker - Isaac Ogden Rankin Collection of Oriental Art." Photography by Petegorsky/Gipe. SC 1968.182.
Much like the Japanese ukiyo-e (floating world) prints which depict women's daily activities, Cassatt's 1891 aquatints take intimate moments in modern French women's lives as their subject. Cassatt's women bathe themselves, arrange their hair at the mirror, care for their children, chat over a cup of tea, write letters, ride the tram, and try on new dresses. This last subject is depicted in The Fitting, the fifth print in the series of ten. A woman stands in a new, elegant white dress and gazes down upon a seamstress, who wears a simpler, dark brown dress. Here, the Japanese influence can be seen in the emphasis on flat forms, bold outlines, and patterns throughout the print — particularly in the carpet, wallpaper, and women's dresses. The dynamic, asymmetrical composition of the figures in The Fittingcan also be seen in numerous prints by Utamaro (one example above). Utamaro often presents figures in both seated and standing postures to create a pleasing diagonal arrangement, which Cassatt successfully employs here. However, while women in Japanese ukiyo-e prints are depicted with generic facial features, Cassatt's women in the 1891 aquatint series are individualized. They are not imagined scenes of the women's private lives, but ones which Cassatt witnessed firsthand.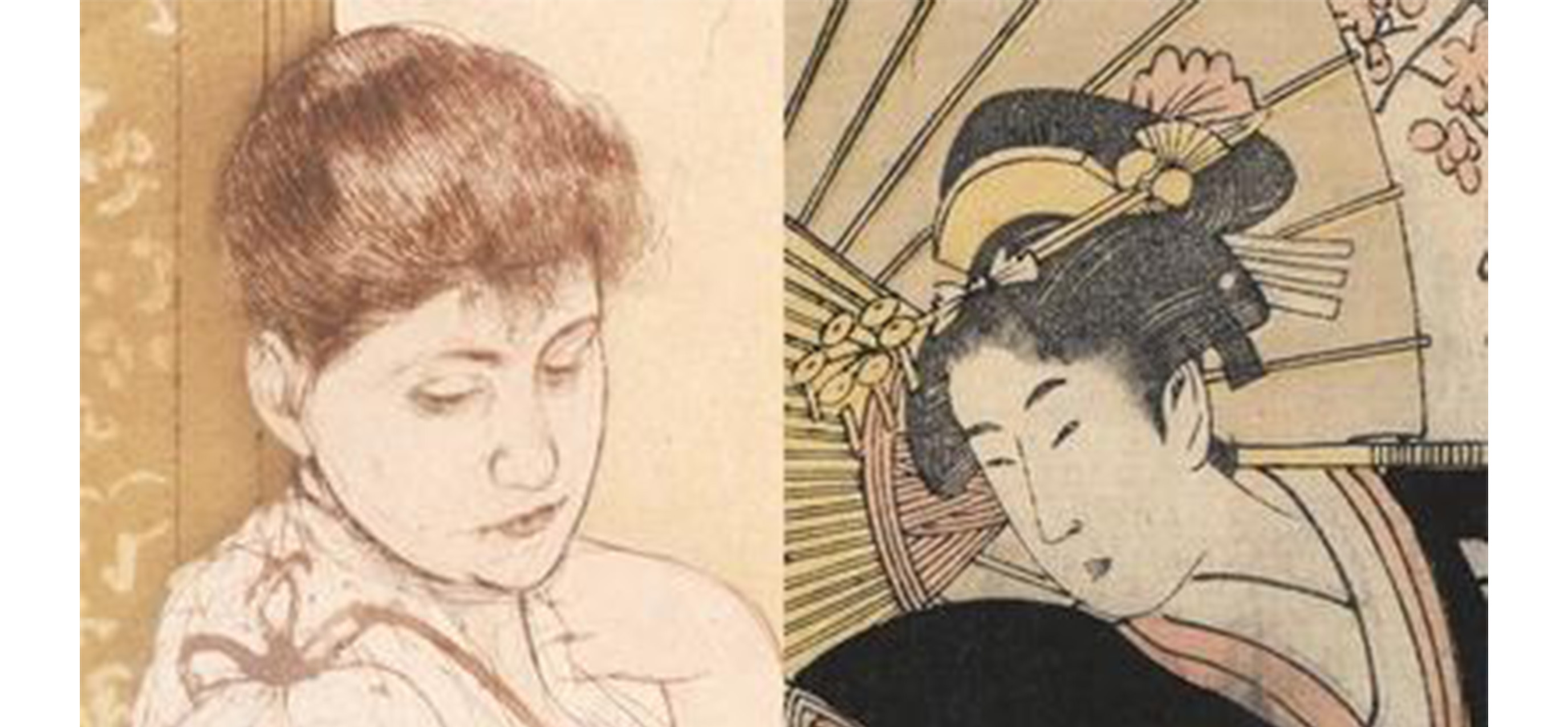 Details of faces from Mary Cassatt's The Fitting (left) and Kitagawa Utamaro's Geisha as Lovers from Seirô Niwaka Geisha Ni No Kawari (right).
Cassatt exhibited the ten aquatints alongside a few paintings later that same year at Durand-Ruel in Paris in her first solo exhibition. The exhibition gained much acclaim and secured her reputation as both a key player in the Impressionist group and a pioneer of color printmaking. Today, this 1891 series is thought to be the most impressive of her printmaking career, which included well over 200 prints.
Comments
Submitted by

Samuel C.

on April 16, 2023
This engraving instantly reminded me of my wife and her grandmother, who often makes her dresses.