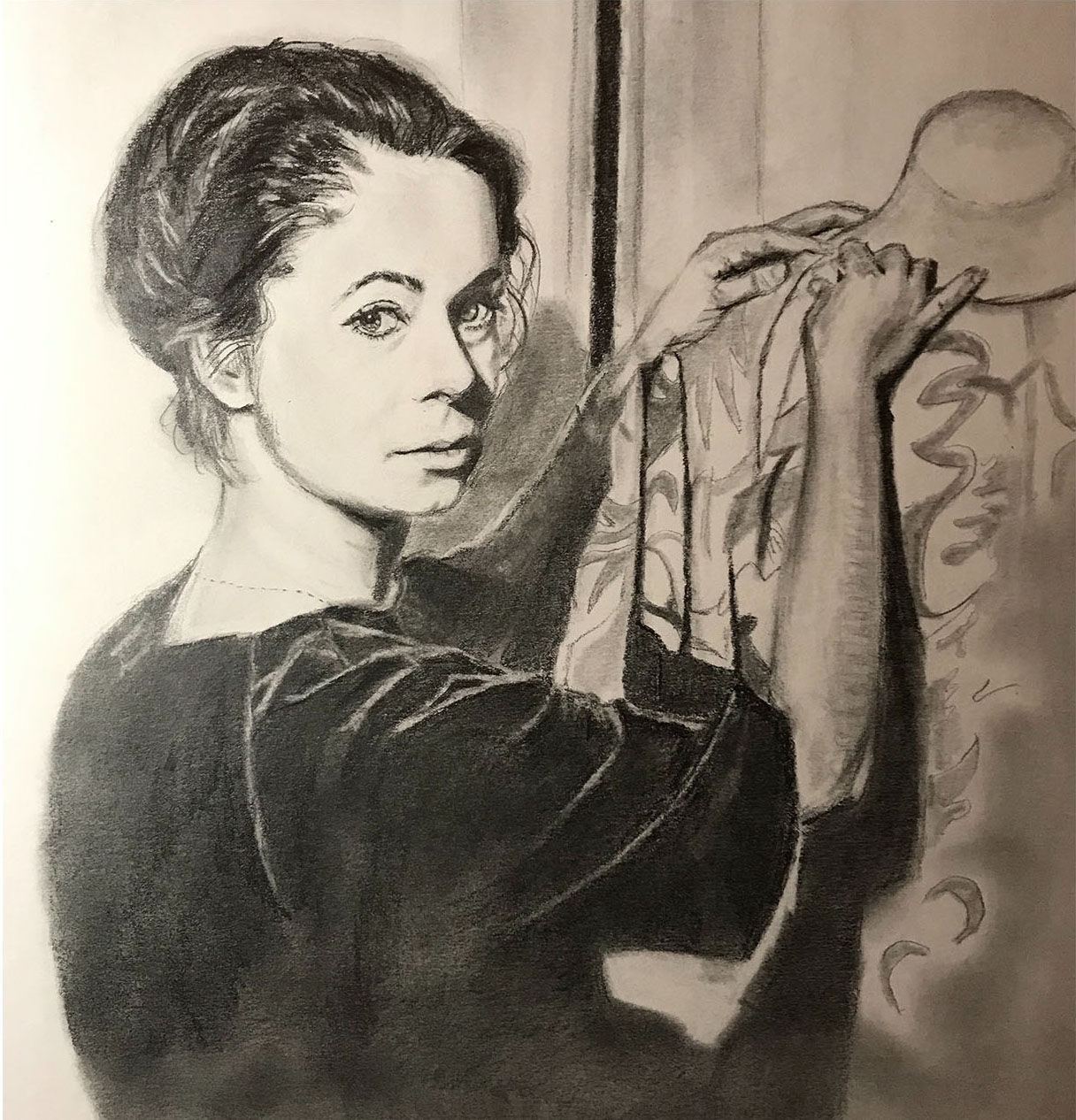 Never too Old
Although I've been working with art for many years now, it is still a magical experience for me to hold an original work of art in my hands. At the Cunningham Center for the Study of Prints, Drawings and Photographs, which I manage, I work every day with original art. I feel blessed because art has always been therapeutic for me. When days get hectic or I feel stressed, I can walk into our storage and look at some works I particularly love and always come away feeling much better.
Drawing my hand
I can't go into storage now during this time of self-isolation, so I'm feeling the withdrawal symptoms of going without my daily art fix. While virtual art acts as a great substitute, it is not the same as contact with the physical object. The smell, the texture of the paper, and the feelings they evoke by being in their mere presence are just some of many things we lose in the limited experience of virtual art.
One thing has acted as an outlet for me during these cooped-up times, okay more than one thing, but one thing related to art. About half a year ago I decided to start drawing. Always being surrounded by great artists and great art made the idea of creating art myself quite intimidating. However, with age comes wisdom, or perhaps, folly? Because of this inspiration, I decided to dive off the deep end and start drawing. Talent or no, I was going to try. 
I have always loved portraits and the idea of capturing the essence of a person; however, this is no easy task. So I decided to learn how to draw portraits, starting with the faces of the people I care about.
Starting to draw my mother
To learn how to draw I could have taken a class; however my days are full and classes take a lot of time, commitment and planning. So I did what many do these days: I learned by watching other people draw on the internet. Obviously my art history background came in handy when it came to following the old Renaissance teaching methods. I wanted to learn from the best so I started by copying the artists I loved and admired. Copying art gets a bad rap these days for obvious proprietary reasons but many artists we admire honed their talents by looking at, and copying, the work of other artists. They often traveled far and wide to do this in person. Nowadays, we have the art world at our fingertips; even if it is not the real thing, it will do when we are stuck at home. Looking at other artists' processes helped me understand the different styles and techniques. It enabled me to look beyond the surface and let go of my own idea of what a good drawing should look like or how to achieve a certain effect.  
Charcoal drawing after Mondrian's Chrysanthemum, one of his wonderful flower drawings in our Smith collection.
Amazingly, in all my years as an art historian, thinking I had a good eye for details and technique, nothing could have prepared me for the new ways I would be tasked with looking at a drawing. I started seeing things I had never seen before. All the different choices that went into an artist's composition started to make sense to me. It is a wondrous new world of exploration, frustration, and elation. I still have so much to learn and am still struggling with the basics, but it is all about the process and not the end result for me. Seeing the process that it takes to create a good drawing brought me a new appreciation for the art I work with every day in the museum.
Drawing an eye, one of the first things I tried.
And now, stuck at home, drawing has become the perfect outlet and therapy. I can recommend drawing to anyone knowing full well how much comfort it can bring. Do not tell yourself you cannot draw. Who cares! There can never be enough art, good or bad, and who knows, you might surprise yourself and others with your work. Today is the perfect day to start!
Henriette Kets de Vries is the Manager of the Cunningham Center for Prints, Drawings and Photographs and Assistant Curator of works on paper at SCMA.