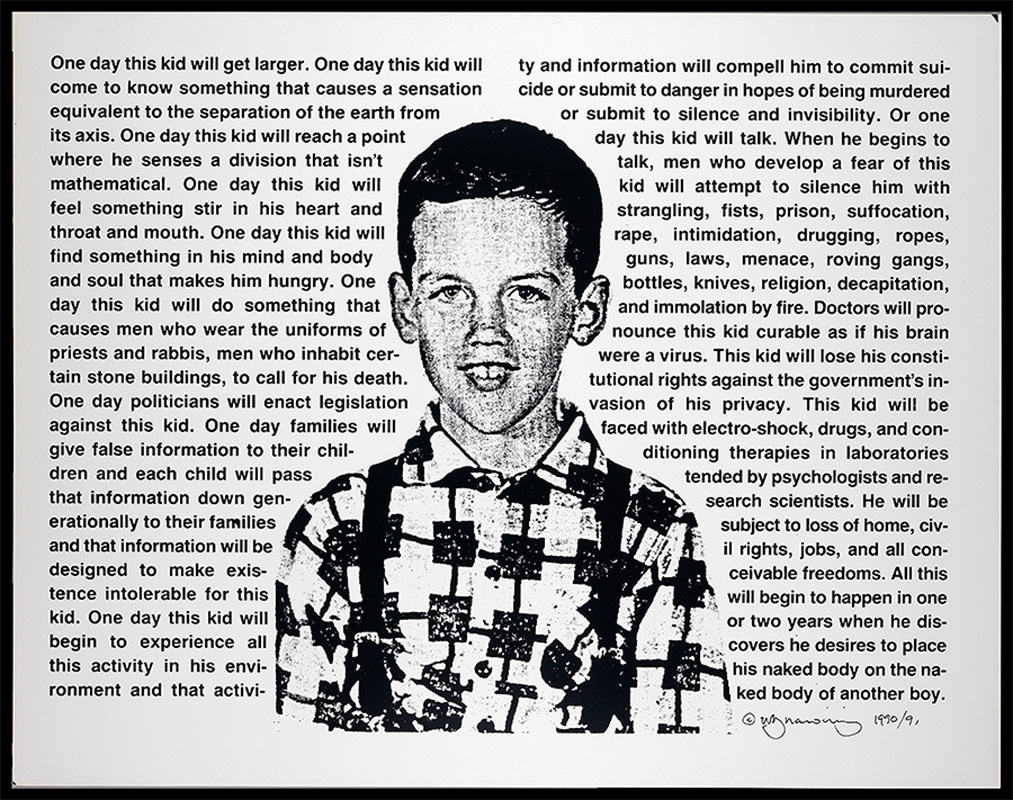 One Day This Kid Will Attend The Met Gala: David Wojnarowicz and the Fashion World
Grace Ettinger '22 examines how celebrities and the fashion world interact with queer art. She is currently a Student Assistant at the Cunningham Center for Works on Paper within the SCMA.
---
Dan Levy, the star and creator of the hit sit-com Schitt's Creek, is a celebrated voice in the gay community. He wore a shirt decorated with a stylized version of Wojnarowicz's Fuck You F----t Fucker, designed by Johnathan Anderson, to the 2021 Met Gala. With plumed sleeves ruffled like ocean waves and baring the countries of the world, his outfit gained critical acclaim and buzz. The Cut, a popular online website associated with New York Magazine, ran a full article dedicated to Levy's fashion choice, and enquired, "Is This the First Gay Superhero Costume?" a reference to the designer's wish to create something worthy of a gay superhero. Levy's bag, a small zippered pouch, was decorated with One Day this Kid, another Wojnarowicz artwork.
The SCMA has a print of One Day this Kid in the collection. It is a large black and white image of Wojnarowicz as a little boy, surrounded by text which says things like "One day politicians will enact legislation against this kid. … All this will begin to happen in one or two years when he discovers he desires to place his naked body on the naked body of another boy." The world is a dangerous place for a young gay man, and Wojnarowicz mourns for his inner child, that he must grow up into a culture that so violently oppresses him. The text is bold and Wojnawrowicz employs a Guerilla Girls-esque style of using simple, bold lettering and images with a direct message of activism. As such, this piece reads as an artwork and a sort of prose poem. Language and image come together to create the narrative. 
His decision to center an image of himself as a child, with a 1950's crew cut and new front teeth sticking at an odd angle, centers childhood innocence around a storm cloud of oncoming violence and contempt awaiting this little boy.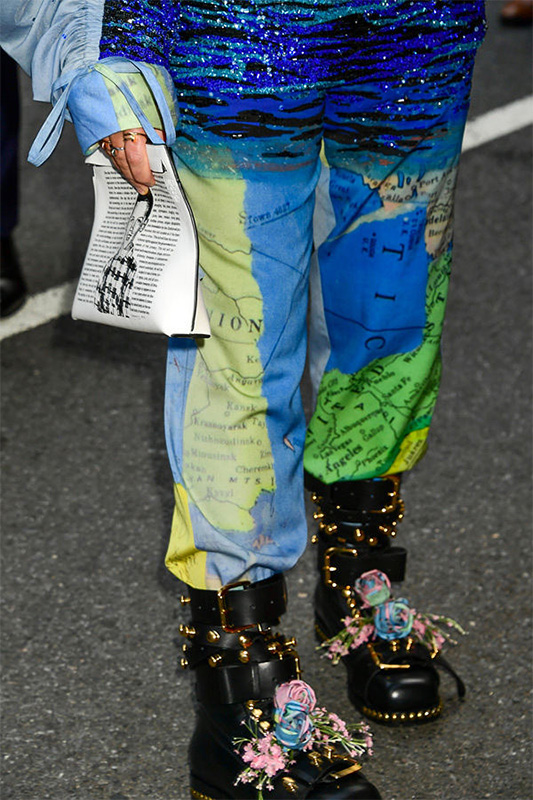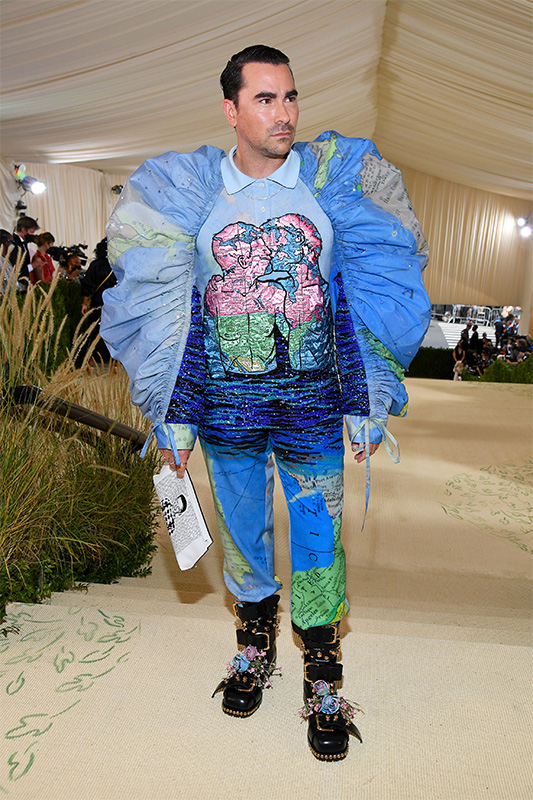 Fashion at the Met Gala serves as a soundbite, a quick flash of a camera. Celebrity attendees want to look appealing and attractive, to cement their place in the zeitgeist, and, with any luck, accrue some internet buzz about their look. These days, they also want to look politically informed and sensitive to the rest of the world. They bring an issue along with them in lieu of a date. The Met Gala is constantly shifting to remain young and relevant, and seeing as the kids care about politics these days, the invite list followed suit and included politicians and activists and celebrities who were considered generally savvy to the times. It was a big year for catchy, provocative, and political slogans pasted onto designer clothing. Representative Alexandria Ocasio Cortez wore a white dress emblazoned with "Tax The Rich" in bright red letters. Actress Cara Delevigne wore a vest decorated with "Peg the Patriarchy," an uncredited reference to queer black sex educator Luna Matatas, who had trademarked the slogan in 2018. 
One Day this Kid is a good example of art that can be Met-gala-ified. Levy literally wore his heart on his sleeve, wrapping himself in the work of a queer artist. This whole outfit stands out to me as occupying a strange limbo, between a genuine engagement with the political and artistic movements of our time, and the heady thrill of going to a $35,000 fashion party dressed in the loose ideal of celebrity activism. Designer Jonathan Anderson's take on Fuck You F----t Fucker looks like a tribute to the eternal and lasting power global queer love, but neglects the fact that in many countries around the world (including the United States), it is very dangerous to be queer. Dan Levy's outfit simplifies the ongoing fight for basic dignity and safety that Wojnarowicz's art articulates; a boy at a party existing as openly gay is enough to be hailed as revolutionary. However, representation and acceptance at the Met Gala is important, and seeing a proud gay man celebrating another queer artist is touching. I think of all the LGBTQ artists and designers who could not be as open, and I feel so inspired by this outfit. 
Levy's choice to elevate Wojnarowicz's work to a larger audience is an honorable way to celebrate his artistic and political legacy, while also infusing a little art history into the red carpet. However, would Wojnarowicz want his work to be flattened into a "yass queen" when so many are still suffering?