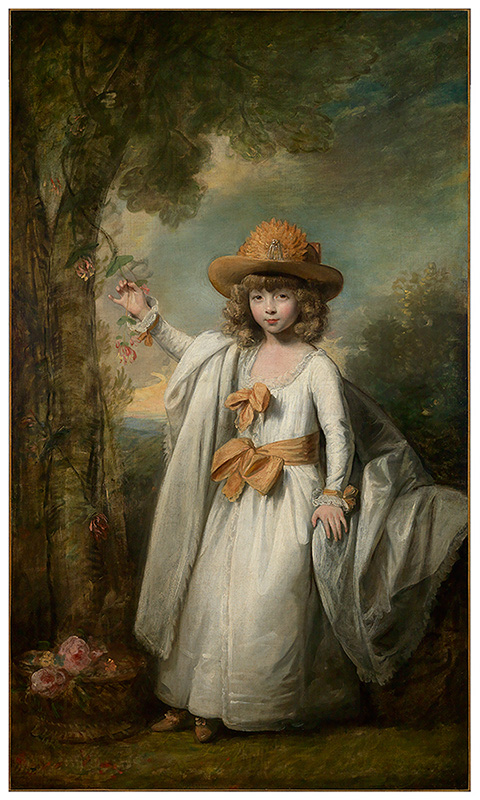 Painting The Eighteenth-Century Child: Henrietta Elizabeth Frederica Vane
Grace Ettinger '22 explores Gilbert Stuart's history as an artist through his portrait Henriette Elizabeth Frederica Vane . She is currently a Student Assistant at the Cunningham Center for Works on Paper within the SCMA.
---
If you go to the second floor galleries in the SCMA, you will be greeted by the faces of many old, traditional portraits. New England judges, a well-to-do woman imagined within a Greek myth, and many white powdered wigs. Hanging alongside these fancy adults is a little girl, standing alone and looking straight at the viewer. It's a full length portrait of Henriette Elizabeth Frederica Vane  by Gilbert Stuart, an American painter best known for his Lansdowne portrait of George Washington.
The ten-year-old Henrietta wears a loose white dress decorated with a simple rust-colored sash and a wicker hat. She holds a flower in her right hand and sits on a bench covered in a bolt of silk (presumably because standing to pose for a portrait would be too difficult for a child) in front of a surprisingly (for the eighteenth century) loosely painted background. The dress, which was probably imported Indian muslin, as by the 1780s it became unseemly for women to wear silk, does not constrict or construct the body. Instead, it is loose and appropriate for a young girl of the late eighteenth century. (1)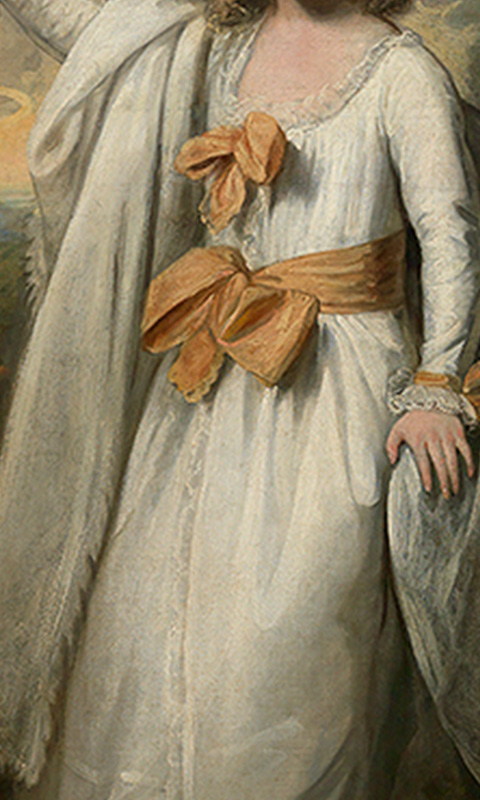 If Henrietta had been born in the seventeenth-century, she would have been dressed and treated like a miniature adult. But the seventeen hundreds saw changing cultural practices for raising children. Authors like Jean Jacques Rousseau and John Locke wrote essays about the importance of treating childhood as a unique developmental stage. Their influential ideas helped to create the modern childhood that we know today. John Locke theorized that at birth, children's minds are tabula rasa, or a blank slate. Instead, as they grow up, they will develop the ability to process the world around them. Locke and Rousseau emphasized the innocence and curiosity of children, and advocated for parents to create an environment suitable to these blank slate. Children began to play more with toys, school became more suitable to young minds, and dress no longer squeezed children into clothes designed for adults.  
Stuart lived in the colony of Rhode Island until 1775, when he moved to London to study painting for five years with the American expatriate Benjamin West and attend Sir Joshua Reynolds' lectures at the Royal Academy. After arriving in England, he painted a full-length portrait of the ten-year-old Henrietta. It was 1783, and Stuart had acquired quite the reputation in London. Upon his arrival he quickly became one of London's most sought-after portraitists, after his teacher, Sir Reynolds, and his contemporary, Thomas Gainsborough. (2) He bought a beautiful house on New Burlington Street in the city which he could not afford, dressed in the finest clothes, and racked up substantial debt. He returned to the newly founded United States of America in 1793, but only after running into some financial troubles in Ireland, where he had initially fled to avoid English debt collectors. (3)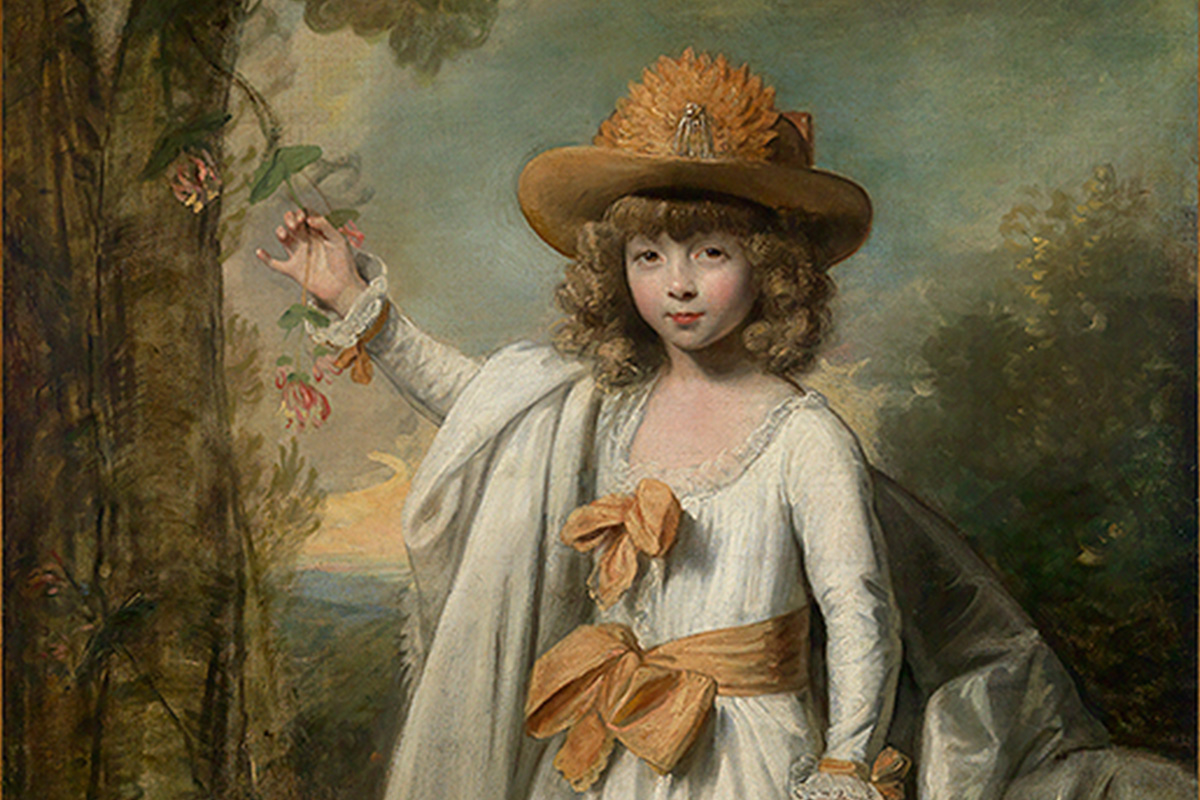 Henrietta is one of the Smith College Museum of Art's points of pride. Doctor Goldthwait, widower of Jessie Goldthwait (Smith College class of 1890), gave it to the college in 1957, his late wife being a descendant of the portrait's subject. It was the first eighteenth-century portrait of a female acquired by the SCMA. Though she may be little, Henrietta has more in common than not with the people in those surrounding portraits. Stuart's portrait of this little girl emphasizes her family connections and her upbringing, as well as the new era of childhood that was developing in the eighteenth century.
1.  Note in the Smith archives.
2.  "Reynolds and Gainsborough were in active practice, but the young American painter was successful from the first." Will H. Lowe, "A Century of Painting in America," in Mcclure's Magazine, Vol. 20,  Nov. 1902 - Apr. 1903, pp. 348.
3.  Eleanor Pearson DeLorme. "Gilbert Stuart: Portrait of an Artist." Winterthur Portfolio, 14, no. 4 (Winter, 1979), 340.