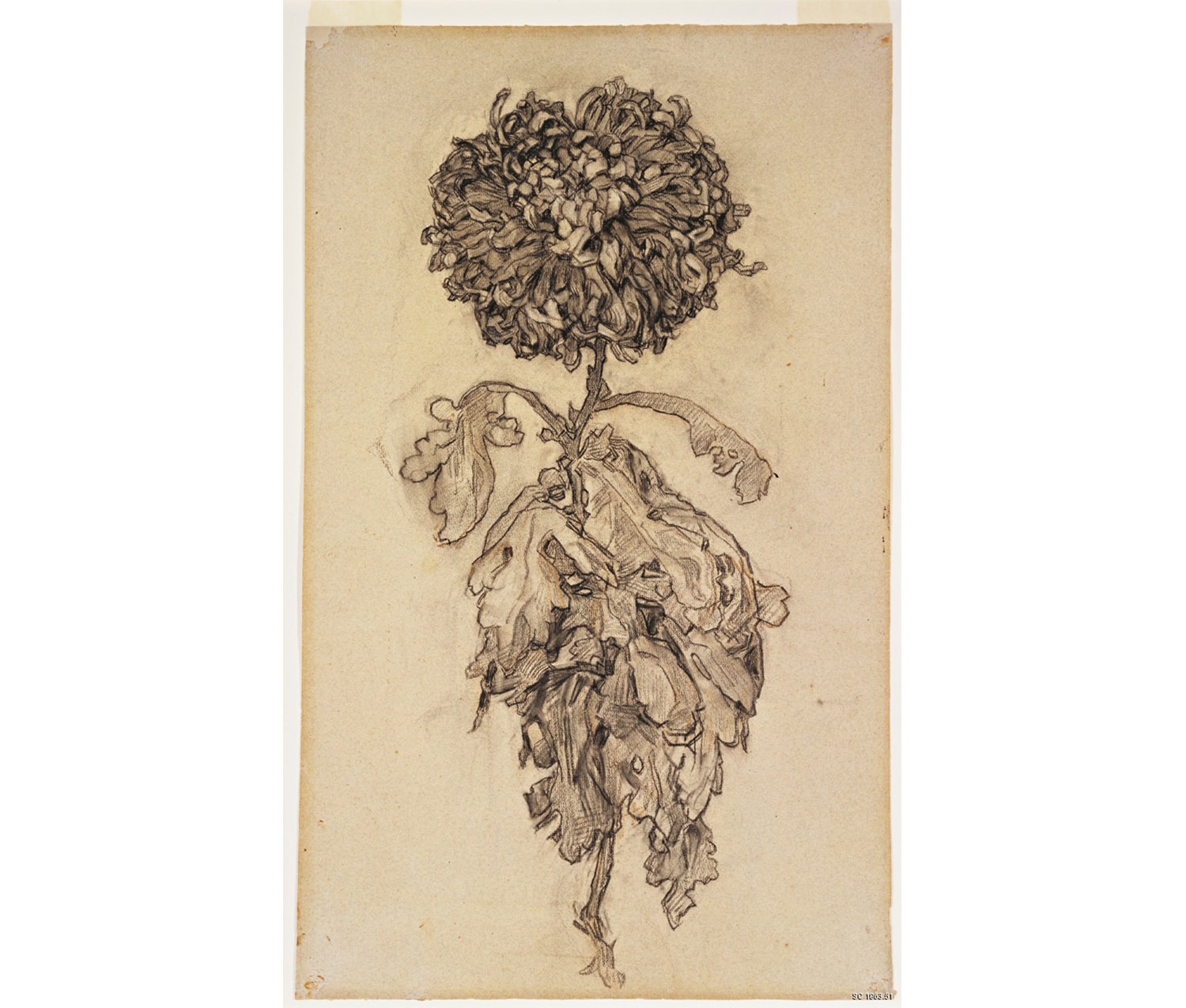 Piet Mondrian's Chrysanthemum
Aprile Gallant is the Associate Director of Curatorial Affairs and Senior Curator of Prints, Drawings, and Photographs, Smith College Museum of Art
---
In honor of the release of The Map of Every Lilac Leaf: Poets Respond to the Smith College Museum of Art and the September 22 reading by poet Mark Doty, both collaborations between SCMA and Smith College's Boutelle-Day Poetry Center, today's post by Senior Curator of Prints Drawings, and Photographs Aprile Gallant discusses Piet Mondrian's drawing Chrysanthemum, the subject of Doty's contribution to the volume.
No other flower signals the transition from summer to fall like chrysanthemums. Blooming in late July and lasting through November, this stalwart flower is showcased in an annual exhibition at Smith's Botanic Garden (being held virtually this year), and there are hundreds of varieties that demonstrate different shapes, growth forms and colors.*
A single chrysanthemum bloom is the focus of a charcoal drawing by the Dutch artist Piet Mondrian in the SCMA collection. Although he is best known for his development of an abstract style of painting he named Neo-Plasticism, Mondrian's early work was rooted in observations of the natural world. Mondrian's goals in both his abstract and realist works were similar—to deeply investigate the organization of visual elements, and the vertical and horizontal forces on which nature is based. As the artist remarked in 1941: "I enjoyed painting flowers, not bouquets, but a singular flower at a time, in order that I might better express its plastic structure."
Mondrian made over 250 studies of flowers, many of them chrysanthemums. These drawings were often made as models for works in other media—paintings and watercolors—that could be sold to support him as he deepened his explorations of pure abstraction. Such flowers, however, were not just a means to an end, but intricate visual problems to be manually dissected and understood.
Mondrian often chose single mature blooms that were on the edge of decay, as can be seen in the chrysanthemum's heavy drooping leaves and roughly layered, slightly askew petals.  Using two colors of chalk in a combination of sharp dark lines, smoky smudging, and linear shading that picks up the rough quality of the paper, Mondrian has created a blossom that reads perfectly as both an abstract composition and a unique flower in the real world.
*thanks to Elaine Chittendon and Jimmy Grogan at Smith's Botanic Garden with assistance with proper terminology.