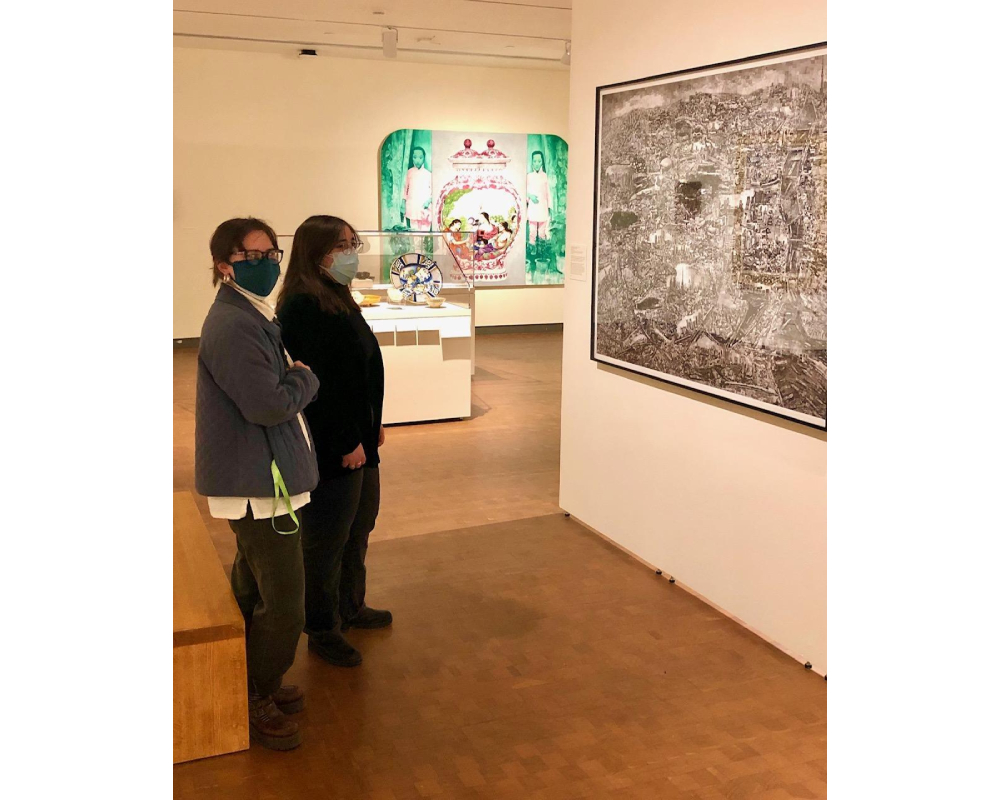 Returning to the SCMA Galleries
Become a student member today at SCMA. It's free! Open to any current student attending Smith, student membership enables you VIP access to learn about upcoming events, exhibits and programs before the general public and Smith community. Fill out this form in order to opt-in. 
The rewards of student membership include:
Evites to exhibit extras, private tours, and events
Subscription to our eNewsletter to stay on top of all things SCMA
10% discount at SCMA Shop
---
Ariella Heise '22 is a Studio Art major, Museums Concentrator, and a Student Assistant in the SCMA Marketing and Communications Department.
---
On Thursday, March 11, I returned to the SCMA galleries after a year of absence. My last visit could have very well been Night at Your Museum, where I packed into a sweaty atrium with hundreds of other Smithies. My experience last week varied greatly from that of last year, and not just because of the lack of upbeat music and lavish snacks. In Fall 2020, I began working remotely in the Marketing department at SCMA. Being at the Museum in person filled me with a whole new sense of familiarity. Upon entering, I saw multiple co-workers that I had previously only interacted with over Zoom. Seeing these familiar faces brought fulfillment to my typically socially starved days. Though I love to aimlessly peruse the galleries with a sketchbook in hand, I had a motive to visit the teaching gallery. My roommate and I, conveniently in the same art history course, came to see two works set up for our class. After we both rattled off a satisfactory amount of neutral observations, we quickly headed out to see the other artwork that excited us a tad more. 
I spent a good portion of my time in front of Honoré Sharrer's Meat. This is a piece I worked with digitally in preparation for SCMA's Then\Now\Next virtual exhibition. I wanted a closer look at Sharrer's delicate manipulation of oil paint. I had never noticed the shrimp or crushed cigarette until I viewed the piece in person. Often, I find myself inspired by images online and in person equally. But for an image as large, detailed, and mystical as Meat, the in-person viewing added a new and valuable experience. 
Honoré Sharrer. American, 1920–2009. Meat, 1975–78. Oil on canvas. Purchased with a gift from Judith Plesser Targan, class of 1953, and the Dorothy C. Miller, class of 1925, Fund. SC 2019.55.
Another piece I got caught up on was Cantilevered Painting_Partial Picture Series by Nina Yankowitz. This work looks like the corner of a framed painting is protruding through the wall of the gallery. The sculpture/painting combination is fitted seamlessly to the wall, creating an enticing illusion that I had yet to see in a gallery. To further discuss and investigate this piece, I was lucky enough to turn around and ask a curator. Emma Chubb, Charlotte Feng Ford '83 Curator of Contemporary Art, was wandering around the lower gallery with an "Ask Me" button attached to her lanyard. What a splendid opportunity! I always find that guided museum visits enhance my experience by pointing new things out, or sharing special stories. Emma graciously shared what she knew about the work in question, recommended different pieces to look at, and drew connections between other artworks across the gallery. Each staff member at the SCMA has a stash of knowledgeable remarks regarding the artworks and the museum itself. Despite the profound silence of most museum galleries, it can still be a social place, and conversation might be enriching.
Nina Yankowitz. American, born 1946. Cantilevered Painting_Partial Picture Series, 1997. Acrylic on wood. Gift of Joyce Kozloff. SC 2018.13.188.
Before scurrying out of the Museum minutes before our allotted time was up I had to snap a series of pictures for my roommate, Mo. She was proud to see the labels she had written last semester in the gallery. Mo's sense of accomplishment lit up the room, the satisfying tangibility of seeing your own writing in the gallery is hard to replicate remotely. I captured upwards of 20 photos, all with the intention of being seen only by her mother, and anyone reading this blog post. Our excitement about the visit peaked in this moment. Yes, the paintings, prints, and sculptures alone made the trip from Hadley well worth our time, but it was the sense of familiarity, personal impact, and community that really made our experience meaningful. SCMA is not just a place to see fantastic art, but a place to exist and learn alongside our Smith community. 
Mo Schweiger '22 with one of her labels in the exhibition SCMA Then\Now\Next. 
It is with this anecdote that I conclude with my gratitude for being able to return to the galleries. I cherished my familiarity with the space and was inspired by all I saw that was new to me. Even if you've been to the galleries hundreds of times, there will always be something new to see. And even if there's nothing new to see there will always be something new to hear, you just have to ask. 
Smith students, faculty and staff in the testing protocol can visit the exhibition SCMA Then\Now\Next on Thursdays between 12:15 pm and 2:15 pm. To reserve time for your visit, please use this link. If capacity allows, drop in visits will also be available for members of the Smith community.
We look forward to welcoming you back to your museum!