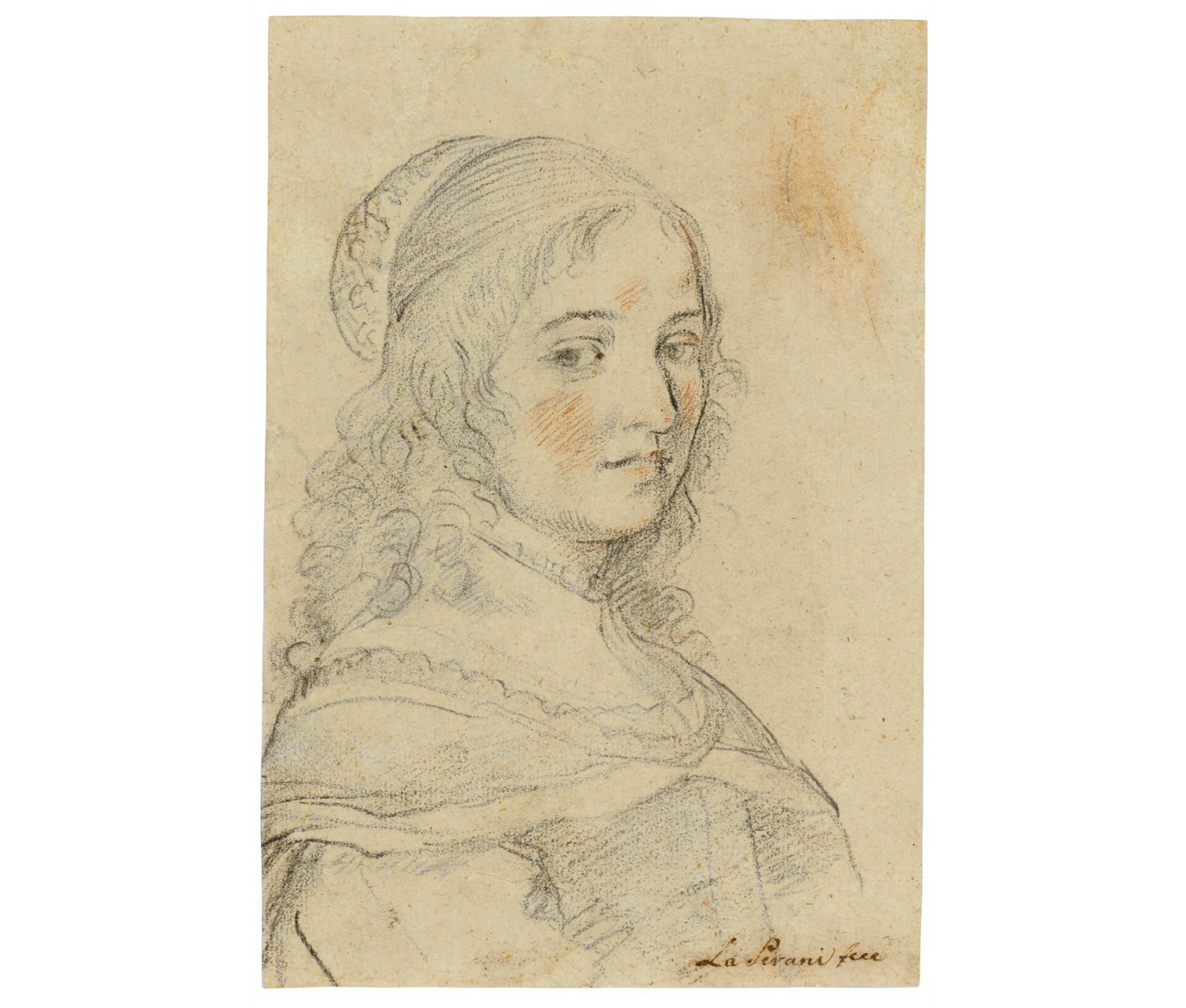 A self-portrait by Elisabetta Sirani (1638-1665)
By Danielle Carrabino SCMA Curator of Painting and Sculpture
---
This self-portrait by Elisabetta Sirani joined the SCMA collection earlier this year. It was probably created around 1658, when the artist was about 20 years old. This intimate drawing does not appear to be related to any of Sirani's painted self-portraits, and therefore was not likely intended for the art market. We may surmise that it is a true likeness of the artist, perhaps created with the help of the mirror, as was the common practice as the time. We also imagine that the drawing portrays the artist as she wished the world to see her. Her direct gaze out at the viewer conveys a sense of self-assuredness that provides a view into her character. Subtle details such as the curls framing her face, the lace in her dress, and the flush in her cheeks display her skillful draftsmanship.
Sirani was one of several professional women artists working in Bologna between the 16th and 17th centuries. This group includes Lavinia Fontana (1552–1614), whose two miniature painted portraits are also at the SCMA (SC 2019.14.1& SC 2019.14.2). Sirani enjoyed a successful but short career before her sudden death at age 27. She is often compared to other early women artists, including Fontana and her contemporary, Artemisia Gentileschi (1593–1653).
By the age of 17, Sirani was already working as a professional artist. Like other women artists of the time, she was first trained by her father, artist Giovanni Andrea Sirani (1610–70). Women were not typically admitted to art academies and had to rely on family members or acquaintances for training. A main component of artistic training at the time included working from the live male nude, which was deemed inappropriate for women. Sirani helped other women to overcome this barrier by taking on several women (and men) as her own students. Her painting academy was among the first in Europe to admit and train aspiring women artists, apart from convents. Although her career was cut short, she was extremely prolific and made a name for herself in her native Bologna and beyond. According to her biographer, Carlo Cesare Malvasia, she was "the glory of the female sex, the gem of Italy, the sun of Europe."
This drawing is the earliest self-portrait by a woman to enter the SCMA collection.