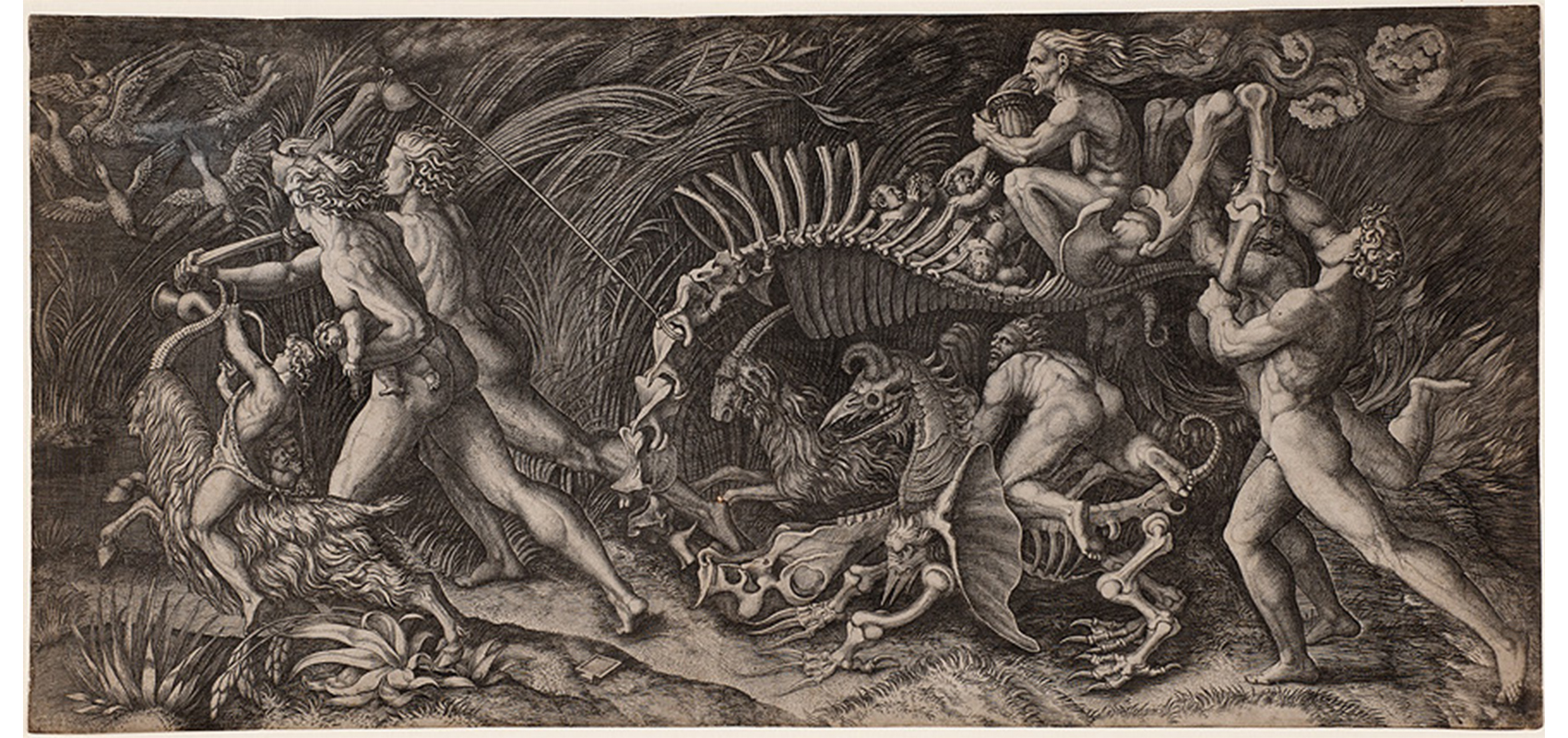 Something Wicked This Way Comes
The night has been unruly: where we lay,
Our chimneys were blown down; and, as they say,
Lamentings heard i' the air; strange screams of death,
And prophesying with accents terrible
Of dire combustion and confused events
New hatch'd to the woeful time: the obscure bird
Clamour'd the livelong night: some say, the earth
Was feverous and did shake.
Macbeth 2.3
With the approach of Halloween, and the days getting shorter and darker, I got inspired to investigate the story behind one of the more grotesque and interesting Italian prints in our collection. This large print treats a highly unusual subject for Italian art, one you would normally find in the work of German or Dutch Renaissance artists like Baldung Grien or Hieronymus Bosch in darker and colder Northern European regions.
The print reveals an impossible parade of grotesque figures, with an old woman at the center with open mouth and wild flowing hair seated on a skeletal creature. The witch in question is squeezing the life out of little children while strapping young attendants noisily lead the way through a marsh like environment, disturbing the geese or ducks out of their nesting ground. You can almost feel and hear the impact of this unholy procession.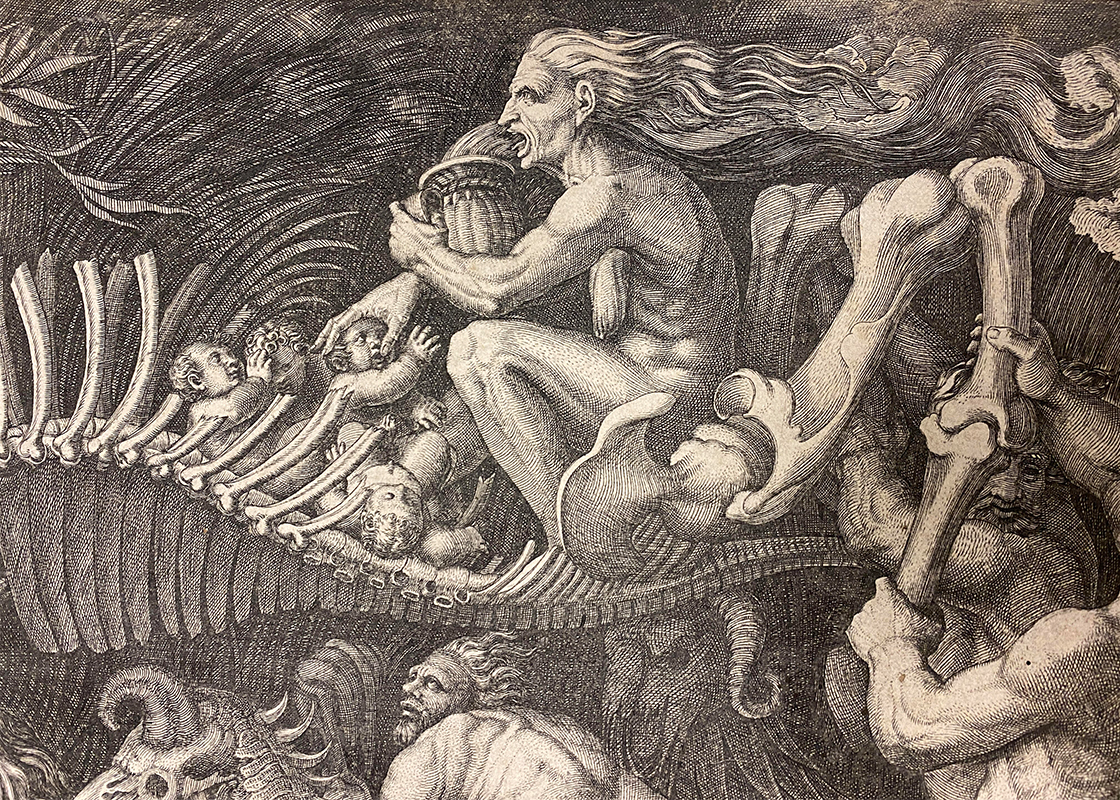 The subject of the work is quite mysterious. However, it conjures up images of Nordic sagas of the "Wild Horde" or possibly harkens back to portrayals of the cannibalistic Roman god Saturn as in the one by Virgil Solis seen below: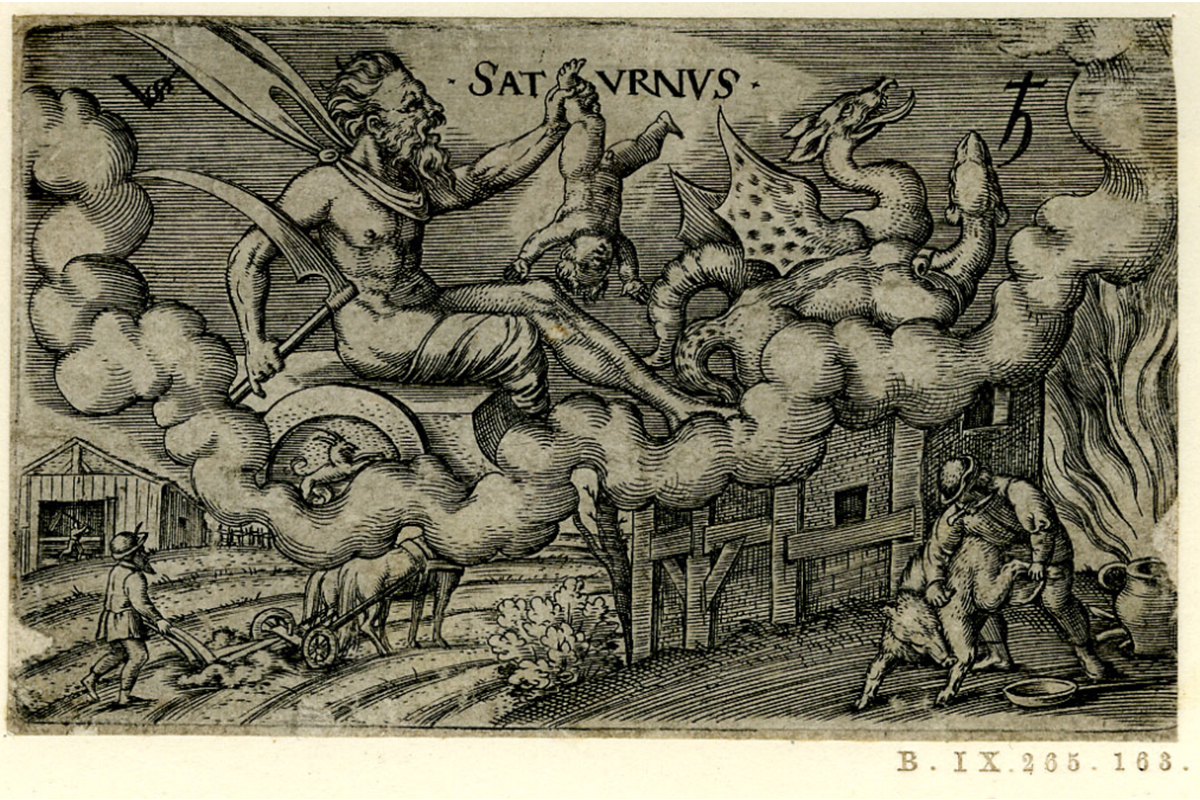 The history of the Smith print is far from straightforward. It has been named La Carcasse ("The Carcass") or Ill Stregozzo ("The Witches' Procession"), both titles emphasizing different parts of the composition. Scholars are also not quite sure of the identities of the artist and printmaker for this print. Most commonly it is ascribed to Agostino Veniziano Musi or Marcantonio Raimondi after a work by Raphael.
While trying to make sense of this art historical mystery I came across a wonderful drawing by an unknown Italian artist commonly called the Master of the Victoria and Albert Museum Diableries from about the same period as the print in question. The drawing is loosely titled A Witches Sabbath and shows definite similarities to La Carcasse. While more chaotic in composition, all the pivotal elements of La Carcasse appear. The carcass, with its devilish horned head, seems to be an amalgamation of various creatures in the Veneziano/Raimondi print, and the prominent headless buttocks is clearly a direct derivative. However, the central female figure is now replaced by various androgynous figures and at least one (fallen) angel.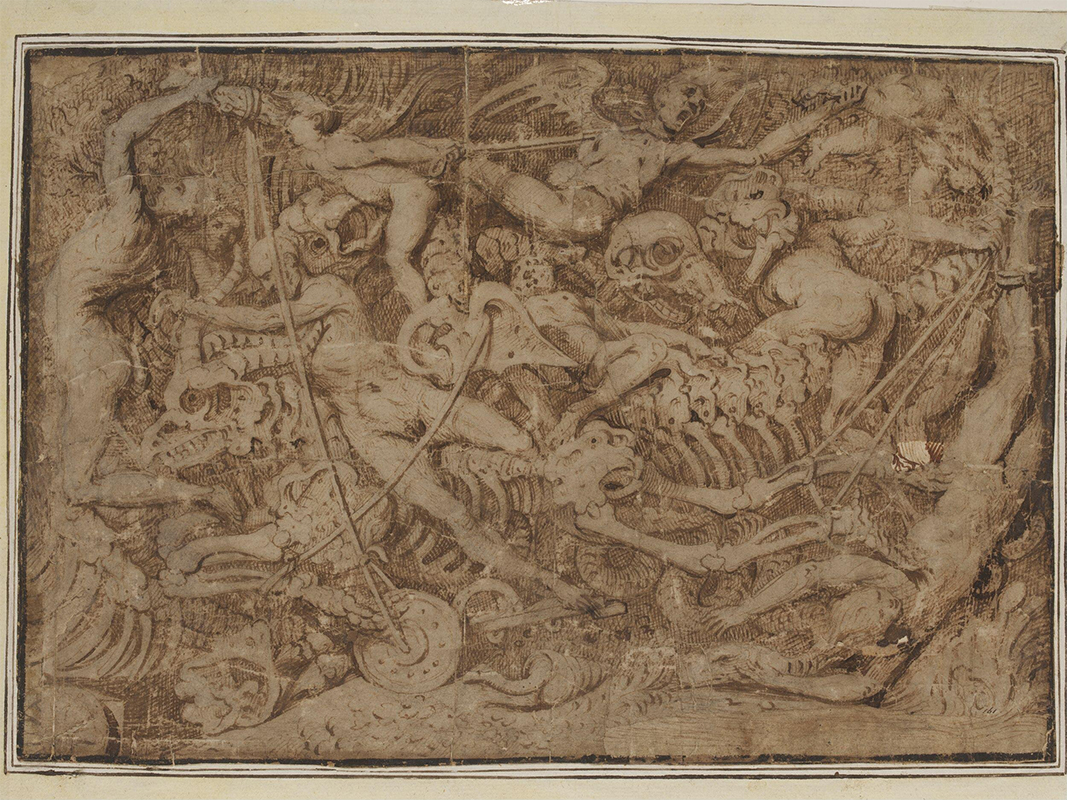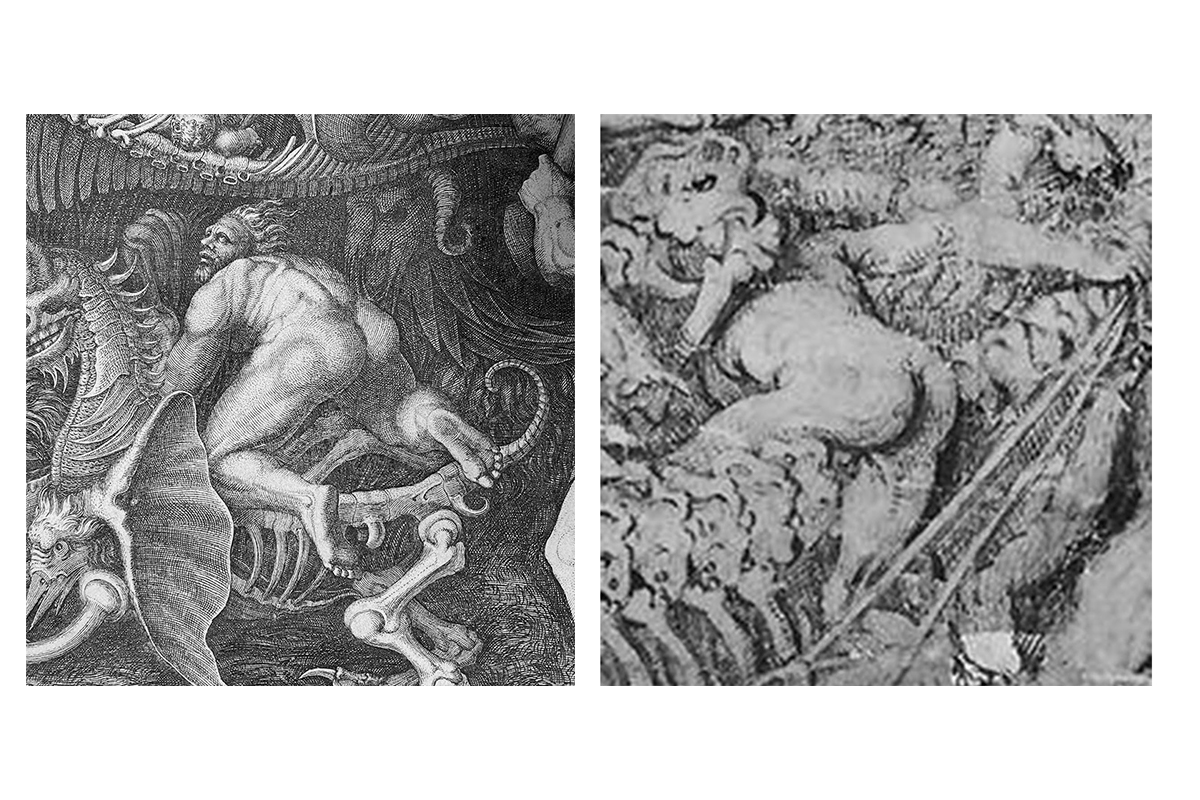 It is almost as though the printmaker decided to clean up the composition of the drawing and create a more orderly display, while simultaneously trying to maintain the wild energy within the work.
Another smaller print in our collection has a more established relationship to La Carcasse. There seems to be little doubt among scholars that Albrecht Dürer's A Witch Riding to the Sabbath was used as a model for the murderous hag that rides the skeleton.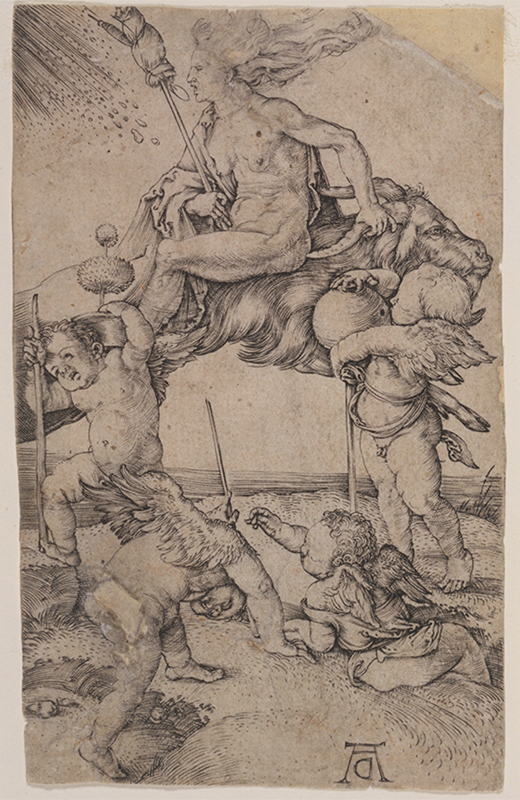 While the Dürer's witch rides backwards on a goat, an animal often equated to the devil, the witch in the Italian print rides an unidentifiable large carcass, a clear symbol of death. These "wild women" represent another interesting example of an inherent fear of the power of women. These mature witches are naked, they are wild, they are in charge, and they have the power of life and death. It seems obvious that in a patriarchal society this image was one of many nightmares…