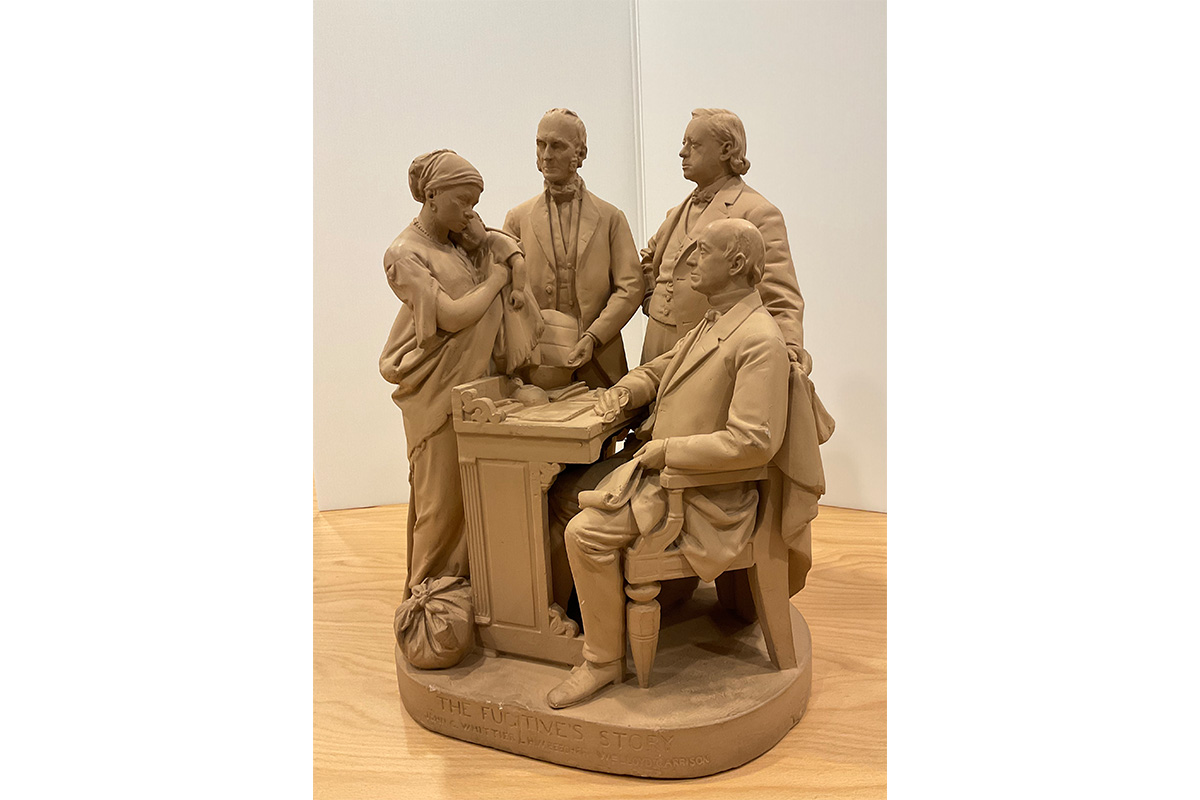 From Special Collections to SCMA: A Close Look at The Fugitive's Story
Annalise Edwards '23J, a curatorial research assistant, discusses a recent addition to SCMA's collection. 
---
The Fugitive's Story, a plaster sculpture made by John Rogers in 1869, comes to the Smith College Museum of Art from the Garrison Family Papers in Special Collections. It was passed down through the family  before being donated with the archival documents in 1948. The sculpture depicts John Greenleaf Whittier (left), Henry Ward Beecher (middle), and William Lloyd Garrison (right) convening with an African American woman (far left), who holds a small child close to her chest. The woman, unidentified, appears to be speaking to the men of her escape from slavery. Her bag rests on the ground, leaning against Garrison's desk. This bag presumably contains her life's possessions: whatever she could grab amidst the chaos of her flight. Whittier––a poet––and Garrison each hold documents, conveying their roles as abolitionist writers. Beecher, empty-handed, was a prominent minister who was outspoken against slavery, delivering numerous addresses in support of abolitionist causes.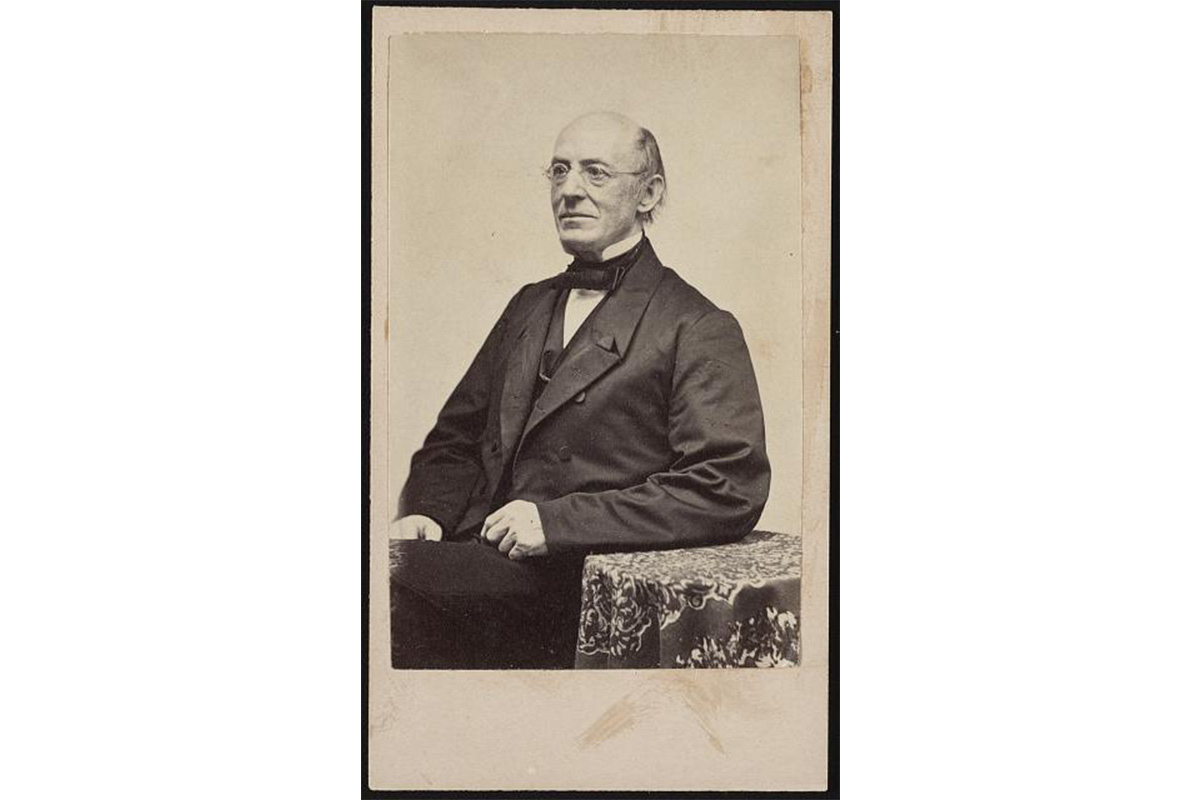 Born in Massachusetts, William Lloyd Garrison (1805-1879) was an American journalist and abolitionist. In 1833, he helped organize the American Anti-Slavery Society, which called for immediate emancipation of American slaves. Additionally, Garrison published The Liberator, an anti-slavery newspaper, in the 35 years leading up to the Civil War in 1865. He also advocated for other social reform movements such as women's suffrage, arguing for women's inclusion in abolitionists groups like his own.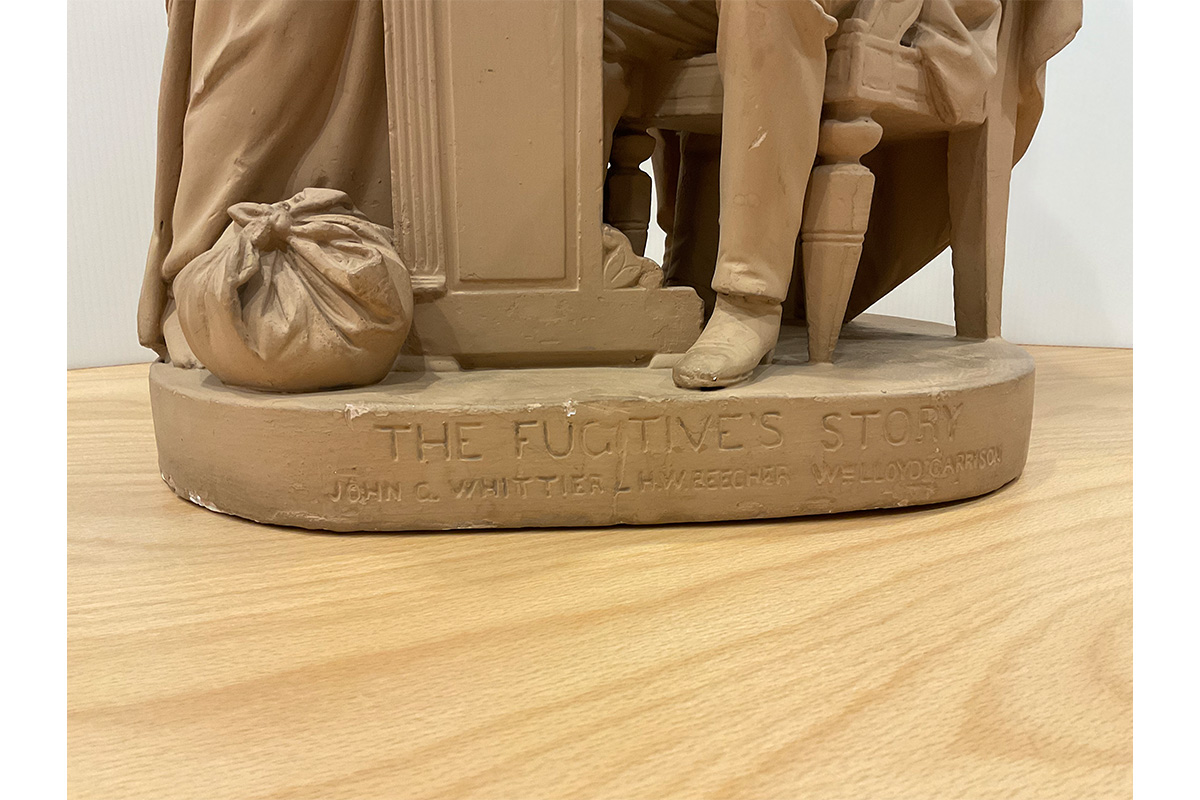 It is worth noting the written acknowledgement of Whittier, Beecher, and Garrison's identities in the title engraved on the sculpture's base, and particularly, the lack of such recognition for the woman or her model. This discrepancy emphasizes the work that Whittier, Beecher, and Garrison did for the abolition movement, and deems the escaped woman more of a symbol of emancipation than a representation of a specific figure. Still, her facial expression evokes feelings of despair and pain, and her shared gaze with William Lloyd Garrison is especially piercing.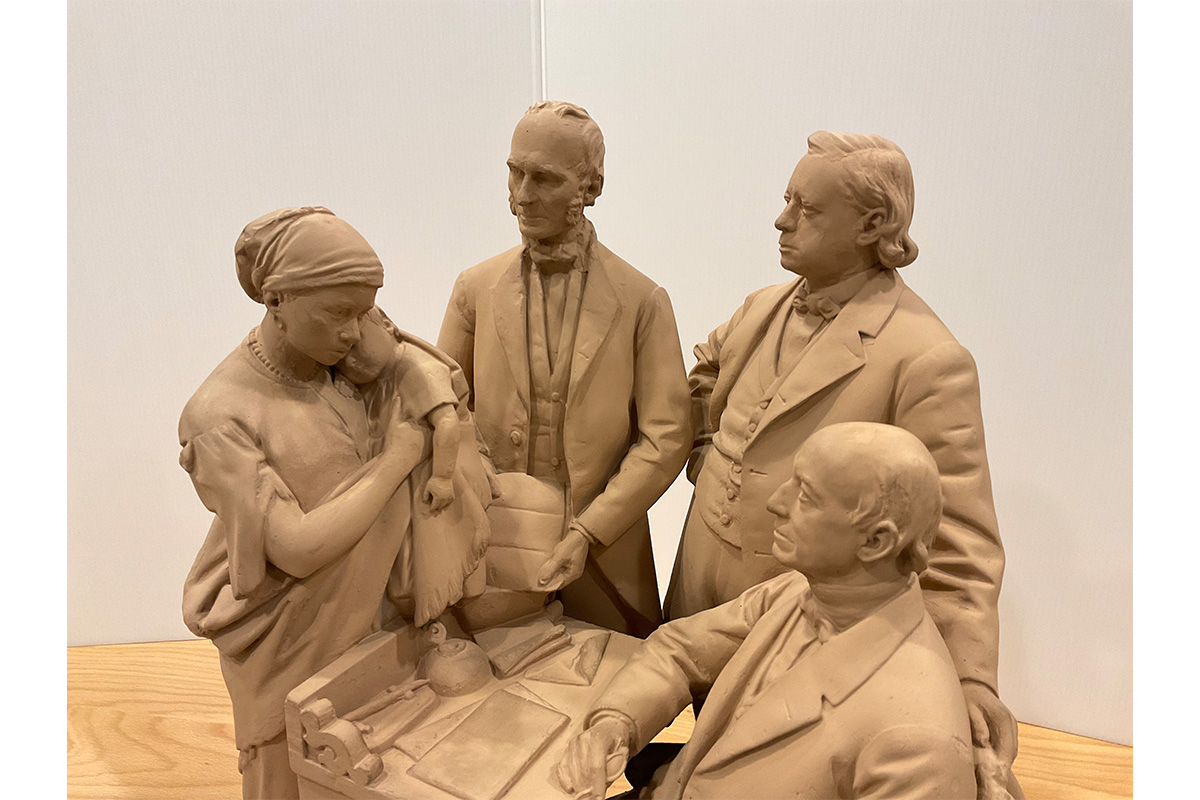 The artist, John Rogers (1829-1904), was a mechanic-turned-sculptor who gained fame after the Civil War for his group sculptures. His prolific body of work primarily consisted of these plaster sculptures, often painted tan, that were cheap and easily reproducible––in fact, many 'Rogers groups' sold for only $15. The pieces' subject matter ranged from scenes of daily life to classical literature. Their materiality, accessibility, and familiar topics made the sculptures extraordinarily popular among the middle class. 
The Fugitive's Story offers present-day viewers an example of materials that would have been used by abolitionists in the nineteenth century. At first glance, the piece generates an opportunity for historical teaching. Yet upon closer inspection, the work also leaves room for viewers to think more critically about the history it represents, assessing the role that art plays in cultivating certain narratives. One might also use Rogers' sculpture to consider the voices that have dictated those narratives, and perhaps the voices that are not present at all. Comparatively, Isaac Julien's video installation Lessons of the Hour offers a representation of the abolitionist movement from another perspective. By placing abolitionist, freed slave, and renowned orater and writer Frederick Douglass at the focal point of the work and story, Julien calls attention to the specific histories that works like The Fugitive's Story struggle to bring to fruition.