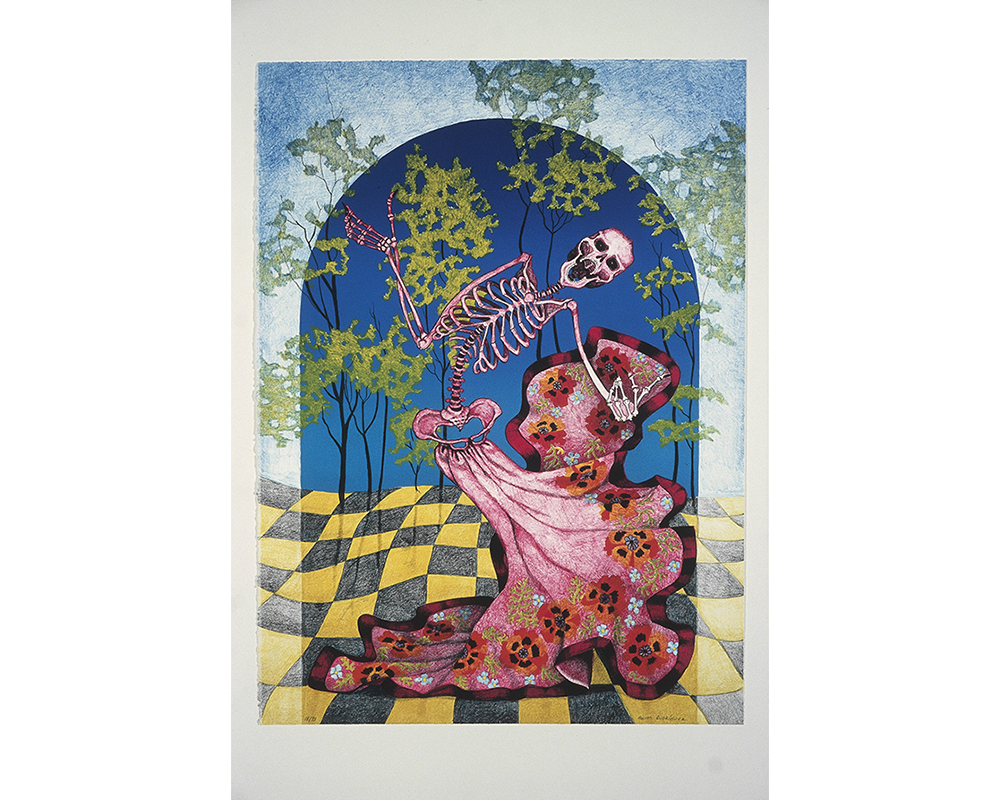 Staff Picks: Anita Otilia Rodriguez's "Homenaje a Selena"
Henriette Kets de Vries is the Manager of the Cunningham Study Center and the Assistant Curator of Prints, Drawings and Photographs at SCMA. Below, read her reflections on a work by Anita Otilia Rodriguez. You can learn more about Rodriguez's work by visiting her website or reading her book, Coyota in the Kitchen: A Memoir of Old and New Mexico (Albuquerque: University of New Mexico Press, 2016). 
---
This week, we are starting a new Staff Picks series, drawing on works from SCMA's collection. Certain departments in the museum have more direct access to the art, like the art handlers and the curators, while the responsibilities of others, like the people in our marketing department or accounting, involve less direct contact with the collection. Just the same, we all work in a museum for our love of art.
Staff will select works drawn from those currently on view on the walls in the museum or works that come out of storage for special occasions, including exhibitions and classes. All the works in our collection can be found in our collections database, which can be accessed by anyone. It gives you a good idea of the scope of our collection. To search our collection, click here. 
To start the series off, I wanted to highlight one of my personal favorites from the collection. I then realized how hard this actually is. As an assistant curator and manager of the works on paper, I have grown fond of many works; over time, they have all become familiar friends.
However, as it is summer and the days are hot, I thought to pick a work that emanates summer or at least feels like it comes from a warm climate, something a Nordic Dutch person like me does not take for granted. It is a work that makes me smile every time I pull it out for a class. It is quite large and extremely colorful and dynamic. It just makes me happy. This could be considered odd since the image is one of a dancing singing skeleton with an even darker backstory.
It is this dichotomy of joy and tragedy that I love about this work. It simultaneously embraces life while honoring death. I love that it makes us think and I love the dark humor of it. The artist, Anita Otilia Rodriguez (b. 1941), who lives in New Mexico, is clearly inspired by the funerary arts and religious traditions of her Mexican ancestors.  
The work is an homage to the Mexican-American singer Selena (Quintanilla-Pérez), who was killed by a fan at a young age in 1995. A very dark event all around. However, Rodriguez celebrates this dark moment with a joyous, colorful image of a singing and dancing skeleton in the manner of a 'Danse Macabre.' It is a celebration of life, a rebirth, as well as a remembrance of a person who brought joy to others. I find this beautiful in many ways. It makes me reflect and smile every time I experience it.
We hope you enjoyed this first installment of SCMA's new "Staff Picks" series. We would love to hear which work is your favorite and why!