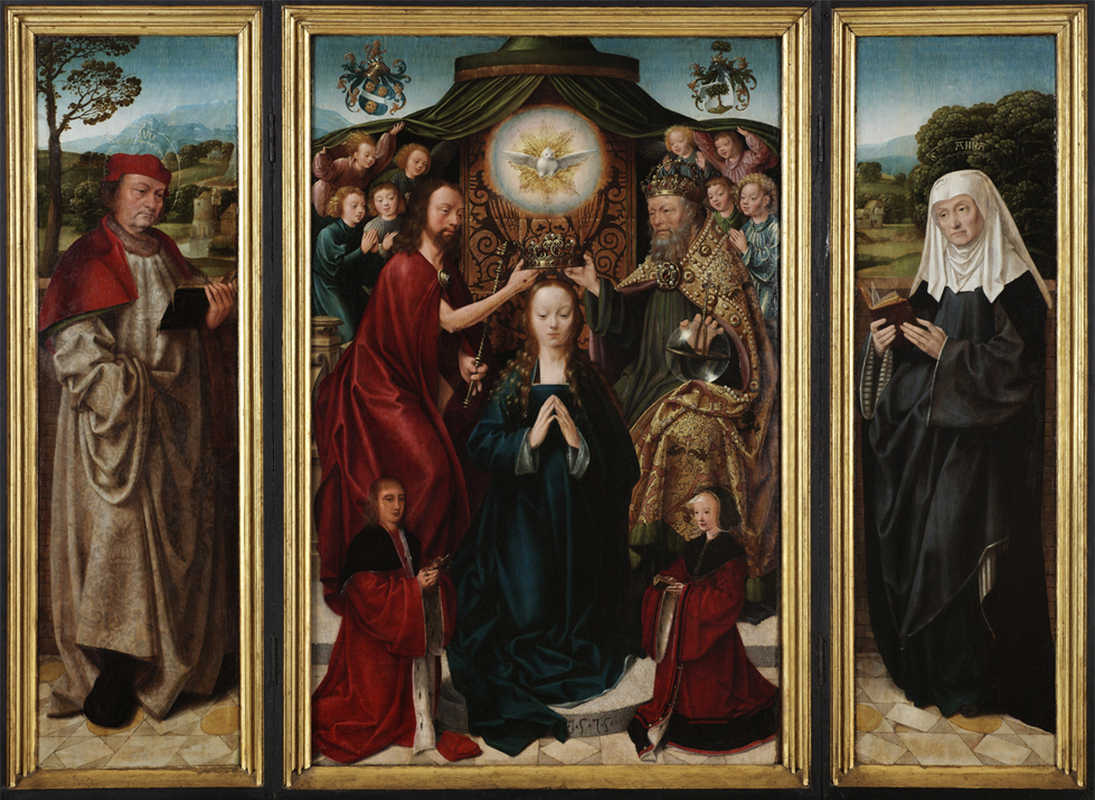 Staff Picks: Bartholomaeus Bruyn the Elder "The Coronation of the Virgin"
Cunningham Center Assistant Grace Ettinger '22, asks Autumn Guntor who joined the Museum as part of the SCMA safety team in 2021 about their favorite work of art at SCMA.  
---
Recently, I visited the Pre-1800 Gallery with Autumn Guntor, a member of the SCMA safety team and a recent graduate from the University of Massachusetts Amherst with a degree in ceramics and psychology. Autumn is an artist who primarily works with ceramics and painting, and decorating utilitarian objects meant to be used. They described their practice as autobiographical, with their work delving into topics like the concept of home, and pulling inspiration from folk art traditions.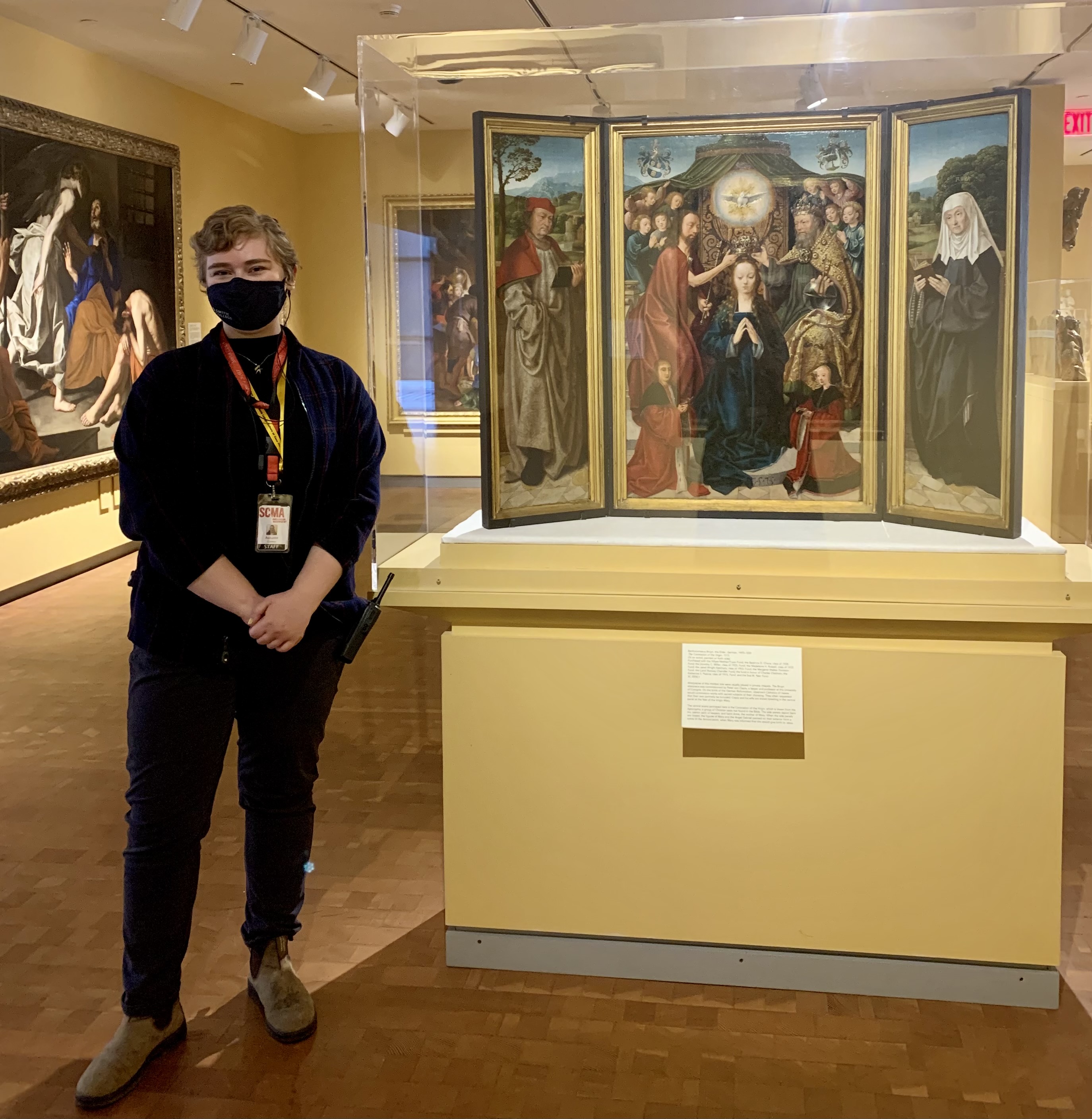 Together, we looked at Autumn's favorite piece, The Coronation of the Virgin. We stood in front of the piece for a quiet moment, and what Autumn said felt like a little poem: "I feel captivated by it, and calmed by it in a way. Entranced by it. It feels very complete." This German devotional triptych, painted in 1515 by Bartholomaeus Bruyn the Elder, depicts three panels (typical of a triptych altarpiece) filled with visual intrigue. The scene is filled with Biblical figures like Mary, Jesus, Saints Ann and Ivo, and the patron and his wife kneeling in prayer in the foreground. These two patrons are much smaller than the religious figures, and Autumn remarked on their humble stature, saying that "the lack of perspective and [use of] vertical stacking in [this triptych] is so common in folk paintings, and it's interesting how that goes back hundreds of years to Christian religious art, which does the same thing. Images floating in the sky, people stacked up on all these different scales." This artistic tradition of filling the entire picture plane with detail struck a chord with Autumn's own artistic practice, and they remarked how nice it is to make things and decorate their entire surface. "It's an opportunity to use every part of the piece, and fill the space," they said.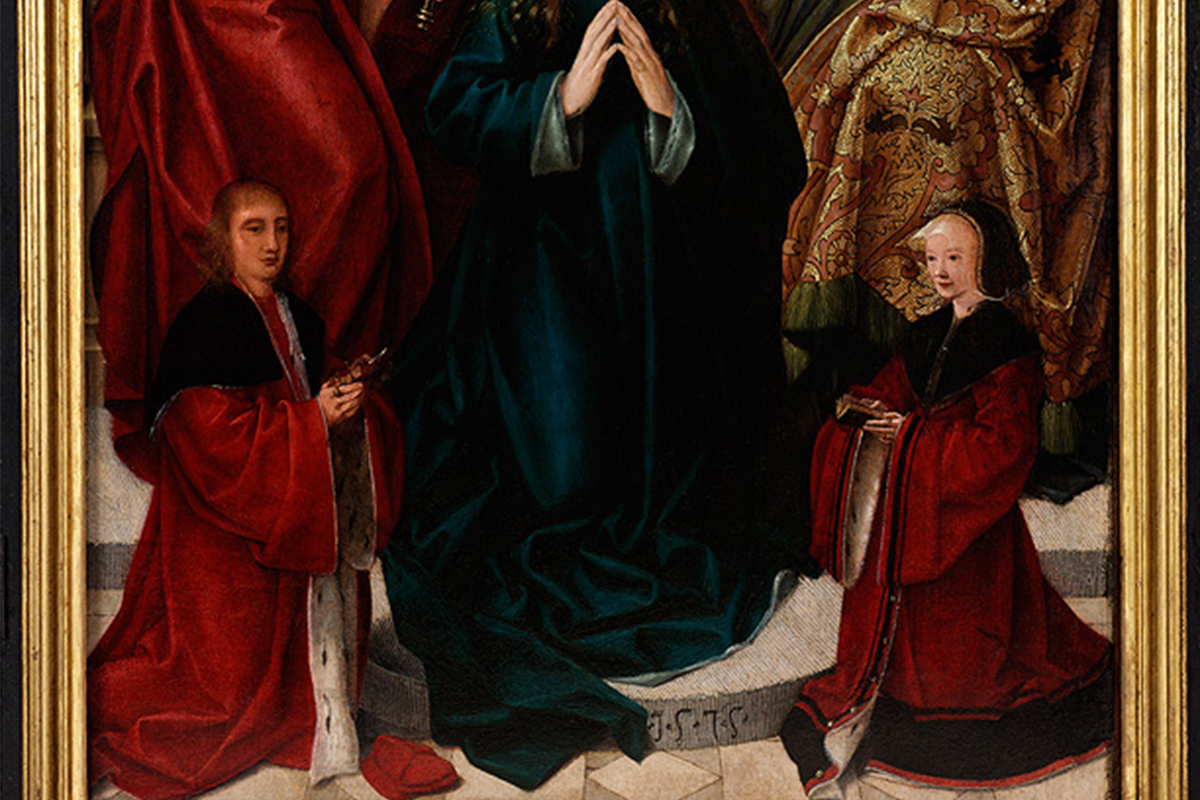 I loved seeing the connection between more contemporary folk art and Renaissance Christian artwork through Autumn's eyes. As we stood in front of this old painting, arms crossed and eyes darting around the picture trying to catch all the details, we talked about making art and enjoying it at the museum. "What do you think makes art beautiful?" I asked, as we were winding down our conversation and heading for the gallery doors. "Having an emotional reaction, or any kind of sincere emotion, makes art beautiful," they responded. Now, when I walk past The Coronation of the Virgin, I remember seeing it with Autumn, and I feel happy.