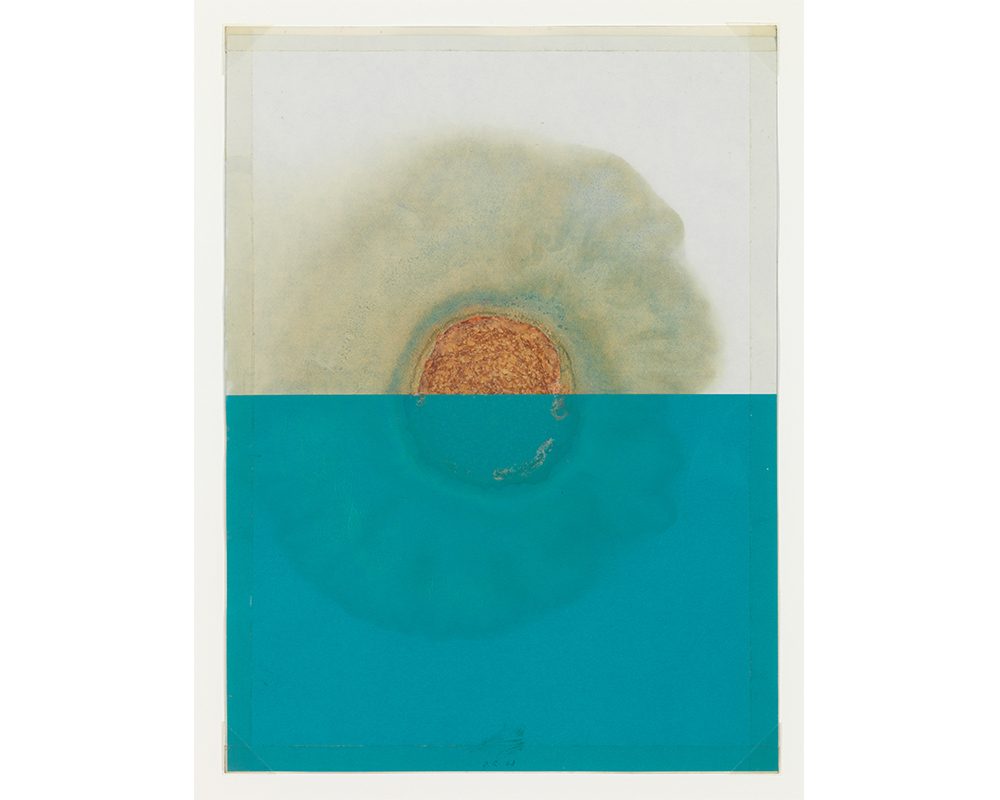 Staff Picks: Dieter Roth's "Small Sunset"
Aprile Gallant is the Associate Director of Curatorial Affairs and the Senior Curator of Prints, Drawings and Photographs. In this blog post, Aprile discusses Dieter Roth's Small Sunset.
---
"Ew!"
"What IS that?" 
"That's disgusting!"
These aren't common things people say while in a Museum, but it's something I love to hear. 
It is no secret among my colleagues that almost every class session I speak to in the Cunningham Center for the Study of Prints, Drawings, and Photographs includes Dieter Roth's Small Sunset. It is one of my favorite things to pull out for visitors, particularly when there will be close looking and discussion. 
Small Sunset is a deceptively simple object. It consists of two pieces of paper, one white and one blue overlapping a slice of sausage and encased in plastic. It was created in 1968 in an unlimited edition. Over the past 50 years, the oils in the sausage have leached into the paper, creating a golden halo that looks, well, like a sunset. The blue paper below makes it look like the sun is setting over water, casting a reflection, and some of the blue pigment has migrated toward the top, as if a line of sky is visible through the light of the setting sun. The color relationships are subtle and visually gorgeous. 
I have no idea how many are still in existence, but the images I have seen of other examples all look different; the action of the oil makes each unique. I also appreciate that time and biological processes are active agents in the creation of the image. 
Roth was an unusual artist, even during the 1960s, a decade of material experimentation. Born in Germany, Roth was raised in Switzerland, where he was sent by his parents during World War II. He displayed an early interest in art and studied commercial art in Bern, although he never worked in commercial art professionally. Instead, he devoted himself to a wide range of artistic and publishing projects which were distinguished by an interest in material and formal experimentation. Roth spent several years in the US, teaching at the Rhode Island School of Design from 1965–66, and it was during this period that he began making prints and editioned work using organic materials (primarily food). The images in these works are only fully realized by the process of organic decomposition, and their visual appearance is determined by chance. 
I am fascinated by viewers' reactions to Small Sunset. I love it when art sparks visceral emotions—particularly when it makes people angry. It opens up so many avenues for discussion and questions to explore: Is Roth's sunset objectively less beautiful than a sunset painting by Claude Monet? Is manual skill the most important thing in the creation of a work of art? Are there "proper" and "improper" materials to be used for art making?
One of the things I have always loved about Roth is his sincere interest in everyday materials. In the late 1960s, Roth explained the philosophy he tried to impart to his students: 
"So instead of remaining transfixed in admiration in the face of polished, technically effective objects—objects that are useful—try to gain the same admiration, or even a stronger admiration, or admiration that is easier to gain, for something that, should we say, is the opposite. Something that is not polished, not large and heavy, and that is useless. I have attempted to make them aware of cigarette butts, dust, small stones, pieces of broken glass, nails, screws."
This focus on the humble, the quotidian, as worthy of regard is very interesting to me, and I often wonder how differently humans would act if we routinely looked closely at and ascribed value to the commonplace things that surround us.  
We hope you enjoyed this installment of SCMA's Staff Picks series. We would love to hear which work is your favorite and why!