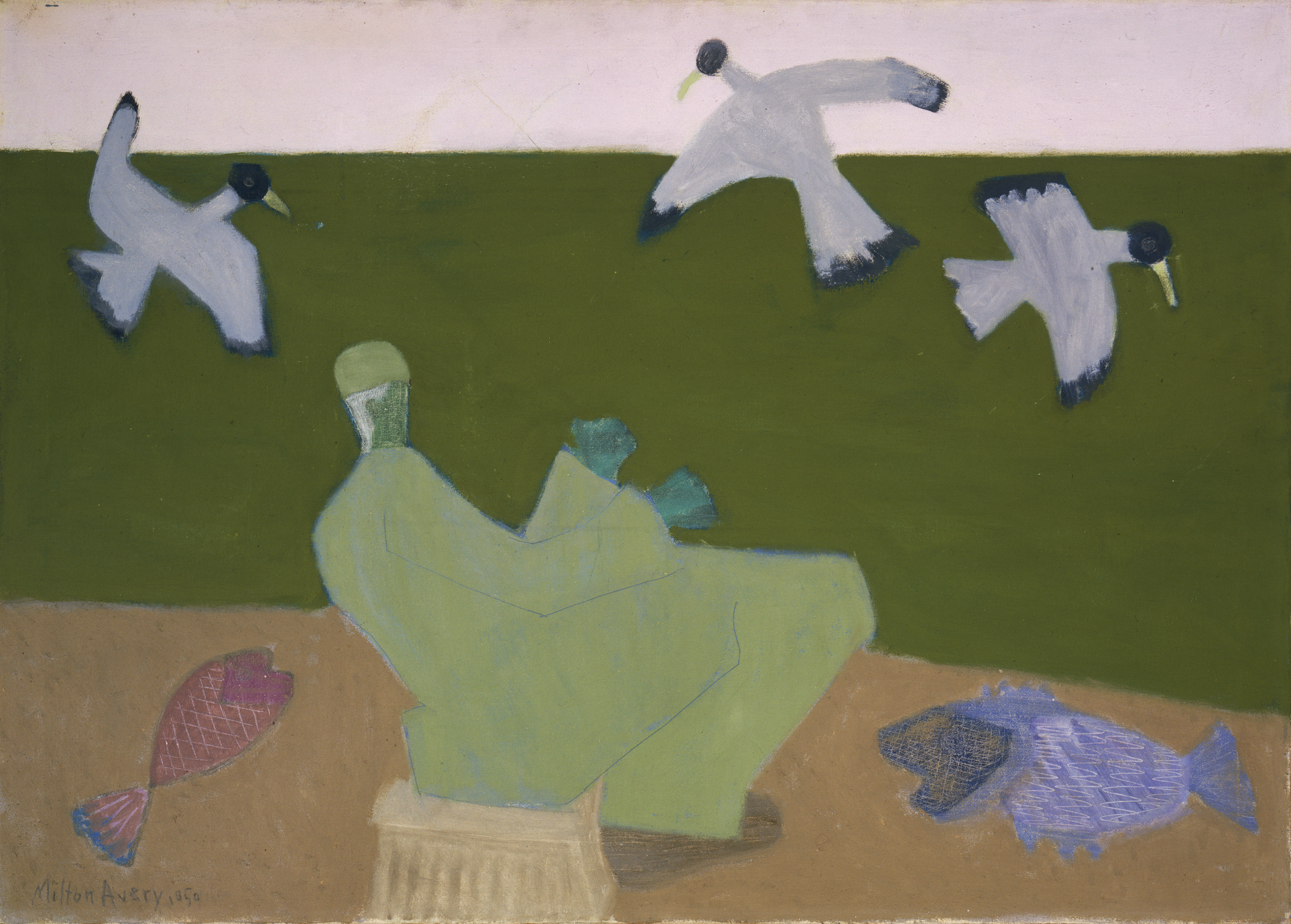 Staying Inside | Staying Connected
Staying Inside is a series on SCMAinsider that regularly features contributions from SCMA staff and students about what we are into right now, be it a book, a work of art, a song, a podcast, a recipe, a way to get outside, a performance; anything, really, that we are holding close or that brings us comfort and connection right now. Today's post is by Michael Thurston, Provost and Dean of the Faculty and Helen Means Professor of English Language and Literature.
---
It's not a great picture. The framing is awkward and there's a little glare in one corner (though I promise I didn't use a flash). I probably could have made the image larger and left less room around the edges, and I definitely should have stood straight on rather than at an angle when I shot it. 
It's a great picture. Three seagulls wheel around a central human figure who reclines on an overturned basket, his hands positioned as if to hold a fishing rod. The fisherman, who is perhaps about to cast his line (or is he pulling the pole back, drawing toward him whatever has struck his hook?), is all in light green. His hands and face are green, too, darker than his clothes. The sea he sits beside is also green, darker still, below a white horizon. He's had a good day; a red fish rests on the beach to his left and a blue one to his right. These, you can tell by the direction of their beaks and eyes, have drawn the attention of the gulls. Each fish is elementary in its drawing, scales are suggested by lines incised as if with the handle of the paintbrush. The surface of the painting looks almost chalky. 
The great picture—Milton Avery's Surf Fisherman (1950)—hangs in a third-floor gallery in the Smith College Museum of Art. The not-so-great picture is stored on my phone. It's one of a dozen or so that I took in a walk through the galleries on what I knew was going to be the museum's last day open for visitors. During a fugitive half-hour between meetings, I stopped in to visit some favorites that I knew I would not be seeing in person for a while, as well as some new acquaintances that I had come to love in a couple of walks through the Black Refractions visiting exhibition (paintings by Norman Lewis and Hale Woodruff). As I walked and paused and tried to absorb these familiar beauties, to store them up somehow for the weeks to come, I snapped some quickly so that I could at least enjoy these rough facsimiles as well. 
My thought that Friday was just that I'd want to have these pictures to look at for myself. Early in the quarantine, though, I started to share them with my daughters. Now grown and living far away (the twins in Pittsburgh, their older sister in D.C.), the girls had spent a lot of time in this museum when they were younger. They had come with school groups on field trips, of course, but they had also come along with me on rainy weekend afternoons or for an hour after school or when we had a spare few minutes and wanted to go take another look at a work that had caught our eyes before. The girls felt quite at home in the galleries, and I sometimes had to reassure a nervous-looking docent who was trying to figure out which of us to keep an eye on when we all split up.  We often visited favorites: Elmer's Mourning Picture, Childe Hassam's painting of Union Square, Degas's Dancer on Stage, Avery's Surf Fisherman. Now we're revisiting them in the weekly virtual museum visit I invite them to by sending a picture.
Our conversations were rarely the stuff of an art history class; any effort I made to get teacherly was immediately shrugged off or, more often, dissipated into parody (they have my classroom tones and gestures dismayingly down pat). Instead, we might make up a story about why Robert Henri's Dutch girl was laughing, or we'd wonder how cold the water must be in Rockwell Kent's Dublin pond. Or, after stopping in at the artist-designed bathrooms on the lower level, we might come up with alternative titles for Helen Frankenthaler's Blue Atmosphere (winner: That Time I Spilled My Paints). Didn't matter. We connected somehow, for a minute or two, through the medium of the artwork. Now, when I send a badly composed cellphone photograph of one or another of these (or one of our other favorites) on a locked-down Friday morning, our text exchanges are similarly unedifying. "Remember this one?" "That green is so pretty." "Reminds me of the Cape." "That's how I learned to draw fish!" Once a week now, we connect through them again.