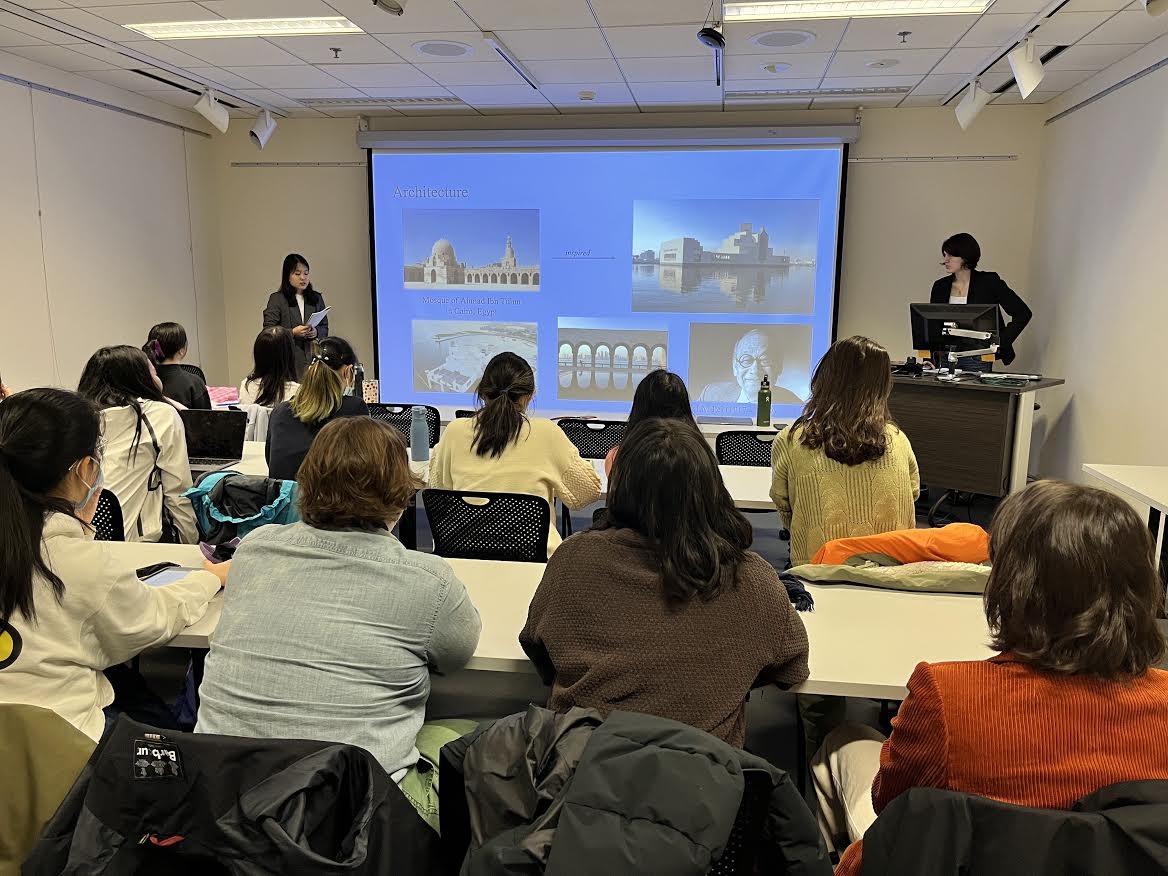 Studies in Museums J-term '23 Course: Provenance as a Key Issue
Mackenzie Peloquin '23 is a senior Art History major, Government minor, and Museums Concentrator. Mackenzie has completed curatorial internships at the Maine Historical Society in Portland, ME, the Emily Dickinson Museum in Amherst, MA, and Historic Deerfield in Deerfield, MA.
---
MUX 222: Collecting and Exhibiting Asian Art presented to students the constructed category of "Asian art" and effectively fleshed out how global institutions have developed and continue to shift their thinking and presentation of these cultural and artistic materials. Over the course of two short weeks, we had the opportunity to hear from a wide range of guest lecturers, ranging from curators and museum founders all the way to dealers and conservators. 
Our conversations varied widely in material and addressed many different aspects and avenues of museum work and while the goal of this class wasn't necessarily to focus so narrowly on any particular topic, many of the discussions, both with our guest lecturers and outside of their presentations, seemed to refer back to provenance as a key issue. 
The provenance of an object is its history: its records of ownership and how it came to be present within a collection. Provenance seems to be a buzz-word in museums right now. It's becoming more and more important for museums to allocate resources towards provenance research in specialized collections, such as that of Asian art, particularly in what we tend to refer to as Western institutions. Many of my own personal interests and professional aspirations surround provenance analysis and the subsequent repatriation of art and cultural heritage objects, so I was the most interested in the exchanges and open conversations brought about by our guest speakers in regards to their own work with provenance research.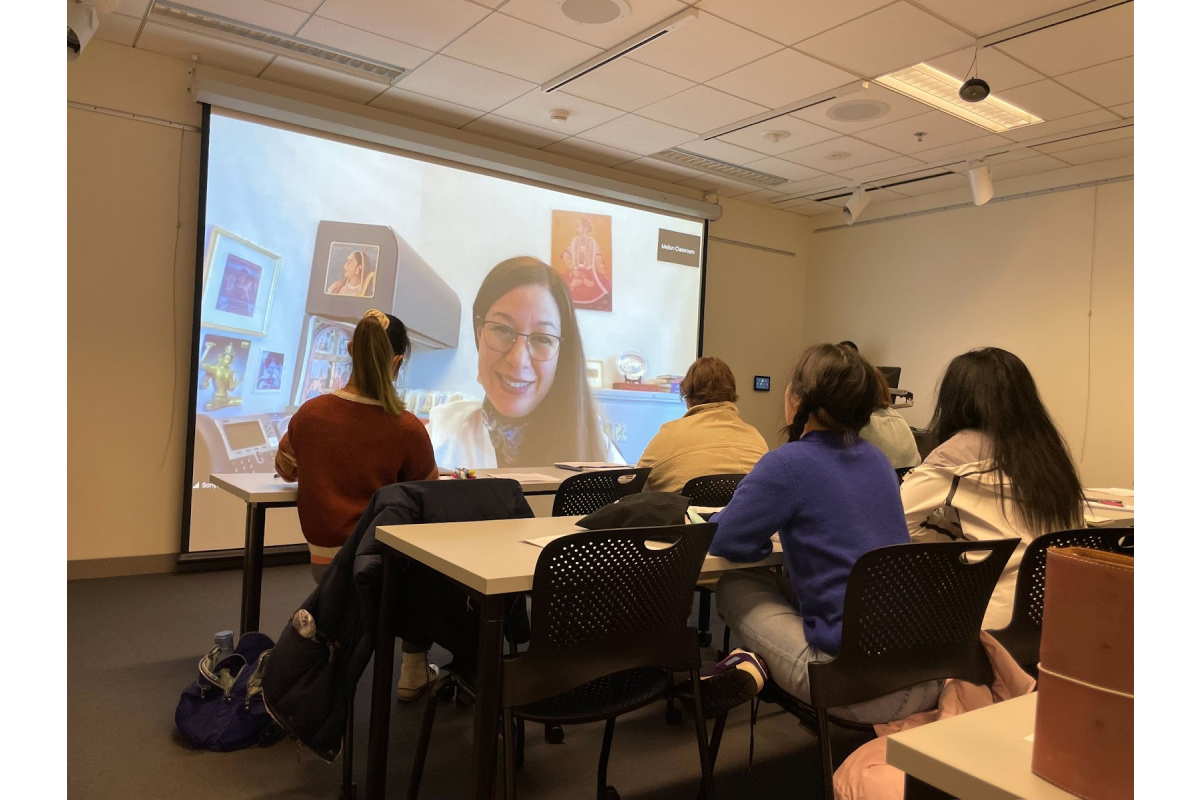 Students meeting with Dr. Sonya Rhie Mace
On our first day of class we heard from Dr. Sonya Rhie Mace '93, the George P. Bickford Curator of Indian and Southeast Asian Art at the Cleveland Museum of Art. She presented a series of connected case studies surrounding the repatriation of three Cambodian sculptures, one of which was previously held by the Cleveland Museum. Dr. Mace detailed her extensive involvement in the research and analysis which eventually resulted in cooperation efforts between the Cleveland Museum of Art and the Cambodian government to facilitate the return of the sculpture. I came away from Dr. Mace's talk with a better understanding of the role of a curator in a larger institution. I was surprised to learn the breadth of her curatorial work, including her direct involvement in the fieldwork and historical research surrounding the provenance of museum objects.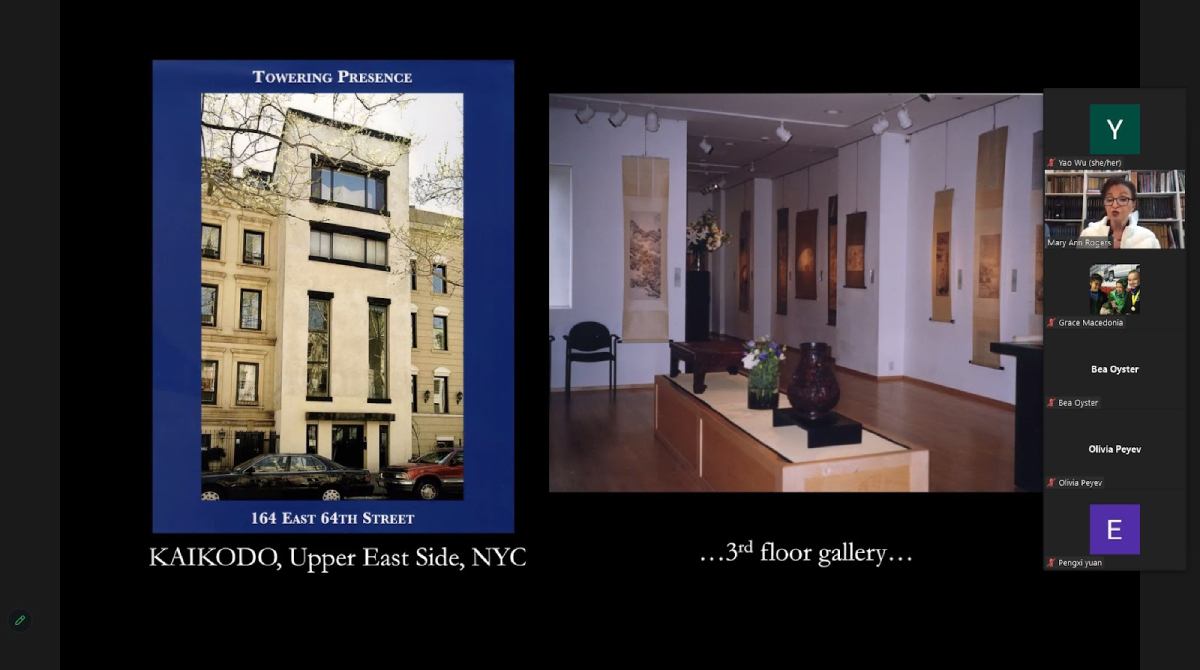 Screenshot from Mary Ann Rogers' presentation
Throughout the following week we continued to bring ideas about provenance into our discussions. We had the opportunity to hear from Mary Ann Rogers, who co-founded Kaikodo, a prominent gallery and well-known source for Asian art, with her husband Howard. Mary Ann discussed her journey through the art world and the process of building Kaikodo and their reputation as dealers from what began as a simple interest in collecting Asian art. Throughout our conversation with Mary Ann, provenance came up once again, but this time through a different lens. I was surprised to hear Mary Ann express a kind of frustration when speaking about the growing necessity of historic documentation in the name of provenance analysis. She explained that in her business, there are often important and meaningful art and cultural objects which she has either been unable to purchase or sell due to the lack of historic documentation and record-keeping. For Mary Ann, this increased focus on provenance has resulted in a kind of disconnect in the way buyers, especially museums, are thinking about art and cultural objects. It can appear as if the documentation associated with an object is more important than the object itself and the story the object has the potential to tell. This trend in the art and museum world of prioritizing provenance has shifted some of the ways that Kaikodo has been able to do business. Mary Ann explained that they have largely had to turn their focus to old Japanese collections of Chinese art because those objects tend to have the most accessible documentation supporting their provenance. This perspective of the dealer in relation to provenance was incredibly interesting and something we hadn't previously discussed. I had never thought about the need for provenance as a potentially "negative" thing. Mary Ann's story of Kaikodo provided us with a very personal account of what it's like to build a life and business around Asian art. 
Dr. Sonya Rhie Mace and Mary Ann Rogers were only two of the amazing line-up of guest speakers we heard from in this course. Their comparative approaches to thinking about provenance allowed us to walk away with a broader understanding of what it can mean to be a part of museums as values and collecting practices shift. The conversation around provenance and about its role in the collecting and display of Asian art goes far beyond what we were able to touch on in this class and I hope to continue to pursue these topics as museums progress in their efforts to address the work needed to maintain these collections.