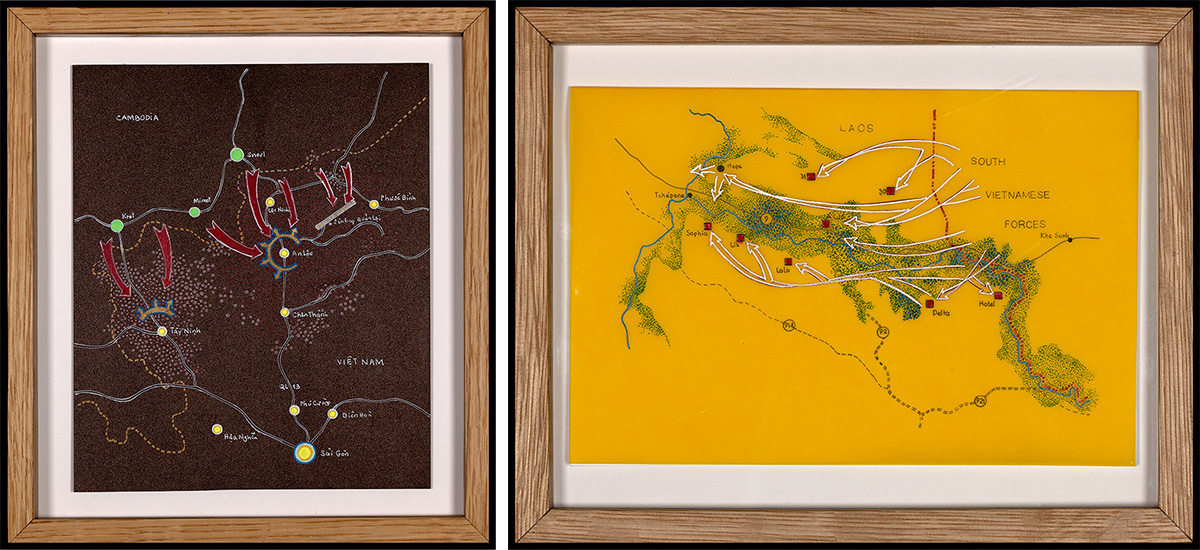 Tiffany Chung: Re-Mapping Memories of the Vietnam War
April 30th, 1975 marked the fall of Saigon and the end of the Vietnam War. This blog post by Diem Nguyen '25 honors its 48th anniversary and welcomes the beginning of May, AAPI Heritage Month with maps of Vietnamese-American artist Tiffany Chung.  Diem Nguyen '25 is a sophomore interested in art history. She currently works with Yao Wu, Jane Chace Carroll Curator of Asian Art, as an Asian Art Curatorial Assistant.
---
April 30th, 1975 marked the fall of Saigon and the end of the Vietnam War. I wanted to create this blog post to honor its 48th anniversary, as well as welcome the beginning of May, AAPI Heritage Month.
When I became an Asian Art curatorial assistant, I knew I wanted to explore Vietnamese artists in SCMA's collection. Tiffany Chung stood out due to her family's history with the Vietnam War and her exploration of hidden stories and histories.
Born in 1969 in Da Nang, Tiffany Chung grew up in Vietnam during the war, and came to America with her family as refugees. Chung received an undergraduate degree in photography from California State University, Long Beach, and a Master of Fine Arts in Studio Art degree from the University of California, Santa Barbara. She used to be a part of the earlier generation of overseas Vietnamese returning to Saigon to live and work from 2000 – 2017. During that time, she participated in the creation of the activist art center Sàn Art with other Vietnamese artists like Dinh Q. Lê and Tuan Andrew Nguyen. She is now based in Houston, Texas. Chung is known for her multimedia work that explores migration and shifting geographies in the midst of political and natural upheavals.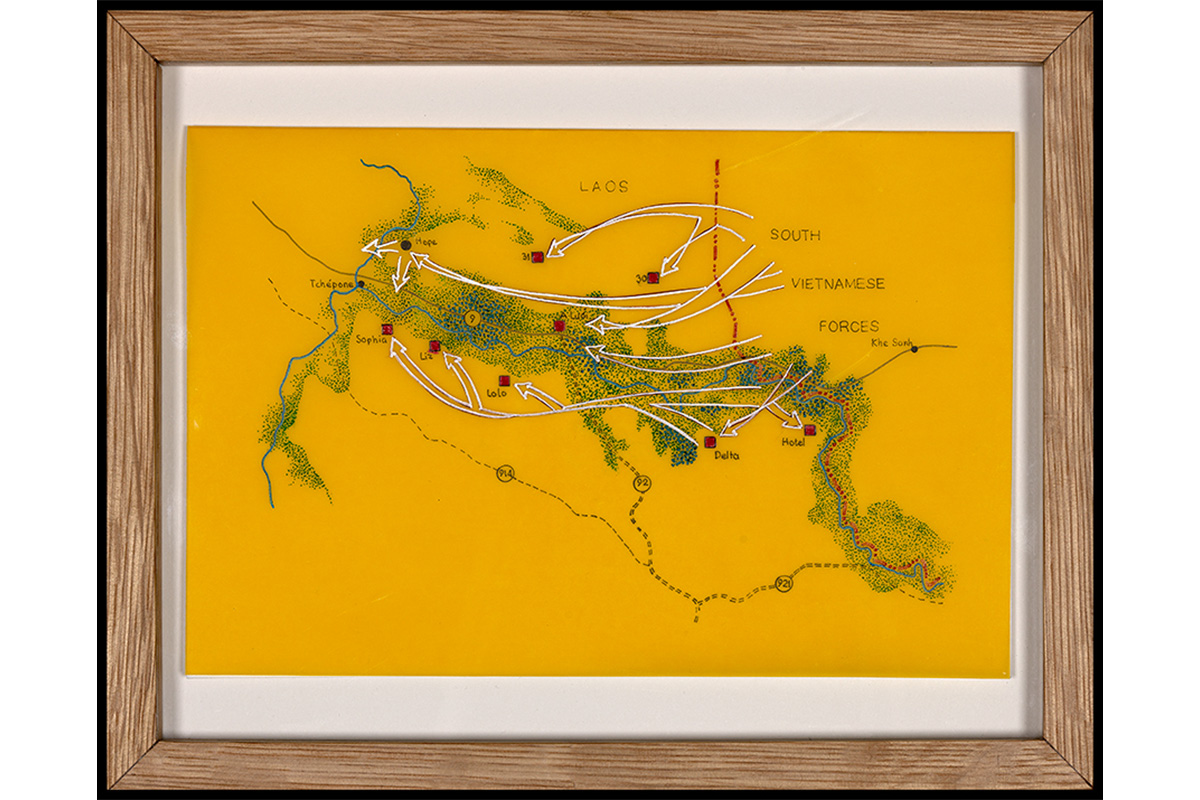 Tiffany Chung (b. 1969). Operation Lam Son 719 in 1971, 2015. Oil and ink on vellum mounted on paper. SC 2016.60.8.
In SCMA's collection, Chung's artwork consists of maps depicting significant battles of the Vietnam War, like Operation Lam Son 719. While there are various versions of such battles being told—from the South Vietnamese, North Vietnamese, and American perspectives—Chung wants to think about the people actually affected by the conflict. In a 2016 interview with the Louisiana Museum of Modern Art, she points out: "The people who are affected by it, the casualties of the war, what is their version? In a lot of Hollywood movies, you mostly hear the American voices; you hardly hear the Vietnamese voices. We were the extras, we were the people running around in the background, the Americans were the heroes." Her maps challenge dominant narratives of the Vietnam War and highlight the voices and stories of former Vietnamese refugees. Her research process—typically starting from a series of buried numbers, personal testimonials, and political statistics—is inspired by her father, a helicopter pilot who fought for South Vietnam during the war.
A map I was particularly interested in was of the 1972 battle of An Lǭc. The battle of An Lǭc was a major offensive campaign launched by the North Vietnamese army to capture key cities in South Vietnam. An Lǭc was a strategic location as it was a major transportation hub and the last major city before Saigon. Ultimately, the South Vietnamese army, along with US and other allied forces, held off the North Vietnamese assault. Before her remapping, Chung looked through her collection of old maps of An Lǭc. She located the Lǭc Ninh airfield and other abandoned airfields and marked those regions as the sites of the gravest battles. As Chung states, "To study history, one needs to look at maps. To study a map, one needs to remap it." Her father had frequently gone to those airfields for his missions prior to his capture, making her maps almost like a personal heirloom.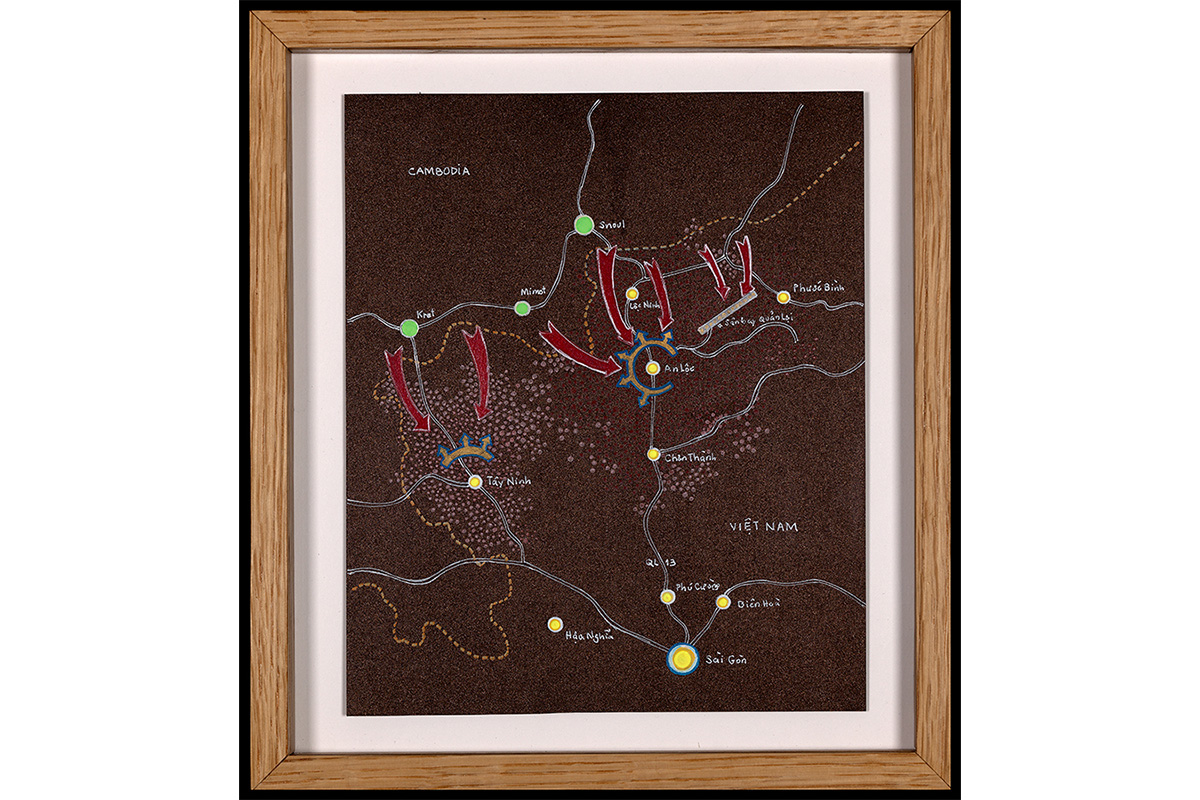 Tiffany Chung (b. 1969). Battle of An Lǭc [Easter Offensive] 1972, 2015. Oil and ink on vellum mounted on paper. SC 2016.60.4.
Chung also explains that she does not "give answers" in her work. The viewers are challenged in terms of wondering what the story and truth really are. The places and events represented on the maps are personal and historically significant, but the visual details are purposefully inexact. This ambiguity shows how the maps document loss and speak to the inaccessibility of the past.
Her maps urge us to wonder how we would ever know about the lives of people like her father. Their memories, dreams, and fears existed, albeit denied in official records. In light of the fall of Saigon's 48th anniversary, Chung's maps make us look for non-mainstream stories of the Vietnam War. Additionally, in honor of AAPI Heritage month, I hope readers are able to explore more Asian-American artists like Tiffany Chung and their incredibly important work.