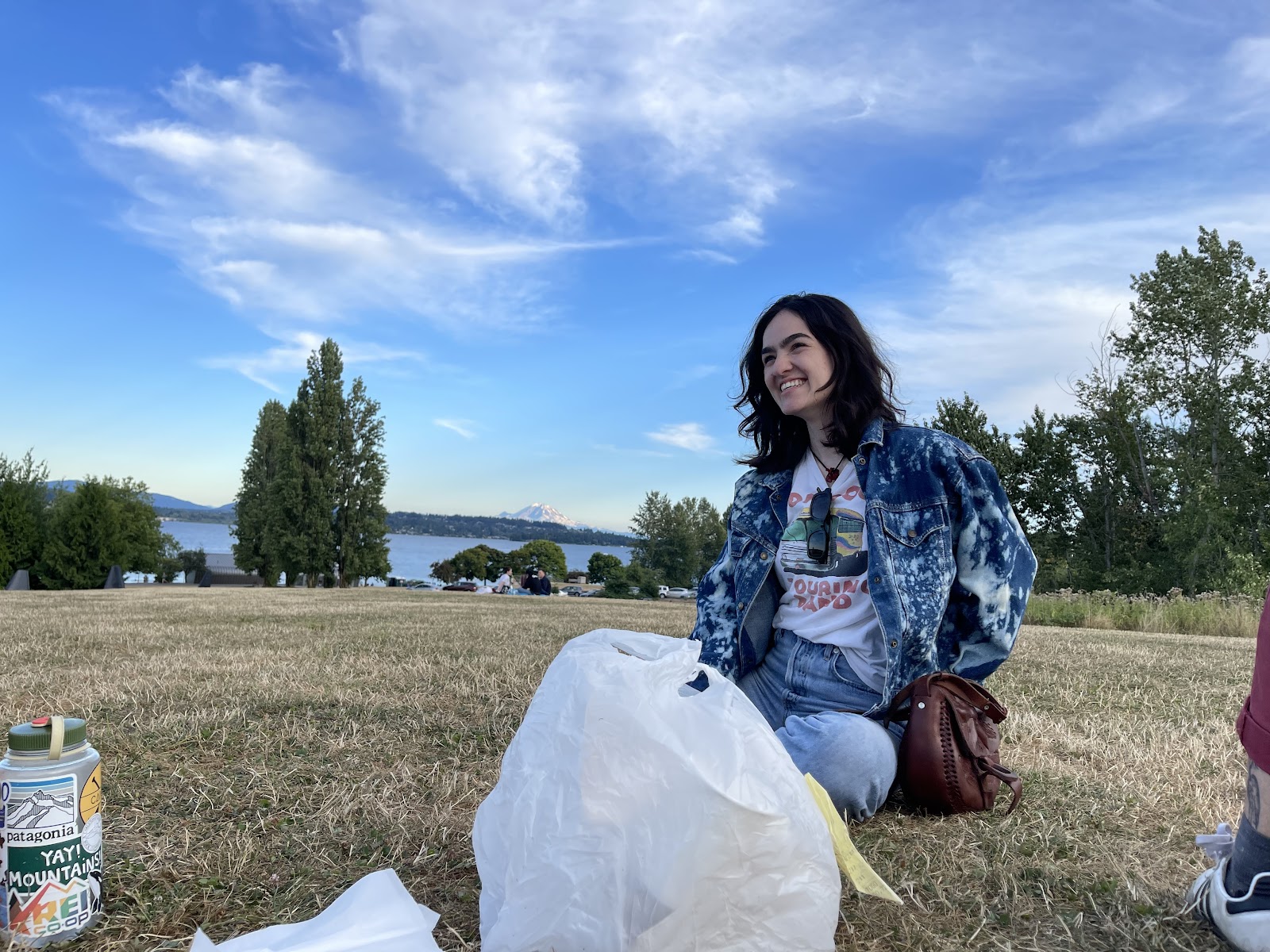 Welcome Curatorial Fellow Kamala GhaneaBassiri!
Hi! I'm Kamala GhaneaBassiri (they/them), the new two-year Bodnar post-baccalaureate curatorial fellow at SCMA. I am joined by museum education fellow Chaia Leibowitz (she/they) and marketing and communications fellow Julia Giguere (she/her) who will introduce themselves in separate blog posts in the next couple of weeks.
I'm originally from Portland, OR, but moved to Northfield, MN to go to Carleton College, where I earned a B.A. in Religious Studies with a focus on Islam. During college, I followed many of my different passions, like fashion design, public policy, international relations, and journalism, and even toyed with the idea of being an artist and/or a professor (both of which are not off the table yet). After I knew I wanted to pursue Religious Studies, however, I started thinking more intentionally about the intersections between the arts and my academic background.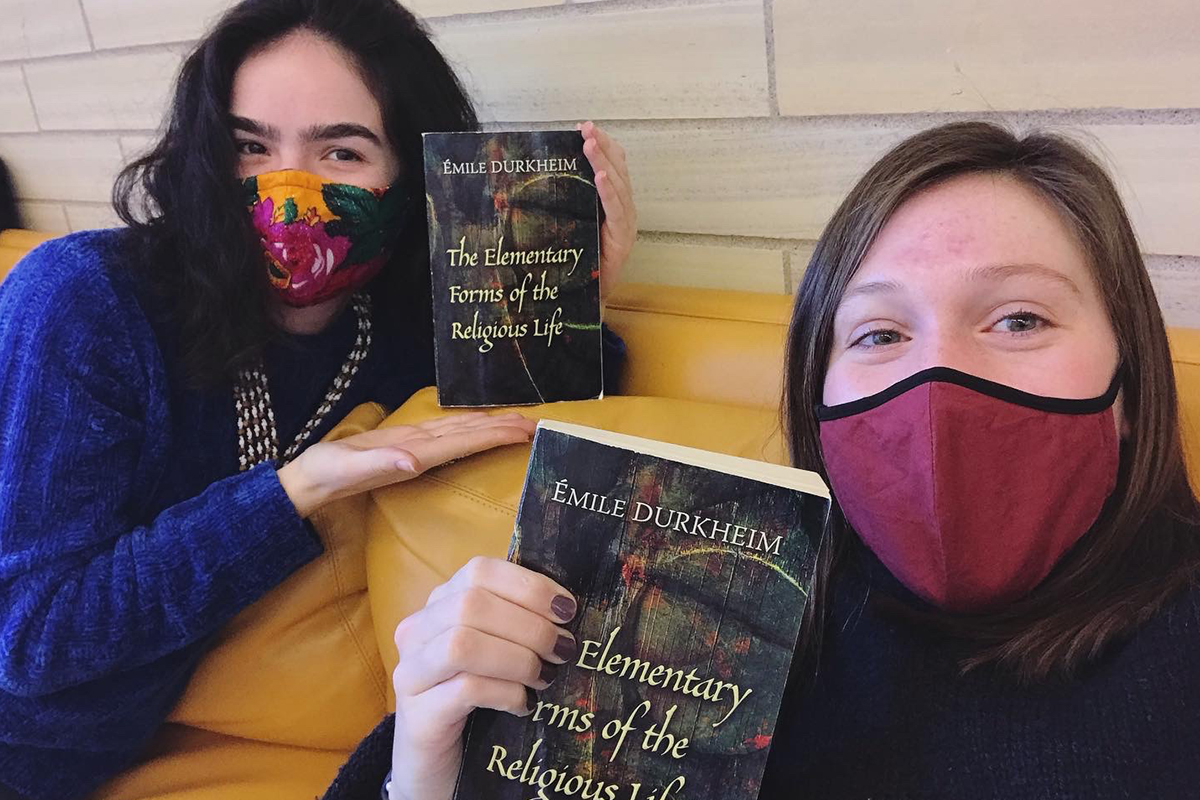 Kamala GhaneaBassiri (left) with fellow Religion major Claire Neid (right)
That's when I reached out to Judy Margles, now former Executive Director of the Oregon Jewish Museum and Center for Holocaust Education, to learn more about her work and to see if there were any opportunities for me at the museum. During my sophomore year, I ended up collaborating with Judy to research Salvador Dali's twenty-five commissioned lithographs commemorating Israel's 20th anniversary. As we brainstormed ways to contextualize the lithographs while also addressing the displacement of Palestinians, I realized that I could see myself pursuing a career in museums. I felt lucky to have found a career path where I would constantly be learning new things and pushing people to think more deeply about themselves, their communities, and the world.
During my last year at Carleton, I worked as a curatorial assistant at the Perlman Teaching Museum, where I co-curated an exhibition on the legacy of the first MFA program in printmaking at the University of Iowa with fellow curatorial assistants Esme Graham and Lea Winston and another on the history of campus planning at Carleton College as part of a curatorial seminar taught by my supervisor Sara Cluggish. Working at the Perlman solidified my desire to work in a museum. While I had an inkling that I wanted to pursue curation, I also loved the work I did in exhibition design and programming, and the talks I gave to students, staff, and faculty about current exhibits.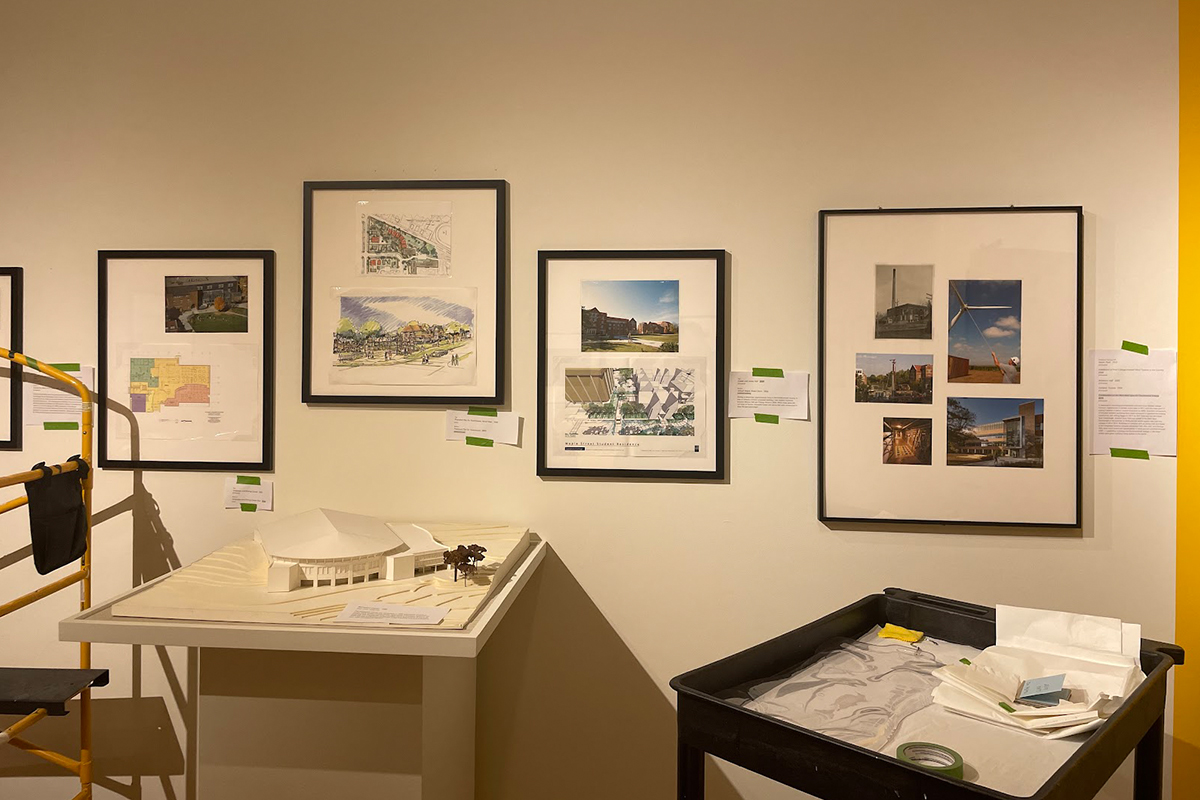 Photograph taken during the installation process for Imagined Futures, Forgotten Pasts - A History of Carleton's Campus at the Perlman Teaching Museum
During my senior year, I feverishly applied to a dozen different museum internship programs and when I graduated I decided to move to Chicago for the McMullan Arts Leadership Learning and Public Engagement internship at the Art Institute of Chicago. During my time at the Art Institute, I gave over a hundred tours to K-12 Chicago Public School groups and Chicago Public Library groups and spent a lot of time in the Ryerson & Burnham Library to prepare for tours, researching anything from a Yoruba crown to Honoré Daumier's bronze busts of what he called the Legislative Belly under King Louis-Philippe. While I loved seeing the direct impact my research had on tours and enjoyed having conversations about repatriation and colonialism, I realized I was still drawn to curatorial work as a different way to connect with the public.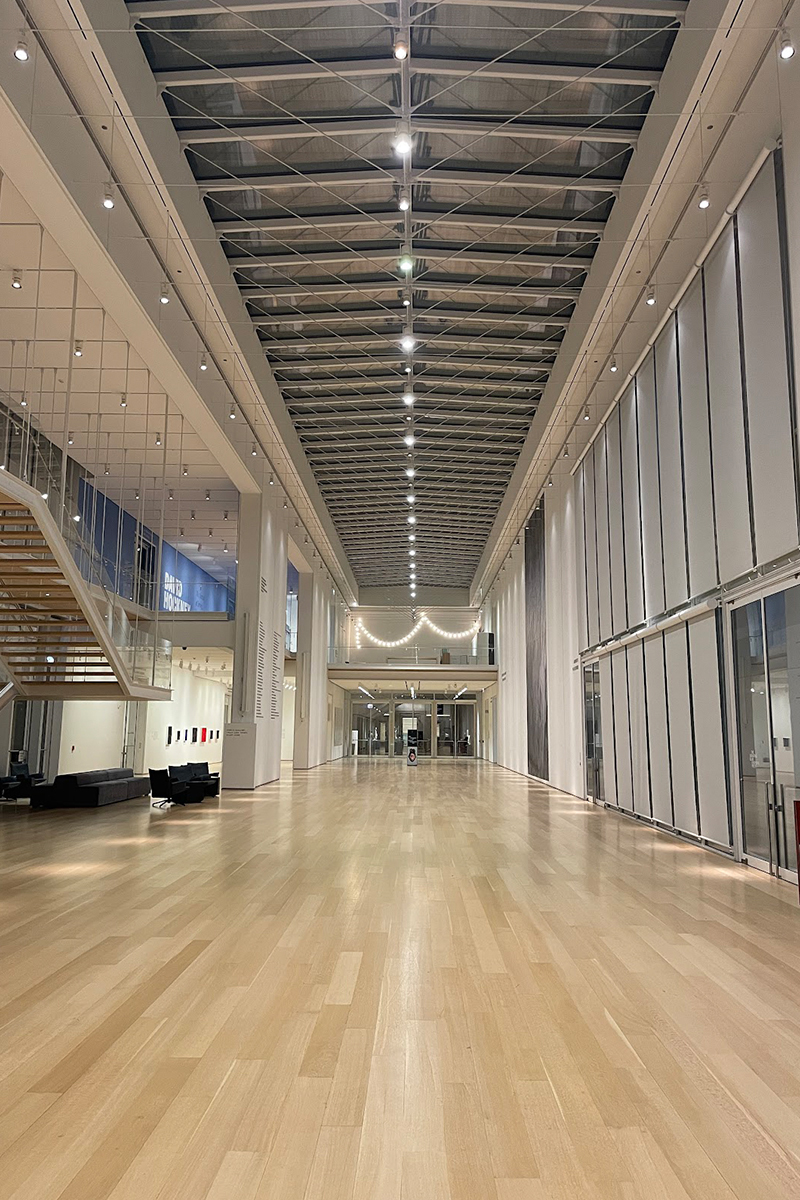 The Modern Wing at the Art Institute of Chicago after hours
After my internship ended, I applied to many different jobs and internships, still feverishly, and ended up working part-time as a museum educator at the Art Institute and a curatorial intern at the Museum of Contemporary Art in Chicago (MCA). As a curatorial intern at the MCA, I developed a better understanding of what curatorial work at a large contemporary art museum looks like. I had the pleasure of working on many stages of exhibition development. For example, I worked on Carla Acevedo-Yates' show, Entre Horizontes: Art and Activism Between Chicago and Puerto Rico, writing wall labels, picking articles and chapters for reprint in the exhibition catalog, and conducting art historical and archival research. My research for Carla's show revealed that Puerto Rican activists and political prisoners' solidarity with Mexican, Palestinian, and Iranian activists in Chicago helped them better articulate their relationship with the United States as an imperialist and colonialist empire. I also worked with Iranian Chicago-based artist Maryam Taghavi on her first solo exhibition and researched cultural cannibalism, the architectural history of Iraq, and the Iraq war for Bana Kattan's upcoming solo exhibition on Iraqi artist Wafaa Bilal and its exhibition book. I even got to exhibit my art on the staff art wall!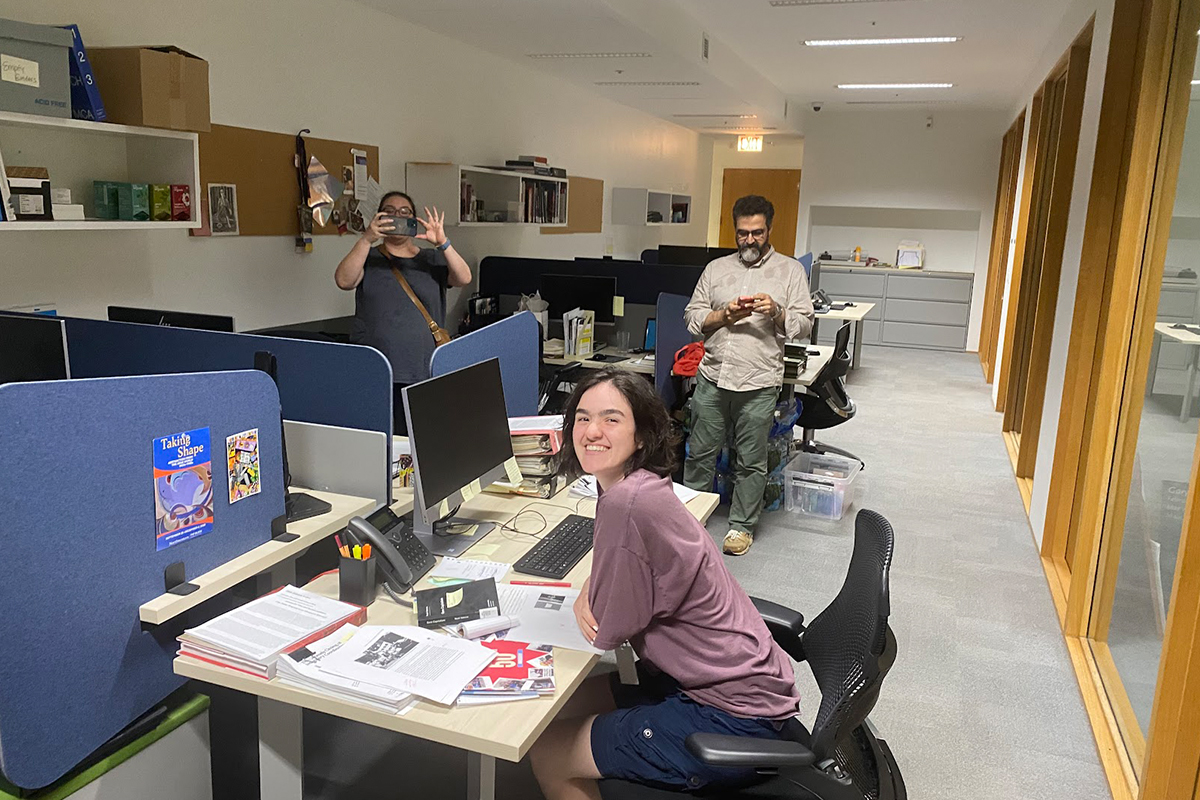 Kamala GhaneaBassiri sitting at their desk at the MCA with their parents in the background
And now I'm here! At SCMA, ready to hit the ground running and put all of my experiences to work. I am so grateful for all of the people I've worked with and been mentored by and can't wait to work with everyone at Smith and the greater Northampton community. I'm very excited to write about the museum and its collection here, and have curators, student workers, and staff at the museum contribute too!