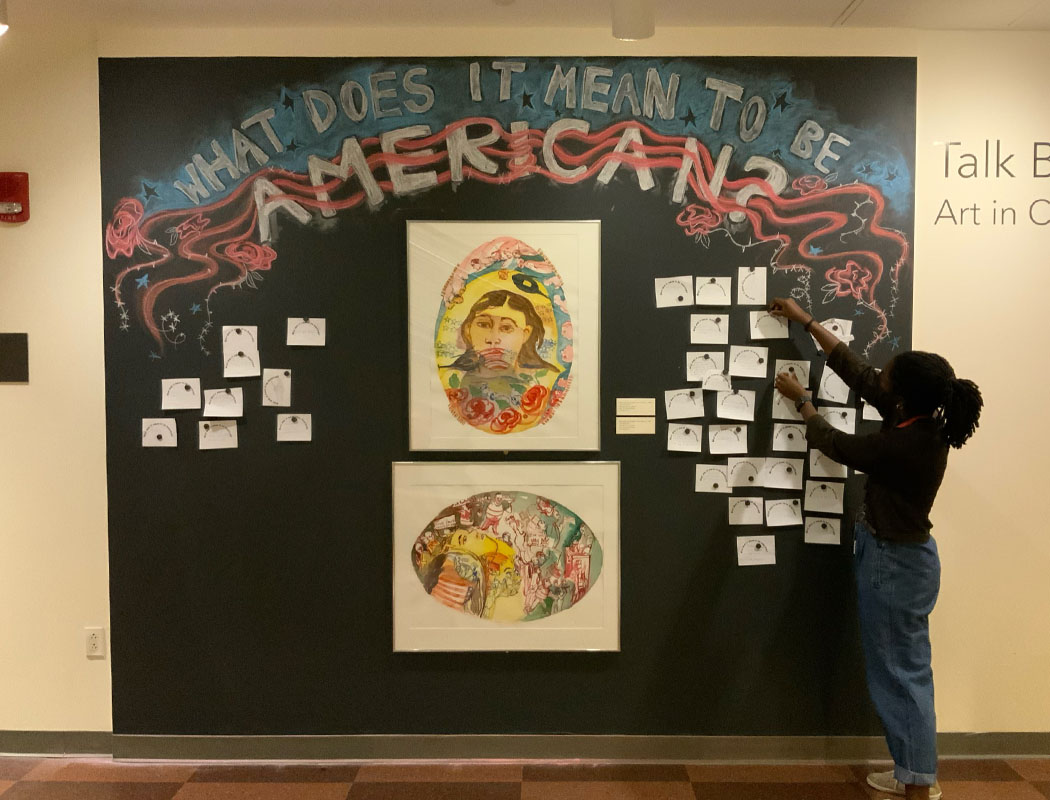 What Does It Mean to be American?
Kayara Hardnett-Barnes 23' is currently working in the museum as a Student Museum Educator. She is studying Sociology and Film and Media Studies at Smith. Read about her experience creating and installing the interactive exhibit currently in the Talk Back Space.
---
During Summer 2021 I worked with Gina Hall, SCMA's Educator for School and Family Programs, on selecting an artwork for SCMA's Talk Back space. The space is an area where an artwork is hung on a wall alongside a question written in chalk. Slips of paper, pencils, and magnets are available for viewers to leave their responses to the question around the work of art. Since the theme of the current school year is democracies, we went into the process of selecting a work of art with that in mind, in the hope that it would provide additional encouragement for students to respond.
We began our search by looking through the database of SCMA's collection, focusing on works on paper. We wanted to find a work that was fairly large, had a lot of details to be discussed, and that was clear. Considering that the museum has over 24,000 works on paper, we had a lot of choices. That said, we could only use the works that have been fully catalogued and matted. When Gina and I first met with curator Aprile Gallant, for example, we asked to see some works from English artist Sue Coe. A few of the works by her we were hoping to see, were unfortunately not matted. As we walked into the Cunningham Center however, we noticed another artwork that was on display in preparation for a visit by Smith College's Precollege Programs. The work was the first of two watercolor works by Maria de los Angeles, both called Untitled. Gina and I were immediately captivated.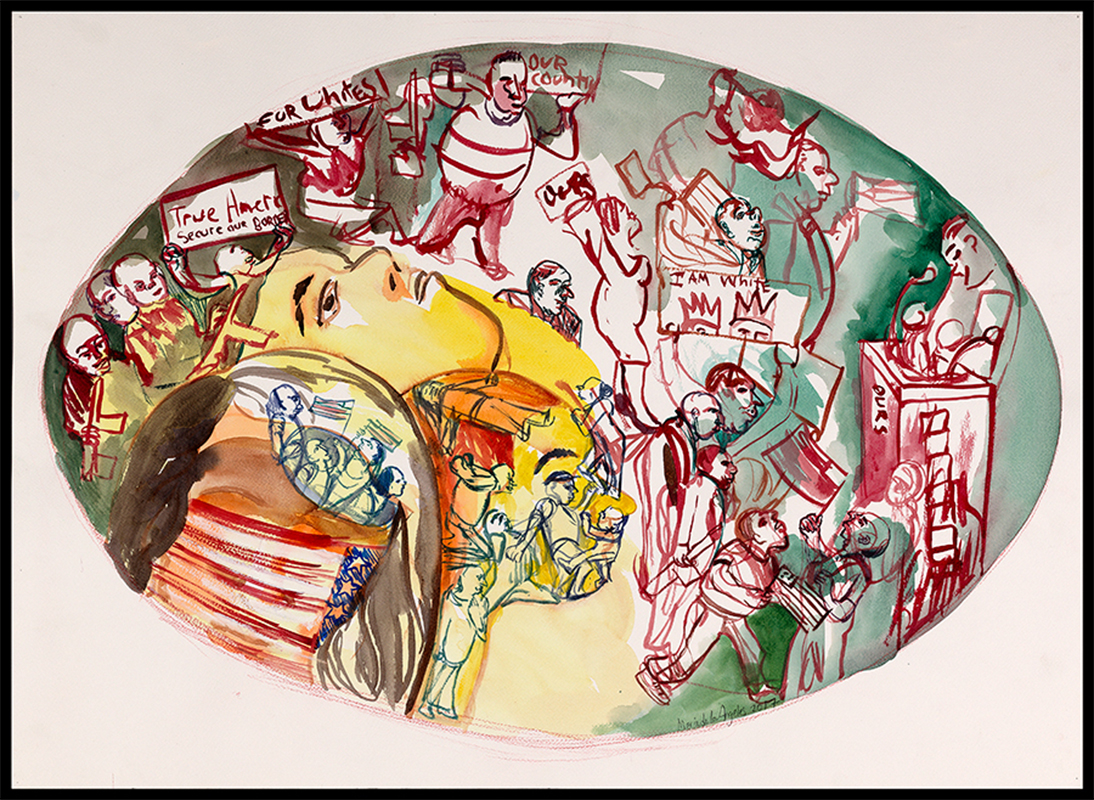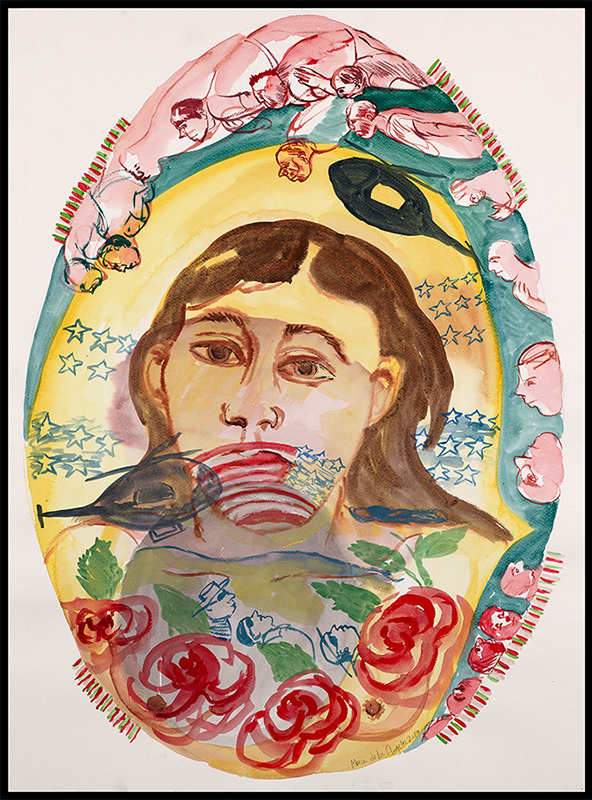 Now that we had selected artworks, the next step in the process was to begin thinking of a question to accompany the art. Gina and I started by printing out images of the watercolors, and hanging them in the Talk Back space, then practicing "slow looking" to see what we noticed. We took some time to observe in silence. As we began noticing different things, we pointed them out to each other and then resumed looking. After that I took some time on my own to do some background research on the artist. I found out that Maria de los Angeles is a DREAMER from Mexico who grew up in California. I watched some interviews and informational videos about her and learned that she often explores themes of home, displacement, and love, among other similar concepts. After I had finished researching, I thought further about what I had found in combination with my initial takeaways. I wrote down the first words that came to mind: 
Flags
Patriotism
Immigration
Xenophobia
Sense of homeborder
War
Government
Law
Agriculture
California
Jobs
Rallies
Protests
Vulnerability 
Protection 
Anger
Silencing
Identity
Freedom 
I took those concepts and created about six different questions, all in rough draft form. The next step was to edit, edit, edit. Then, Gina pulled out a small easel and put a blank piece of paper on it. We wrote out our favorite questions and talked about what we liked and disliked about the choice and placement of different words. We placed ourselves in the shoes of visitors and thought about the significance of the questions in relation to the artworks.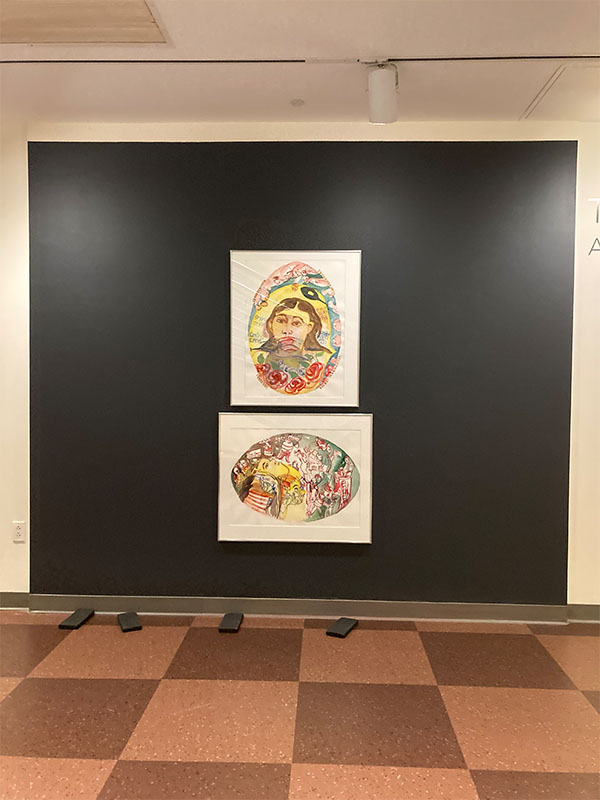 For example, here are two of the initial drafted questions.
What does American Patriotism look like to you?
I was inspired to write this question based on a powerful depiction in one of the artworks of a figure whose mouth is being covered by an American flag, and also based on some of de los Angeles's interviews. While I originally liked this question the best, discussions with Gina revealed to me how divisive and aggressive the word "patriotism" has become, especially in the United States. Looking at de los Angeles's works with that phrase in mind does create a powerful story, but it also leads the viewer into a particular interpretation. While we want to write questions that honor the artist's intentions, we also want to give viewers room to notice other aspects of the work and come to their own conclusions about what it is ultimately saying. If a viewer does think of patriotism, I want to give them the space to do so on their own and let the work speak for itself. 
Have you ever felt silenced in your life? If so, in what ways? 
I wrote this question with the goal of having any viewer relate to it and to be able to comfortably answer. The problem with this approach, I realized, is that it gives too much room for some of the important themes of both artworks ( identity, nationalism, race, gender, etc) to be lost. A question like this one takes away the specificity of who is being silenced in the artwork, thus silencing them even further for the benefit of comforting the viewer.
As Gina and I continued to discuss these questions and the many others, I asked myself, how does this question make me feel? How does it enhance the experience of observing this work of art? Our goal is to write questions that encourage museum visitors to think deeper about a work of art. The questions should not only promote closer looking, but also touch upon the intentions of the artist. In the end, we settled on this question: 
What does it mean to be American?
This question does a lot of work in a small amount of words. It asks those who are American to look within and around them and comment on what they see and feel. It asks those who are not American to shed light on what values and intentions they observe from the outside. It introduces the topic of citizenship in a subtle yet bold way, and encourages us to think about the discourse surrounding the process of becoming and remaining a permanent resident of the United States safely. It holds space for talking about privilege and who is allowed to feel as though they belong. Most importantly however, it asks us to dissect and deconstruct the meaning and history of being "American," and to consider who reaps the benefits of such a title. 
My favorite part of the process of constructing the Talk Back space was workshopping and thinking deeply about what questions to ask. The final step was to install the artwork and design the question in chalk above it, which was beautifully done by Sophie Willard Van Sistine '22J. Sophie used the iconography from the watercolors to inform her design. I love walking down to the lower level and seeing her wonderful work completed by all the powerful responses being left on the wall every day. If you haven't seen it yet, I'd strongly encourage making a trip over to the museum to see for yourself. The two watercolors by Maria de los Angeles will be on view in the Talk Back space until the end of the semester.