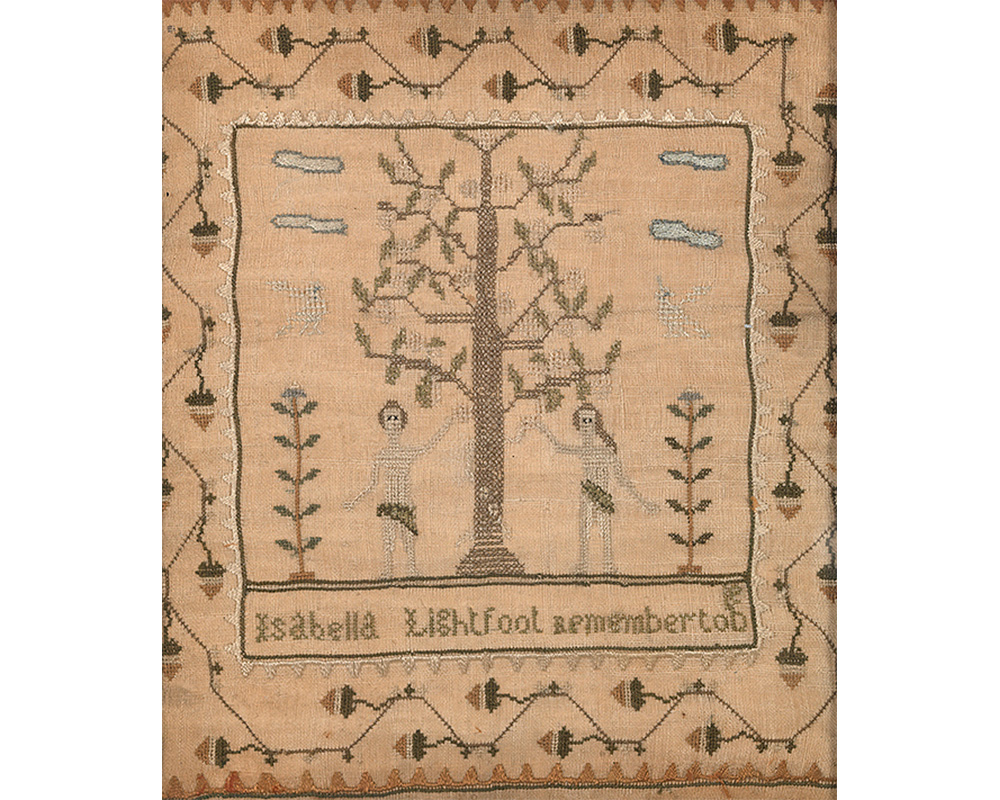 "When this you see remember me": Embroidered Samplers at SCMA
Guest blogger Abby Moon is the Post-Baccalaureate Fellow in Museum Registration. She's a graduate of Clark University and is currently pursuing a Master of Arts in Teaching at Smith College.
---
This museum has art made by children in its collection. To be more specific, SCMA has a few 18th and 19th century colonial American embroidered samplers, and samplers were usually made by middle and upper class school-age girls. Girls worked on their first samplers when they were as young as six or seven. These first samplers were called marking samplers, and they often featured the alphabet and numbers along with demonstrations of basic embroidery techniques. If girls attended secondary school, they might also make another more decorative embroidery, called a pictorial sampler.
There are two pictorial samplers in the SCMA collection by Isabella Lightfoot. Both were given to the museum by Caroline Wing Roberts in 1968. SC 1968.30.211 is an embroidery of Adam and Eve beside the Tree of Knowledge, with a snake wrapped around the trunk between them, and "Isabella Lightfoot remember" written below. SC 1968.30.212 has a picture of woman in white standing in a flat landscape with the word "Prudence" written below her. Both embroideries have a similar decorative vine border.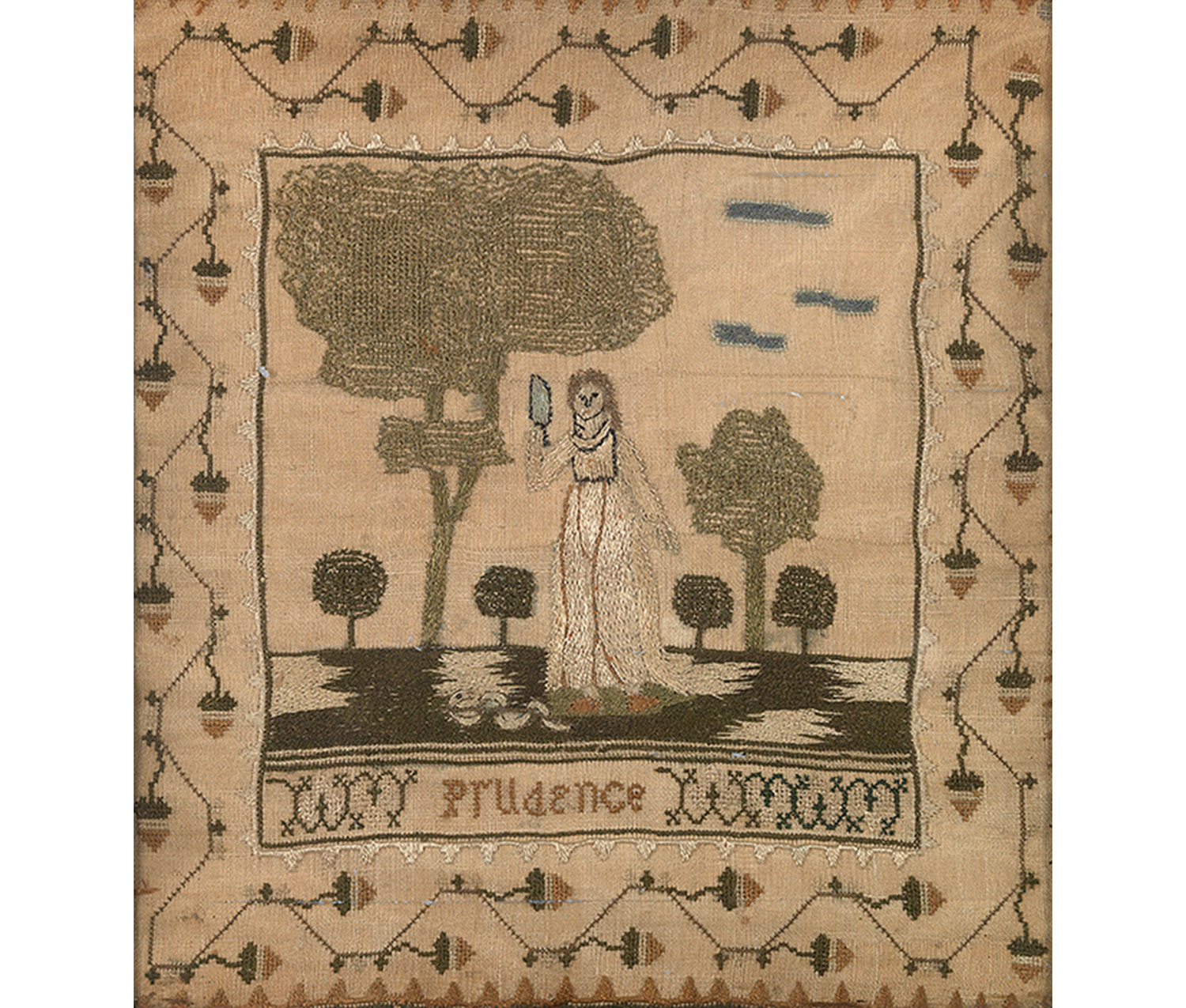 Lightfoot, Isabella. American. Embroidered Picture; Prudence, 19th century. Linen embroidered with cotton thread in cross and satin stitch. Gift of Caroline Roberta Wing, class of 1896. SC 1968.30.212.
Adam and Eve appear in many English and American samplers. This is maybe because their story in Genesis 2 and 3 touches on several subjects that girls in these contexts were supposed to be thinking about, like the power of God, the inevitability of death, and the importance of modesty. Isabella's embroidery of the subject captures the moment before Adam and Eve make the hasty decision to consume the forbidden fruit – their hands are poised just below the branches of the tree. In the "Prudence" embroidery, the central figure is dressed in white and she holds a mirror up to her face. A snake winds along beside her left foot but she pays no attention to it, and in doing so she effectively avoids sin and remains virtuous. The mirror in this context seems to symbolize the importance of remembering oneself in the face of temptation. The virtuous woman in the "Prudence" embroidery acts as a foil to the sinful, selfish Eve. The content of samplers expressed and enforced class and gender expectations of the period, as exemplified by Isabella's dichotomous treatment of feminine subjects in these embroideries. Samplers are often fetishized as "quaint" colonial kitsch in popular culture, but they are also very interesting objects for study. They are some of the only representations of art made by children that are preserved in many museum collections, and they often include symbolic imagery or deal with unexpectedly complex themes.
I haven't been able to find any additional information about who Isabella Lightfoot was - I only know that she made these two works of art. Often samplers are the only remaining testaments to the lives of the girls who made them. Some of these young artists seemed to have foresight of this, and they actually acknowledged their imminent deaths in their samplers and asked to be remembered by future viewers. One of my favorite examples of this type of morbid message is in a sampler by Phebe Hart in the collection of the MFA Boston: "Phebe Daughter of Asa and Rebeckah Hart who finish her work June the 7 18- when I am ded laid in my Grave and all my bones are rotten when this you see remember me least i should be forgotten. Phebe hart." (https://www.mfa.org/collections/object/sampler-65833)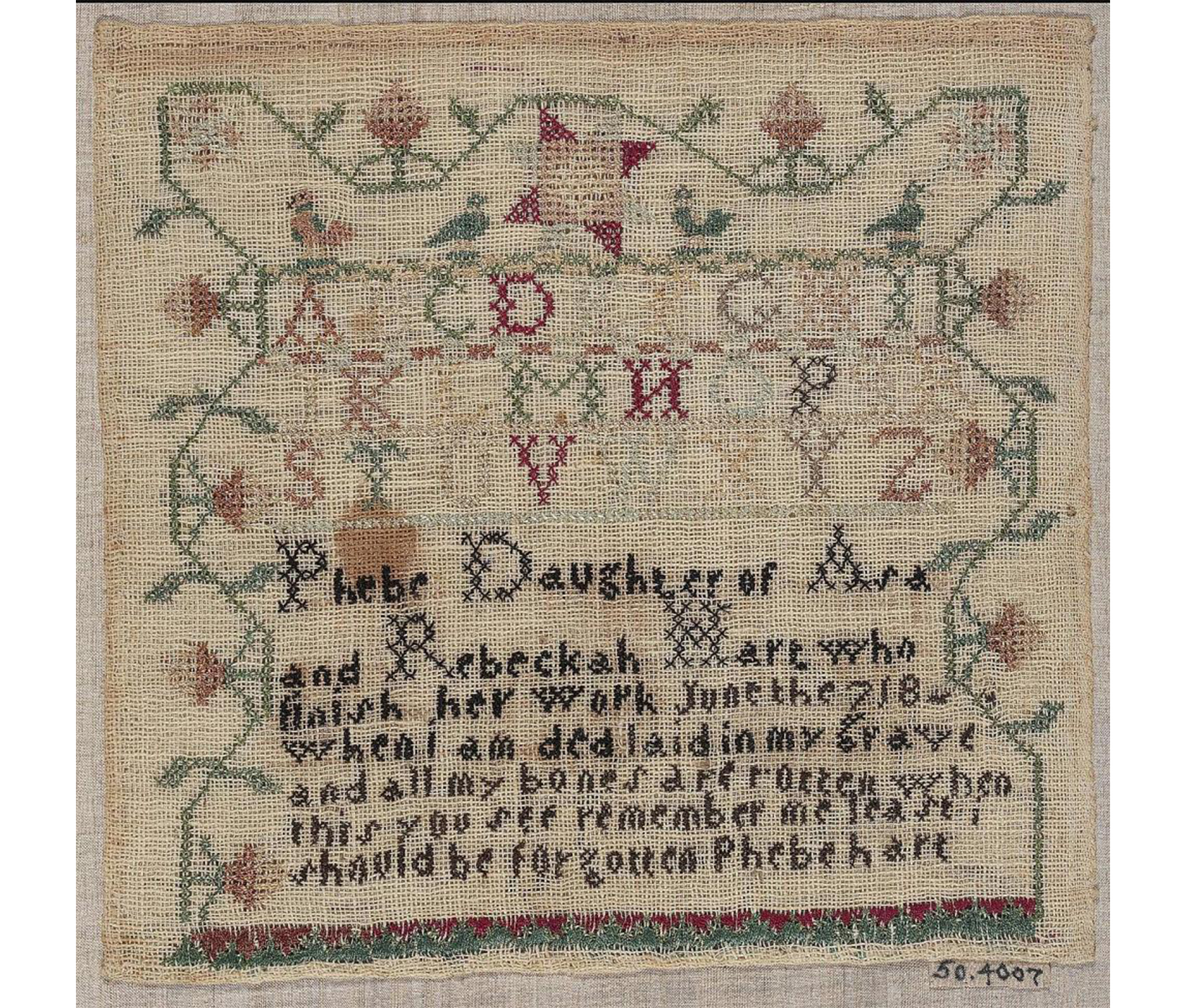 Hart, Phebe. American Sampler, early 19th century. Linen plain weave embroidered with silk. Museum of Fine Arts, Boston. 50.4007.
References:
https://www.metmuseum.org/toah/hd/need/hd_need.htm
https://www.cooperhewitt.org/2015/08/10/a-sampler-by-martha-butler/