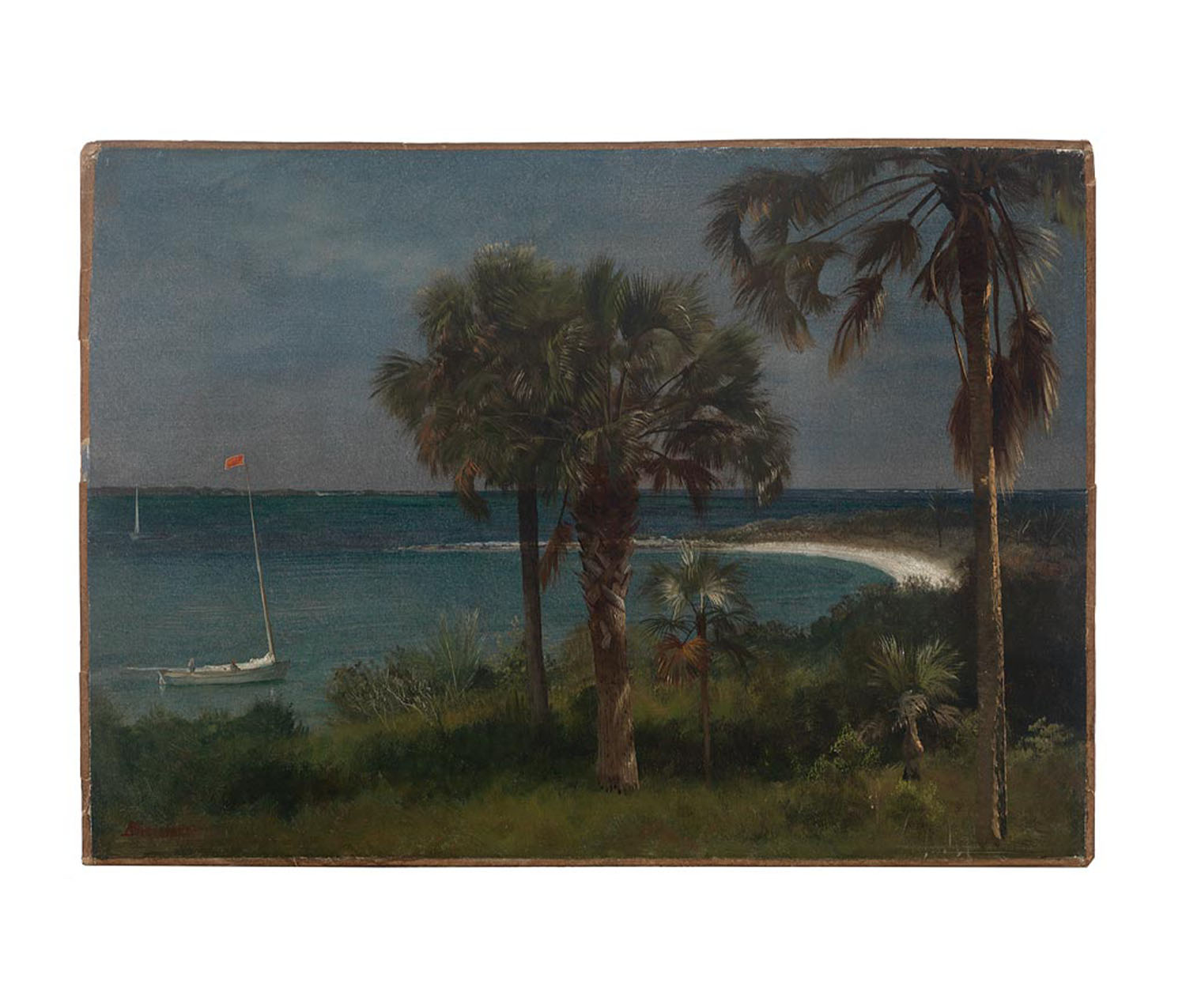 On Writing Wall Labels, but, Mainly, Bierstadt in the Bahamas
For any fan of 19th century American art, this internship was a dream come true. I was tasked with writing wall labels for the new 19th century American art installation at the SCMA. When visitors will walk into the galleries for the next few years, my words upon the wall will help guide them along. No pressure! My very first task was to write a label for a painting by Albert Bierstadt, Landscape in the Bahamas (ca. 1877–mid-1880s). You must understand, Bierstadt is one of my favorite artists, and his epic landscapes of the American West are among the most legendary works of American art. Now I had the opportunity to write a label for a painting by the man! This painting, however, was different from most works by Bierstadt. It is a peaceful scene from the Bahamas, showing a quiet evening on a little bay, shaded by palm trees. There were none of the majestic mountain peaks and sweeping valleys I had come to expect of Bierstadt, but this did not detract from the work in the slightest; in fact, I was struck by the peaceful simplicity of this work. I needed to know why this painting was so different from the others.
In 1877, Bierstadt's wife Rosalie was diagnosed with tuberculosis. New York would get too cold in the winter for her condition, so she and her husband began to travel to the Bahamas, where the warmer weather would be more comfortable for her. Bierstadt, ever the artist, found the landscape striking. The Bahamas were different from the other places he had travelled, however: the imposing snow-topped mountain peaks were replaced by tropical palms, white sand, and crystal-blue water. He quickly painted oil sketches outdoors, such as Landscape in the Bahamas, to give himself material for when he returned to his New York studio, just as someone takes notes before writing a term paper. No wonder Landscape in the Bahamas is so different from Bierstadt's other works, as this was a first impression, almost a first draft, of his paintings to come. For a quick sketch in oil paint, Landscape in the Bahamas shows Bierstadt's incredible skill as an artist in rendering an unfamiliar landscape emotionally and deftly.
As I am sure you can tell, I adore this painting. I learned a great deal about Bierstadt in the course of my label research, and I feel as though writing the wall label helped me to appreciate his paintings even more. It is my hope that visitors to the new American installation at the SCMA may look at Landscape in the Bahamas, read my label, and find themselves as taken by this little painting as I was.
---
Guest blogger Matthew Blanchard (UMass MA '21) has been a remote summer intern working with SCMA's Curator of Painting and Sculpture Danielle Carrabino. Blanchard's research focuses on Ancient Greek and Roman art as well as 19th-century American painting.