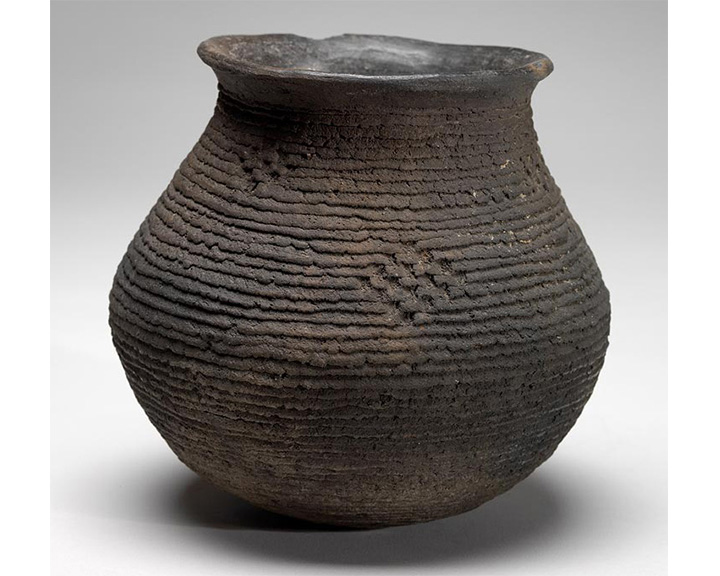 A Year of Mapping the Ancient World
Grayson Matula '23 reflects on her experience creating a digital map for the Ancient World Gallery as a Brown Kennedy Research Fellow. This fellowship, offered jointly by the Department of Art and the Smith College Museum of Art, provides a one-year fellowship to a Smith art history major or minor. Fellows engage in sustained object-based research and contribute to public scholarship about objects in the SCMA collection.
---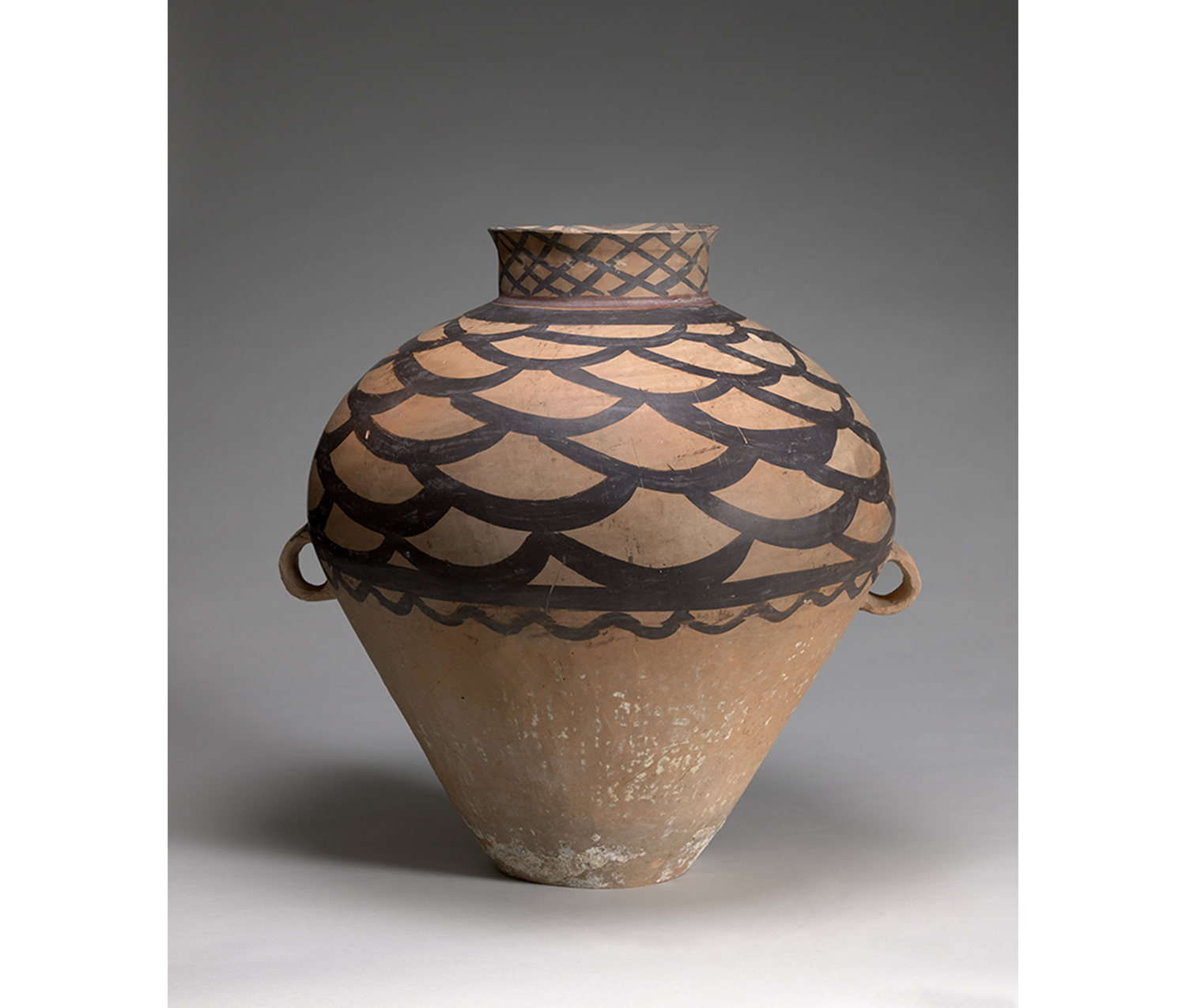 Unknown. Chinese. Guan (jar), Neolithic period, Majiayao culture (4th–early 3rd millennium BCE). Earthenware with painted decoration. Gift of Donna Smith Reid, class of 1951. SC 2016.67.19. 
As an Art History major, I am fascinated by the unique stories of various art objects, but ancient artefacts have always been of particular interest to me due to their often unknown or ambiguous histories. I was fortunate to have a chance to delve deeper into several of the ancient art objects in the SCMA's collection this past year as a Brown Kennedy Research Fellow, through a project that consisted of creating a digital map for display in the Ancient World Gallery.
A key component of my project entailed conducting extensive background research on the objects on display in the gallery. While I wasn't able to access the museum's object files in person this year, my supervisor Yao Wu generously helped scan the documents I needed, which was immensely useful in orienting me to the space and the collection remotely. One of my favorite research tasks was culling through these primary source documents, as I got to read many handwritten letters and correspondences from the loving alumnae who have gifted many of these objects to the museum. I quickly realized, however, that there is often very little else known about the provenance, or the history of ownership, of ancient objects. More often than not, there is no known maker, and the time range or region tends to be quite broad. Attempting to piece together some of the ambiguities in the objects' recorded histories required me to do quite a bit of detective work, and this process definitely illustrated the extent to which our understanding of these works is continuously evolving.
Another interesting realization that reframed my thinking about ancient art was that the time period for what is considered "ancient" varies depending upon the culture. The oldest object in the gallery is a neolithic Chinese jar dating to the third millennium BCE, while several of the pre-Columbian Native American vessels in nearby cases date as recent as 1450 CE. And because ancient artworks often have fragments that have been restored in different time periods, it becomes more difficult to definitively date works to any singular time period. Lines frequently become blurred when categorizing ancient works.
One of the more challenging aspects of my project was narrowing down a final selection of 18 of the objects in the gallery to feature on the digital map. The map's aim is to allow visitors to learn more about certain objects and their cultures of origin, so I tried to select objects that would best showcase the gallery's breadth — featuring a range of cultures, time periods, materials, and functions — and highlight some of the interesting cross-cultural connections that had emerged between the objects through my research. We also wanted to use the chosen objects in this selection to discuss some of the overarching challenges associated with collecting and exhibiting ancient artworks in modern-day museums, such as issues of provenance, authenticity, and the ethics of displaying burial objects. This decision-making process definitely gave me a glimpse into the nuanced, challenging, and subjective nature of curatorial decisions. Alongside the SCMA's efforts to provide an increasingly global view of the ancient world, I have become more aware of the power and responsibility held by museum curators in determining what to leave on and off display.
Consolidating my research into descriptive yet concise label texts was another valuable learning outcome of this process. Although I had compiled thorough background research on the objects, I had to realize that the labels should prioritize clarity and accessibility, rather than attempt to communicate every piece of information I had gathered. My initial drafts were too scholarly, but with the much-appreciated guidance of my supervisors, I learned to adapt my writing style to maximize the labels' efficacy as educational pop-up descriptions on the map.
Finally, I worked with the Spatial Analysis Lab to explore how best to highlight this research on a digital map. We settled on an interactive ArcGIS StoryMap that will be on both a digital monitor in the gallery and on the SCMA's website, for a more comprehensive functionality. This digital interface installation and a corresponding interactive website component is a new experiment in a permanent collection at the SCMA, so I am very appreciative of this opportunity to experiment with new ways of display within our museum.
I am extremely grateful for the guidance of my supervisors Yao Wu, SCMA Jane Chace Carroll Curator of Asian Art, and Danielle Carrabino, SCMA Curator of Painting and Sculpture, throughout this project. Many thanks, also, to Tracy Tien and Jon Caris at the Spatial Analysis Lab for their assistance with the digital map, professor Barbara Kellum for bringing this fellowship to my attention, and the SCMA and Smith College Department of Art for supporting this wonderful opportunity.
To learn more about the project, check out the Virtual Tour of the Reinstalled Ancient World Gallery and Student Voices: Inside SCMA with Grayson Matula '23 and Curator Danielle Carrabino. Stay tuned for the gallery display and interactive website launching this fall!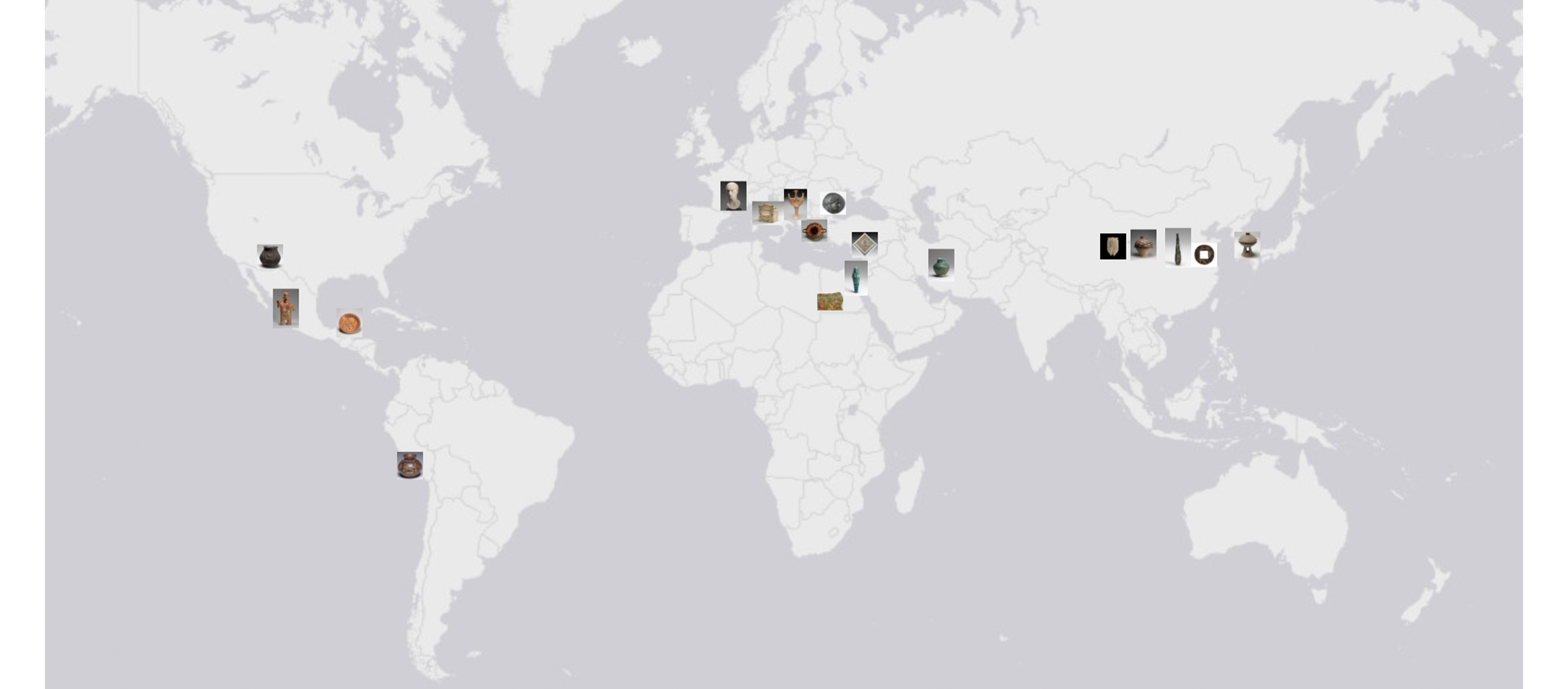 Overview of the ancient objects and their approximate locations of origin highlighted on the Story Map.