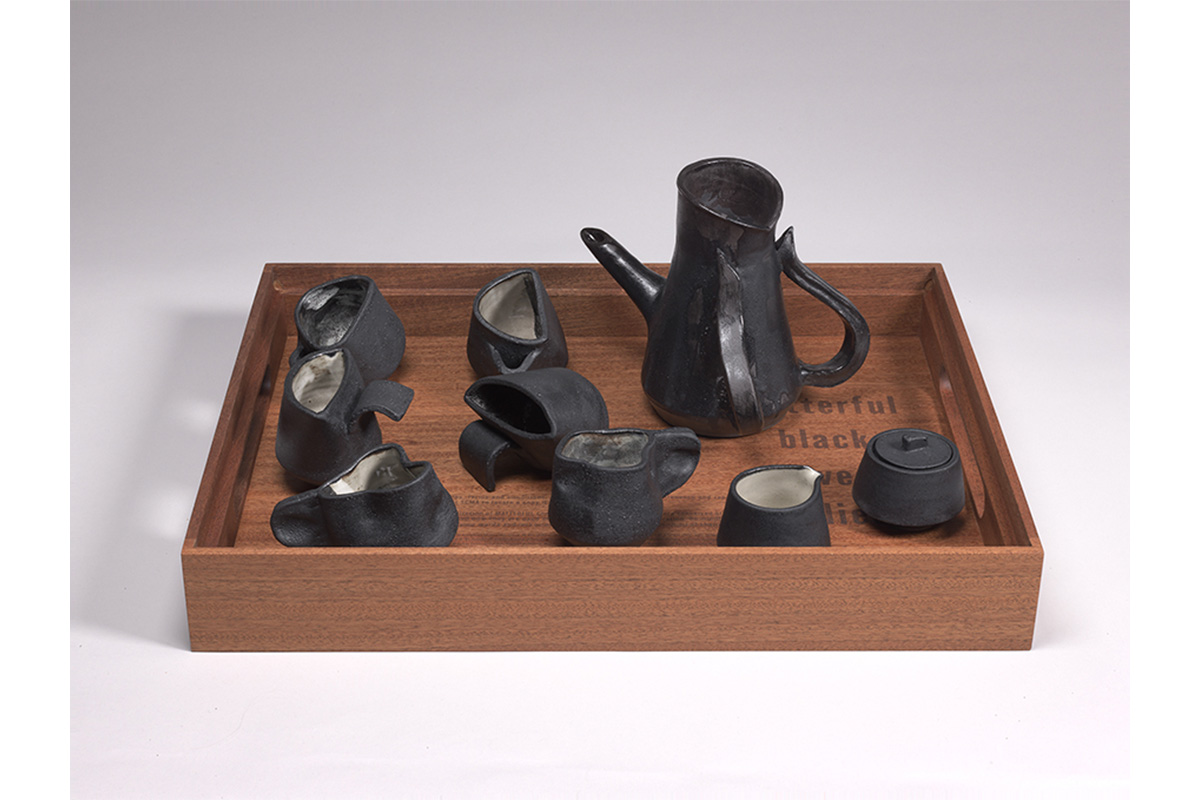 Collecting for the future: Amanda Williams' Matterful Black Lives Tea Set
Emma Chubb, Charlotte Feng Ford '83 Curator of Contemporary Art, introduces a new work by Amanda Williams, part of her 2020-22 commission for SCMA entitled An Imposing Number of Times.
---
Who made it?
Amanda Williams is the artist. She collaborated with several people in her hometown of Chicago on the production. Ceramicist Melissa J. Chin of Grey Remedy worked with Williams for several months to design, test and make an edition of three tea sets: one for SCMA and two to be used elsewhere on campus, at the Mwangi Cultural Center and the President's House. Once the sets were complete, Dan Sullivan of Navillus WoodWorks built the mahogany boxes that enclose them, and Smith alumna Camille Bacon '21 wrote instructions for using the set at Smith's Mwangi Cultural Center.
What is the subject of the work? 
The Matterful Black Lives Tea Set, like the commission overall, was inspired by the BLACK LIVES MATTER (BLM) banners on Smith residential houses and by the history of student activism that resulted in students creating BLM house banners for the first time in 2017. The student-made BLM banners were one of the first things Williams encountered when arriving at Smith in June 2019 for her artist residency. 
As conversations around the commission developed, Williams became interested in several overlapping questions: how do campus traditions create belonging? How are these traditions maintained? Who finds belonging in these traditions, and who does the work of maintaining and transmitting them? What happens when a tradition arrives before the institution is ready to receive it? Making banners for house facades, which occurs at the beginning of the fall semester before first-years arrive, is one tradition that students, in partnership with Smith College staff, produce, transmit and maintain within the residential housing system; another is Friday afternoon tea, which today is practiced in varying ways and not always on Friday. 
Williams' tea sets provide an occasion for those who use them, and students especially, to expand the Friday afternoon tradition or to activate it anew. Gathering with this tea set invites considering a question that, as Williams told the Botanic Garden's Julie Thomson earlier this year, is central to all of her work: "What are we willing to do for things that are important to us?"
Where was it made and when?
Spring, summer and early fall 2021 in Chicago, IL. Work on the commission as a whole began in 2019. SCMA's collections management staff installed one of the tea sets in a large vitrine on SCMA's third floor galleries in fall 2021, when Williams was on campus for a tulip planting event as part of the commission.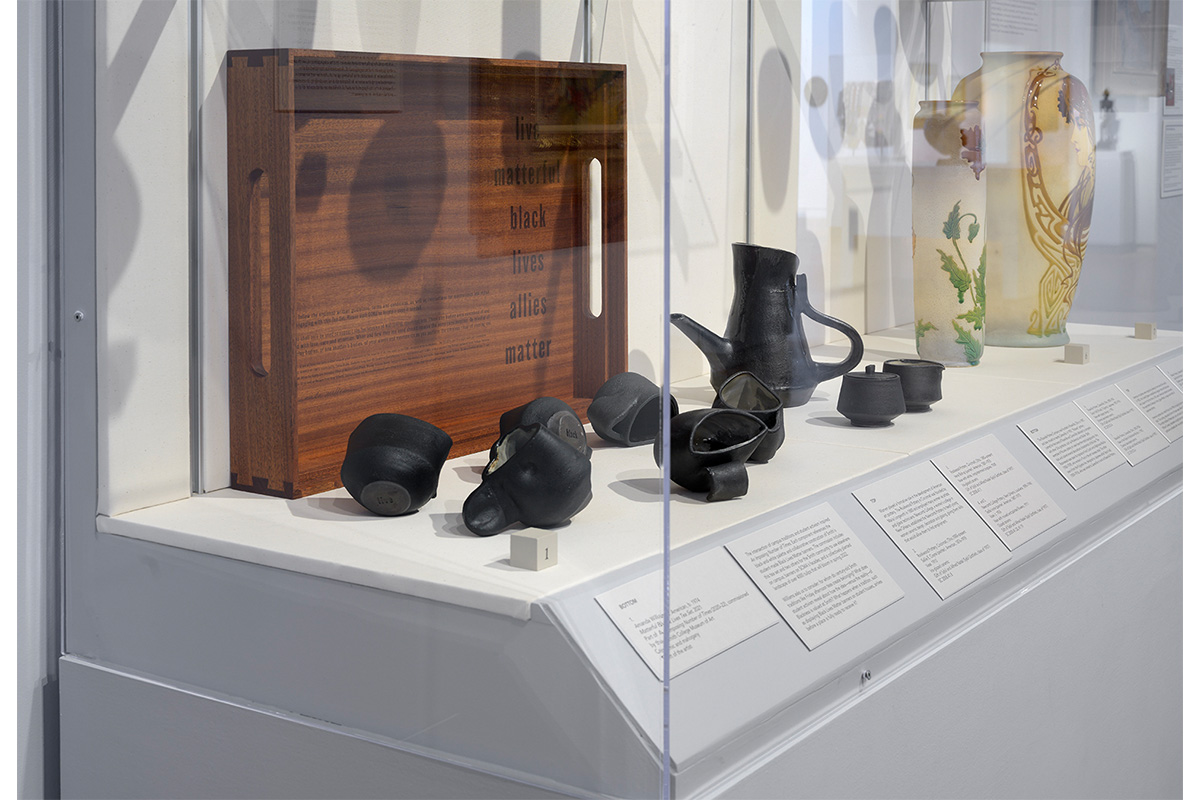 What materials and techniques were used to make it? 
The cups, creamer and sugar bowl are made from a dark brown stoneware clay that is glazed in black. The teapot is made from a black clay now called obsidian but previously marketed as cassius clay. 
Williams and Chin experimented with different forms for both the cups and tea pot. For example, once the cups were shaped in clay, Williams employed what she termed "operations of discomfort." Each of the three shapes was developed by dropping, squeezing or pinching. The final shapes result from these three actions and they diverge markedly from the more familiar shapes for cups, handles, and spouts.
Williams hand painted the interior of the cups with glaze; each is a unique painting. To do so, she employed gestures from the student-made Black Lives Matter house banners. The cup interiors resonate formally with the two banners Williams designed for SCMA's building facades as part of the commission, for which she digitally collaged together details from photographs she took in 2019 of the student-made banners.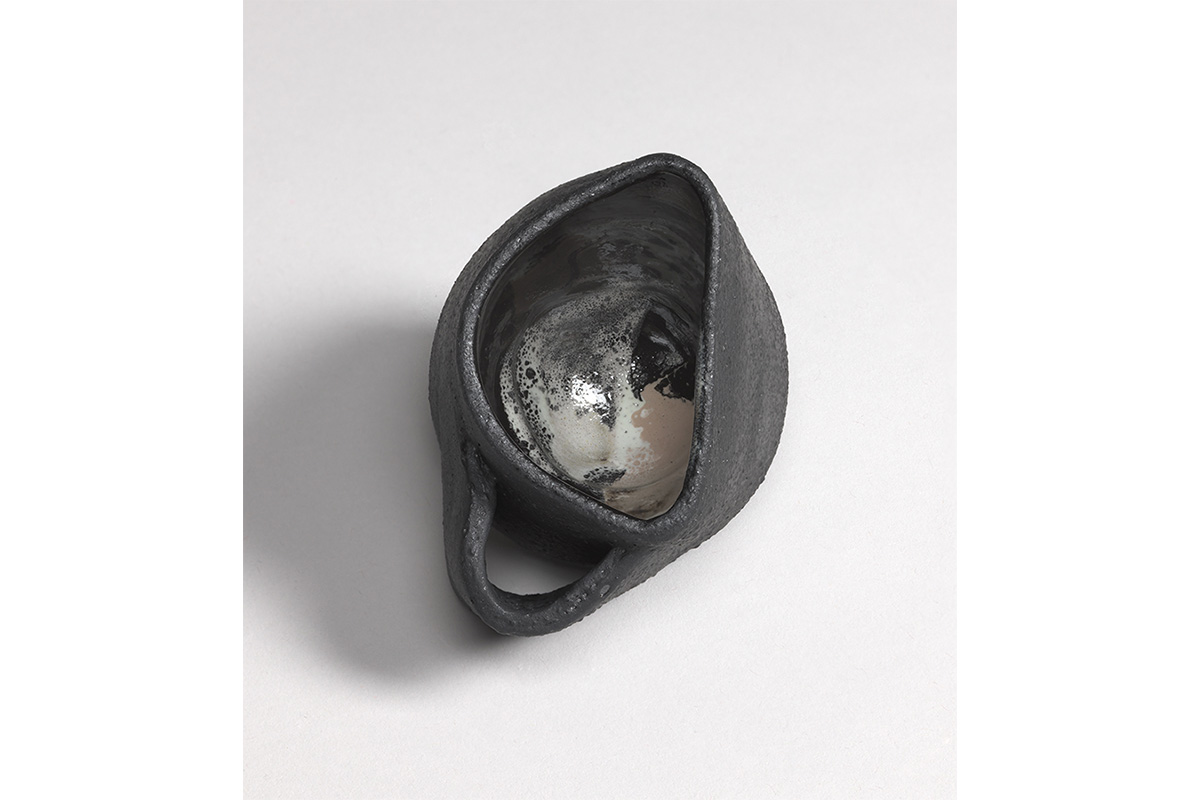 Can you describe the work in your own words?
A tea set comprised of six cups with handles in three sets of designed pairs, one creamer, one sugar dish with a lid and one teapot with one spout and two handles. The exterior of all of the pieces are black, predominantly a matte black and textured surface with some glossy black glaze on the exterior of the teapot; the interiors, in white, black and grey with hints of pink, vary. The cups are smaller than a conventional US coffee mug and their shapes are distinctive because they are not at all symmetrical or upright. They look heavy, like they would feel anchored in the holder's hand, and like they would tip or move if not set down with utmost attention to each cup's design. A wooden box, whose lid fully detaches to function as a tray, accompanies the tea set. Both the top and inside of the lid are etched with text.
How was it acquired?
Amanda Williams offered the tea sets to Smith as a gift; the set for SCMA's was formally accessioned into the collection in fall 2021.
How does this work fit in the SCMA collection?
Smith has a growing collection of contemporary art that includes notable examples of artists experimenting with the possibilities of ceramics, a notoriously challenging medium because of all the contingencies of working with clay and fire. For example, the collection includes two porcelain sculptures by Jiha Moon (Dragon Heart, and Youandl, all 2015) and three stoneware Vessels for Flowers from 2007 by Kawakami Tomoko.
As an artwork made specifically for Smith, Matterful Black Lives Tea Set participates in another kind of tradition: Smith's commissioning works of art and architecture by the important creative voices of our time. Other examples within this tradition include the new Neilson Library, designed by Maya Lin; María Magdalena Campos-Pons' Sugar/Bittersweet (2010), commissioned by SCMA; and Sheila Pepe's Red Hook at Bedford Terrace (2008), also commissioned by SCMA and on view in our galleries through spring 2023.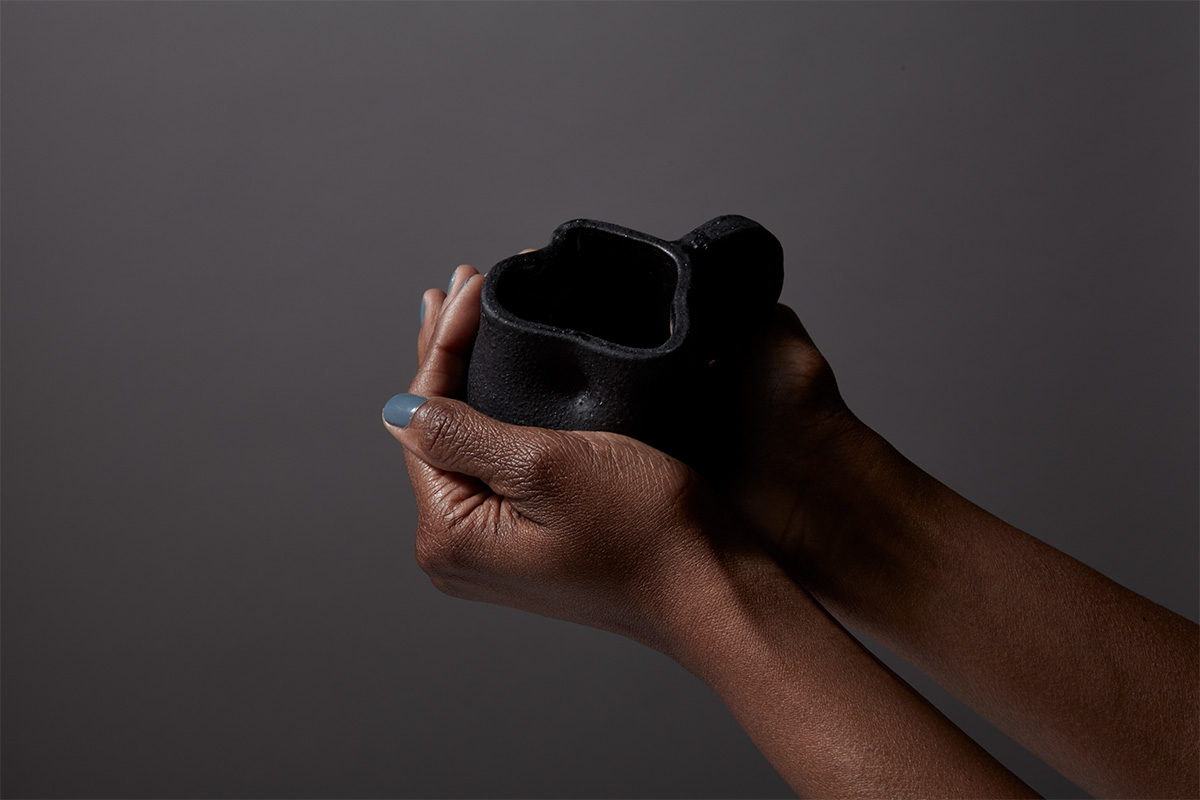 Is there anything about this work that you personally find compelling?
So much! But I particularly appreciate the way form, design, materials, and utility all come together in a work that is as rich aesthetically as it is conceptually and socially. The tea set's form—like the tradition to which it refers and in which it is to be used—is familiar, yet new. Using this tea set asks something different of the users than another set would. The weight of the cups, the way they tilt on the table and in one's hands, the challenge of drinking out of a flat rim or fitting one's hands into the impressions created by another's: all these elements require those who use them to adapt to the object in hand. Can reimagining everyday objects and gestures—the cups we hold, the tea we share and spill—produce a reconfiguration of the institutions that are created and maintained through the repetition of such gestures, which over time become its traditions? I don't know the answer to this question, but I hope it will be yes.