Divine Nature: Two Dutch landscapes side by side, part II
Henriette Kets de Vries is the Manager of the Cunningham Study Center and the Assistant Curator of Prints, Drawings and Photographs at SCMA. Below, enjoy her second Divine Nature blog post about works on view as part of Then\Now\Next, SCMA's centennial exhibition. You can read the first post here. 
---
SCMA has a great number of early works by famous artists, works that often come as a surprise to viewers and consequently offer new insights into the history of an artist and therefore make for great teaching tools. This landscape painting of the Gein river, a small river near Amsterdam, in no manner reminds us of the later work by the famous abstract artist Piet Mondrian. 
Mondrian's early work is deeply grounded in the Dutch 17th century landscape traditions as we see demonstrated in this newly acquired early drawing from the Carol O. Selle collection which is a recent donation. 
Image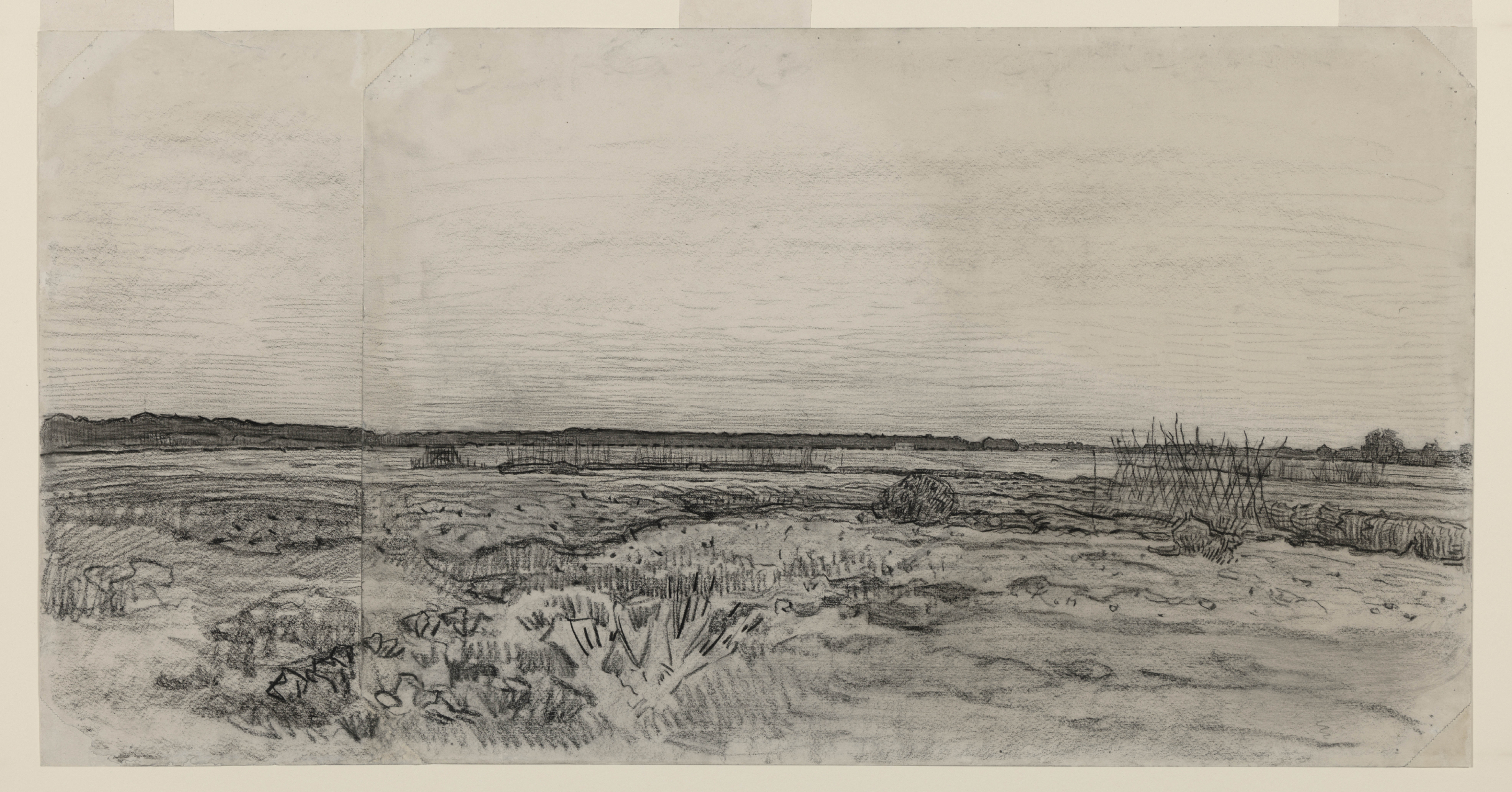 Piet Mondrian. Dutch, 1872–1944. Fields in Twente I, ca. 1908. Charcoal on joined sheets of thick, moderately textured, cream-colored paper with serrated edges. The Carol O. Selle, class of 1954, Drawing Collection. Partial gift of Carol O. Selle and partial purchase with the Madeleine H. Russell, class of 1937, Fund. SC 2020.18.
This drawing titled Fields in Twente which is on view for the first time in the TNN exhibition resembles the Van Goyen landscapes with their expansive horizons and big skies.  One would suggest that you only have to go and visit this particular part of the Netherlands to understand that even in 2021 these seem to be mere realistic observations. However, as I discussed in part I of this post, these almost abstracted simple landscapes harbor wonderful insights into the artist and his spiritual relationship to nature. 
As these early works illustrate, Mondrian, like van Goyen in his time, connected deeply to nature in a way that was predominantly guided by his belief system. Mondrian's love of nature was evident early on as he spent hours trying to paint landscapes and flowers. It was out of his frustration in failing to capture the true spiritual essence of nature that he sought out other forms of expression. 
It was not before long that Mondrian found new inspiration in the work of modern Dutch contemporaries like Vincent Van Gogh (1852–1890) and Kees Van Dongen (1877–1968) among others. He began to experiment with simple shapes, bright colors and line, slowly moving away from his muted color pallet and realism. While born into a religious Dutch Calvinist household, Mondrian became intrigued by the teachings of Theosophy, a philosophy that believed in the existence of a universal harmony that was hidden beneath the apparent chaos of the physical world and could be revealed through the color auras of physical objects, theories furthered by thinkers like Rudolf Steiner and Madame Blavatsky. It is in the understanding of this philosophy that we can further connect to Mondrian's works. Mondrian sought to dig deeper into the essence of nature, an essence that is all around us.
Image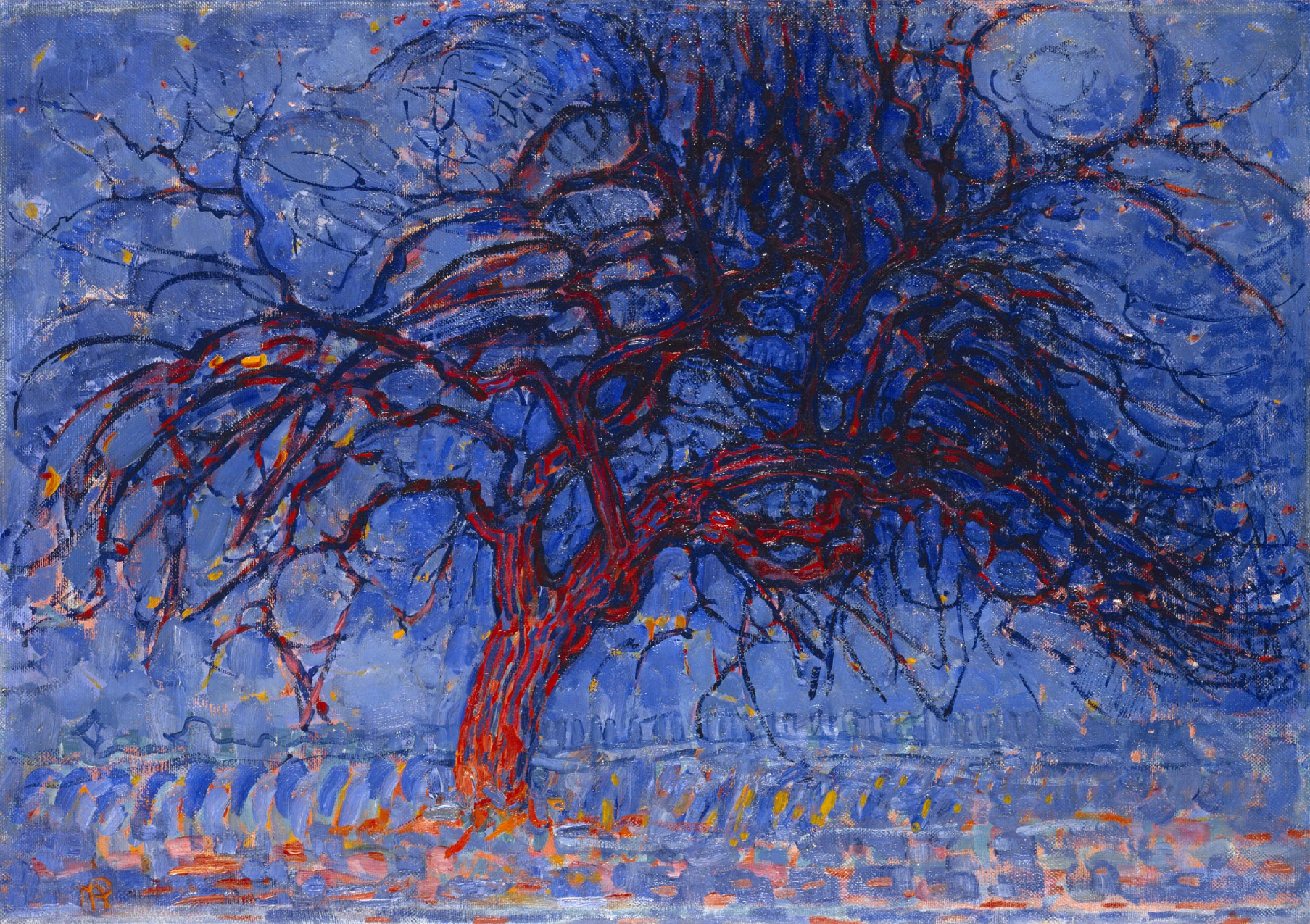 Piet Mondrian. Dutch, 1872–1944. The Evening, The Red Tree, 1908-1910. Oil on canvas. Kunstmuseum Den Haag, The Hague.
Anyone, even the greatest cynic who has looked up at a majestic 100 year old tree in the middle of a dense forest will be willing to ponder that trees have souls.  It is the soul and not the tree that Mondrian was seeking to portray.